Would you like to learn the art of full-time financially sustainable travel? You've come to the right place! Before you delve into these awesome Travel Resources, check out my FREE extensive e-course, which will give you all the tips, advice, and ideas you need to get started on your own long-term/full-time travel adventure:
How to Travel Full-Time in a Financially Sustainable Way

Selected Books
---
Here's a collection of travel resources articles I've written (on this site and others) that should inspire, assist, and motivate you in making your own travel plans. Visit this page regularly, as I'll keep adding new travel resources.
If there's something specific you're looking for, go to the sidebar and scroll down to the Search and Categories sections. If you can't find it there, click on the Contact page and send me a note – I'll point you in the right direction!
Enjoy, and bon voyage!


REMOTE WORK, and my Awesome Travel & Remote Working Interview Series (new to the site in 2021 is a section about remote work with resources and tips, as well as an interview series where I speak with ordinary people who have extraordinary travel lifestyles and remote careers)


TRAVEL PLANNING
Getting Started
How I Became The Professional Hobo (Part I: The Dream, The Decision)
How I Became The Professional Hobo (Part II: The Logistics)
Things To Do Before Traveling Abroad: A Simple Guide to Visas, Documents, and Other Important Things
Travel Vaccinations: How to Decide if You Should Get Vaccinated
How to Manage Your Money: The Ultimate Guide to Financial Planning for Travelers – with advice on how to assess your financial situation before traveling, how to organize your finances before you hit the road, handling debt, and much more.
Virtual Mailbox: The Easy Way to Get Mail When You Travel
Cell Phone Travel Basics: International Phone Plans, SIM Cards, and More


Travel Hacking Resources
All my long-haul flights are in business class, for less than the price of an equivalent economy ticket. Here's how I do it:
How to Use Frequent Flyer Miles Effectively
Trip Planning Tools and Ideas
The Creative Guide to Getting Free or Cheap Accommodation Around the World – Including house-sitting, volunteering, living on boats, home exchanges, and much (much!) more.
Best Travel Websites: Super-Useful Sites You'll Use All the Time
25 of the Best (Must Have) Travel Apps
How To Travel On A Budget: 14 Creative Tips That No One Talks About
46 Hidden Travel Costs You Can Avoid To Save Money (like airline fees, hotel fees, & more)
Travel Security: How To Keep Your Finances, Data, & Identity Safe On The Road
The Complete & Easy Guide to Insurance for Travelers
Booking Accommodation – I don't always get accommodation for free. When I have to pay for it, I use Booking.com to search, reserve, and pay for my accommodation. It's easy to search, there's a massive range of properties available, and in many cases I don't need to pay in advance. Once I used the service a few times, I unlocked "Genius Perks" which gets me discounts, perks, and more!
Recommended Travel Gear
The Ultimate Packing List for Full-Time Travel
The Best Packing Tools & Tips to Revolutionize Your Packing Strategies
The Best Carry-On Backpack for One Bag Travel
Checked vs. Carry-On Luggage (and How to Decide What You Need)
Best Luggage for Long-Term Travel: Backpacks vs Rolling Luggage
My Search for the Perfect Travel Sandal
My Travel Capsule Wardrobe: Best Wrinkle-Free Travel Clothes for Women
Best Travel Clothes for Men, No Matter Where You're Traveling
Do you like Travel Gear as much as I do? I review a whole bunch of travel products and services every year. Learn about the best of the best here!
ON THE ROAD
Staying Healthy While Traveling – Natural Preventions and Cures
The Ultimate Guide To Traveling with Money
Don't forget travel insurance! I always have it. I use either Safety Wing or World Nomads for long trips.
Learn more about best travel insurance for long-term travel and remote workers here.
Although I'm a big fan of Safety Wing and World Nomads, it also pays to shop around so you can find the best policy for YOU. Visitors Coverage is an insurance broker that will show you all the options available! Check it out: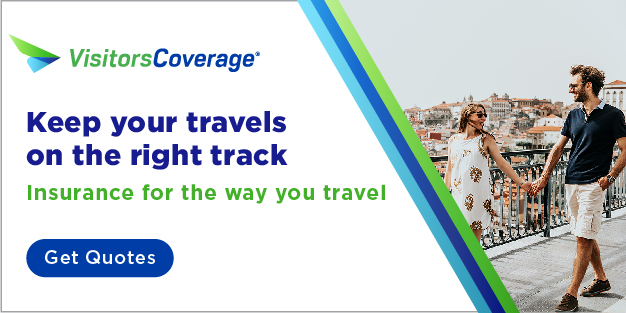 TRAVEL PLANNING RESOURCES FOR DIGITAL NOMADS
Best Coliving Coworking Programs for Remote Workers and Digital Nomads
How to Book Monthly Digital Nomad Accommodation (alternatives to AirBnB)
Top Digital Nomad Retreats to Level Up Your Lifestyle
Top Digital Nomad Conferences to Attend
21 Local Coliving Spaces and Websites for Digital Nomads


Where I've Been (and maybe some ideas for you)
My First Four Years of Full-Time Travel (2007-2010, including Canada, Hawaii, Thailand, Malaysia, Singapore, Australia, USA, Mexico, New Zealand, Spain, Germany, France, England, Scotland, Ireland, Nepal)
What I did in 2011 (13 countries, 73,000 kms, including New Zealand, Canada, USA, Sweden, Portugal, Spain, Switzerland, Czech Republic, Ukraine, Russia, China, Vietnam, Grenada)
What I did in 2012 (8 countries and 20,000 miles, including Grenada, St. Martin, BVIs, USA, Switzerland, France, England, Canada)
What I did in 2013 (12 countries and 29,000 miles, including Grenada, USA, Canada, England, Scotland, Holland, Norway, Denmark, Germany, Ukraine, France, Panama)
What I did in 2014 (7 countries and 34,000 miles, including Panama, USA, Canada, Peru, Spain, Gibraltar, Italy)
What I did in 2015 (6 countries and 35,000 miles, including Peru, Colombia, USA, Costa Rica, Canada, Bolivia)
What I did in 2016 (5 countries and 30,000 miles, including Peru, USA, Canada, Ireland, and Ecuador)
What I did in 2017 (10 countries and 29,000 miles, including USA, Ecuador, Canada, Japan, Indonesia, Hong Kong, Macau, Sri Lanka, India, and Thailand)
What I did in 2018 (6 countries and 32,000 miles, including Thailand, Vietnam, Australia, Canada, England, USA)
What I did in 2019 (6 countries, including USA, Guatemala, Canada, Poland, Latvia, Finland)
Note: I'm still traveling actively! I just don't publish annual summaries any more.


Earning/Spending/Managing Money on the Road
Wondering about the cost of full-time travel, or how much money you can actually earn on the road? Here's a decade or so of my annual expense reports and annual income reports for you to peruse.
Travel Lifestyle Guides – These are massive guides dealing with all aspects of lifestyle travel (and finances thereof). This is your starting point to learning the ropes about all of it. You're welcome!
Financial Case Studies – This amazing series profiles fellow full-time travelers and the careers that allow them to live and work on the road. In this series, they bear all – including their income and expenses!


Making Money While Traveling
The Easiest Way to Get Travel Jobs and Work Abroad
3 Ways Aspiring Digital Nomads Can Earn Money and Save Tax
7 Surefire Ways to Earn Money While you Travel
How To Start A Travel Blog: an Epic In-Depth Guide
How to Go Location Independent: The Ultimate Beginner's Guide
Filing Taxes as a Digital Nomad: Everything You Need to Know


BONUS: What Life on the Road is Really Like
Brace Yourself: Travel Isn't all Roses and Lollipops (a roundup of some of the crazy things that have happened since I started traveling, from romance gone wrong to natural disasters, hospital trips, travel fatigue, theft of my passport, and more)
Life as a Full-Time Traveler (a collection of posts for you to peruse to discover what life as a full-time or long-term traveler is like)
REMOTE WORK, and my Awesome Travel & Remote Working Interview Series (a section about remote work with resources and tips, as well as a limited edition interview series where I speak with ordinary people who have extraordinary travel lifestyles and remote careers)