Over the last dozen years of full-time travel, I've made a lot of mistakes and learned a lot of lessons about what makes for the perfect travel sandal and the most comfortable sandals. Here is a summary of some of the best, worst, and ongoing sandal debacles I've had.
Please read and glean from my experience so that your next pair of travel sandals are the best, most practical, most fashionable, and most comfortable sandals that get you through thick and thin.
Although the first version of this article was published in 2013, I re-wrote and republished it in 2018, and at least once a year since then I update it for accuracy of links and content (and I add new sandals and travel-sandal-strategies I've tried along the way).
For example, make sure you read through to the "barefoot sandals" section to see how my own journey through various travel sandals has evolved.

Also, I received some sandals for free (and paid for others). If I don't mention that I received the sandals for free, then it means I paid full price.
Lastly, you'll find this post has affiliate links, which means if you click a link and make a purchase, I'll get paid. This doesn't affect your price, but it does help me keep running this site….so thank you in advance.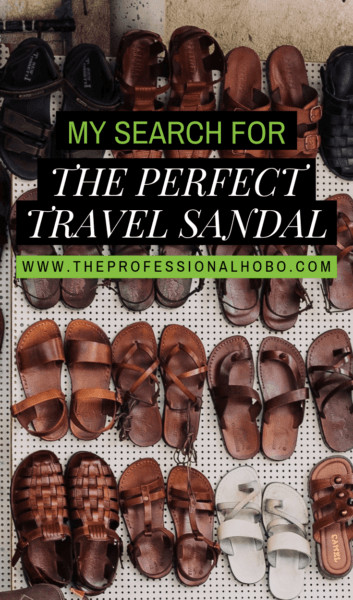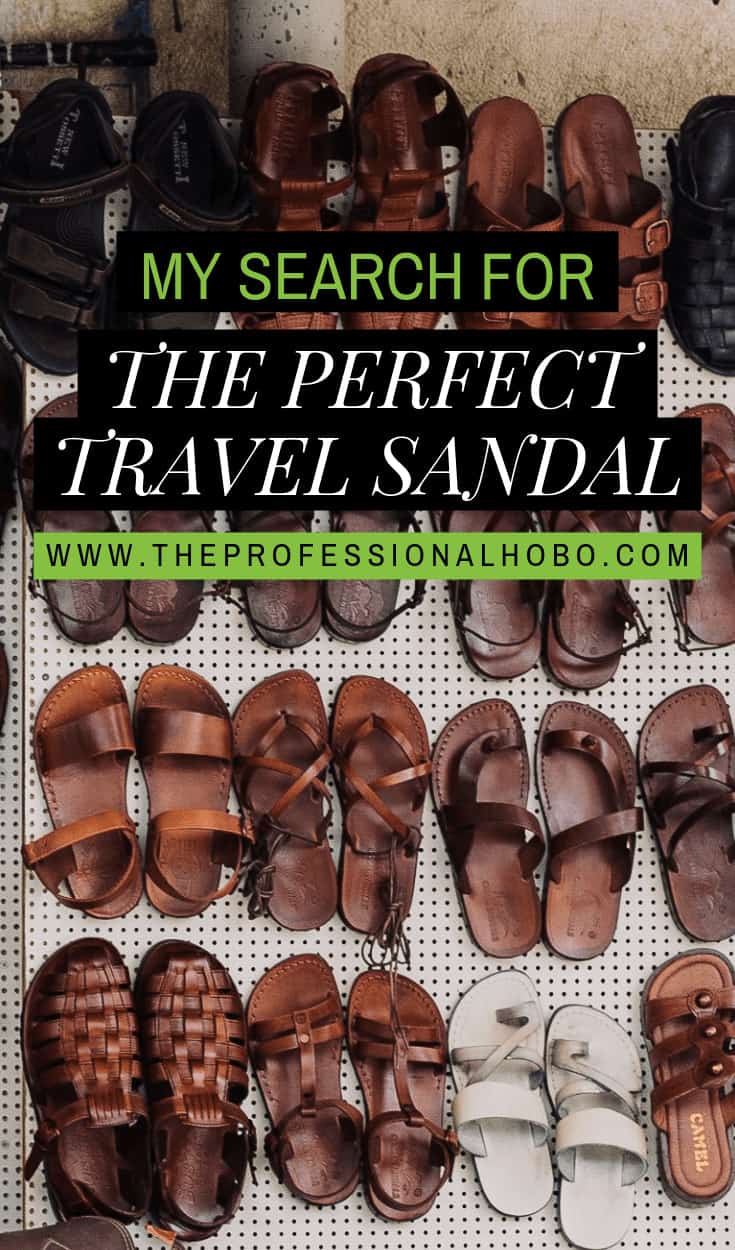 Attempt #1: Crocs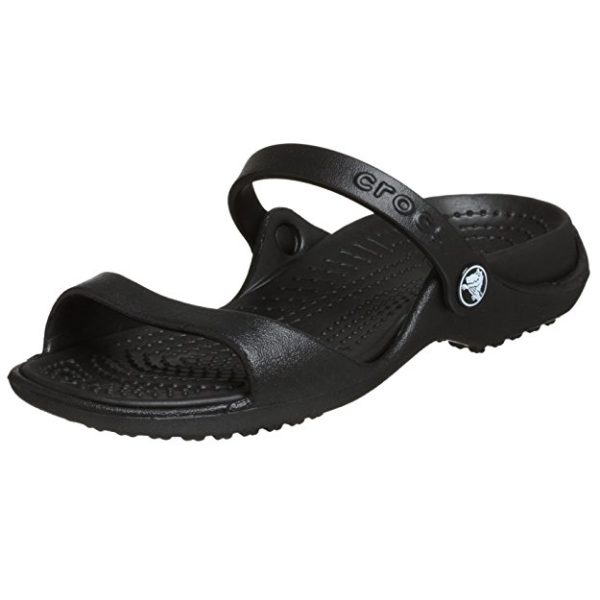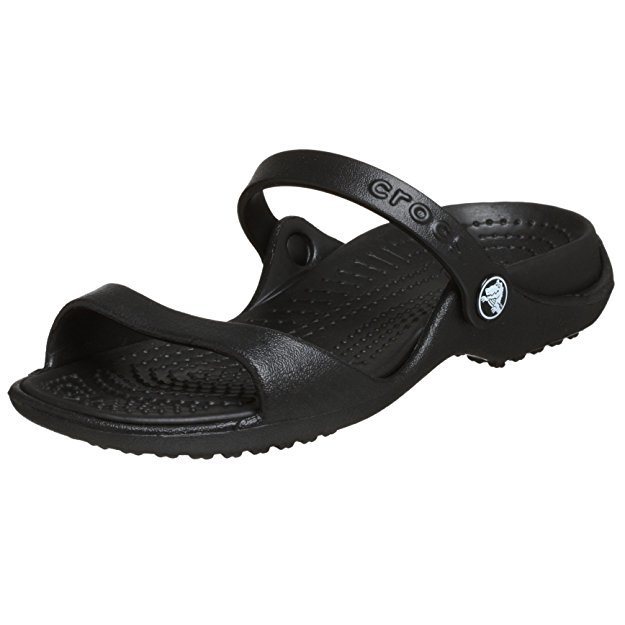 Crocs were my go-to for many years – specifically the Cleo style, which is both fashionable and functional.
The Good
Because Crocs are waterproof, they survived dodgy hostel showers and muddy walks, and the arch support meant they made it through many a long walk without causing me pain.
The style I chose combined fashion and function, and as such I could dress them up or down with relative ease.
They pack up like a dream, since they're lightweight and relatively thin.
If the Cleo (pictured above) isn't your style, no problemo; Crocs makes a gazillion different styles to choose from.
Basically I lived in these shoes, for many years.
The Bad
Or rather, I lived in (many pairs of) these shoes, for many years. Unfortunately because I wore them daily (and I love to walk), I wore through a pair about every year.
Although Crocs aren't horribly expensive, this did mean dishing out cash for a new pair each year – and finding a place to buy them or have them delivered to (which isn't always an easy chore when traveling full-time or staying somewhere obscure).
Even more distressing, was how unbelievably slippery Crocs were on wet surfaces. Certain types of sidewalk, stone, and any inside flooring when wet, became major hazards. I took a few spills in these shoes, especially as the tread on the bottom started to wear. (It's ironic, because Crocs were originally designed as boat shoes).
Lastly – and this is good and bad – the Cleo and other slip-on styles are uber-easy to use on a daily basis, but if you are doing any kind of trail walking or water sports, this style of Crocs will slip away entirely.
This can be solved with a different style of Croc however; I'm currently testing out two pairs: the Isabella Strappy Sandal, and the Tulum. Both are stylish and easy to slip-on, and won't easily come off the foot. (So far I've had trouble breaking the Isabella in (it chafes my heels), but the Tulum is holding up well. The Tulum stays on your foot better and could conceivably be used for light water sport activities, but it's not ideal for hitting the trails. Scroll down for sport sandal suggestions).
Overall
I owned three pairs of Crocs in the first few years of my full-time travels, and I've recently tried them out again. They definitely earned their place in my travel bag.
But keep reading for some alternatives and different viewpoints, since what I need may not be the same as what you need in the perfect travel sandal.


Attempt #2: Naots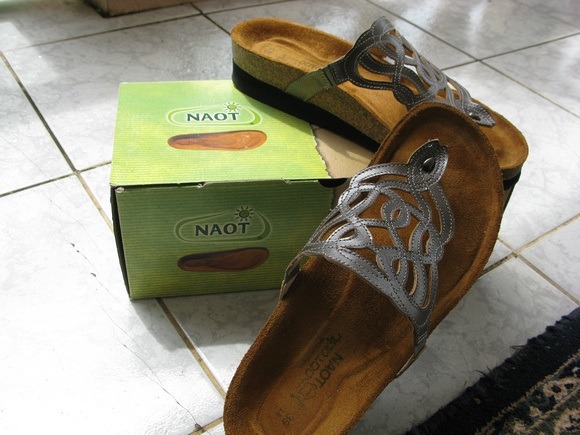 I love Naots. I had a pair of them when I was a teenager, and they survived almost 10 years of solid abuse. So when Naot contacted me and asked if I wanted to reunite with these lovely babies (I received a complementary pair to review), I could hardly wait to get my tootsies into a new pair.
The Good
Although Naots come in many different styles, they specialize in a footbed that is akin to Birkenstocks; they offer full support, customized feel, anti-microbial properties, and a fit that only gets better with time.
I chose a pair that suits my style, knowing I could dress them up or down as I wished.
They were great for walking miles and miles on the city streets without a hint of foot fatigue. I got many (many) compliments on them!
The Bad
Because I was in Grenada at the time and I have oddly-shaped feet (bunions in the making), I didn't have a chance to try on and properly fit my perfect pair of Naots. As such, the pair that was sent to me wasn't quite a right fit, and ended up being uncomfortable, and since the footbed on the style I chose was so deep, I regularly came down badly on the footbed and rolled my ankle.
The large deep footbed also meant they weren't very compact or lightweight. However if you don't want a deep footbed, Naot has a few different styles of footbed to choose from, like this one. I'm currently salivating over their Marita style.
Lastly, I must say this pair of Naots didn't wear in nearly as gracefully as the pair I owned 20 years ago. Perhaps, because the fit wasn't perfect.
Incidentally, my Naots were destroyed a head-on collision I had in Grenada before I really had a chance to put them through their paces. I owned them for a few months.
Overall
I still love Naots. But I chose a bad style for my needs and foot shape, and I didn't have a chance to try them on first. (If you order them online, best to ensure you can return them easily if they don't fit). Choose the right style, and they could make for a great travel sandal.


Attempt #3: Taos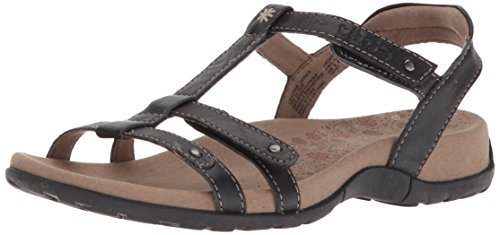 Taos makes high-quality shoes and sandals in an astonishing variety of styles.
I was contacted by Taos to test-drive a (free) pair after being bereaved of my Naots in the accident, so I tried to apply all the lessons I learned from the above pairs of shoes and choose what would be the perfect pair of travel sandals.
The Good
The footbed is high-quality with contouring, support, custom fit over time, and anti-microbial properties. (You can also choose different types of footbeds from the deep bed similar to the Naots above, to a more sleek version as shown here).
I chose the Trophy style (pictured above, since replaced by the Grand Z) because they can be dressed up or down, they're fairly light and compact to pack away, and the ankle straps make them way more stable for walking, running (as in, to catch a bus), and even taking to (light) trails.
They're super comfy to wear all day (and all night), with their special "Taos Soft Support premium footbed with Cool Recovery Foam".
I also like the velcro adjustments on the ankle straps as well as both toe straps; this makes the fit always comfortable (even if my feet swell), and getting them on and off is almost as easy as having slip-ons.
The Bad
If the microfiber footbed gets wet, it's bad news. After living in them for a couple of years (years, mind you), I got them super wet. After that the footbed pilled (uncomfortably so), and started smelling bad. Other readers have had similar troubles. If you suffer from sweaty feet, you might not get a couple of years out of them (as I did) before they start pilling and smelling.
Having said this, the Trophy sandals that I tried have since been replaced by sandals that feature a SILVADUR antimicrobial shield, for lasting protection against odour, staining, and deterioration.
And, um….well, I don't have anything else bad to say about these shoes.
Overall
In this comparison, Taos wins hands-down as the perfect travel sandal.
But I also encourage you to read between the lines here; it's not necessarily (or entirely) the shoe itself; it's the choice and style of shoe.
I learned from mistakes past, and ensured I had a fashionable, compact, stable, solid shoe that – like so many of the items in my full-time travel entourage – serves many purposes.

See also: The Ultimate Packing List for Full-Time Travel

Qualities of a Perfect Travel Sandal
Learning from my experiences above, here are some of the qualities that – for me, and likely for you – make for the perfect travel sandal:
Water resistant
Comfortable footbed for walking
Good sole for walking on multiple surfaces
Ankle straps to hold the foot in place and increase versatility
Stylish for multiple occasions
Easy to put on and take off
Lightweight and compact for packing


Hold the Phone! Attempt #4: FitMyFoot (formerly Wiivv) Custom Sandals (and Insoles) – Most Comfortable Sandals
Hot off the press (as of September 2018) – quite literally hot off the press – come my latest favourite travel sandals: custom sandals made by FitMyFoot (formerly Wiivv). These puppies are 3D printed according 200 mapped points on your feet that they get from some simple smartphone pictures you take of your feet using their award-winning app. While I had to retake the photos a couple of times, it was effort well-expended; I have a pair of 100% customized sandals (right down to the colours) that are basically like having custom orthotics – without the price tag or the ugly shoes.
This is important, because about a year prior I wrecked my feet with some poorly fitting shoes that caused incredibly painful plantar fasciitis in both feet. For months, walking (anywhere, anytime, even to the bathroom and back) required painkillers. When that pain finally subsided, I was nailed with a case of fallen arches. And my shin splints also came back with a vengeance. (If this is what aging it like, stop the boat: I wanna get off).
So when Wiivv approached me offering me a pair of free custom sandals as well as custom insoles, I jumped at it. While it took a bit of time for my feet to adjust to the new shoes and real arch support, now my feet actually crave to be in these sandals. They get tired without them.
The Good
FitMyFoot sandals are completely customized! They are designed to fit your feet perfectly, from the arch support to the placement of the toe thong. You also choose the colour of the straps and the arches. You can even order extra straps to change out according to your outfit/mood/astrological reading of the day.
A properly supported foot not only means no foot fatigue after lots of walking, but there's also a trickle effect; this means no knee pain, hip pain, back pain, etc. Whether you have high arches or flat feet, FitMyFoot has you covered.
And for $129 (or less)……a customized pair of travel sandals is a steal. Their custom insoles for shoes are also very well-priced and well-made. This means you can have proper foot support year-round. Oh yeah, and FitMyFoot makes close-loop recyclable footbeds, which mean they don't have to end up in landfills/oceans. Wear them out and send them back so FitMyFoot can use them to create future sandals.
Mine have been going strong since 2018, and only now (5 years of abuse later) do I feel like the sole has deteriorated enough that it's time to retire them.
MEN: These are for you too! FitMyFoot makes sandals and insoles for both men and women.

The Bad
If we use the list of criteria under "Qualities of a Perfect Travel Sandal" above, FitMyFoot comes up short with no ankle strap for 100% security. What surprised me was how well the FitMyFoot sandal stays on the foot, with the adjustable straps. In fact, there's a guy who ran a marathon in these things. These are flip flops that don't flip or flop.
Secondly, while they're stylish, they're not dressy. Don't get me wrong: FitMyFoot sandals look great. But no matter how you slice it, they're casual.

Overall – FitMyFoot wins the prize for the Most Comfortable Sandals
I absolutely adore my FitMyFoot (formerly Wiivv) custom sandals, and they held up up well for five years. They include a 30-day money-back guarantee and a 1-year manufacturer's warranty, which gives me confidence that they're great for the long haul.
Want to see the FitMyFoot custom sandals and insoles in action? Here's my video review.
Click here to watch it directly on YouTube (along with other travel gear reviews and vlogs.


Check out my Travel Lifestyle Guides for more ways to earn money remotely, spend it wisely, and balance the two so you can travel as long as you wish, in a financially sustainable way. 
Honourable Mentions
Crocs, Naots, Taos, and FitMyFoot are far from the only travel sandals out there; they're simply the brands I've test-driven. Here are some other travel sandal recommendations; tried and true according to both readers and travel colleagues. If the shoes above don't float your boat or suit your travel style, perhaps the ones below will.
And Men, rejoice! Many of the sandals below offer Unisex and Men's styles as well.
Waterproof Travel Sandals (Sports Sandals)
While Crocs are waterproof, they're not the sort of "technical" sandal you might be looking for if you're into water sports and muddy hikes. Personally, I can't stand the classic original "Teva" style of sandal, but some people don't mind it, and I must admit, these waterproof sport travel sandals have come a long way since their single-style beginnings.
For example, the Teva Tirra Athletic Sandal comes extremely highly reviewed, and has a compression-molded EVA midsole with some impressive looking arch support.
Chaco also carries an extensive popular waterproof line of sport sandals (along with some more stylish leather and rubber styles).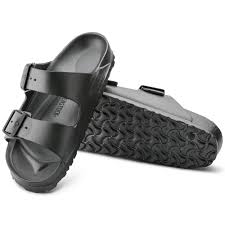 Do you like the Birkenstock style and wish they had a unisex lightweight waterproof version? Well, wish no more; it exists, and it's called Birkenstock EVA (pictured here). They're relatively cheap, and they come in a few different styles and a gazillion different colours. They're not sport sandals per se, but they're waterproof and are apparently great for walking.


Barefoot Sandals for Travel (for men and women)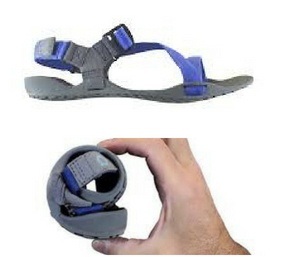 Barefoot shoes in general are all the rage, and they're the ideal travel sandal in that they're lightweight….ultra lightweight in fact.

I adore my Xero Terraflex barefoot hiking shoes (which I have used as my hard-core hiking shoes for 5+ years now).

I also used the Oswego for a few years as a scaled down hiker and more versatile shoe, though they discontinued it sadly.

And now I'm trying out their best-selling Xero Prio shoe in the hopes that I can knight them as the best all-round travel shoe for walking around town, exercising, and even light hikes. Stay tuned.

But I'm getting off-track. This article is about sandals.
As much as I mentioned earlier that I'm not a fan of sport sandals, now that my love affair with Xero shoes has risen to a fever pitch in the last 5 or so years, and since I like to travel long-term with carry-on luggage only (which means I need to maximize every bit of luggage space I have), I decided to challenge my assumptions about sport sandals.
As such, this summer I'm trying out Xero barefoot sandals – specifically the Z-Trail EV style. I wanted this style because it has the beefiest sole of them all, and I was worried the other styles might feel more like paper and not provide any protection.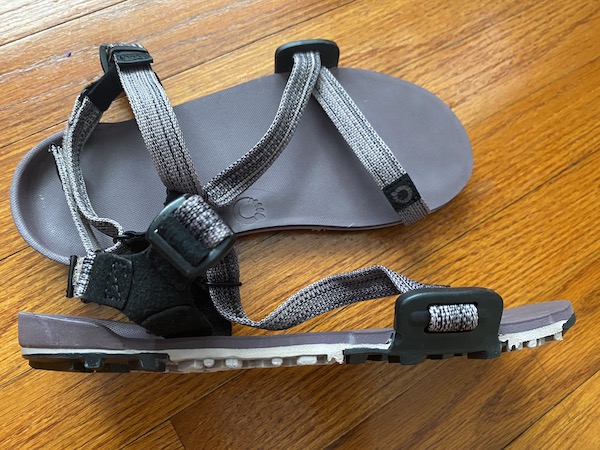 Instead, when I got them in the mail, I was surprised at just how sturdy these things are! I mean, they're still light as air at just 4.3oz each (yeah, you read that right), but the sole has some meat to it.
If Xero's other shoes are any indication, I have a feeling that these barefoot sandals may just end up being contenders for my top pick of travel sandals. I'm still not 100% on the style (since I tend to err on the side of dressy most of the time), but for summer hikes and casual excursions, with the added benefit of being ridiculously packable, water-friendly, secure on the foot, and even with webbing made from recycled water bottles, we just may have a winner.


Shout Out to the Flip Flop
All over Asia, it's common to take off your shoes everywhere; especially when entering temples, but even when entering some restaurants and stores. (And certainly when entering anybody's home).
In these cases, flip-flops are invaluable. They're comfortable, easy to slip on and off, and you won't be upset if somebody else walks away in them (as commonly happens in public places).
While spending a month "suffering" in Koh Phangan Thailand, I watched my boyfriend struggle with his clunky Tevas every single time we entered or left a restaurant or store. We were both relieved when he finally caved and bought a cheapo pair of flip-flops.
Flip-flops are also great to have on hand for shared showers and other situations where you want some waterproof foot protection. And they're so lightweight they can easily fit in your luggage. Regardless of the travel sandal I am using at any given time, I tend to have a pair of flip-flops stashed in my bag as well.


Interested in Travel Gear? Then You'll LOVE the Following Posts:
The Ultimate Packing List for Full-Time Travel
Checked vs Carry-On Luggage (and Why Checked is Best)
My Travel Capsule Wardrobe: Best Wrinkle-Free Travel Clothes for Women
The Best Travel Clothes for Men
Maximize Your Luggage Space and Minimize Time Spent Packing! The Best Packing Tools and Accessories
…and dozens of Travel Gear Reviews!