I have this thing. If I have really nice clothing – like, favourite stylish travel clothes, I tend not to wear them as often as I'd like to. Instead, I still wear wrinkle-free travel clothes – but cheaper, older, less comfortable, or less stylish clothes and I justify keeping my favourites in the (proverbial) closet (which for me is actually my luggage), so I can save them for a more "special" occasion.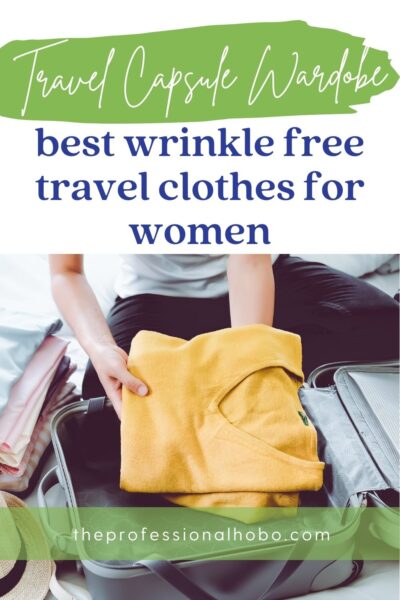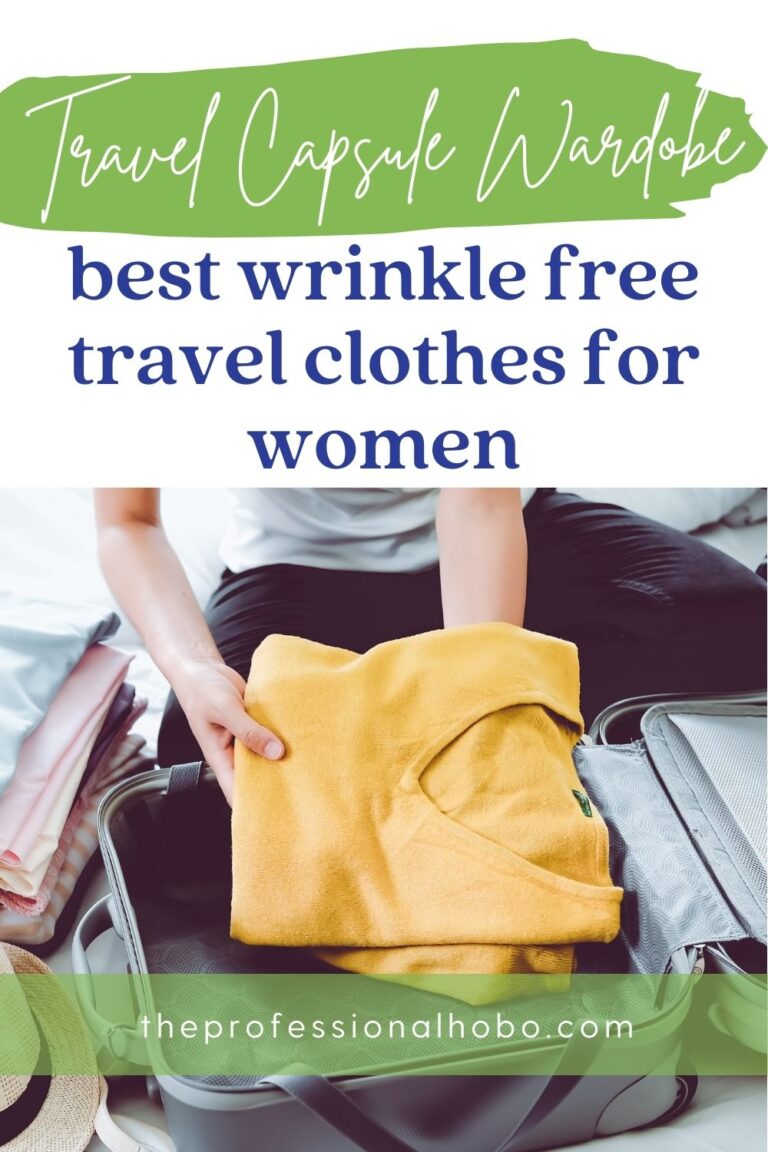 I saw Loretta LaRoche speak at a conference. She grew up being told by her mother that she could only wear her nice underwear on special occasions. Thing is, there was never an occasion special enough to put on these "party pants". She also poked fun at people who have sitting rooms they never sit in, with nice furniture covered in protective plastic. Her theory was that we could all love life a lot more if we enjoyed the things we have rather than perpetually saving them for another day….a day that may never come.
I'm here to say it's time to wear our party pants.
I have traveled with two tiny packing cubes of easy care travel clothes from Anatomie Travel Clothing for three weeks, in true capsule wardrobe fashion. It changed the way I will travel (and live!) forever.
See also: Pro Packing Hacks – Here are the Best Travel Accessories for Saving Space and Organization
And for the fellas: Here's your own Travel Capsule Wardrobe for Men!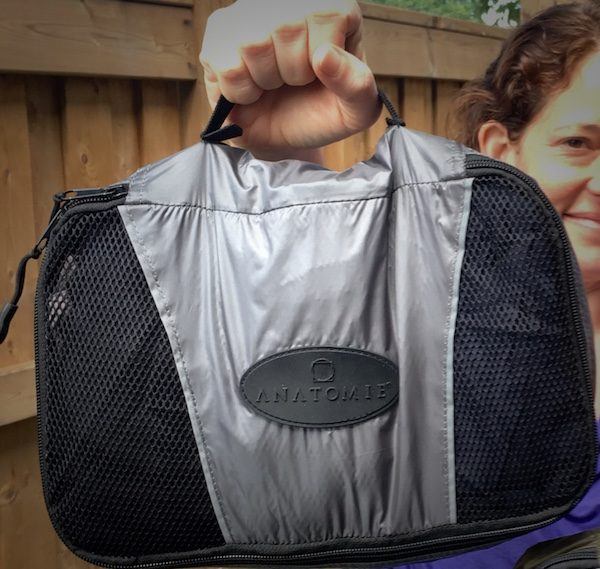 My Journey With Anatomie Travel Clothing
The birth of the Anatomie capsule wardrobe idea
I visited Anatomie Travel Clothing's headquarters in Miami. I'd been a fan of Anatomie for years already; they sent me my first outfit in 2012 – an outfit that is still going strong, all these years (and abuse) later. (See also: Anatomie – My New Favourite Travel Clothing)
Shawn and Kate (Anatomie's co-founders) talked about cost-per-wear. While doing some math, I realized that their prices (a stumbling block for me) weren't as high as I'd initially thought if I worked out how many miles I could get out of them – literally and figuratively. So, I threw out my jeans.
I returned to Anatomie's headquarters a second time with a furrowed brow. My favourite travel pants – the Kate Skinny Cargo pants, which I got just a couple of years prior – had worn in the strangest of ways. It led to concerns about the quality of their travel clothes on the whole. My original capris were doing great! Why had the Kate pants deteriorated like this in a fraction of the time?
Anatomie was churning out a huge number of new styles at the time, becoming a highly-recognized brand name in the luxury market as the ultimate travel clothes for women. Had they grown too big for their own good?
Luckily, my concerns were assuaged when I received a brand new pair of Kate pants and was assured that any customer with a similar problem would be afforded the same treatment. They said that occasionally material from the end of a roll could do funny things like this, and while they hadn't seen this particular problem before, they would look out for it in the future.
While Anatomie may be growing exponentially, they still pride themselves on superior service and developing long-term relationships with their customers, as evidenced by the expedient replacement of my defective pants, their personal style concierge service, and more.
Not only did they replace my Kate pants, but they loaded me up with a whole bunch of new styles and Anatomie "Travel Essential" pieces. (Travel Essentials are styles they carry year after year because they're so popular, and customers get angry if Anatomie stops making them.)
With this gift of new clothes, they issued me a challenge: pack and wear only Anatomie clothes for my next trip. So, I did; the next opportunity I had to leave my big suitcase I armed myself for three weeks with two wee packing cubes of Anatomie clothes.
Here's what I learned about what makes for the best wrinkle free travel clothes for women. (See the end of this post for an exact list of what I traveled with, so you can design your own ideal travel capsule wardrobe).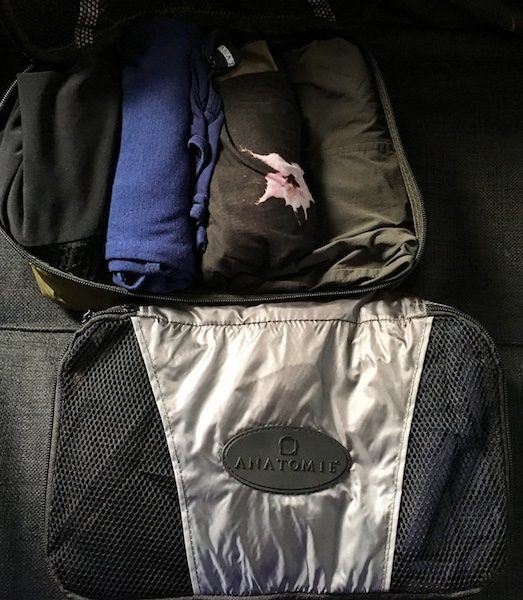 Before we go any further, I must tell you that I have received a ton of Anatomie clothing for free since the beginning of my partnership. I'll also add that I've bought many styles for myself at retail prices. I put my money where my mouth is, and I endorse Anatomie for having terrific travel clothes for women.

As such, if you click on any of the links in this post and buy Anatomie clothes, I will receive a small commission. It doesn't affect your price, and it helps me keep running The Professional Hobo. I appreciate your support in advance!
Use the discount code NORA20 to get $20 off your order!
(Minimum order amount is $120 to qualify. Enjoy free shipping on all domestic orders.
Longevity
Quality travel clothing will go the distance – literally and figuratively.
My Cargo Capris (since discontinued, though keep an eye on the Anatomie website – they occasionally revive them for a season) are still going strong since getting them in 2012. This is one style that I haven't saved for special occasions; over the years, I've worn these pants more than any other pair of pants I've owned. Like, ever. After all these years of abuse, the material is softer and even comfier.
I've washed them in dodgy washing machines around the world, and they've even seen a few dryers (which you're not supposed to do, FYI). The only thing I can say is that the material has thinned out a little (but not so much as to be a problem), and has also stretched out a little (due to my own weight gain/loss/gain/loss/etc. over the years).
Regarding fit in general, Anatomie advises that you can expect that the signature stretch wrinkle-free material used for their pants will stretch over time (it's what makes Anatomie pants a custom fit, as it stretches to hug your curves perfectly). More on this later.

Washing and Drying
If you're traveling with a limited (capsule) wardrobe, washing and drying must be easy.
Need to dry your pants in a hurry? A simple hairdryer will do the trick in just a few mins! (Almost) everything Anatomie offers is machine washable in cold water.
Machine dryers, in general, are horrible on your clothes (they exponentially accelerate deterioration), nor are they particularly environmentally friendly. Luckily most Anatomie styles dry quickly, usually overnight.
Wrinkle Free Packing
Packing light means not having a lot of space. Irons are not an option.
Are you worried about cramming those expensive duds into a packing cube? Don't. Anatomie makes easy care travel clothes, and although some pieces may come out of your luggage looking wrinkled, the wrinkles easily fall out as soon as you put them on. You will love their wrinkle resistant fabrics, life-changing!
Other styles made of crazy comfy jersey and mesh (like the Gracie Mesh Sleeve Jacket and the Nessa Mesh Button Down Shirt (pictured above, since discontinued; here are their current lightweight jackets and wide variety of shirts) are truly wrinkle free in all respects. Scrunch it up in a ball in your bag. I dare ya.


Comfort Vs. Style
There's nothing worse than being uncomfortable. Except perhaps, being underdressed.
Luckily there's no compromise! I'm just as comfy in my Luisa skinny jeans on a plane as I am in a pair of leggings. Except, I'm wearing something considerably more stylish than leggings.
Even the Andrea Contrast Panel leggings are more-than-leggings.
For me, the perfect travel wardrobe has stylish travel clothes, without being pretentious. Regardless of whether you're dressed up or down, you're comfortable. Travel throws you enough curveballs; you'd better be comfy in your second skin.
On the topic of comfort, the Bri Pima Cotton Tank Top is made from Pima cotton, from Peru. I was ambivalent when they suggested I try it out (it's a plain tank top….kinda boring right?), but it quickly became my absolute favourite top to wear. It's suuuuuuuper soft, breathable, won't shrink, goes with everything, and just like most of Anatomie's styles, can be machine washed (on cold), and will dry fast.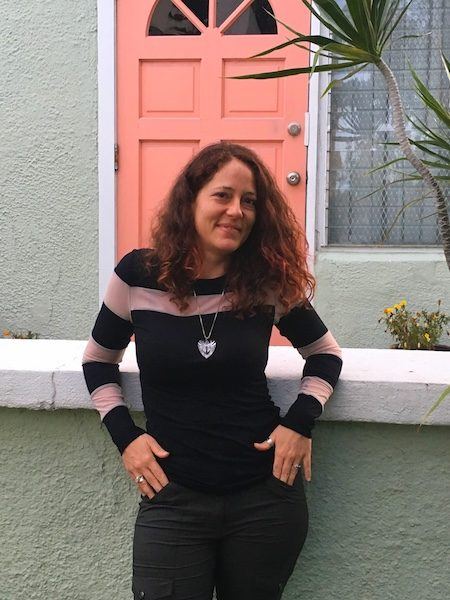 Staying Warm
Cool/cold weather is the biggest challenge to packing light. The secret is in layering.
Most of Anatomie's travel clothing styles are very lightweight – which is both a selling point and a challenge. The signature stretch fabric used to make most of their pants is light as a feather, which means it won't weigh you down as you take off, but if you're taking off to chilly places, you might be cold.
Over the years, I've found ways to circumvent these challenges:
Layer Under. While most of Anatomie's travel pants are slim-fitting, there's still room for a pair of leggings underneath for added warmth.
Layer Over. This is where Anatomie's travel jackets shine. While the Gracie Mesh Jacket is ridiculously comfortable over a tank top and takes the edge off a summer night, it's also warmer than it looks and can be worn over a long-sleeved top.
The same goes for the Kenya Safari Jacket, which is hands-down their most popular travel jacket, and for good reason. It's roomy enough to go over thicker under-layers, yet form-fitting enough to be super stylish and flattering.
If you find yourself in even chillier climes, they have a selection of quilted items and even leather jackets. I still have a style of an Anatomie travel jacket (which they don't carry anymore) that is ideal for shoulder season climates.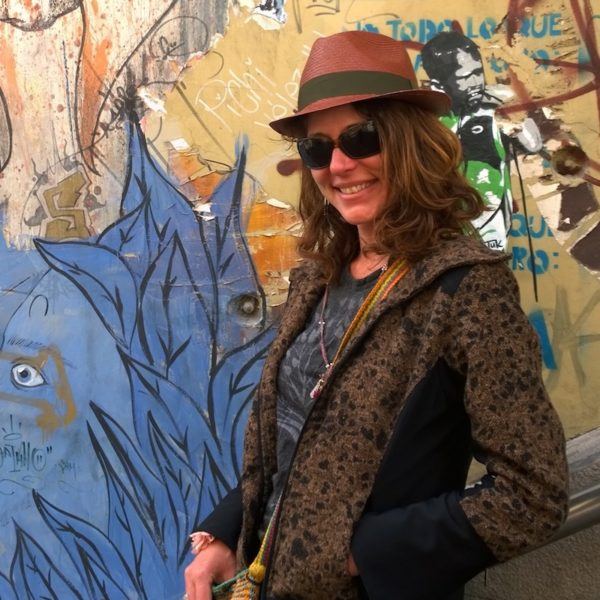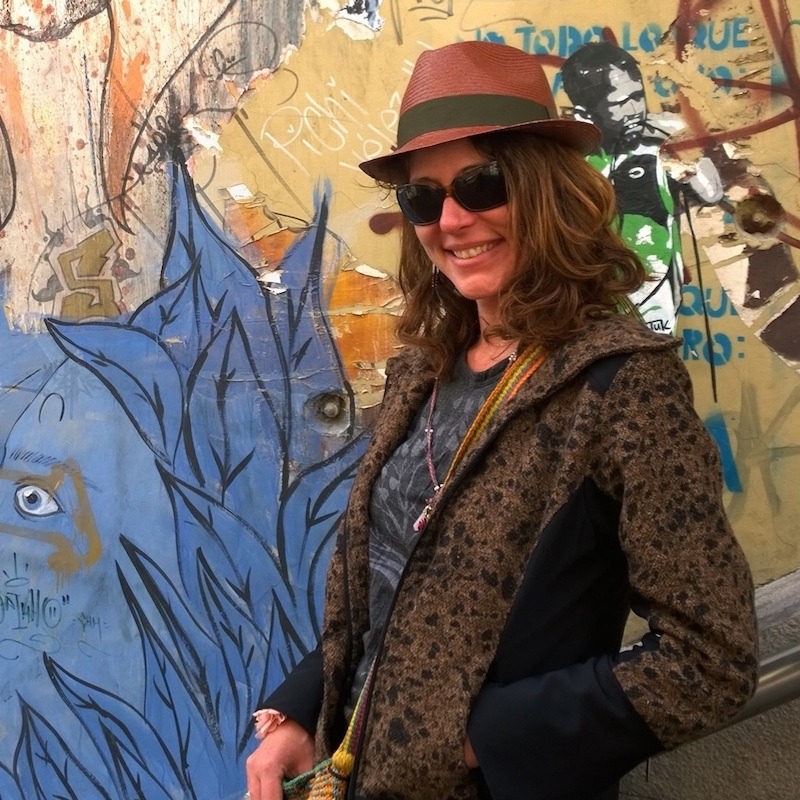 Anatomie usually has at least one style of pants made of thicker material in their rotation. When I last visited the Anatomie headquarters, they showed some thicker, almost fleecy materials currently in the design process that will be an absolute dream to wear.

Free Returns and Clothing Guarantees
Spending a lot of money on the perfect travel capsule wardrobe? Free returns are critical.
I'm still leery of ordering clothes online. Even with sizing charts, you just never know how something will fit.
Anatomie understands this, and orders placed in the U.S. include free returns. And rumour has it they're going to offer free returns to Canadian customers very soon too!
So if you're curious about how that shirt or pair of pants will fit, there's no risk in ordering it and finding out first-hand.
The same goes for clothing defects. While normal wear and tear are on your own dime, if there's a problem with an Anatomie style, they'll send you a new pair, as I experienced myself. Anatomie wants you to be 100% happy with your clothes, as they've demonstrated to me repeatedly.

Travel Clothing for Women with Curves
Most people aren't models. So how do we know if those pants will actually fit AND look good?
Over the years, I've grown, and not just emotionally! While I'm not disproportionate or overweight, my measurements baffle many sizing charts.
While trying to order pants and a shirt from (another) online clothing company, I couldn't figure out which sizes to get. According to their sizing charts, I was somewhere between a Small and Medium for the shirt (but my bust measurement said I should be Large – and believe me, my boobs aren't that spectacular).
When it came to my lower half, my self-esteem "bottomed" out. While I was accustomed to being a size 6-8, my recent weight gain put me in the (8-10) category. This particular clothing company's size 12 looked like it would still be too small. And….size 12 was their largest size. Who does that?!?! I have no idea what other curvy women would do if they tried to order anything from this company. (To their credit, my complaints inspired them to change their sizing charts, which is why they shall remain nameless in this post.) I simply share this story here as an example of how screwed up sizing is across the board, especially when it comes to women's pants.
Shawn (Anatomie's co-founder and chief designer) stood by while I tried on a huge variety of clothes, and he told me how they're supposed to fit and made specific sizing recommendations. Between his recommendations and my comfort levels, I got mostly Medium sizes, although I insisted on one pair of pants (the Luisa Skinny Jean) being Large, just in case my trend of having gained weight was going to (irreversibly) continue.
Even so, Shawn warned me that most of Anatomie's pants stretch up to a whole size over time; and my older Anatomie pants are testament to this. So, if your own Anatomie travel pants are a bit tight to begin with, never fear: their signature stretch fabric is a bit of a miracle-worker and will mold to your curves perfectly with time. (As it turns out, Shawn was right. Selecting the large size of Luisa Skinny Jean now means it's just a wee bit too loose).
I've had to be flexible with my use of Anatomie's sizing charts as well, being a curvy woman and all.
For shirts, I take Anatomie's Small and Medium sizes.
For pants, I take their Medium and Large sizes.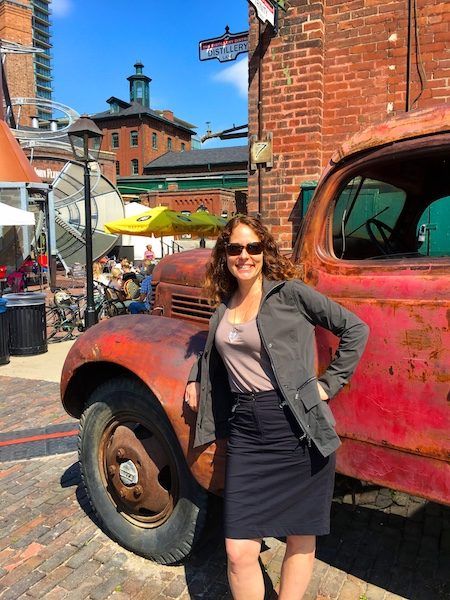 Here are some observations about how Anatomie's stylish travel clothes are made for curvy women:
The Dora Stretch Pencil Skirt has built-in jersey bicycle shorts. While this does add a bit to the packing weight and bulk, my thighs thanked me; can you say "no thigh rub??" (Note: the Dora has gone out of Anatomie's rotation; here are their current dresses).
I asked Shawn which styles of Anatomie's travel pants are best for the curvy woman; he said the Kate Pant (which I can attest to). More recently, Anatomie has come out with a whole line of pants for curvy women! You can filter their pants by body type which is very useful.
Not all women appreciate tight shirts. While I do recommend having at least one somewhat form-fitting tank top (e.g. Bri) and long-sleeved top (e.g. Pam Mesh Panel Top) for layering underneath jackets and such, I also like having a "let it all hang out" sort of top. Anatomie has a selection of looser-fitting tops that will turn heads; just have a browse through the store to see their latest designs, as their styles are always changing.
Not sure yourself? Here is one of the many bangs you get for your buck with Anatomie, in addition to free returns and quality guarantees: their personal Style Concierge will assist you with personalized fit and styling tips. You'll find their personal email on the Contact page of the website, and their assistance is very valuable (and of course, free).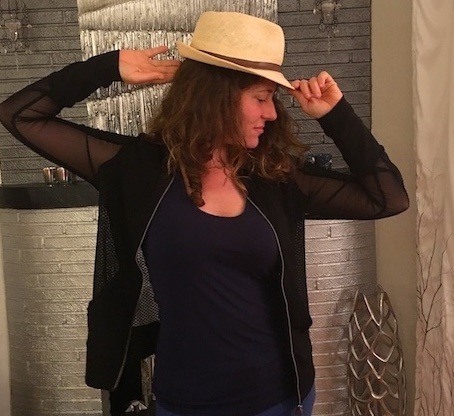 Anatomie Wrinkle Resistant Clothing Recommendations
Here is exactly what I packed when I took the challenge to travel with only Anatomie clothing:
Jackets:
Gracie Mesh Jacket, Black M (since discontinued. Here are Anatomie's current lightweight jackets)
Kenya Safari Jacket, Grey M
Tops:
Nessa Mesh Button Down Shirt, Orchid Print (limited edition colour)
Pam Mesh Panel Long Sleeve Top, Black/Dusty Rose (limited edition colour) (since discontinued. Have a look at Anatomie's tops for an alternative that suits you!)
Bri Pima Cotton Tank Top, Taupe M
Flo Sleeveless Top, Navy M (note: here's their current collection of tanks and sleeveless tops)
Bottoms:
Dora Stretch Pencil Skirt (with built-in jersey bicycle shorts), Black M
Luisa Skinny Jean, Black L
Cargo Capri, Navy M (since discontinued; they're the longest-standing pants I've EVER owned! Anatomie occasionally comes out with an updated Capri pant for a season; check what they've got on offer!)
While this capsule wardrobe worked perfectly, I was sad to leave behind a few other of my fav classic Anatomie pieces, like the Kate Skinny Cargo Pants and Merika Windbreaker. But when pressed to travel ultralight, the above list did the trick for a variety of circumstances and temperatures.


Use the discount code NORA20 to get $20 off your order!
(Minimum order amount is $120 to qualify. Enjoy free shipping on all domestic orders.
BONUS: My Top Packing Tips Video
I know, I know. I must sound like a psychotic cheerleader. I promise, I haven't been drugged, nor unduly forced to write all these accolades. Anatomie approached to develop a long-term relationship, much like they do with all their customers. (The difference being, they started me off with a free outfit, which inspired my love affair with them. Lucky me!).
And as much as I love Anatomie, they love me too, and they're fascinated at how I traveled with carry-on luggage only for two whole years! While I was visiting Anatomie's headquarters this year, they turned on the cameras and got me to share my top packing tips for ultralight travel. Here's what I had to say:
Click here to watch on YouTube


Model Pictures (Wearing Anatomie Wrinkle-Free Travel Clothes)
A reader once wrote in that they visited the Anatomie website and were turned off by the super-skinny model. I mentioned this to the folks at Anatomie. Problem is, they said, skinny models work best – not necessarily for styles, but for customers. It's a fashion industry thing.
This is why I've populated this post with pictures of me instead of models.
But I'm not the best model either. So, here are some professional shots of the exact clothes in my capsule travel wardrobe, courtesy of Anatomie:
Note June 2019: Anatomie has jumped on the curvy collection bandwagon! They now celebrate all figures using models of various sizes. 🙂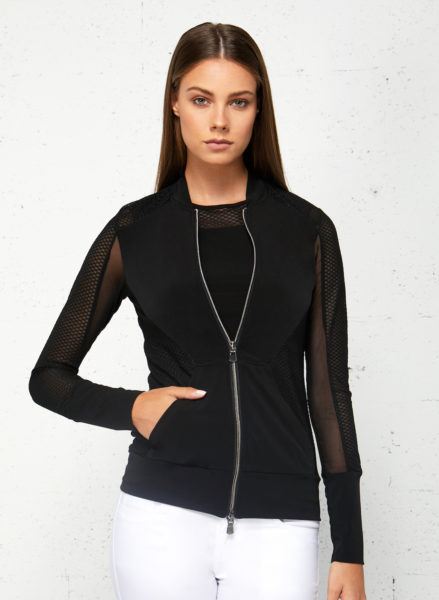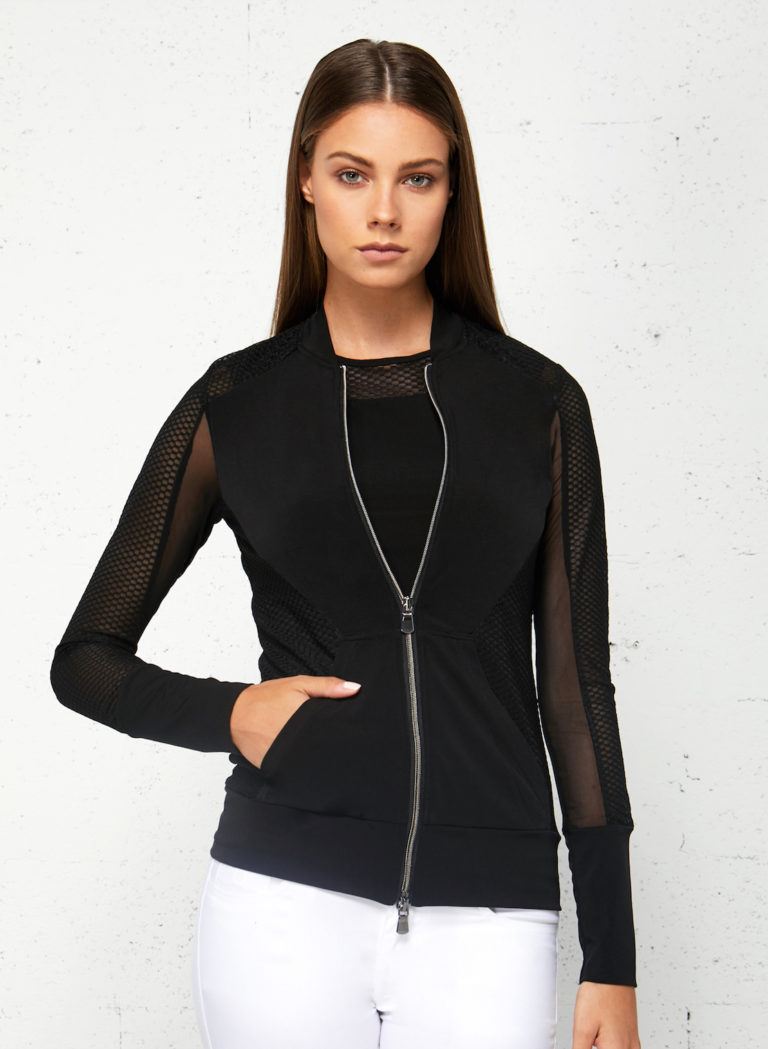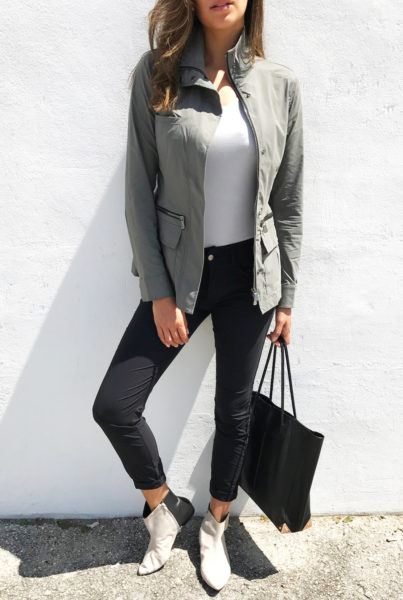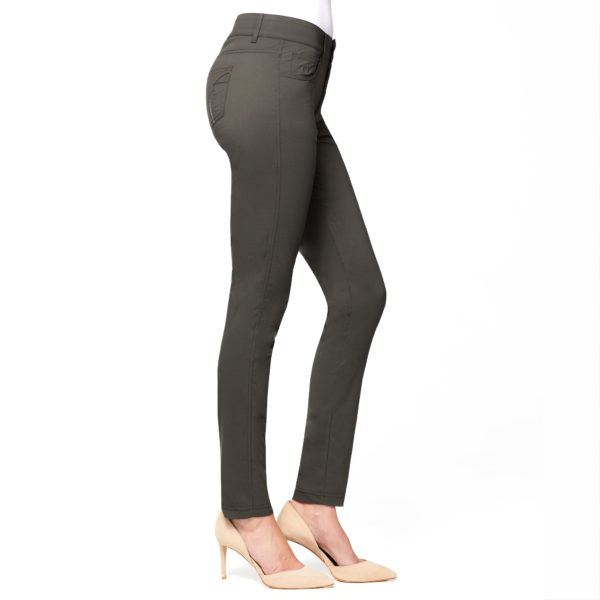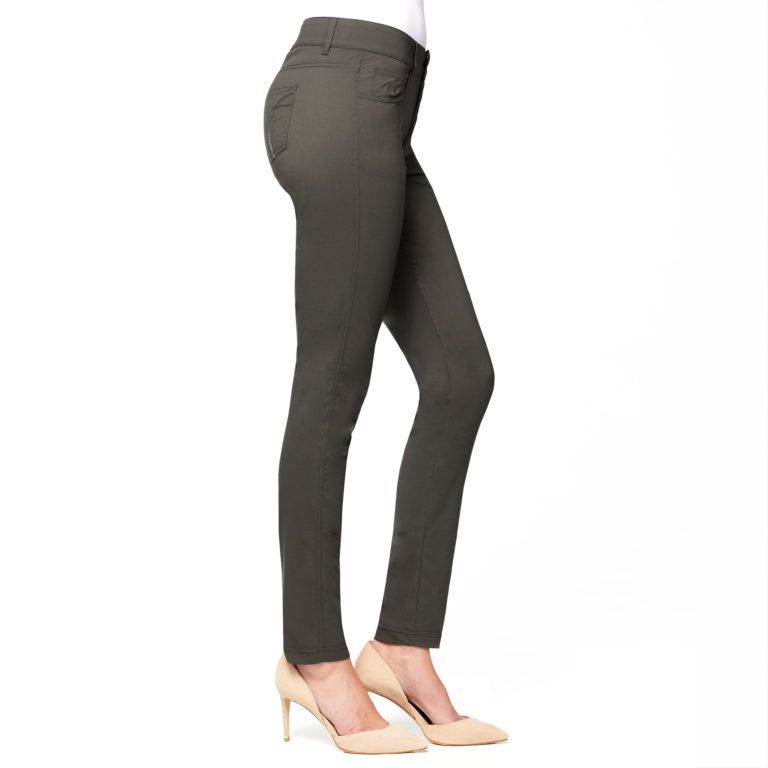 Check out my Travel Lifestyle Guides for more ways to earn money remotely, spend it wisely, and balance the two so you can travel as long as you wish, in a financially sustainable way. 
Want to know more about packing for travel and the best travel clothing tips?
Check out these posts:
Anatomie Travel Clothing Made me Throw Out my Jeans
My Search for the Perfect Travel Sandal
The Ultimate Packing List for Full-Time Travel
Best Luggage for Full-Time Travel
Checked vs. Carry On Luggage (and Why Checked is Best)
Travel Packing: How and What to Pack for Full-Time Travel (VIDEO)