I created a monster. I told my boyfriend about Western Rise clothing, and last year, I managed to get him a merino shirt to test out so I could review it on my website. He adored it. So when Western Rise came out with their Limitless Button-Down Merino shirt earlier this year, his heart was all aflutter, and I got him a sample to review. Since then he has put his own money into a total change of wardrobe. Now, pretty much his entire travel wardrobe is made by Western Rise. (He owns three shirts and two pairs of pants.)
In this article I'll describe exactly what he owns, and what he likes (and doesn't like) about each, and in turn why I think Western Rise makes some of the best travel clothes for men.
See also: Merino Wool Clothing for Travel: A Guide to Choosing the Best Brands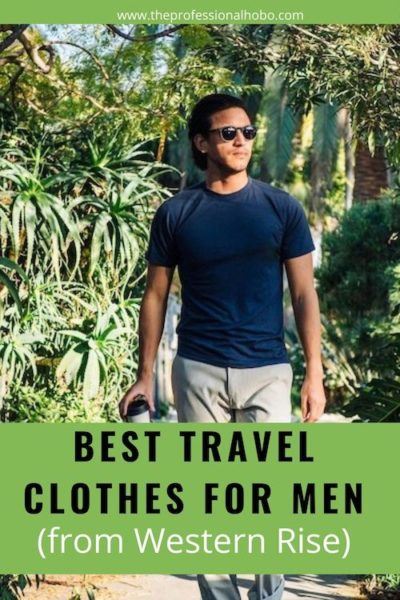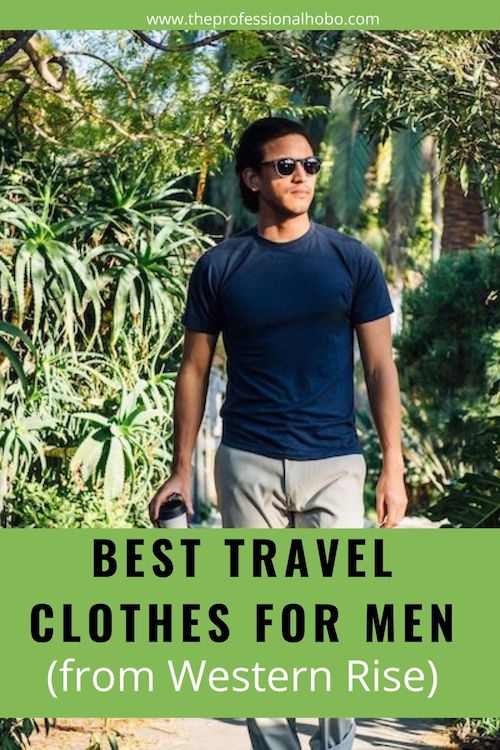 About Western Rise Men's Travel Clothes
Western Rise is a men's outdoor/travel clothing company based in Colorado. Their designs are very intentional with a stylish edge that can seamlessly take men from the office to the mountains in one fell swoop.
They make outdoor gear that masquerades as smart casual clothing; rugged enough for the trail, and snappy enough for the office.
Or maybe, it's the other way around.
Either way, when it comes to men's travel wear, the key factor here is the intersection of performance and design, which results in multi-functional clothing that can be worn in multiple scenarios. And if you're traveling light, this isn't a nice-to-have; it's a downright necessity.


Creating a Capsule Wardrobe for Men: What Makes the Best Men's Traveling Clothes
Remember when I wrote about the best travel capsule wardrobe for women? Well, fellas: now it's your turn. Here's what makes the best men's traveling clothes, and how you can design the most efficient capsule wardrobe for men.
All of the clothes reviewed in this article fit the following criteria.
Quick Dry – The best travel clothes for men will air dry, overnight. Period. Quick dry shirts and pants are essential.
Antimicrobial / Antibacterial – The more wears you can get before washing, the less travel clothing you need to bring. Antimicrobial and antibacterial properties keep the stink away.
Wrinkle-Free – No matter how meticulously you fold, roll, or cram your clothes into your luggage, they're going to come out creased if the material isn't wrinkle-free. Even the best packing accessories won't solve this problem.
Same Family of Colours – Ideally everything you pack matches. This creates more wardrobe possibilities within a smaller selection of clothes. Don't forget about your shoes, which also need to match!
Lightweight – If you're going to Siberia, a breezy lightweight shirt may not be appropriate. But extreme weather conditions aside, the right selection of lightweight clothes will be great on their own, and can layer for cooler temperature variations. And of course, lightweight clothes pack down easier.
Multifunctional – The more scenarios your clothes are suitable for, the more multifunctional they are. The Limitless merino wool button-down shirt as an example (reviewed below), can be worn in different ways to fit in with both super casual and business scenarios.


Why Merino Wool is the Best Travel Clothing for Men (and Women)
Western Rise specializes in about half a dozen different performance fabrics, including merino wool, hemp, and various composites. But the star of this article when it comes to men's travel shirts is merino wool.
Here's why merino wool clothing rocks for travel (for men and women):
Note: Western Rise is a menswear company, but for the best merino travel shirts for women (and men too), check out Aviator. I have their t-shirt, Redeye hoodie, and zip up hoodie. They're all awesome.
When cotton gets wet (from sweat or rain or whatever), it can't keep you warm – in fact, it lowers your core temperature. Merino wool still keeps you warm, even when wet.
Merino wool is anti-microbial, anti-bacterial, and thus odor-resistant. Antimicrobial shirts are like magic. You can wear your merino tee for an entire week (or longer) without smelling. My fella tested this theory – he wore it for a week straight and it passed my deep-inhalation-of-the-armpit test.
It's soft and delightful to the touch.
It's moisture-wicking and breathable.
It regulates your body temperature. A relatively light weight merino wool shirt can still keep you warm, and also cool. (Magic).
It's easy to care for. Hand wash or machine wash on cold, hang to dry overnight. Done.
It lasts forever.
It's better for the environment. Some synthetic materials that have similar warmth and moisture-wicking properties also contribute to micro-plastic pollution.
The challenge with merino wool, however, is that you're going to have to pay for it; as a sustainable material, merino wool clothing is almost always more expensive than its synthetic counterparts. But in my experience if you treat your merino wool travel clothing well, it will treat you (and the environment) even better, by not only doing a better job than any other material, but also by lasting way longer.

As mentioned at the beginning of this article, my boyfriend received two Western Rise shirts on my behalf for free to review. The rest of the shirts and pants, he bought with his own money. If you use the links in this post to buy your own duds, I'll earn a small commission.

Use the exclusive code PROHOBO10 for 10% off your first order.


StrongCore Merino Tee – Best Casual Shirts for Men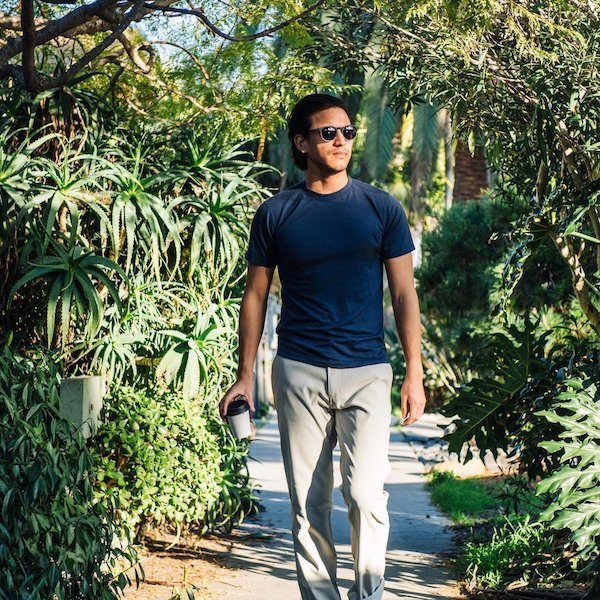 This is Western Rises' best-selling tee, and with good reason.
My fella was initially impressed with the shirt's light weight and soft feel. He wore it on an especially hot summer day and went from outside-swelter to inside-over-air-conditioned-chill and was comfortable in both environments. He was also impressed with how quickly it air-dried after washing.
Style-wise, my fella is a little persnickety, and is accustomed to cotton t-shirts. The StrongCore Merino T-Shirt fit him a bit differently; it was longer than he's used to, and also a little bit looser (while still being the correct size for him).
It's also a bit thinner than a standard cotton tee, which slightly affects how it hangs on the body. This is a plus when it comes to being travel-friendly, because it is much lighter and packs down smaller than its cotton counterpart, without sacrificing on the warmth or protection a thicker cotton tee would offer.
Lastly, my guy was perplexed by how the wool got a little bit fuzzy after a few washes. He thought it was lint! It's not. It's just the material; merino wool gets that way – unlike cotton. Honestly it's barely noticeable; my boyfriend took his role as travel t-shirt reviewer very seriously.
He has now worn this shirt (heavily) for well over a year. Nothing has changed; the shape remains in tact, the material hasn't degraded at all, there's no stink-factor even with many wears between washings, and it's so comfortable he wears it all the time.
For the Best Men's Casual Shirts, check out the StrongCore Merino Wool Tee here.


Limitless Merino Button-Down (Merino Wool Dress Shirt) – Best Men's Dress Shirt for Travel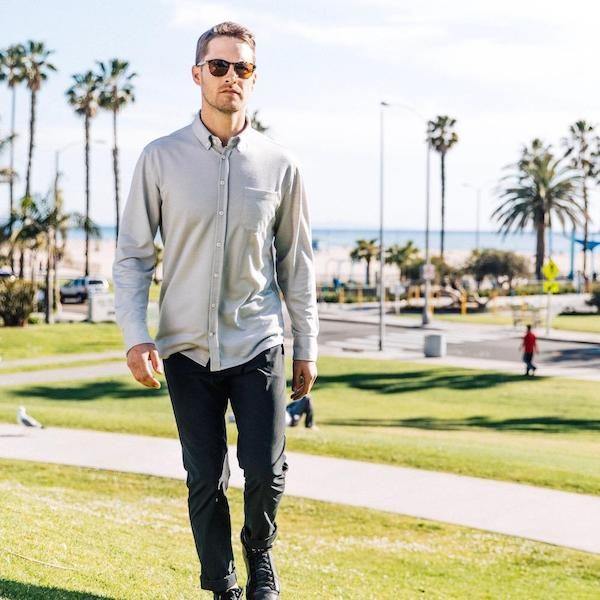 A wrinkle-free dress shirt for travel? Say it ain't so.
In the name of comfort, my fella is a t-shirt-wearing kind of guy. When the Limitless Merino Wool Button-Down Shirt came out however, we both saw potential for this to be a comfortable way to look dressier while traveling (and at home). Because sometimes circumstance requires you to level up your look, and dressy collared shirts do not travel well. In his words:
"I was immediately surprised at how stretchy it is. I've often felt restrained by the material of other button-downs which kept me from wearing them and opting for a tee instead. This is a button-down shirt that is so comfortable, I lounge in it.

No matter the occasion, it can be dressed up for a day at the office or a date with my special lady, or dressed down for an evening spent with friends, at the beach, or even on a hike. This really is an everyday shirt."
A classic button-down shirt is a men's travel wardrobe essential. You can achieve different looks by rolling up the sleeves, wearing it unbuttoned over a tee, tucking and untucking it, etc. It is essentially many different shirts in one, and the merino wool makes it wrinkle-free, anti-bacterial, odour-resistant, and well-equipped for the rigours of travel. It's one of the best men's wrinkle-free travel shirts I've ever come across. It ticks ALL the boxes.
Learn more about the Limitless Merino Button-Down Collared Shirt here.


Limitless Merino Polo Shirt – Best Collared Shirt for Travel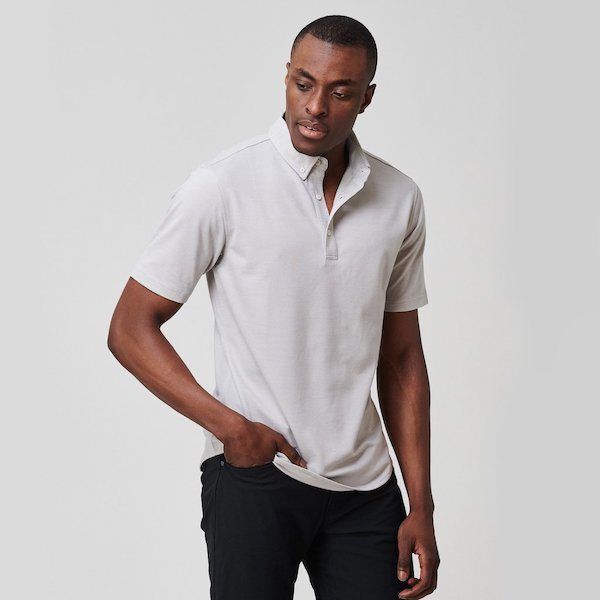 With a merino tee and a long-sleeved button down, the last piece to complete the perfect trio of best travel shirts for men is the Limitless Merino Polo Shirt. In terms of both climate and dressiness, it falls right in the middle with short sleeves and a collar.
By this point my guy was convinced that Western Rise makes the best men's travel clothing and started buying other pieces; this was the first.
While you might not think that wearing wool in hot humid weather is wise, here's what my fella said:
"The temperature regulation has been helpful during the hot and humid days of summer. There was little to no odor retention until the third or fourth day of consistent sweaty use. With light activity around the house I can go a week without washing."
Speaking of washing merino wool, it's much easier to care for than you might think. Simply machine wash it in cold water and air-dry (it dries incredibly quickly). The label even says you can dry it in the dryer on a delicate cycle (as my fella has done many times), but I believe drying merino wool decreases its lifespan, and let's get it right: merino wool ain't cheap. You'll want it to last.
Check out the Limitless Merino Polo Shirt here.

Western Rise Pants
While this article thus far has been about Western Rise shirts, it's worth noting that Western Rise Pants are some of their staple, multi-award-winning, cornerstone products.

Evolution Pant: Best Travel Pants (The Only Men's Travel Pants You'll Ever Need)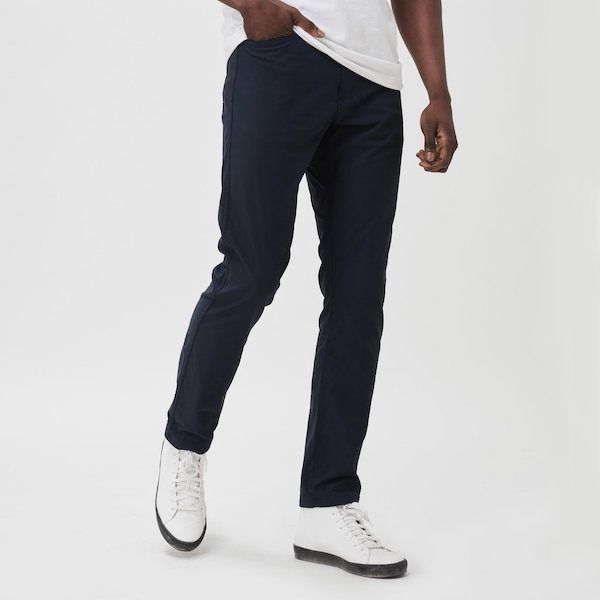 Western Rise calls the Evolution "the ultimate travel pant", for the following reasons:
The material is water-repellant, stain-resistant, super durable, and Blue Sign approved for sustainability
It's soft, stretchy, abrasion-resistant, and anti-pilling
They pack down smaller than a t-shirt!
Dressy enough for the office, while rugged and comfortable enough for the outdoors
Hidden back right zipper security/passport pocket
Front pocket is large enough for a smartphone
Voted Best Travel Clothing in Carryology's 2019 Carry Awards
My guy loved his first pair of Evolution Pants so much, two months later he bought another pair (in another colour; they offer it in six colours after all). He says:
"The Evolution Pant touts itself as being "the only pair of pants you need" and so far it's hard to argue with that statement. They're the best travel pants I've ever had. The fit is just right straight out of the packaging and I've worn them for multiple days at a time. These pants are ideal for summertime, but I am confident they will be great in all climates. They've already taken the place of a couple pairs of pants."
Evolution Pant 2.0 – Taking Men's Travel Pants to the Next Level (2022 UPDATE)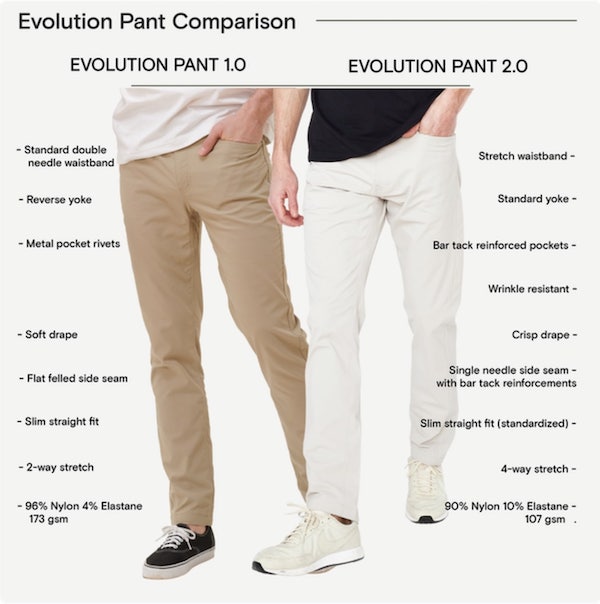 Since originally writing this post, I parted ways with my boyfriend, and Western Rise levelled up the Evolution Pant 1.0 to create the Evolution Pant 2.0. So I found a new test subject for the Evolution 2.0 pant, and he was just as enthralled with Western Rise as my first fella was.
The Evolution Pant has been Western Rise's flagship product since 2018, but they wanted to improve on it anyway, and that they most certainly did. While the biggest changes are the stretchier waistband, 4-way stretch fabric, and a new durable water repellant formula, as you can see from the image above, these are just the tip of the iceberg. They went to town with the improvements.
In their words:
The Evolution Collection can be worn for multiple days in a row without washing. The pants pack smaller than a t-shirt, move with the body, and replace at least three pants in your closet. The new design ensures they can dress up for any meeting or wedding, yet are rugged enough for any outdoor activity. Sustainably built from the yarn up with the comfort of your joggers with the performance of high-grade nylon. The most versatile pants for travel, outdoor, and everyday. The Everyday Pant, Elevated.
When I asked Fella 2.0 for his feedback on the Evolution 2.0 Pant, the things that really stuck out for him included:
Stain Resistant – I would go so far as to say stain proof. He spilled a large amount of red wine on the pants (unintentionally of course, but I wasn't entirely displeased with the event as it was a chance to test out their stain resistant claims). What happened next shocked us both. The wine beaded up and rolled off the pants, leaving no mark or stain whatsoever. It was like magic.
Wrinkle-Free – These pants hang perfectly without a wrinkle in sight, despite being crammed into luggage.
Secret Zippered Back Pocket – Within the back pocket is another zippered pocket that is perfect for extra travel security, to keep valuables (like cash, credit cards, or a passport) out of the hands of pickpockets.
"Media Pocket" at Front is Big – You know that tiny pocket at the font that has been a feature in 5-pocket jeans and pants since forever? The one that is so small it's useless? It's called a media pocket. And on the Evolution 2.0 pant, it's actually big enough to hold something – even a smartphone (depending on the side of the phone).
They're dressy, AND casual – My fella's immediate reaction on seeing the pants is that they are dress pants. I didn't see them that way; I don't tend to think of 5-pocket pants as being dressy. But this just goes to show that the Evolution Pant straddles the line between casual and dress. Depending on what you wear them with, you can dress them up or down – an incredibly useful trait for travel.
Shop for the Evolution Travel Pant here.


AT Pant: The Travel-Friendly Alternative to Jeans
My guy is from a relatively warm place, and we are contemplating spending the winter in Canada. Being his first real winter, I warned him that the Evolution Pant might not have what it takes to get him through. So, he bought a pair of the AT Pants, which are Western Rise's alternative to jeans.
It's a classic 5-pocket pant, but it's lighter, more durable, and more comfortable than cotton denim. They also keep you from getting wet if it rains, and in keeping with all travel-friendly clothes for men in this article, they dry quickly.
He hasn't thoroughly tested the AT pants yet, but here is his initial reaction:
"The fabric breakdown is 97% Nylon and 3% Spandex versus the Evolution's 96% Supplex Nylon and 4% Elastane, which makes it not as flexible as the Evolution (probably couldn't do yoga in the AT Slim whereas I could in the Evolution), but they're a tad thicker and feel more hardy and durable.
Definitely a cooler weather pant.
Idk what else to say besides…I really like them! ?"
Check out the all-season AT Pant: a travel-friendly 5-pocket pant. Like jeans. But way better. Check it out.



These are only a few Western Rise Men's Clothing options! Check out their Best Sellers here.
And remember: Use the code PROHOBO10 for 10% off your first order.


One Last Reason to Check Out Western Rise Clothing
When I went on an expedition cruise around Newfoundland, I attended a number of workshops about various environmental ideas and practices. I learned about "buy-cotting"; it's like the positive cousin to boycotting. It involves using your buying power to vote for the things you care about. I think about this every time I am at the grocery store and compare an organic/sustainable product to it's cheaper counterpart. Which product reflects and supports my values and concerns? Every dollar I spend counts.
This applies to more than groceries. Which is why my heart sang when I read about Western Rise's commitment to sustainable manufacturing.
As a member of 1% For The Planet, they donate 1% of their annual revenue to grassroots environmental non-profits.
In addition, they're a Climate Neutral Certified company, which means they measure, reduce, and offset the company's carbon footprint, resulting in net-zero carbon emissions.
See also: My Zero Waste Kit for Travel (and Home)


You Might Also Be Interested In:
Pro Packing Hacks: These are the Best Packing Accessories
The Ultimate Packing List for Long-Term Travel
Checked vs. Carry on Luggage, and Best Options for Both
The Best Travel Capsule Wardrobe for Women