Since starting this whole long-term travel adventure several years ago, the best travel clothes eluded me; very few pieces of clothing withstood my travels for very long.
Either my location, culture and local style, climate, or pure wear and tear has meant that I've had to buy new pieces of cheap mediocre clothing along the way.
While I generally enjoy refreshing my limited wardrobe, there's rarely been an item of clothing I've actually been excited to wear.
Until I discovered Anatomie's travel clothes.
In this post, I'm going to tell you all about why I genuinely think they're the best travel clothes brand out there (even though I started as a skeptic).
This article was originally published in 2012 and has been continually updated since for accuracy of links and content. Though some language may reflect its original publication date.
I received many of the pieces of clothing I'm reviewing here for free, and there are some affiliate links in this post. But my almost-evangelical enthusiasm is 100% real, and I have written subsequent articles about how my Anatomie clothes have stood the test of time (and I've since bought many pieces for myself).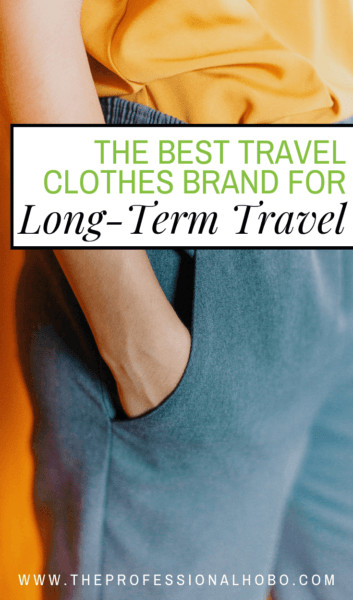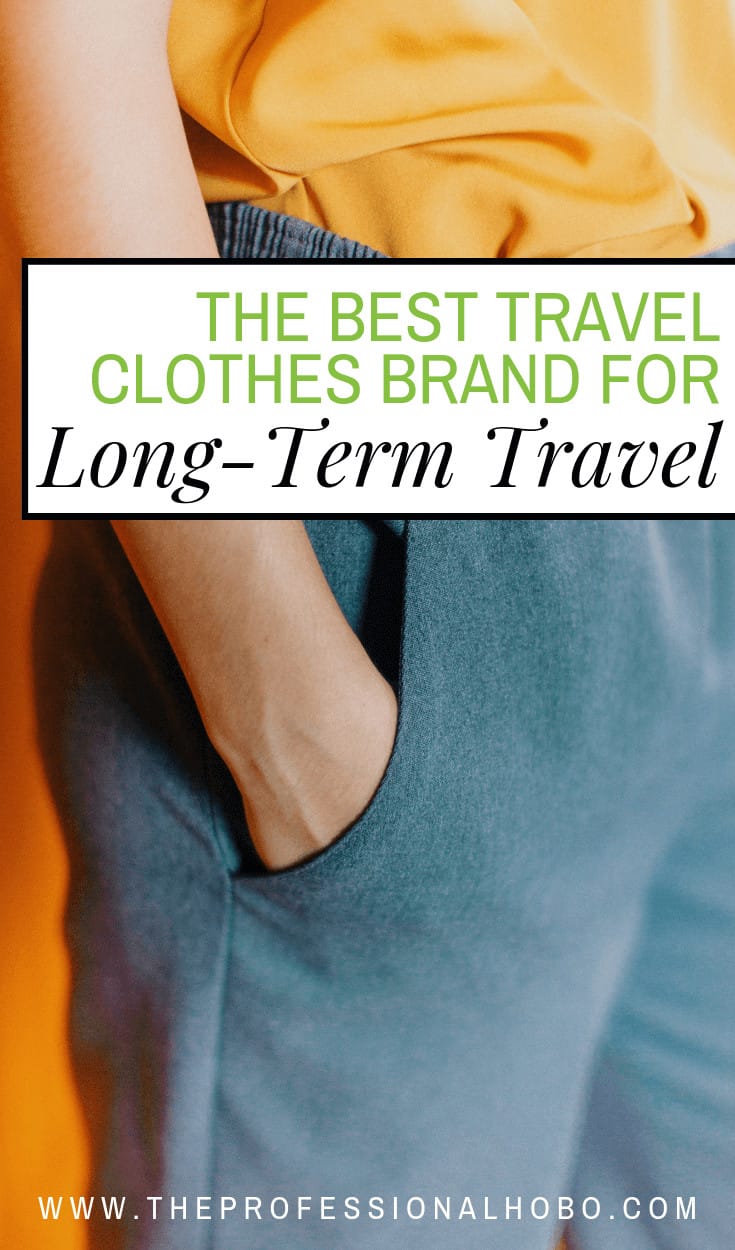 My First Impression of Anatomie Travel Clothes
When Anatomie approached me to review a few pieces of their clothing in 2012, I was skeptical at best. How much are those pants? I can't even try them on first? Yikes.
But I agreed anyway, after browsing their site and becoming intrigued by the designer styles and apparently-travel-friendly materials they use.
It didn't look like "conventional" travel clothing, but who knows. I don't tend to like "conventional" travel clothing anyway – it's usually too utilitarian for my taste.
I asked for their Monika Short-Sleeve Ballerina Dress, but they also sent me their Cargo Capris and the Cosima Cozy Coverup.
Once I received the clothing, I had a chance to test it out in four countries; on mountain tops, in city jungles, lounging about, packing and unpacking, and in climates ranging from chilly alpine Europe to humid Caribbean summer.

Here's the down and dirty about how Anatomie faired this trial-by-climate/country:
Anatomie's Monika Short-Sleeve Ballerina Dress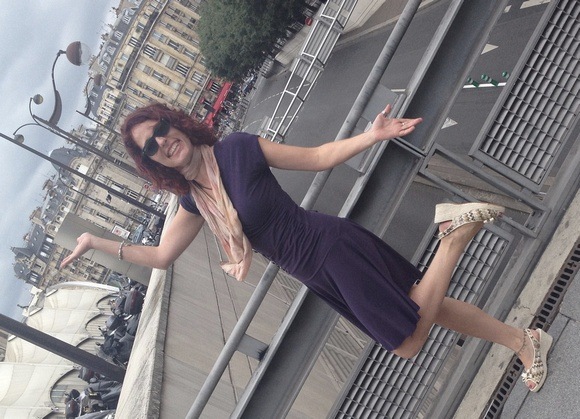 I was most excited about receiving the Monika Short-Sleeve V-Neck Ballerina Dress, as I liked the look, and the description promised it would be flattering.
And every traveling girl needs a dress they can pull out of their bag in a jiffy and slip on to impress the masses.
It's the proverbial "little black dress" – designed and evolved for travel.
And it passed the test.
It's incredibly comfortable, flattering, and it feels indestructible. It washes well, and it dries much quicker than I thought it would.
Because of the extra material in the mid-section it's not the lightest or most compact piece of clothing I own, but it's certainly not the heaviest, and it doesn't wrinkle – and did I mention it's comfortable? It actually makes me feel like a ballerina….I want to dance in this dress!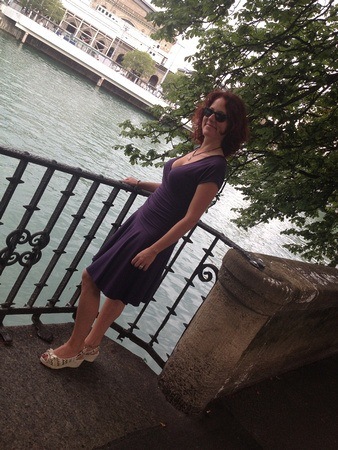 The style is conservative enough to pull off in many scenarios and cultures, but (where appropriate) I also like to spice it up and wear the sleeves off the shoulders!
This dress has quickly become one of my absolute favourite pieces of clothing.
Unfortunately the Monika dress is no longer available, but it's been replaced with lots of other cool dresses.


Anatomie's Cargo Capri Travel Pants
I hate shopping for pants.
Largely because pants fit me incredibly inconsistently. One style/make of pants might be a perfect fit at a size 6; and another pair can barely get past my knees at a size 12. And often pants that fit me properly in the hips and thighs have waists that are way too large and gap unflatteringly at the back.
So I specifically didn't ask for pants from Anatomie. I wasn't interested in receiving a pair of pants that I couldn't try on first.
But they sent me a pair of their Cargo Capris anyway – and boy, am I ever happy they did.
After over five years of constant wear, these capris have held up terrifically.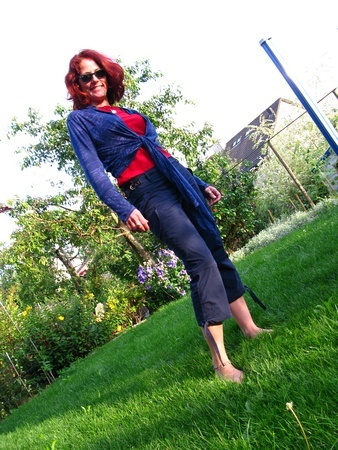 The material caught my attention first; it's incredibly lightweight, stretchy, yet durable. The fit surprised me next: like a glove! There are side straps at the waist to customize the perfect fit (which suits both skinny and bloaty days!), and the low-rise style is quite flattering.
Because of the light stretchy material (which most of Anatomie's pants are made of), it's very comfortable and dries almost instantly, but it's not suitable for cooler weather.
My only beef with the Cargo Capris are the pockets. It looks like there are lots of useful pockets, but the main pockets are useless as they're blocked by the lower pockets – which look nice but aren't particularly secure (I've lost coins from sitting down and standing up again). And the back pockets are only flaps. Thus there's not a lot of pocket space to justify the number of pocket flaps perpetually sticking out at weird angles.
Despite these criticisms I wear the Cargo Capris consistently, and they're perfect for summer climates – staying covered up yet cool. (Oh yes, and nary a wrinkle in sight).
Though the Cargo Capris are no longer on offer, there are plenty of full length pairs of pants made with the same awesome material. The Kate pants are my fav pair of travel pants.
Use the discount code NORA20 to get $20 off your order!
(Minimum order amount is $120 to qualify. Enjoy free shipping on all domestic orders.
Anatomie's Cosima Cozy Coverup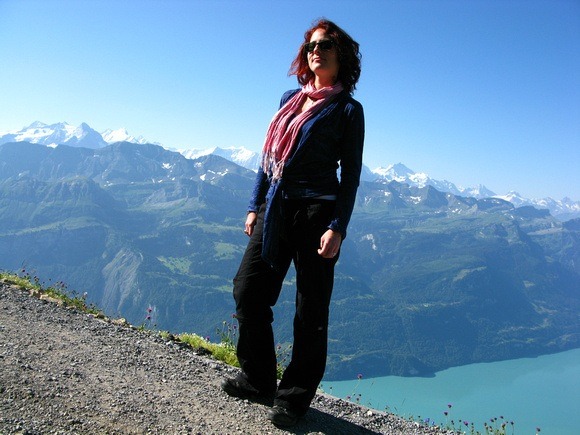 I also didn't specifically pick this item (they just sent it to me). Although I'm a big fan of having a universal cover-up like the Cosima Cozy as an essential piece of travel gear (especially when packing space is limited), I already had one in my arsenal at the time, and the Cosima material looked way too flimsy and too lightweight to actually be warm.
How could this possibly be a practical piece of travel gear, and withstand the rigours of travel?
Indeed, when I opened the package, I was hit with a conflicting reaction to the Cosima Cosy Coverup: on one hand it seemed so thin that if I looked at it the wrong way it would fall apart, and on the other hand it was Just. So. Cosy.
I couldn't stop touching it and purring.
For two months I wore it a lot; and I'm pretty tough on my clothes, so I put it through some paces. It stood up to the challenge, as if defiantly challenging me to push it even further. But I still wasn't convinced it was as tough as it seemed.
And then, one day, it happened.
I brushed too close to a doorway and the Cosima got caught up on a nail. Glory be – it didn't rip! I'm still not sure how this is possible (it was a full-on snag and I was moving quickly), but it seems this material is tougher than it looks and feels.
And as with all my Anatomie clothing, it washes easily, and dries almost instantly. It regularly gets crumpled up in the bottom of my laptop bag when I'm on the move, and I can always whip it out and put it on without a wrinkle in sight.
While the Cosima Cozy isn't available any longer, they have lots of beautiful tops to choose from – check them out here.


Why Anatomie's Travel Clothes Are Worth The Money
So you've seen the prices. This stuff ain't cheap. And as somebody who has perfected the art of financially-sustainable full-time travel, I was hesitant to review any of their clothing.
But.
Here's why Anatomie is actually worth the money:
The material is largely sourced from Italy and France. It's good stuff.

Nothing wrinkles. (And I don't carry an iron in my bag. Strangely.)

Everything feels soft and lovely.

The fit is surprisingly good.

Despite some materials feeling dangerously thin, it's very durable.

It's stylish, in a classic way that transcends many cultures and borders.

It's designer travel wear. And when you wear designer clothing, you usually pay a premium.




Worried About the Fit? Or Just Not Liking What You Order?
Don't be. Anatomie offers free shipping and returns on all sales. They provide a pre-paid return label with your shipment, so it's no hassle to do exchanges or returns.
So, in short, I'm a convert. Anatomie is now, in my opinion, the best travel clothing ever.
Although I wouldn't have considered paying the asking price for this clothing when I first browsed the site, once I had a chance to try it, I was sold. I've since purchased a large number of Anatomie pieces (and received a few others to review), such that now the vast majority of my travel wardrobe is made by Anatomie.
Anatomie is designer travel wear for women, and in marrying the practical needs of travel with the style requirements of the designer industry, Anatomie has found their niche.
Use the discount code NORA20 to get $20 off your order!
(Minimum order amount is $120 to qualify. Enjoy free shipping on all domestic orders.