How to Get Free Accommodation Around the World –
UPDATED in 2023 – 3rd Edition!
Check out the extra EXTRA discounted prices below, and get it while the price is right.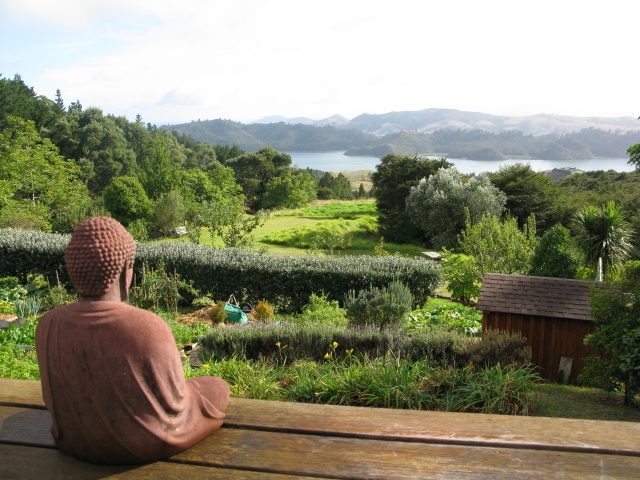 Do you want to travel the world but worry you don't have enough money to go for as long as you want to?
Are you looking to get off the beaten track and make local friends, but don't know how?
Do you crave a unique travel experience?
Have you ever wondered how I managed to travel full-time and stay in so many cool places?
Hint: I'm not rich. (Far from it).
Everywhere you go, there are free accommodation opportunities. How would you like to sample local life by staying for free in the following places:
A bluestone cottage on 300 hectares of property in the Australian countryside
An abandoned village in Spain
A trendy house in the Beaches area of Toronto
A yurt on a Hawaii cliffside
A villa resort property on the Caribbean island of Grenada
A 49 foot sailing boat in the Caribbean
A Swiss alpine cottage and 4-storey home in Zurich
A palatial house in Panama
A full-sized house in Tokyo
I've done all of the above. This doesn't count the individuals and families I've stayed with – for free – in Canada, USA, Spain, Ireland, Germany, Australia, New Zealand, England, Scotland, France, and many, many more countries.
In addition to saving money, these are much more culturally enriching experiences than paying to stay in an impersonal hotel or hostel, and struggling to get a true feel for the local culture.
In my first 10 years of full-time travel, I saved over $100,000 in accommodation expenses.
$100k.
I will teach you all my secrets.
With the money you'll save on accommodation, you can turn your travel dreams into a financially sustainable full-time lifestyle (as I did), or you can simply enjoy a great vacation, and spend the money you save on more exciting things than accommodation.
Want to Know How to Do It?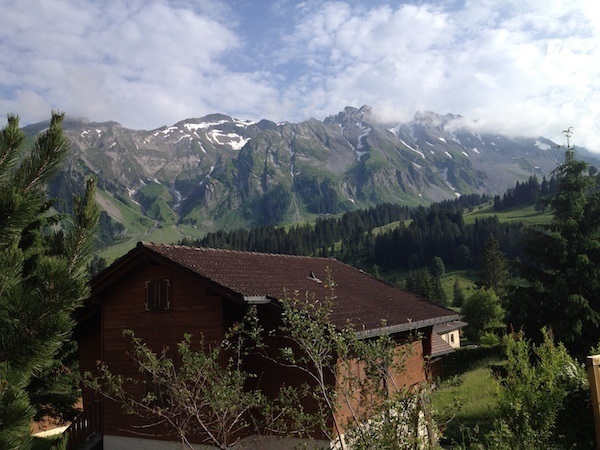 You've come to the right place.
How to Get Free Accommodation Around the World, 3rd Edition is packed with resources, tips, anecdotal experiences, and advice based on years of experience.
These five modalities of free accommodation are each covered in detail:
Volunteering
House-Sitting
Couch Surfing (Hospitality Exchanges)
Living on Boats
Home Exchanges

Here's the Rub: Free Accommodation Gigs Aren't All Rainbows and Unicorns.
While I count my free accommodation experiences as some of the best travel experiences I've had in all my years on the road, I've also had some pretty rotten things happen.
What started out as a great house-sitting gig ended in a bad review because of unmet expectations.
A work-exchange host became totally unhinged and endangered all the volunteers.
I arrived to house-sit at a resort and was saddled with responsibilities commensurate with an employee.
I volunteered on a boat with a captain who was looking for more than a helping hand….
I discovered (the hard way) that not all forms of free accommodation are compatible with working remotely.
I also learned that all of these challenges and problems could have been avoided. And in this book I'll help you do just that.
Some of the things you'll learn:
Multiple resources to find gigs in each of the five modalities
How to stand out and land gigs
What to expect in terms of workloads and responsibilities
How to stay safe
Ensuring both parties have a good experience
Tips for working remotely concurrent to the responsibilities of each of these free accommodation opportunities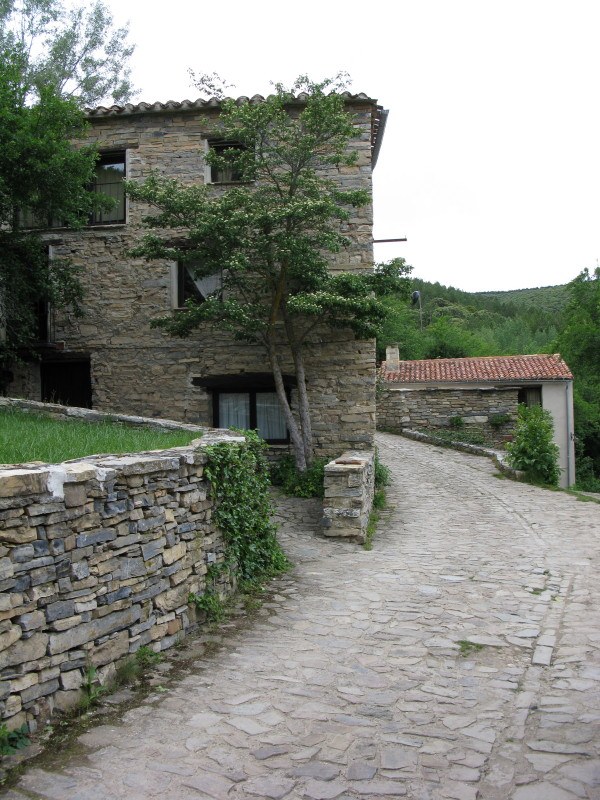 This e-book is a practical resource to get you on the road and enjoying free accommodation, right away – whether it's for a week, a month, or a year – with the help of my full-time travel experience specializing in free accommodation, since 2007.
New to the 3rd Edition (expanded to 70 pages from 44 pages):
Dramatically expanded listings and descriptions of websites to find all five kinds of free accommodation (with updated links), especially the work-trade and house-sitting sections
An entire section on boat etiquette, safety tips, and ways to get the most out of a nautical arrangement
A massive expansion of the Home Exchanges chapter, including advice for getting the most out of an exchange (as both a guest and homeowner)
More anecdotes, practical resources, and advice
Less fluff
Ready?
Great!
How to Get Free Accommodation Around the World, 3rd Edition
is a 70-page e-book and costs
$29.99 $14.99
$9.99 USD!
Why the extra extra discounted price, you ask?
Because if you tried hard enough and spent enough time (and made enough mistakes), you could figure out all this on your own. (That applies to most things in life, doesn't it?)
In fact, some of you have might come to this very page from one of the amazing free online guides I've published on various topics that will help you travel intelligently, inexpensively, and rewardingly.
But really. Do you want to waste all that time trying to reinvent the wheel and cobble together tidbits of information from dozens of different sources? And end up in crappy – and perhaps even unsafe – scenarios, just so you can learn those lessons?
Why not just get the real scoop from somebody who has done it all themselves?

Here's what you get for your $9.99 that you won't get elsewhere:
You'll learn which free accommodation websites are the best for you

given your lifestyle, geography, and travel needs and desires.

You'll get an edge over the competition

– and trust me, competition is fierce!

You'll get tips and tricks

to be the best volunteer/house-sitter/boat-dweller/home exchanger/couch surfer out there.

You'll learn how to stay safe

and do your due diligence before you commit to a gig.
In buying this book, you will get more than your money's value right away – on your next trip – on your first night of free accommodation.
In fact, if you apply the lessons in this book you will save you hundreds if not thousands of dollars and will deepen and enrich your travel experience beyond anything that money can provide.
It's a PDF file that is nice and small and easy to download over any speed/quality of internet connection.
And, it's formatted to be easy to read on computers, tablets, e-readers, etc.


Why not Paperback?
Some of you have asked why I don't offer this in paperback version. This is not a coffee table book! It's a practical tool, meant to be used as part of your research process, full of clickable links and extra resources. Feel free to give it a once-over with your e-reader from the comfort of your bed, but then set it up on your computer/tablet/phone and use it as the active research tool it's meant to be!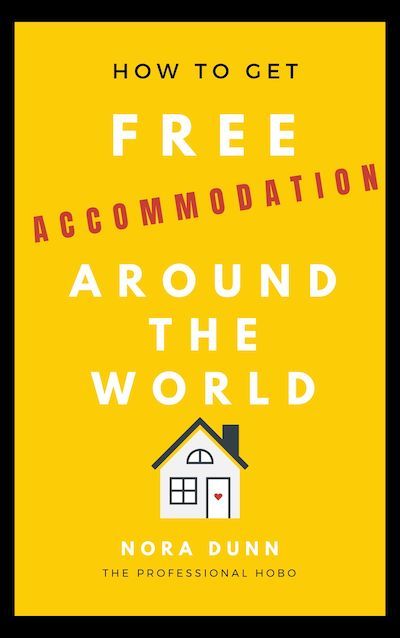 What Others Are Saying About This Book
"Nora is the uncontested Know-It-All when it comes to enjoying meaningful travel in a financially sustainable way. It should be no surprise then that this eBook is jam packed with solid tips that will help anyone find accommodations around the world for free. This is a very worthy read."
There's no way around it, when someone can tell you they spent $173 on accommodation for an entire year (yes, really!) I want to know what that person knows. Full of tips, tons of resources and enticing pictures, Nora's book can help anyone attain greater freedom to travel with the money they save. She lays out the pros and cons of different housing options around the world, helping the reader to narrow down where to focus their energies for their own specific travel goals, whether that's to try and fully embrace the local culture or manage an online business. This is a must have reference for any traveler.
"If you are traveling now or plan to, read this book. It will save you money. Don't read it if you've got gobs of money you want to spend needlessly on lodging."

– Josie Schneider
I bought this book after spending 42 months traveling to 101 countries spending my time split between couch surfing and hostels. I read it to get a broad understanding of volunteering and house sitting for accommodations as I am planning on continuing my travels adding those methods as well. I must say that Nora does a great job of explaining the options. Her research is very thorough. I have referred to it several times. It is clear, concise and to the point on the mechanics of how to travel with no cost accommodations. But much more than that the author's successful lifestyle redesign helps educate travelers and would-be travelers of the shift in thinking about what travel really means and can be. The fact that slow, inexpensive or almost free travel really allows you to be a traveler and not a tourist and really connect with the people and the culture leaving you with experiences that are beyond what any tourist package tour could ever deliver and with way more money left in your wallet. I highly recommend this e-book for any traveler, experienced or just starting out.
Okay, NOW are you Ready?
Buy How to Get Free Accommodation Around the World, 3rd Edition today, and level up you travel experience for the ridiculously low price of $9.99!



You Might Also Be Interested In:
The Ultimate Packing List for Long-Term Travel
Pro Packing Hacks – The Best Space Saving and Organizational Travel Accessories
Zero Waste Kit – Eliminate all Single-Use Waste When You Travel
One Bag Travel – What it is, and How to Smash It
Travel Capsule Wardrobe – Best Wrinkle-Free Travel Clothes for Women
How to Find the Perfect Travel Sandals (for men and women)