In all my years of worldly adventures, I couldn't wrap my head around One Bag Travel. The sheer statement held an incomprehensible gravity.
Just one bag? But what if???
What if….I'm forced to check it and my laptop is inside?
What if….I lose it or it's stolen and everything was in it and then I have absolutely nothing?
What if…I need a day pack at my destination?
What if….too many what ifs.
And then I realized that I was taking the concept of One Bag Travel more literally than most. To me, one bag travel means traveling with just one bag; a minimalist travel backpack that gets my stuff from A to B, and then somehow converts into a daypack at my destination.
When I looked around online at what other people define as one bag travel, for the most part it's just about the best travel backpack (sometimes not even carry on sized backpacks) – as an alternative to traveling with multiple pieces of luggage. Sometimes the backpacks have some flexibility in size (with expansion capabilities for example), but really – the wimpy meaning of one bag travel is traveling with a carryon backpack.
That's poppycock! That definition of one bag travel is just a new spin on minimalist carry-on travel. It's been done.
So, I went on a quest. The quest to find the best carry-on backpack for one bag travel.
Here is my experience with One Bag Travel pros and cons, one bag travel packing lists, suggestions, and a review of three different backpacks designed with this whole quest in mind.


What is One Bag Travel? Just Minimalist Travel – or More?
One-bag travel is an approach to packing and traveling that involves carrying only one bag of personal items. The idea behind this type of travel is to prevent the hassle and stress associated with hauling multiple bags around by keeping your belongings down to the essentials, often resulting in a lighter overall load. It's the art of packing light by having everything you need for your trip in one single bag.
Having addressed the wimpy definition of one bag travel (which is really just basic minimalist travel in disguise), let's look at what real one bag travel entails.
In order for it to be a success, the bag of choice is large enough to transport everything we need to travel from A to B, while being small enough (or having separable modules) to suffice as a daypack while tootling around at our destination.
Three travel backpack companies have stepped into the one bag travel arena to provide products that answer to this call.
These companies are Knack Packs, Peak Designs, and Standard Luggage. They all sent me a free bag to test out for the purposes of this quest. You'll see that each has its own set of pros and cons, and I've not been unduly biased or influenced towards one or the other. If you click some of the links in this post to make a purchase, I may receive a small commission, which doesn't affect your price (but which does help me to run this website and continue to offer content to you for free).
I hope you find this article useful as a review and also a resource with suggestions for how to make your own (real) one bag travel adventures a success.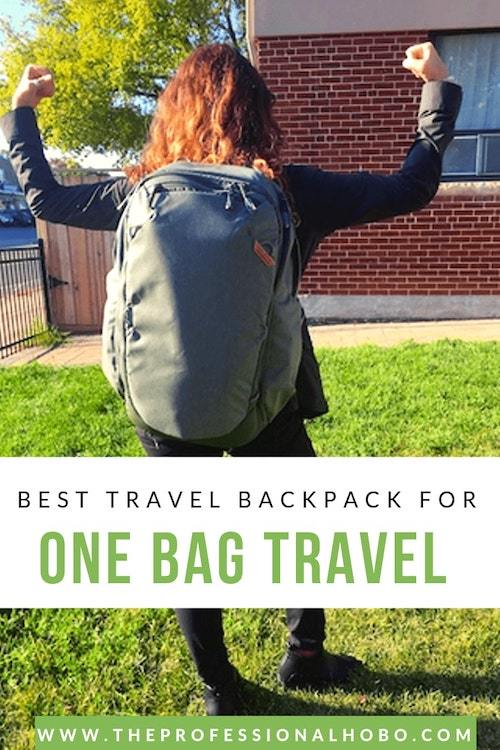 At a Glance: Best One Bag Travel Bags
Knack Pack Expandable Travel Backpack (Best expandable backpack for shorter one bag trips)
Peak Design Travel Backpack (Best carry-on backpack for adventure travel and/or photographers)
Standard Luggage Carry-On Travel Backpack and Packing Cubes (Best choice for one bag travel if you also have their multi-use packing cubes)


What To Look For In A One Bag Travel Bag
When selecting a carry-on backpack for one-bag travel, it is important to consider a list of factors and we will go over each of them in detail.
Size
The first on the list of factors to consider is the size of the bag. Ideally, you should aim for a bag that can hold all of your belongings in an organized manner while still being small enough to fit into most overhead compartments.
Durability
The material and construction of the bag should also be taken into account to ensure that it can handle long-term use. The higher quality bags are usually made from more durable materials such as canvas or polyester and feature reinforced seams, double stitching, waterproofing and well-padded shoulder straps for extra comfort.
Organization
The best one-bag travel backpack should also come with plenty of pockets, compartments and other organizational features to help you keep all of your items in the order.
Weight
Finally, the weight of the bag is another important factor to consider when selecting the right one-bag travel backpack. While it should be light enough to carry around, don't forget that you will be packing it full of your essentials and thus its overall weight can become quite significant.
Expansion
In order to truly be functional as one bag for travel, it is best if it expands to get all your stuff to your destination, then compresses (or breaks apart into modules) to be useful as a smaller daypack at your destination. It's a very precarious balance.


The Best One Bag Travel Backpacks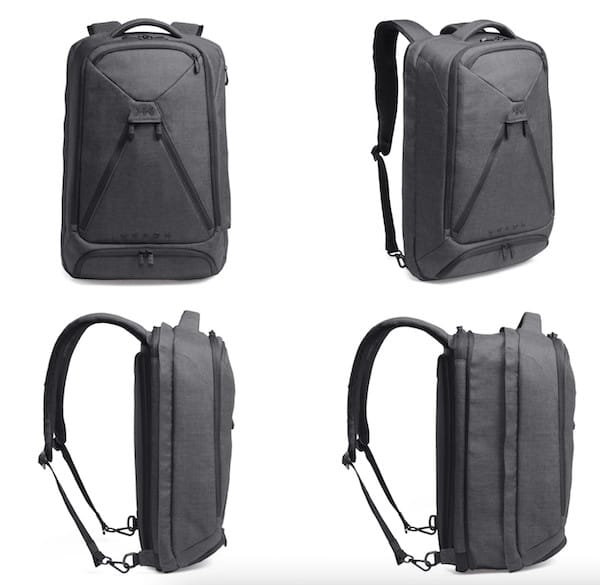 Note: Since I originally wrote this article, Knack Bags redesigned their lineup, and also evolved into a spiffy "Series 2" lineup. I have edited the text below to reflect the amended Series 1 bag (which is basically what I had). Though if I were in the market for a new backpack, I would purchase the Series 2, and I'll tell you why below.
Knack Bags sent me their Series 1 Large Expandable Travel Backpack. I was immediately impressed with this lightweight backpack with lots of well-thought-out features. It's made of water-resistant material and zippers.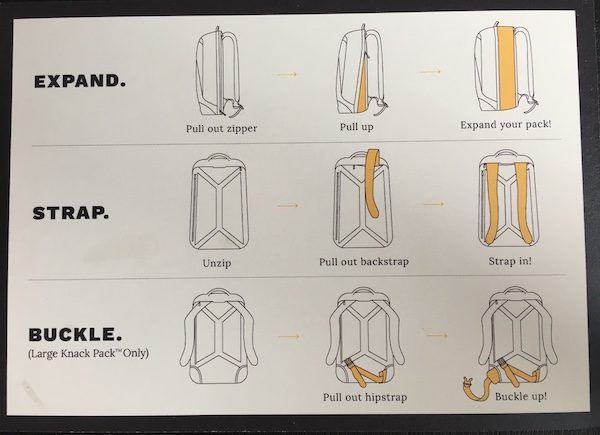 The molded foam padded back is comfortable (though lacks breathability in hot weather). There's also an adjustable removable sternum strap for heavier loads. The shoulder straps also tuck away in case you need to check the bag or prefer to carry it by the top handle.
Note: The Series 2 bag has a side handle so you can carry it like a briefcase after tucking away the backpack straps.
The Knack Pack magic happens with its hidden expandable backpack luggage compartment. This expands the capacity of the bag from 30 litres to 46 litres! When not expanded, the pack fits under the seat in front of you on an airplane, and fully expanded, it fits most airlines' carry-on size regulations (for the overhead bin).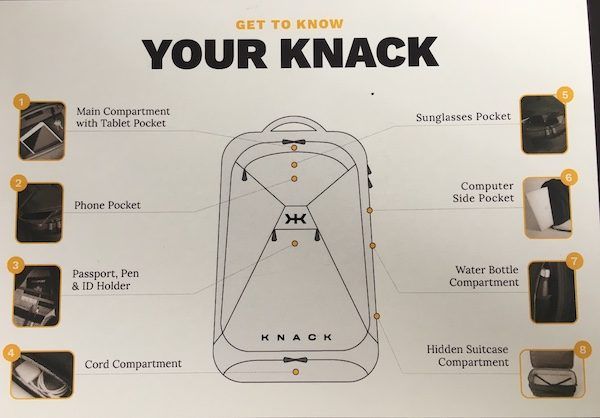 My biggest beef with Knack Pack might be another person's accolade: there are a gazillion pockets.
The front diagonal zippers reveal an oddly-shaped area with RFID-protected pockets for cards and other smallish items. Thing is, I'd never keep anything of value in there, because it would be too easy for somebody to open the zippers (which can't be locked) and rifle through my stuff unbeknownst to me while the pack is on my back. (The zippers for the other compartments are lockable though; just not the front triangular pocket).
Note: In the Series 2 bag, the front compartment has been redesigned to have more space and is also lockable, easier to open, and thus much more practical. It also has some secret compartments for valuables.
Behind that is a much larger compartment with a variety of slots and pockets to organize stuff. This is the meat of the daypack part of the bag.
Behind that, is the expandable luggage compartment, which opens up completely for convenient flat packing and organization.
At the side of the pack is a water bottle pocket that zips away so it's hidden. It fits up to a 700ml (24oz) bottle.
Lastly, at the very back of the pack, is a subtle side zipper revealing a large padded 15″ laptop compartment.

Note: the Series 2 bag also has a hidden pass-thru sleeve so the Knack Bag can slide over a wheeled luggage handle.


Knack Pack Large Expandable Backpack Specs

(Series 1)
Pack Dimensions (L(height)xWxD): Expanded – 21.5″ x 14″ x 9.5″ Unexpanded – 21.5″ x 14″ x 4.5″
Volume: Expanded – 46 Litres Unexpanded – 30 Litres
Weight: 3.25 pounds (1.47kg)
While volume-wise, Knack Pack's Large pack is an appropriate size for most carry-on travel situations, I will say that because of the dimensions of the pack, it feels large, even when not expanded. I took it on a couple of weekend excursions, and even unexpanded I felt like it was overkill, even though in its stead I would have taken a 25 (or even 30) litre daypack.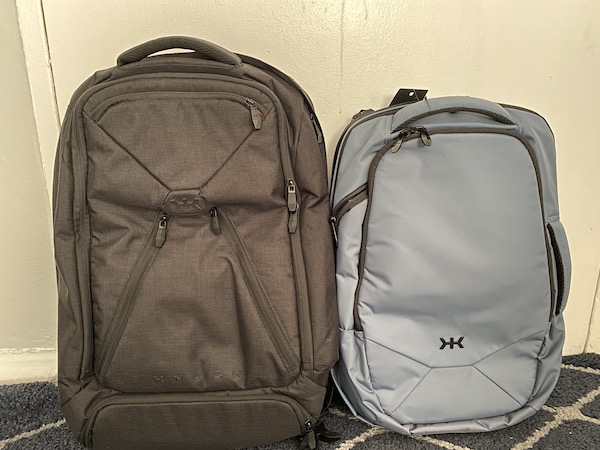 If the large is too big for your needs, consider the medium. Series 1 Medium is a bit bigger than the Series 2 Medium, but I prefer the design of the Series 2 bags overall. I believe for short trips of up to a week, the medium size is the best bag for weekend travel. Confused yet? I'll bet. You can compare all of Knack's expandable backpacks here.
Want to see the Series 1 Large AND Series 2 Medium in action in a direct comparison? Watch my video here!
For longer trips, you may want the large size, especially if you're bringing lots of technological tidbits like laptops, cameras, and other hardware. However the large size is large enough that it ceases to be truly practical as a day-pack in the spirit of one bag travel.


Taking Knack Pack on a One-Week Business Trip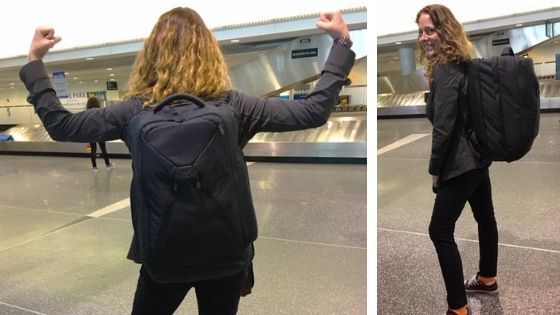 Knack Pack was put to the full test on a one-week trip I took from Toronto to Boston to attend a conference. It was a pretty simple trip during the summer season, requiring some casual and semi-business attire, workout gear, and of course my business accoutrements.
Before going, the challenges for me were multi-fold:
Because I was taking a smaller commuter plane, I was worried about being forced to check my bag.

If that were to happen, I would have had to remove my laptop and a few other items I wasn't willing to check. Thus, instead of slipping my laptop in the padded laptop pocket as is (like most normal people do), I kept it in its case with a shoulder strap. This took up extra space and weight. But it served me well because I could easily take my laptop on to the plane separately and stow the Knack Pack overhead without having to access it during the flight. NOTE: My new solution to this problem is to use a large enough tote as my personal item that I can keep my laptop in it. My latest love affair is with the Pacsafe Citysafe CX Anti-Theft Backpack/Tote.

I was unconvinced that I'd feel comfortable carrying the unexpanded Knack Pack around as my daypack

during the conference. Not only did it seem too big, but coupled with my

stylish wrinkle-free wardrobe

, it lacked a certain panache. (Once again: a problem that would have been solved with the Pacsafe bag).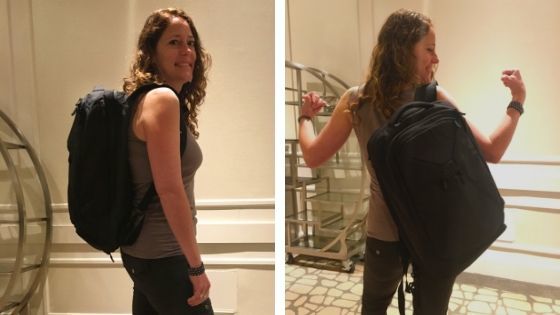 Here's how the trip rolled:
While I wasn't super attentive to ultralight packing, I was surprised in that the Medium Knack Pack was pretty full. I probably could have used the large size, as the medium was a tight fit.

I didn't have to check the bag, but it was a tight fit in the overhead compartment on the commuter plane. Pay close attention to carry-on bag size guidelines whenever you fly! I watched many people on the flight who couldn't fit their standard carry-on luggage into the overhead compartments.

I did use the Knack Pack as my day bag during the conference, and while it served its purpose, it was too big for just my laptop, notebook, jacket, phone, wallet, and business cards.

(Hello: Pacsafe! If you don't like the Citysafe CX Anti-Theft Backpack, they have a plethora of other options to suit your style and needs)

.




Carry On Packing List for a One-Week Trip With Knack Bags
Pictured above is everything I took with me on my one week trip. This carry on packing list includes the following:

See also: Pro Packing Hacks – Best Travel Accessories for Saving Space and Organization
Packed into the Hoboroll (top left):
Pajamas

Workout Clothes

4 pairs Underwear

4 pairs Socks

Bathing Suit
Packed into packing cube (Travel Capsule Wardrobe, top middle):
1 pair Pants

1 Skirt

1 Tank Top

1 Short-sleeved Shirt

1 Lightweight Jacket
Electronics/Business Stuff
Laptop and Charging Cord

Notebook

Various USB Charging Cords

Kindle

Business Cards
Extra Stuff
Ultralight foldable backpack

(just in case)

Packing Cube for dirty laundry

Wristlet (for nights out when I don't want to carry the Knack Pack)

2 pairs Shoes (1 dressy ballet flats, 1

sandals

; I wore runners on travel day)

Toiletries (bottom left)

Rain Jacket




Overall Experience: Knack Bags Expandable Travel Backpack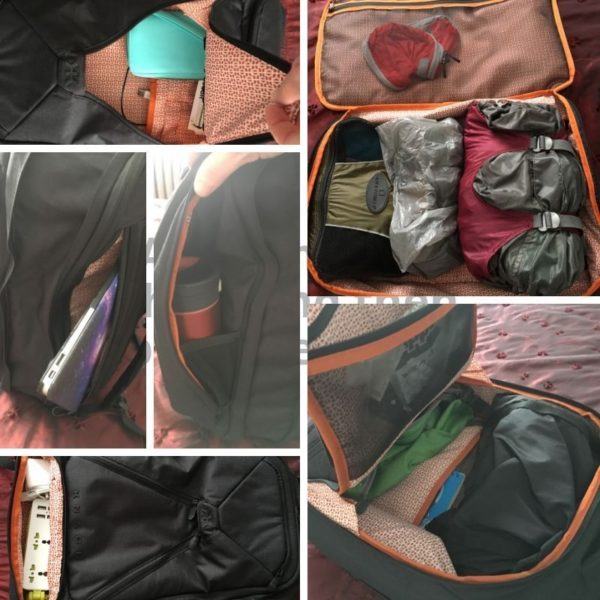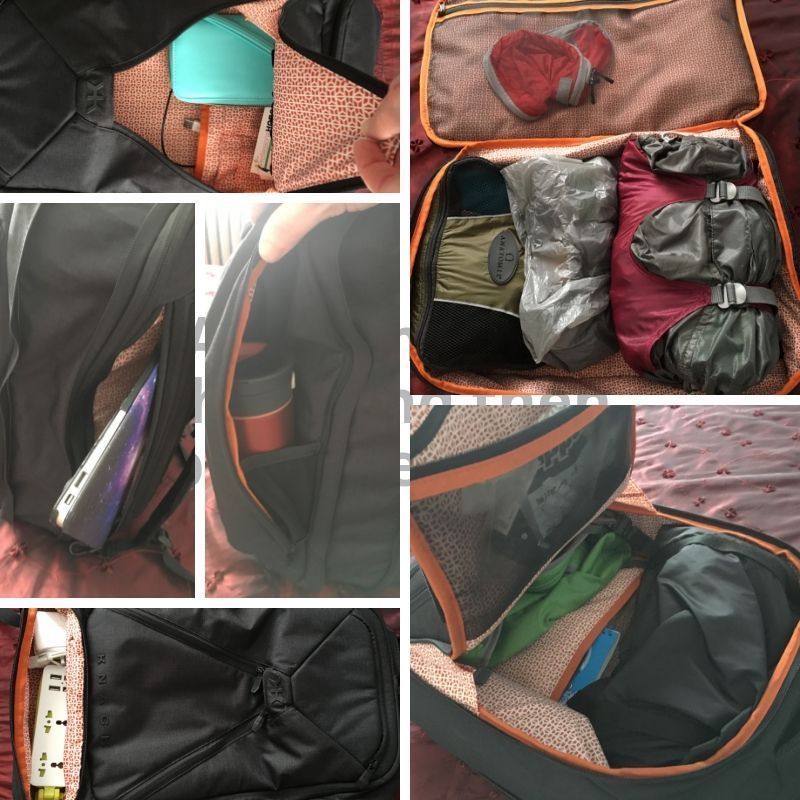 On the whole, I think it's a fabulous bag. It offers a ton of protection with padded everything, lots of organization with various compartments and related features, and even the large size, fully packed, fits most carry-on guidelines (if it's packed to the gills you might have a tough time on smaller commuter planes).
The biggest cons is that the bag's dimensions make it appear larger than it really is when not expanded.
I think the medium size Knack Bag is the best carry on bag for trips of about a week (give or take), and the large size is ideal for longer trips. (Of course, this ultimately depends on the nature of the trip and how much stuff you need to bring).
I referred the Knack Bags to my friend who travels for business all the time, and he said – emphatically – that it is the best backpack for work and travel that he has ever owned. Is it the best backpack for business travel? Well….it depends on your needs and the length of your trip. What's for sure is that this is an incredibly well-made bag, and if you check out their site they're developing some new stuff too.
2. Peak Design Travel Backpack 45L – Best Carry-On Backpack for Adventure Travel and/or Photographers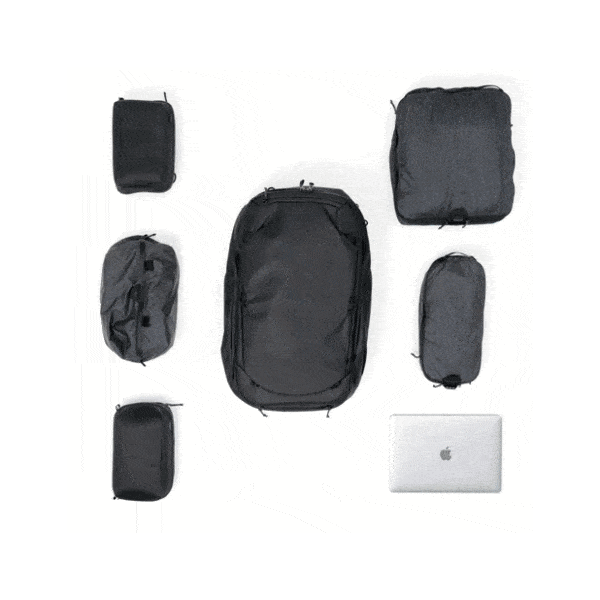 To be perfectly honest, after my positive experience with Knack Bags, I was leery of the Peak Design bag in front of me, comparatively looming in size (you'll see what I mean in a minute).
But, some colleagues of mine who are professional photographers hail Peak Design as having the best camera backpack for travel. Granted, they have different Peak Design models; Peak Design's roots are in making everyday bags and other gear specifically for photographers, who have somewhat unique needs for space and organizational characteristics.
I also adore their commitment to the environment and socially responsible practices; for example, their waterproof material is made of 100% recycled 400D nylon canvas, and they donate 1% of revenue to environmental non-profits.
So, given that the Peak Design Carry-On Travel Backpack is claiming a stake in the one bag travel movement, I tested it out to see how it fared.
"You look like a Ninja Turtle!" exclaimed my boyfriend as soon as I donned my Peak Design backpack. Not the reaction I was going for. (Ironically a couple of years later when we broke up, he absconded with the bag, so it couldn't have looked that bad).
Unfortunately, he wasn't entirely wrong. Even empty and fully "compressed", the Peak Design travel backpack sits commandingly on the back (and my choice of green colour doesn't help the whole ninja turtle thing).
Thus, it immediately became apparent to me that I would not be using this backpack as a daypack at my destination. It's simply too big! So unfortunately, it immediately failed the one bag travel test according to my strict criteria.
However, I'll say it again: perhaps travelers who are toting drones, DSLR cameras, lenses, and other photographic equipment would find this a suitable carry-on backpack/daypack combo. (Though technically if your camera equipment takes up all the compressed space of 30L, then your clothes and other stuff would need to fit into the remaining 15L of expansion space; I'm doubtful).
But, I wasn't ready to write off this bag; while the expansion/compression features are minimal, they are still noteworthy, making this a carry-on backpack that can flex in size from trip to trip (and also within one trip).
It's also one of the most solid and sturdy backpacks I've ever seen, and this lends it well to adventure travel.
FEATURES:
There's no two ways about it; this is a solid bag (which is a double-edged sword, when you consider what "solid" weighs). It's so solid it comes with a lifetime guarantee, and its features are MANY.
It's super durable, made of recycled plastics (yay!), and both the bag and the (lockable) zippers are weatherproof.
The front compartment has simple zippered pockets for organization, and this compartment also expands by an additional 10 litres.
Behind that is the main compartment, which is accessible from both sides as well as the back (the entire back of the pack opens up fully for ease of packing, and the side zips make access on-the-go easy). The padded laptop sleeve sits at the very back of this section. The main compartment expands an additional five litres with some snaps at the top.
Behind the subtle drink pockets on each side of the bag is a hidden zippered pocket for valuables.
The very back of the pack has magnetic flaps that allow you to very easily hide away the backpack straps and waist belt, and there are super-sturdy streamlined carry-handles on the top, both sides, and even the back.


Peak Design Travel Backpack 45L Specs
Pack Dimensions (L(height)xWxD): Expanded 22" x 13" x 11"; Regular/Compressed 22" x 13" x 9"
Volume: Expanded – 45 Litres; Normal – 35 Litres; Compressed – 30 Litres
Weight: 4.5 pounds (2.05kg)


Taking My Peak Design Backpack on a 9-Day Business/Adventure Trip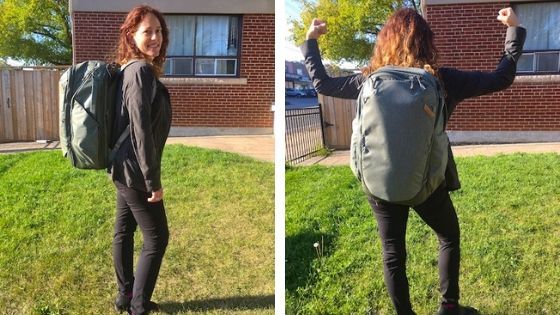 Compared to my trip with the Knack Pack (one-week business trip in summer), Peak Design had a more complicated task at hand. I needed business clothes for the four-day conference I was speaking at in Montana, as well as adventure clothes/shoes for the five-day Montana road trip afterwards, which would involve hiking, zip lining, fishing, hot springs, and more; changing hotels daily.
Being autumn and in the mountains, layers were essential, specifically lots of warm layers for the fickle weather and cold mornings.
This immediately sparked concerns about weight and space. Two different wardrobes plus heavier layers, all in a carry-on backpack that already weighs 20% of my entire carry-on weight allowance of 22 lbs/10kg? Yikes.
I sweated this one out for days prior to packing.
But in the end, with the help of some cool space-saving packing tools like compressible packing cubes and my Hoboroll, I made it all fit into the pack at it's normal (unexpanded) size which just fit the carry-on size requirements and weighed in at 20 pounds (also squeaking in under the limit).
I was able to make this work in large part because of the Pacsafe Citysafe CX Anti-Theft Backpack/Tote, which would be not only my purse for the trip, but also my daypack and laptop bag.
Technically, it means this was not a one-bag trip, given that Peak Design was relegated only to use on travel days. But this bag would still be put through its paces in ease of pack/unpack-ability in the adventure portion of the trip when I would be on the go and changing hotels every night.
Here's how it went down:
The top snaps for "compressing" the bag are a bit difficult to snap and only minimally change the bag's profile. But they did create a surprising amount of extra space for some swag I received at the conference.
So too did the expansion zippers at the front. Again on initial inspection, I thought this minimal expansion was useless. But when I did the road trip, I had to put my (bulky, heavy) dress shoes/boots in the backpack while I wore my (ultralight, low-profile) hikers. I also stashed my laptop in the backpack since I didn't need it in my purse/daypack.
Between the conference swag, laptop, and having to pack some of the bulkier items I usually wear on air travel days, I was really pleased to have a bag that could expand in a few different ways when I needed it to, and compress back down when I didn't need the space.
I was also really impressed with the make of the bag, including the following features:
The zippers are super high quality

The material feels indestructible

The backpack straps are really comfortable

The carry handles are super solid and easy to use

The backpack straps and waist belt are really easy to tuck away




Ultralight Travel Packing List for a 9-Day Business/Adventure Combo Trip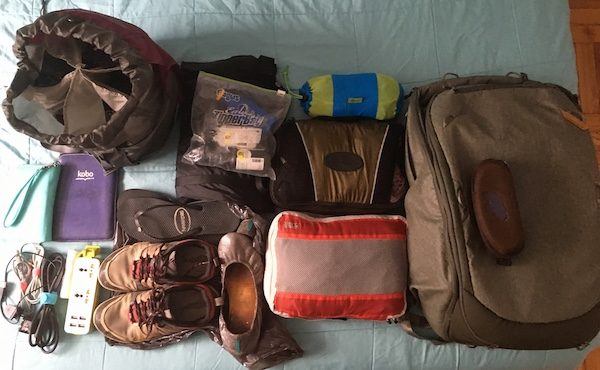 Pictured above is everything I took with me on my nine day trip. It's all in this ultralight travel packing list:
(Note: halfway through the trip I needed to hand-wash some items like underwear and socks).
Packed into the Hoboroll (top left):
Pajamas

Workout Clothes

5 pairs Underwear

1 bra

5 pairs Socks

Bathing Suit

Buff

Warm hat
Packed into two compressible packing cubes (Travel Capsule Wardrobe, right, next to the Peak Designs backpack):
2 pairs dress pants

1 pair hiking pants

1 pair leggings (doubles as a layer for warmth)

2 sleeveless tops

2 long-sleeved tops

2 ultralight jackets (business style and layering for warmth)

1 light sweater

1 fleece-lined zip-up sweater
Electronics/Business Stuff (I took my laptop and its charge cord in my purse/tote)
Various USB Charging Cords

Kindle

Business Cards
Extra Stuff
Wristlet (for nights out when I don't want to bring my purse)

2 pairs shoes (1 hiking/ultralight trail runners, 1 ballet flats; I wore dress boots on travel day)

1 pair flip flops (for visiting hot springs)

Toiletries (top middle)

Rain Jacket
Because I had no plans to use the Peak Design backpack as my daypack, my purse/tote became a catch-all for purse-y things as well as anything I wanted easy access to on travel days (eg: under the seat in front of me while in flight). This included:
Overall Experience: Peak Design Travel Backpack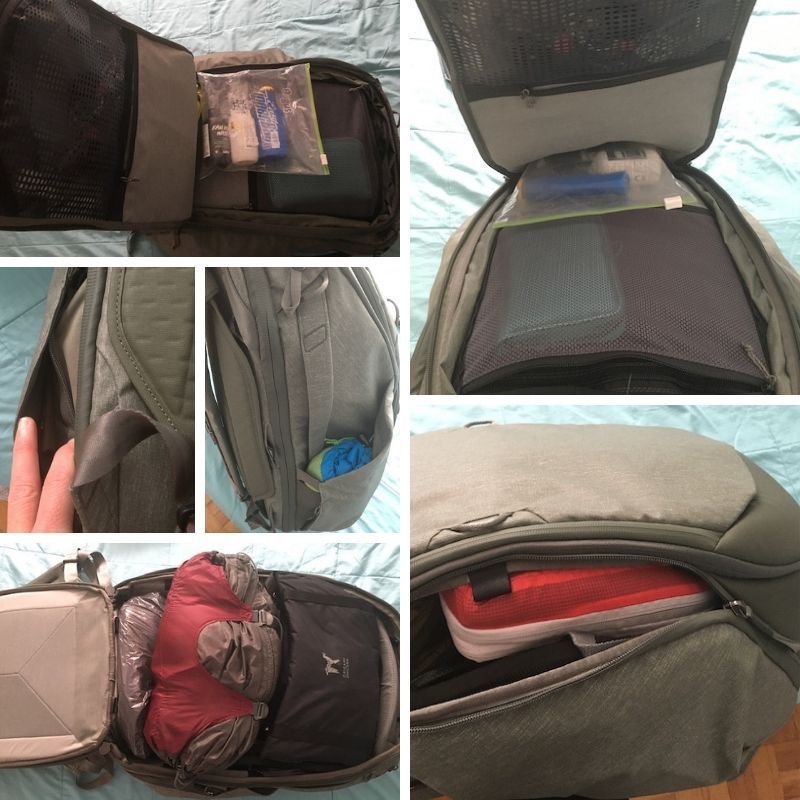 Considering I started off the trip really not wanting to like the Peak Design backpack (given my love of the Knack Pack), I returned from the trip liking it very much.
But I'll reiterate, this is not a true "one bag travel" contender, given that the compressed size is still too large to be a daypack.
What it is, is a great carry-on backpack with flexibility to be a smaller bag, a regular backpack, or an expanded gear-hauler.
That said, be careful of the weight. At 4.5 pounds, it's a good deal heavier than the other carry-on backpacks I recommend in this post, specifically the 45L Pacsafe Venturesafe EXP45 at 3.8 pounds and the Osprey Porter 46 at 3.3 pounds. 
But, if you compare it to the weight of my favourite carry-on rolling case (the Pacsafe EXP21 Wheeled Carryon – since discontinued) at 7 pounds, suddenly Peak Designs doesn't look too bad, and it has a bit more packing volume as well.
If you travel full-time or long-term with carry-on luggage only, the Peak Design Travel Backpack could be a contender for your home on the road. (Just pack a packable daypack inside, cuz you won't likely want to use this Click here for a comparison of the top packable daypacks so you can find the best one for you).
Shop for your Peak Design gear here.


3. Serious Contender for One Bag Travel: Standard Luggage Travel Backpack & Versatile Packing Cubes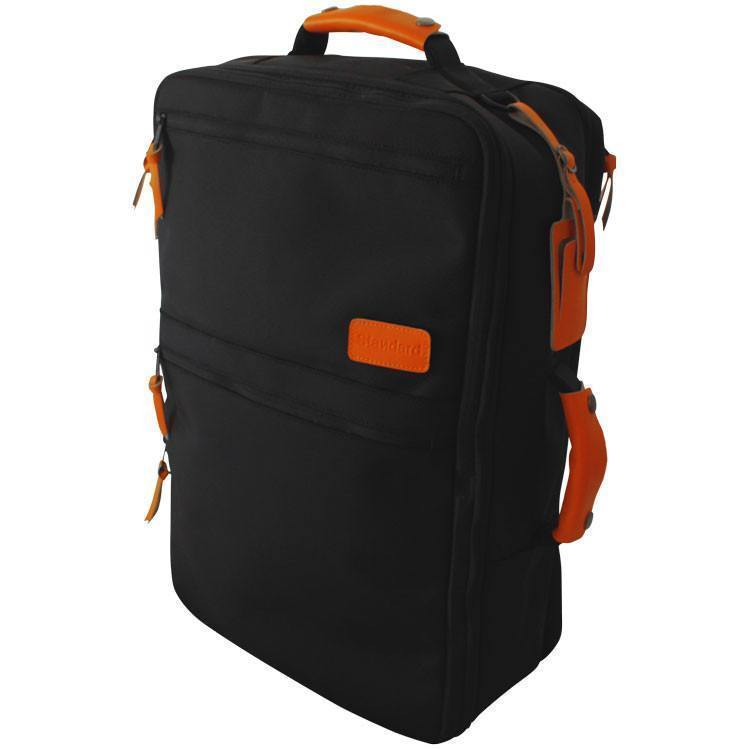 Their website does it justice, but even I didn't truly understand how awesome the Standard Luggage travel backpack and its nifty features (like multi-functional packing cubes, floating laptop sleeve and more) were until I got my hands on mine. In fact, I was so excited, I turned on the camera and went live. (You'll see that video below).
Standard Luggage combines the best of the backpacks above and makes one bag travel truly possible. Here are a few of the features I adore:
It's Expandable. Not as much as the Knack Pack (which has 16 litres of expansion space to a max of 46 litres), and in fact it's the same as Peak Design, expanding from 35-45 litres.
Multiple Ways to Carry. The top and side handles are strong and feel good in your hand. The padded backpack straps zip away and the hip belt detaches entirely if you don't want to bring it along. All the straps are adjustable (6 points of adjustability), and the back of the pack is both padded and ventilated to keep you cool.
And the shoulder strap has a really nice touch with neoprene for a considerably more comfortable carry than most shoulder straps allow.
Lockable Zippers. Both main compartments can be locked; an important security feature.
Rain Cover Included. The material of this travel backpack is water resistant and durable, but if you're stuck in a downpour, Standard Luggage has you covered (literally). This is especially important given that in the name of one bag travel, this bag will be holding important things like your electronics. And they don't like water.
Floating Neoprene Laptop Sleeve. Here's where this backpack really starts to shine. The neoprene sleeve that holds your laptop and/or tablet is designed to slide in and out of your pack to make pulling out your electronics at airport security a breeze. It also detaches in case you want to put your bag in the overhead compartment and carry on your laptop (in the sleeve) by hand.
And – this is what blew my mind – the sleeve is actually suspended inside the pack. This is a really thoughtful extra layer of protection against breakage in case the bag is dropped or gets banged around.
Just Enough Pockets. I'm like Goldilocks. If the Knack Pack had too many pockets and Peak Design had too few, then Standard Luggage got it just right. Enough pockets to access and organize things easily, but not so many that I lose stuff in it.


But The Multi-Functional Packing Cubes Blew My Mind
Here's where it gets crazy, and ultimately why I decided I wanted to feature Standard Luggage here.
Carry on travel in general, and One Bag Travel in particular is all about making judicious packing choices and making sure everything is multifunctional. PJs that double as workout gear. Shoes and clothes that serve multiple scenarios from hiking to attending conferences. A dress that doubles as a coffee maker (haven't found one yet, but I'm looking).
And in my opinion, Standard Luggage's packing cubes are what makes it stand apart from the competition.
They are sold separately from the pack itself, so you don't need to get them (but you really do). In addition to the fact that they are designed to fit perfectly into the backpack, here are some nifty features:
One of my favourite packing tools when I'm traveling with checked luggage was the Rolo; a hanging wardrobe that rolls up and compresses for packing into your luggage. I loved it because unpacking is as easy as unrolling it and hanging it up. But the Rolo has since been discontinued. Standard Luggage makes the packing cube equivalent of the Rolo.
The three separate packing cubes are unassuming enough. They're made of a nice material, have a strong (ie: won't stretch out with time) mesh front so you can see what's inside, and there's a smaller pocket on the back to separate clean from dirty laundry, carry underwear, etc.
When you arrive at your destination, simply attach the three packing cubes together using the strong velcro, and use the loop to hang your newly transformed travel wardrobe wherever you want.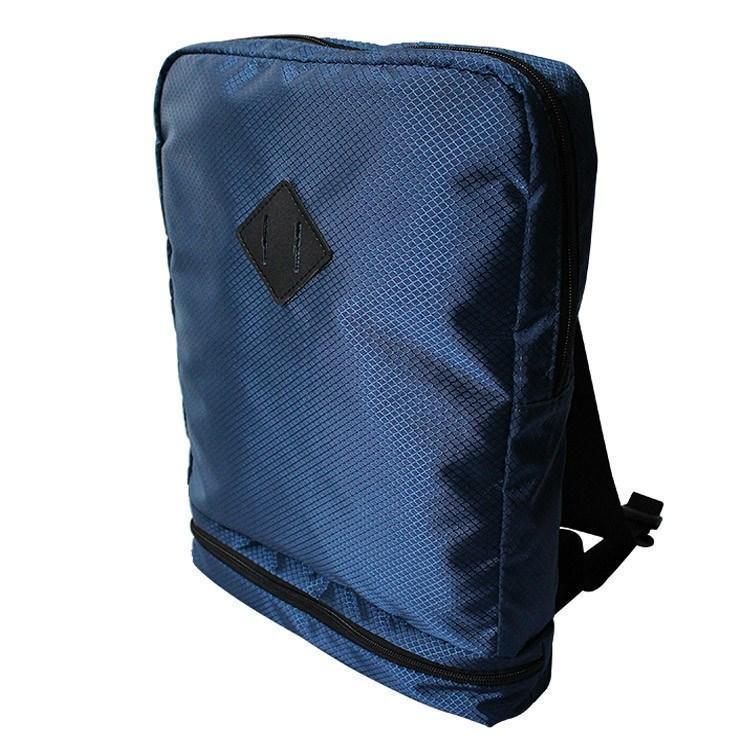 Standard Luggage already had my heart at "travel wardrobe". But they clinched their top spot as my favourite carry on backpack for one bag travel with the fourth and final packing cube (pictured above). It's a packing cube that is also a packable daypack.
The Knack Pack has admirable expansion abilities, which is intended to allow you to use it as a daypack while compressed and expand it on travel days to get all your stuff from A to B. But it's still a large bag at 30 litres (which means it's not always an ideal daypack at my destination).
And Peak Design is extremely high quality, rugged, and thoughtful in design. But it doesn't even pretend to be small enough to be used as a daypack. Sure, it expands and compresses, but who wants to carry around a 35L pack to hold their sunglasses, some granola bars, and tablet?
Thank you for listening, Standard Luggage.
Their Backpack Packing Cube is 8 Litres, which is enough to hold your camera, jacket, water bottle, and more. There's not much to the inside from an organizational perspective, but it does have a pocket to keep something like a tablet separate and easily accessible. The separate lined pocket at the bottom is perfect for a water bottle or even a small pair of shoes.
The straps are minimalistic, but at 8L you won't be able to pack so much stuff in it that it's heavy. You'll have room for just enough stuff to be fully functional to get around town at your destination.
Thus, with a packing cube that doubles as a packable daypack, Standard Luggage truly understands what One Bag Travel is, and how to get you to – and around – your destination with nothing more than one bag.


Standard Luggage Carry-On Travel Backpack Specs
Pack Dimensions (L(height)xWxD): Expanded 21.5" x 13.5" x 9.5";
Compressed 21.5" x 13.5" x 7.5"
Volume: Expanded – 45 Litres; Compressed – 35 Litres
Weight: 3.7 pounds (1.68kg)
Laptop pocket: Fits 15.6″ laptops and 15″ MacBook Pro
Tablet pocket: Fits 10″ tablets
Made of 1680 denier high tenacity ballistic nylon
Water resistant, durable, and easy to clean
YKK brand buckles & zips & buckles
ITW Nexus sternum strap
Lifetime Warranty and Satisfaction Guarantee


Watch me Salivate.
Don't take my measured words for it. you can actually watch me salivate over my next trip in this video which I filmed live after receiving Standard's full monty:
Or click here to watch this video on my (most excellent) YouTube channel.


2023 UPDATE: Although I did these one-bag travel test trips, for the most part I travel for months at a time and one bag travel isn't practical for my needs.
So, I tend to travel with carry-on luggage (that goes in the overhead bin) PLUS a personal item backpack that fits under the seat in front of me.

On my last three trips (5 months, 2 months, and 4 months), I have tried out the following luggage:
* Osprey Daylite Wheeled Carry on Duffel (handy because it has backpack straps as well as wheels, though I detached the straps to maximize luggage space on my trip).
* Level8 Grace EXT expandable hard shell spinner carry-on case – this was my first foray into the world of hardshell spinner luggage.

For my personal item, I took either one of these:
* Peak Design Everyday Totepack (you can watch my video review of it here, and see what I pack into it here)
* Knack Bags Series 2 Medium expandable backpack, which is a wee bit bigger than the Peak Design Everyday Totepack when expanded and I adore the flexibility of the expansion capabilities. You can watch me go through it here.

How To Pack For One Bag Travel
When packing for one-bag travel, the key is to be as organized and efficient as possible. Here are some tips to help you get started:


Make a list of all the items you need and stick to it.
Some of the essential travel items are:
Clothes
Toiletries
Documents (i.e., passport, driver's license, etc.)
Electronics
Medicine/First Aid Kit
Phone Charger & Accessories
Cash/Currency
Snacks & Water Bottle
Sunglasses and Hat
Shoes
Check out this video which will help you develop the perfect packing list for your next trip.


Use packing cubes or folders to keep your stuff neat and organized.
Packing cubes and folders are invaluable tools for one-bag travel. It allows you to organize your belongings in a more efficient manner and makes packing much easier. Packing cubes can be made from a variety of materials such as nylon, polyester, mesh, and more.
They come in different sizes so you can choose the ones that best suit your needs. Folders are also great for organizing items such as documents or electronics. You can even use them to store smaller items such as earphones or charging cables.
Check out this post for a list of the best packing cubes on the market.
And click here for a summary of other travel accessories that will help you pack smart.


Roll up clothes instead of folding them to save on space and prevent wrinkles.
Rolling clothes instead of folding them when going on a one-bag travel trip is a great way to save on space and prevent wrinkles. This technique allows you to fit more items in your bag without having to worry about them taking up too much room or getting wrinkled during the journey.
To start, lay out multiple items flat on the bed and roll them up tightly together. Once done, place the rolled items into your backpack in an orderly fashion.


Wear heavier clothes while traveling instead of packing them.
When traveling with one bag, wearing heavier items such as coats or sweaters is a great way to save space and weight in your bag. These types of items are usually bulky and can take up a lot of room when folded. By wearing them, you can avoid having to pack them and save valuable space for other essentials.


Pack multi-purpose items that can serve multiple purposes during the trip
When packing for one-bag travel, it's important to include versatile items that can serve different purposes throughout the journey. Multi-purpose items such as a scarf that doubles as a blanket or a shirt that can be used for swimming are great examples of this. Not only do they save space in your bag, but they also offer a lot of versatility.


Make use of outside compartments for quick access.
When packing for one-bag travel, it is important to make use of the outside compartments of your bag. This will allow you to quickly access items such as snacks or travel documents without having to dig through the entire contents of the bag. Utilizing the outer pockets of your backpack can also help keep valuable items such as your passport or wallet safe and secure.


Use a compression bag for bulky items.
Compression bags are essential items to have when traveling with one bag; they are great for compressing bulky items such as winter jackets and sweaters. Compression bags not only save a lot of space in your bag, but they also provide an added level of protection and help keep the contents of your bag secure. (I mentioned the Hoboroll a few times in my packing lists above; it's my absolute fav tool for organizing and compressing my stuff for travel).


Frequently Asked Questions About One Bag Travel
Now that you know what to look for in a one-bag travel bag and how to pack for one-bag travel, here are some frequently asked questions about this type of travel:
Q. What is one bag travel?
A. One bag travel is a minimalist packing approach that emphasizes travelers bringing only the essential items for their journey. This type of travel eliminates the need for multiple bags and instead relies on one single bag that can fit all the necessary items needed for the trip. It is designed to be lightweight, portable and easily stowed away when not in use.
Q. What size bag can I travel with one bag?
A. The size of the bag for one-bag travel depends on the type of trip you're taking and your personal preferences. Generally, it is recommended to use a medium-sized carry-on backpack for most trips. A bag that is about 20" x 13" x 9" or smaller meets most airline requirements for carry-on luggage and can easily fit a few days' worths of clothing.
Q. How do you travel the world with one bag?
A. Traveling the world with one bag requires planning, research and organization to make sure all essential items are packed in a way that is compact and easy to transport. It is important to only bring items that are necessary for the trip and to make use of multi-purpose items wherever possible. Additionally, rolling items instead of folding them and using compression bags can help save valuable space in the bag.
Q. Can I bring 1 carry-on and a backpack?
A. Yes, you can bring 1 carry-on and a backpack when traveling with one bag. Many airlines allow passengers to bring 1 carry-on item (such as a suitcase) plus 1 personal item (such as a laptop bag or small backpack). As long as the combined dimensions of both items meet the requirements set by the airline, you should be able to bring them both on board.


Do you have any experience with one-bag travel? Any luggage or packing recommendations?Please share in the comments!
You Might Also Be Interested In:
The Ultimate Packing List for Long-Term Travel
Pro Packing Hacks: These are the Best Travel Accessories