Travel requires us to deal with risks coming from all sides. There are not only the risks of loss and damage (that could happen anywhere, but more so on the road when you're carrying everything with you), but there's also the very prevalent risk of theft. Don't convince yourself it doesn't happen where you are; it happens everywhere, and complacency is the almighty enabler. This article will show you how to keep your stuff safe, as well as to introduce you to the leading anti-theft bags, anti-theft purses, anti-theft backpacks, and much (MUCH) more.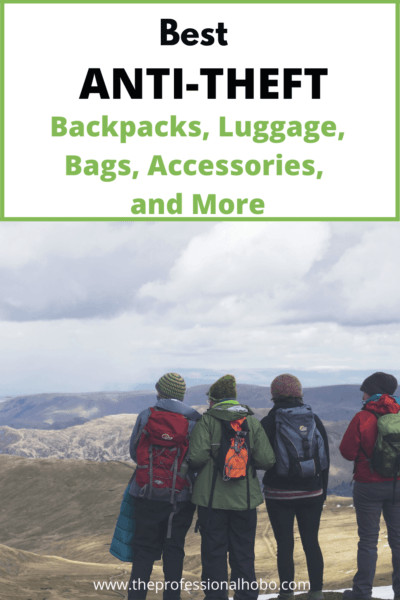 What's an Anti-Theft Bag?
Anti-theft bags are becoming increasingly popular and sought after due to the growing number of theft cases being reported. Whether it's an anti-theft backpack, anti-theft purse or anti-theft bag, these special accessories are designed to offer a higher level of security and protection than regular travel purses and bags when travelling.
What sets anti-theft bags apart from other types of bags is the fact that they are crafted from materials that offer an extra layer of security, such as slash-resistant fabric and hidden zippers. Some even come with built-in RFID blocking layers to protect against unauthorized access to your personal data stored on your bank cards or passport.


What Should I Look For In An Anti-Theft Bag?
When choosing an anti-theft bag, there are four key features that you should look for to ensure your valuables are as secure as possible. I've mentioned some already above, so let's go over them one by one.
Slash-Resistance Fabric
Slash-resistance fabrics are one of the key features to look for when selecting an anti-theft bag or purse. This type of material is designed to be resistant to knives and blades and helps to protect your belongings from being stolen in a slash-and-grab attack. Not only that, this fabric will also help to protect your belongings from being damaged in the event of a theft attempt.
The fabric typically consists of woven materials that have been reinforced with steel or carbon fibre wires to make them incredibly difficult to cut. Ideally, if the straps of your bag are also slash-resistant, it will be even more difficult for a determined thief to get away with your valuables.

Hidden Zippers and Lockable Compartments
Having hidden zippers and lockable compartments on an anti-theft purse is an essential feature that can significantly reduce the chances of a thief attempting to access your valuables. Hidden zippers are discreetly placed within the fabric of the bag, making it much more difficult for a thief to identify them and quickly open your bag.
Lockable compartments, such as those that are built-in to many anti-theft backpacks and travel purses, are also a great feature to look for. These offer an extra layer of security by allowing you to attach a lock and key to your bag, thus making it much more difficult for someone to gain access to your belongings.

RFID Blocking Layer
The final feature to look for when purchasing an anti-theft bag or travel purse is the RFID-blocking layer. Below I'll explain why RFID technology is important to be secured properly. Passports and credit cards that have RFID technology cannot be protected by a mere piece of fabric or clothing, that's why a dedicated RFID-blocking layer is necessary.
An RFID blocking layer is designed to protect your personal information and sensitive data stored on bank cards or passports by preventing unauthorized access. This works by creating a barrier between the antenna of your credentials and the reader, thus preventing any data from being transmitted and stolen.
Ideally, the fabric should be thick enough that it will block all signals from being transmitted to and from the cards or passports stored in your bag. Some anti-theft bags even come with additional pockets that are specifically designed to store these items, thus providing an extra layer of security.
Now the main question is – What are the best anti-theft bags?


Related Posts About Staying Safe While Traveling
Travel Security: How To Keep Your Finances, Data, & Identity Safe On The Road
Things To Do Before Traveling Abroad: A Simple Guide to Visas, Documents, and Other Important Things
The Ultimate Guide To Traveling with Money
24 Classic Travel Scams, and How to Avoid Them
Everything You Need to Know About Travel Insurance (including how to structure your policy and a glossary of terms in plain English)

The Best Anti-Theft Travel Bags and Accessories
In addition to being vigilant and applying the tips above, you can get ahead of petty theft by using the following items specifically designed to deter criminals. From small to large, wearable to attachable, here are the best anti-theft travel bags in the industry.

I have owned most of the items listed below, and with the exception of the Pacsafe purse and hip pack and some of the pickpocket proof clothing (which were given to me to review over the years), I bought them all outright. If you click on the links and make a purchase of anything at the stores I linked to (in this case mostly Amazon and Pacsafe), I will earn a small commission. Thank you in advance for your support. 

Best Anti-Theft Purses
The two leading makers of anti-theft travel purses are Pacsafe and Travelon. Both have a huge selection of styles and colours of purses. I own all of the purses below.

Citysafe CX Anti-Theft Convertible Backpack: Best Slash Proof Backpack/Purse Combo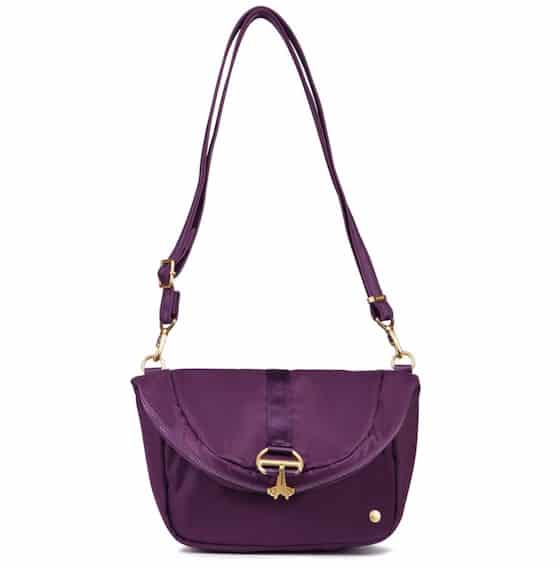 This is both a stylish 5.5L travel purse, as well as a cute and trendy 8L backpack, and as such I adore it for its flexibility while traveling and at home. Here are some features:
Smart zipper security and cut-resistant materials protect your belongings
Cut-resistant anchor strap secures around a fixed object to protect your bag
RFID-blocking pocket protects your credit cards and passport against unwanted scans
Can be worn as a backpack or folds down into a handbag
Detachable strap can be tucked away
Fits a 10″ tablet
Internal pockets to keep your gear organized
5.5L expands to 8L
Shop for the CitySafe Convertible Backpack on Pacsafe or Amazon.


Travelon Anti-Theft Classic Messenger Bag: Best Anti-Theft Crossbody Bag With Water Bottle Pockets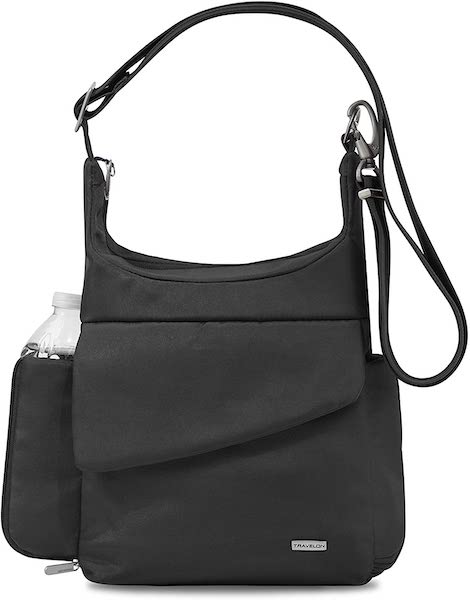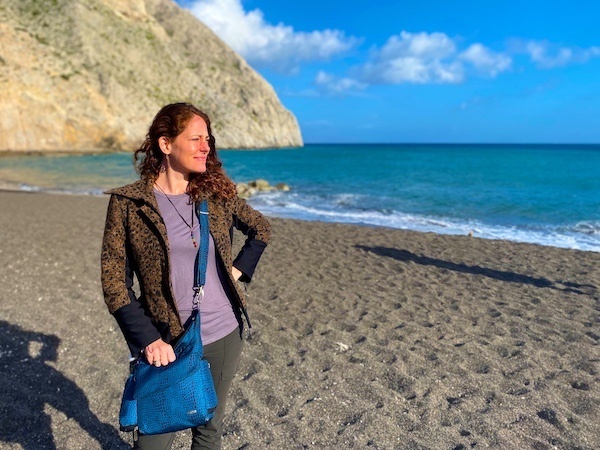 This is the best travel purse crossbody that I've found. It is a much cheaper alternative to the Pacsafe purse above, but also lacks the flexibility of being a purse/backpack combo, as well as some of the more unique features of Pacsafe's purses like the interlocking tamper-proof zipper pulls. I do, however, adore the two side pockets for a water bottle (max 500ml) or small umbrella.
Locking compartments, slash-resistant body construction and slash-resistant, adjustable shoulder strap attaches to post or chair
RFID blocking card and passport slots
2 mesh expansion pockets hold water bottle and umbrella
Removable LED light
Holds a 10" tablet, but reviews indicate it may not if you have a thick tablet case
I don't know the capacity; it's more than 5.5L but less than 8L
Shop for Travelon Anti Theft Bags on Amazon.


Pacsafe Vibe100 Hip Pack: Best Anti-Theft Hip Pack for Travel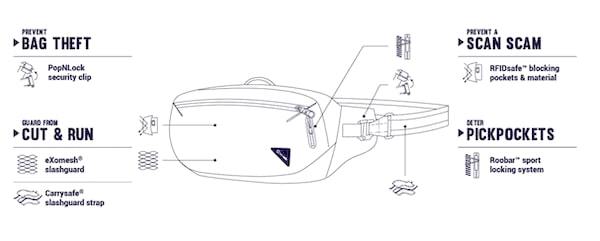 Pacsafe has a couple of different anti-theft waistpacks to choose from. I like this one because it's not too small and not too big. I like the fact that it expands. That said, I haven't used a "fanny pack" for a few decades, and I'm still a bit traumatized by how utterly unfashionable they originally were. So I'm still getting used to having it around my waist. The good news is it can also comfortably be worn as a stylish anti theft sling bag.
All the zippers lock together to prevent somebody from getting into your bag in a crowd unbeknownst to you, but if you don't secure all the zippers, they jingle when you walk which is a bit annoying.
Lockable zips and cut-resistant materials protect your belongings
Cut-resistant anchor strap secures around a fixed object to protect your bag
RFID-blocking pocket protects your credit cards and passport against unwanted scans
Fits a 7″ tablet in a padded sleeve for extra protection
Internal pockets help keep your gear organized
Internal attachment point for wallets and keys
4L capacity
Can be worn as a hip pack or a sling
Best Anti-Theft Backpacks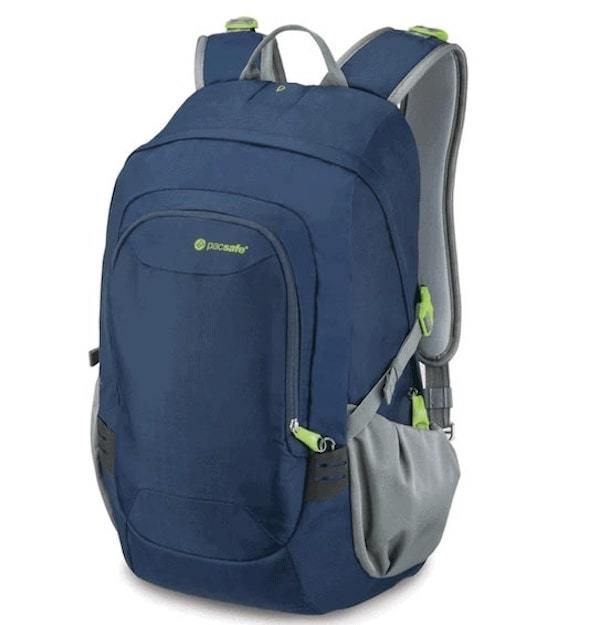 Just like purses, backpacks are a very personal choice; from size to style to features, everybody needs something different. My #1 recommendation for security backpacks is ANYTHING made by Pacsafe. Here are a few dozen to choose from. They all have most if not all of the following features:
Lightweight
RFID-blocking pockets
Exomesh slashguard material
Lockable tamperproof zippers
Slashproof straps
Ability to secure it to a fixed object
Fits tablets/laptops and/or hydration packs
For the last decade (literally!) I've owned the Pacsafe Venturesafe 25L Anti-Theft Backpack and it's not only indestructible, but it's also understated and flexible to my needs. I've taken it on multi-day hiking trips into the Andes of Peru (as seen in the picture below), out to the internet cafe, and on every plane I've ever boarded. Even packed full, it fits underneath the seat in front of me, allowing me to keep my valuables close by all the time.
Check out the Pacsafe 25L Daypacks on Pacsafe.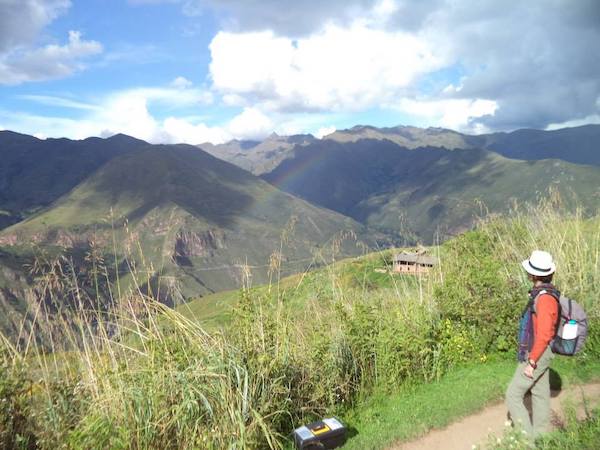 Best Anti-Theft Luggage
Once again, Pacsafe is the leader in anti theft luggage; in fact I don't know of any other luggage producers that have anywhere near the same security features. Pacsafe makes wheeled luggage as well as carry-on and checked backpacks.
See also: How to Decide Between Checked and Carry-On Luggage

Pacsafe Toursafe Anti-Theft Wheeled CarryOn (Since replaced by the Pacsafe Venturesafe EXP21): Best Anti-Theft Rolling Luggage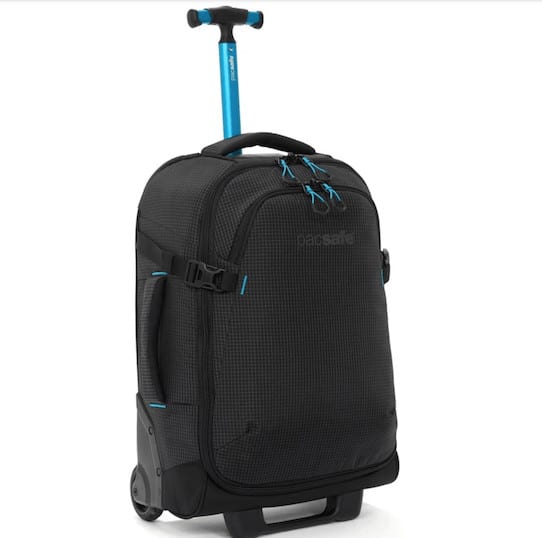 I've owned this bag since 2014 and it's still like-new. I even traveled for two years, full-time, with only this luggage (and my Pacsafe Venturesafe Daypack)! A friend of mine owns the larger checked version of this bag, if carryon travel isn't your thing.
Smart zipper security and cut-resistant materials protect your belongings
Stainless steel anchor cable locks around a fixed object to protect your bag
RFID blocking pocket protects your passport and credit cards against unwanted scans
External attachment points for bulky items like a jacket, sleeping bag or yoga mat
External compression straps secure and stabilize contents during travel
Fits a 15″ laptop in a padded sleeve for extra protection
Internal compression straps to reduce bulk and to keep gear in place
External transparent pocket for contact details to help with bag ID
Internal pockets to keep your gear organized
Internal attachment point for wallets and keys
42L capacity
Weighs 7lbs
(H x W x D):22.8 x 15.0 x 9.8 in / 58 x 38 x 25 cm
NOTE: Tragically, supply chain issues forced Pacsafe to discontinue their lineup of anti-theft luggage. I have left this blurb above intact in the hopes that they'll bring it back to life, or I find some comparable anti-theft luggage to love and feature in its place; whatever happens first. Stay tuned!
In the meantime, I am testing out the Osprey Daylite Carry-on Wheeled Duffel – a fabulous soft-sided wheeled luggage that also has backpack straps! They're also removable if you need the extra packing space, which I did on my latest 3-month carry on only trip.
Want a closer look at all the above Pacsafe gear? I walk you through it in this video.

Safe Bags (Locking Backpacks)
Pacsafe Travelsafe Portable Safe: For Securing Valuables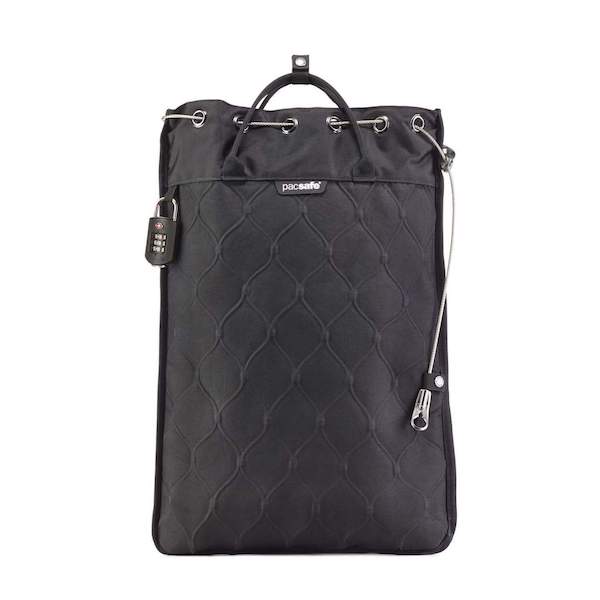 These slash-proof bags with cable locks and combination padlocks come in varying sizes from 3L to 25L, and they're a safer alternative to locking your valuables in your luggage or even the in-room hotel safe. Instead, you can fill this bag with your valuables and lock it to a fixed object, and nobody is going to be able to get into or steal the bag. They have the additional functionality of allowing you to secure your valuables (inside the bag) to fixed objects while you're out and about (classic scenario: at the beach).
NOTE: I ordered a couple of these bags to see how – or if – I could use them. I didn't like them….at all….and I returned them. I am keeping this listing here because you may think they're great! Here's what I didn't like:
They're not particularly lightweight
The material is very stiff
Cinching the bag closed at the top is very awkward
The combo lock is fiddly (though you could replace it with your own padlock
As an ultra-light traveler I just couldn't justify the weight and bulk of these safes
If you're still interested, you can shop for the Pacsafe Travelsafe Portable Safe on Pacsafe or Amazon.


LocTote Flak Sack: For Securing (and Transporting) Valuables
This lightweight drawstring backpack is slashproof, includes RFID-blocking pockets, and can lock to a fixed object. While it has the advantage over Pacsafe's model of having backpack straps, the disadvantage is that it's not as flexible in terms of what it can be locked to. Also, it has some disturbing reviews about the lock resetting and the material not being quite as slash-proof as indicated, and the straps probably aren't very comfortable if the contents of your bag are heavy. If what you want is an anti-theft backpack, check out the Pacsafe daypacks that I featured earlier.
Shop for the LocTote Flak Sack on Amazon.


Luggage Locks, Cables, Straps
I always look for luggage and backpacks that have lockable zippers and I always have a couple of TSA luggage locks on hand. But never fear; if you don't have lockable zippers, you're covered here.

TSA luggage padlock: For Locking Luggage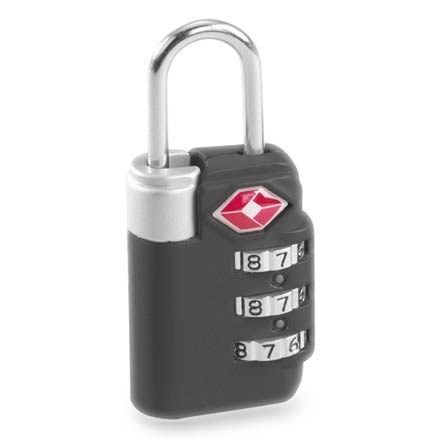 I specifically use TSA locks so that if my checked luggage needs to be searched by authorities while it's out of my hands, they can open it with a universal key and lock it again (rather than having to cut off the lock entirely). But these locks are also great for keeping the contents of your backpack secure while it's on your back, or the contents of your luggage secure while you're outside of your hotel room.
Shop for TSA Luggage Locks on Amazon.


Wrapsafe adjustable cable lock: For Securing Your Bag to a Fixed Object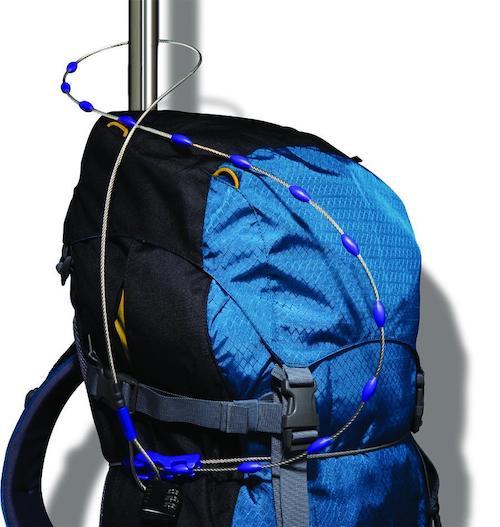 Wrap this light-weight heavy-duty cut-proof cable around your bags to tie them together, and/or to secure your bag to a fixed object. Handy if you need to take your eyes off your stuff in public, and also to secure your luggage to a fixed object in your room if security is an issue. Weighs only 7oz.
Luggage Strap: To Prevent Your Luggage From Opening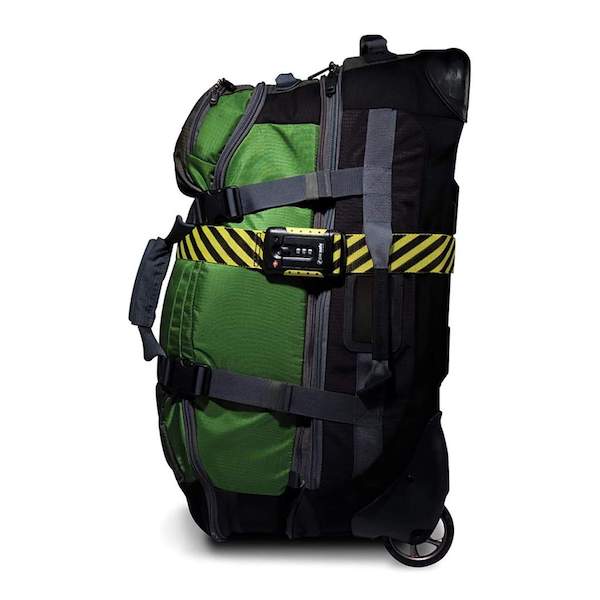 A lockable luggage strap prevents somebody from fully opening your luggage (or if your luggage is old, it prevents it from falling apart while being tossed around by luggage handlers). Use this as an alternative or addition to luggage locks. It has a TSA lock so it can be opened if your bag needs to be searched. Added benefit: it adds an extra layer of protection if you have some pockets in your luggage that aren't locked.
Shop for your Luggage Strap on Amazon.


Anti-Theft Wallets, Neck Pouches, Travel Belts, Etc.
Anti-theft wallets are very personal choices according to your sense of style and needs, so I'll refrain from making specific recommendations here. The good news is, most wallets these days are also RFID-blocking wallets. Never buy a wallet that doesn't have this protection!
For travel days, I use the Pacsafe Anti-Theft Tech Crossbody Bag to carry my passport, phone, cards, and other essentials that I don't wish to part with. It also serves as a great hands-free alternative to a wristlet when I go out on the town with just a few things.
A money belt is always good for stashing extra cash, as are hidden pouches. There are many ways to hide money in clothing while traveling, as can be seen here and below.
These are all a matter of personal preference: check out various options here.


RFID-Blocking Sleeves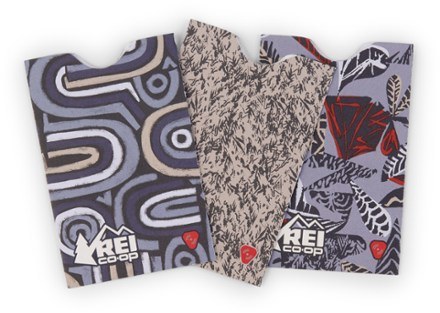 If you love your wallet and/or passport holder but it isn't RFID-blocking, then get a few of these lightweight paper/foil RFID-blocking sleeves for your passport and credit cards. Don't be deceived by how thin they are; they do the trick and they'll protect your identity from being stolen by a passer-by.
Shop for RFID-Blocking Sleeves at Amazon.


Pickpocket Proof Clothing (Travel Clothing With Security Pockets)
I have many travel colleagues who swear by pickpocket proof clothing. I've honestly had mediocre results. My personal challenge with travel clothing with security pockets is that I'm not accustomed to using pockets; I always have a purse and everything I own has a place in it. And since most women's clothing is unreliable in the pocket department, switching back and forth between using pockets and not having/using them is begging for something to go missing (in my opinion).
That said, if you like using pockets, then this stuff is made for you. Literally.


Pursesuitz Pocketwear®: Tank Top with Hidden Pockets for Active Pursuits (get it?) AND Travel Security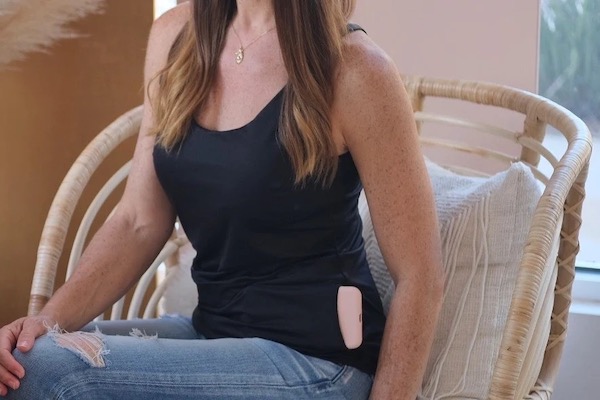 When I was speaking at Women's Travel Fest in 2023, Pursesuitz had a stall set up, and I was drawn to it like a moth to flame.
I immediately saw the versatility in these unique tank tops; you can wear one as an undergarment on travel days to keep your valuables close and totally hidden, AND at your destination you can wear the top on its own while working out, hiking, whatever – and have pockets for the stuff you need with you. Perfect example: when I stay at hotels I like to use the gym. But my workout gear doesn't have a pocket for the hotel room key, my phone, headphones, etc…..until now, that is.
Here are some features of the Pursesuitz tank tops:
The Level 2 & Level 3 tops have pocket closures using the most amazing patented hook & loop fabric (works like velcro except it's totally soft and flexible)
Made from a recycled polyester / spandex blend
Anti-microbial, moisture-wicking
Various levels of bra support depending on the level you choose
I'm still putting my Pursesuitz tank top through its paces in various scenarios, so I'll update here when I have more information to share. In the meantime:
Use code Hobo for 10% off at Pursesuitz!


Clothing Arts: Best Anti-Pickpocket Pants for Adventure, Business, and Travel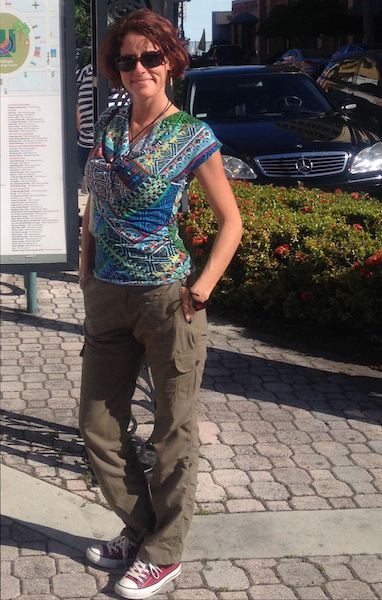 That's me above, in 2014, wearing the Clothing Arts Women's Travel Pants, when they were just starting to expand into women's styles.
To this day, Clothing Arts is primarily a menswear company, with relatively few styles for women in comparison to their men's selection. I tried out their pants a number of years ago and the fit wasn't ideal, but perhaps they've improved their women's design with time.
In addition to pants, Clothing Arts makes shorts, shirts, and jackets, each with travel-friendly material and an innovative use of zippers, flaps, buttons, and hidden pockets to deter pickpockets.
According to them: "best described as "gear masquerading as a pair of pants," our apparel represents the future of travel and the fusion of travel pants with the security of money-belts."

Scottevest started out with (as the name of the company hints) a travel vest with a ton of pockets. Since then their repertoire has massively expanded and includes pants, jackets, shirts, shorts, hoodies, skirts, and more.
Back in 2011 I took them up on the No Baggage Challenge and made a few short trips with absolutely no bags and a convertible jacket-vest that carried everything I was traveling with. Again because I was unaccustomed to using pockets, and because I was stuffing so bloody much into the plentiful jacket pockets, I felt like I looked more like a terrorist with a bomb strapped to me than a traveler with electronics and a change of clothes strapped to me. That said, the No Baggage Challenge was a kicky promo campaign, and realistically Scottevest clothing was never intended to replace luggage. 
Since then I was given their classic Scottevest Fireside Fleece vest (for women and men) and I'm actually surprised at just how much I love it. I like wearing it on travel days because I can keep my passport, wallet, and other valuables close at hand all the time.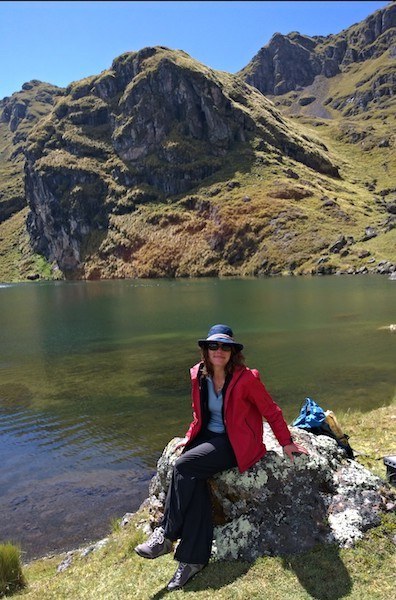 Global Travel Clothing keeps things simple with thoughtfully-designed travel jackets for men and women. They're very high-quality, comfortable, water-resistant, and have a host of pockets to stash as much (or little) stuff as you like. I got my Global Travel Clothing jacket in 2016 and used it all the time in Peru (pictured above).

Infinity scarves with hidden pockets have been around for a few years, and now they're made by many companies, so you can find a wide selection of styles, colours, and features. The hidden pockets are perfect for a passport, some extra cash, or other valuables. I've never used one but I think they're a great idea (although I question the practicality of storing your phone in it as many pictures illustrate; wouldn't it weigh the scarf down awkwardly? If you have experience with this please leave a comment).


A Special Shoutout to Pacsafe
Throughout this article you've seen a lot of Pacsafe items, and I own a lot of them. I never intended it this way, but having used Pacsafe gear for over a decade (on my own dime), I've become quite the poster-child for them! There's a reason for that: they make excellent, high-quality, stylish, useful anti-theft travel gear and bags for both men and women.
They have a large number of collections, which include (but aren't limited to):
Metrosafe LS Classics – Understated unisex bags and anti theft crossbody bags with up-to-date security features
Citysafe – Travel purses for women, backpacks, totes, slings, travel purse crossbody, and more
GO – Including the cross body bag for travel / small travel purse combo that I love and use daily (watch my review of it here).
Venturesafe – Backpacks, slings, and waist packs designed to be durable and lightweight (my Venturesafe daypack is still going after 10+ years of almost daily use)
Vibe – Men's and unisex slings and backpacks
Travelsafe – Portable safes
Econyl – Bags made from regenerated fishing nets and discarded nylon (designs include Metrosafe, Venturesafe, and Vibe)
Metrosafe X City – Men's crossbody, backpacks, slings; 2020 redesign of their most successful bags over time. 100% recycled
Stylesafe – Women's backpacks, travel crossbody bag, travel handbags, slings, and travel purse for women with an extra hint of style
Camsafe – Bags with camera-friendly dividers and compartments for Photographers
Coversafe – Hidden pouches to store valuables while you're on the move
Dry – Water-resistant backpacks and duffels
Transit Apparel – Men's and women's jackets, vests, and pants with anti-theft pockets and other features
Shop for your Pacsafe gear here.

Given my recent greater focus on environmentally friendly/sustainable materials and practices, in future I plan to explore their Econyl products, made from regenerated fishing nets and discarded nylon.
See also: My Zero Waste Kit for Travel (and Home)
If you are looking at a different anti-theft travel product like a backpack, purse, or luggage, then at a minimum, make sure it has the same security features as Pacsafe, including:
Slashproof material
Slashproof straps
RFID-blocking pockets
Tamper-proof zippers
Lockable zippers


Top 6 Tips to Protect Your Stuff While Traveling
Anti-theft travel gear is important, but even more so is how you use it. Here are some tips and techniques that will keep you and your stuff from being parted unnecessarily.

1. Always Maintain Contact With Your Purse/Daypack
The surest way for somebody to steal your daypack or purse is for you to put it down and lose contact with it. Classic opportunities for robbers include hanging it off the back of your chair when you're at a restaurant or cafe. Or when you're standing at a ticket counter and you put your daypack down near your feet. In both cases as soon as you are distracted, your stuff is easy pickings.
Instead, when I'm at a restaurant I hang my purse off my leg, or put it beside my foot and wedge the strap underneath my thigh. Similarly with a daypack, I will put it at my feet while maintaining constant contact between my lower leg and pack, and if possible I'll loop the strap over my knee. If I'm standing and put my pack down, I rest it between my feet.
A travel colleague of mine was bereft of all his valuables (laptops etc) which were in his daypack resting on the ground at his feet while he was buying a bus ticket. A scam artist distracted him while an accomplice took everything.
See also: 24 Classic Travel Scams, and How to Avoid Them

2. No Room Safe? Lock Valuables in Your Luggage When you Leave Your Room
Luggage locks aren't just for travel days. Crimes of opportunity are about getting in and out quickly, and hotel thefts are more common than you might like to think. If your valuables won't fit in the hotel safe, or if there is no safe in your room, then lock everything inside of your luggage. An opportunist is less likely to steal your entire bag than they are to rifle through it or steal a laptop or tablet left sitting out while you're at breakfast or sightseeing.
Not sold on the security of in-room safes? You're not alone. Check out the safe bags below for an additional option to keep your valuables secure when you're not with them.

3. Always Use RFID-Blocking. Always.
Did you know that somebody can simply walk by you from many feet away, with a scanner in their pocket, and effectively steal your identity in that flash of an instant? Airports in particular are rampant with RFID-scanning scammers, but it's not just there. Almost all credit and debit cards now have RFID chips in them to allow for contactless payment, which means wherever you go, if your credit cards and bank cards aren't protected by the best RFID-blocking wallets, pockets, and sleeves, you are vulnerable.
Also, you may have an RFID-blocking passport wallet, but consider how many times you take your passport out unnecessarily. For example, you're standing in line for security or boarding. You've probably got another 10 minutes before you get to the front of the line, but there you are holding your passport out of its protective wallet. Don't do it. Keep it in your RFID-blocking wallet or sleeve until you absolutely need to take it out.
Note: here's what I use instead of a passport wallet – it's much more multi-functional.
The same goes for credit cards; be aware of how often you take them out, and how long they're out. If I've thought of how easy it would be for somebody to steal your identity this way, then sure as can be somebody else with less honourable intentions has thought of this too, and they're prepared to take advantage of it.

4. Activate the "Find My Device" Feature For Phones and Laptops
If your phone or laptop is stolen, or even simply lost, you stand a chance of recovering it using this feature, and if you can't recover it, you can erase it to protect your data.
When I was living in Grenada, I hopped on my scooter one day with my phone in my pocket. Unbeknownst to me it fell out of my pocket along the way and I arrived home minus an iPhone. I tried calling it but there was no answer; perhaps the battery was dead, or it had been damaged, or it was still lost, or somebody had taken it. So I logged into "Find my Phone" on my computer and was able to pinpoint its location. Sure enough somebody had seen it on the road and picked it up. They had no evil intentions, and when I arrived to the area where it was and asked around, I was quickly reunited with my beloved phone.

5. Never Leave Your Travel Purse Dangling off One Shoulder
Women, hear me now. Wear your travel purse across your body. This not only makes it infinitely easier to move around hands-free securely, but it will thwart most purse snatchers.
In addition, if you're walking on a sidewalk beside the road, be aware of the traffic beside you and carry your purse on the opposite side of your body to the road; it's classic for somebody to come along on a motorbike to scoop your purse off your shoulder and make a speedy getaway. Even if you wear your purse crossbody, your strap could be slashed as they grab-n-go. (See below for purses with slash-proof straps).
Wearing your purse in a cross-body fashion protects you not only against robbers, but against yourself. My purse was stolen in Cusco not because it was grabbed, but because I stepped out of a taxi with handfuls of grocery bags, unaware that my purse had slipped off my shoulder and remained in the taxi. Once the driver saw what I'd done, he made a speedy getaway despite me and two friends chasing him for many blocks.
See also: The Day I Had my Purse Stolen, and Lessons Learned

6. Don't Keep All Your Valuables in One Place
The other thing I learned the day my purse was stolen was something I already knew but needed to be reminded of. Don't keep everything in one place. After over a year of living in Peru I'd become complacent and kept my cash, identification, debit card, and all my credit cards in my wallet. When my purse was stolen I was left with absolutely nothing except for my passport. I don't know what I would have done if I didn't have a supportive network of friends who could cover my expenses until I received replacement cards. Now, I always keep at least one credit card separate from the others, and I stash some cash in my luggage.


Do Anti-Theft Bags Work?
In short, YES.
Anti-theft bags are designed with specific features that make it more difficult for a thief to access your valuables by deterring them or slowing them down. This will buy you time in the event of a theft attempt, giving you the opportunity to assess the situation and call for help if necessary.
It is also worth noting that anti-theft bags are not just a deterrent against theft, but they also provide extra protection for your belongings in the event of attempted theft. The slash-resistant fabric and lockable compartments will help to keep your valuables safe and secure, while the RFID-blocking layer will prevent your sensitive data from being compromised.
For extra peace of mind when travelling, an anti-theft bag is a great choice to ensure that your valuables are properly secured and protected against potential theft attempts. Regardless of whether you choose an anti-theft backpack, purse, or travel crossbody bag, these features can help to keep your valuables safe and secure.


What are your favourite anti-theft travel bags and gear? Have you tried out any of the products listed above? Share your experiences in the comments!