For two whole years of full-time travel, I proudly toted everything I owned around the world in a carry-on bag. (Here was my carry-on packing list). Since then, I reverted back to checked luggage on long-term trips for a variety of reasons, which I'll outline here. And again since originally writing this post, I've reverted back once again to team carryon.
Here are the pros and cons of checked vs. carry-on luggage, along with some criteria to help you make the best decision for your own travel needs.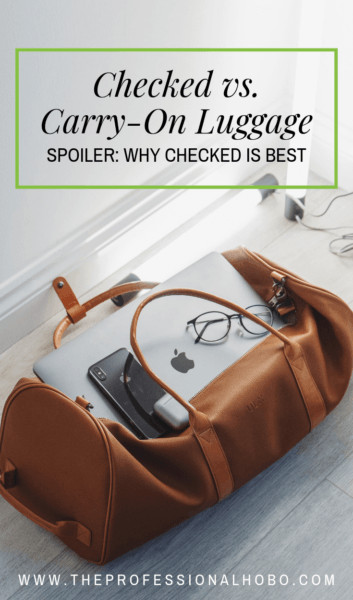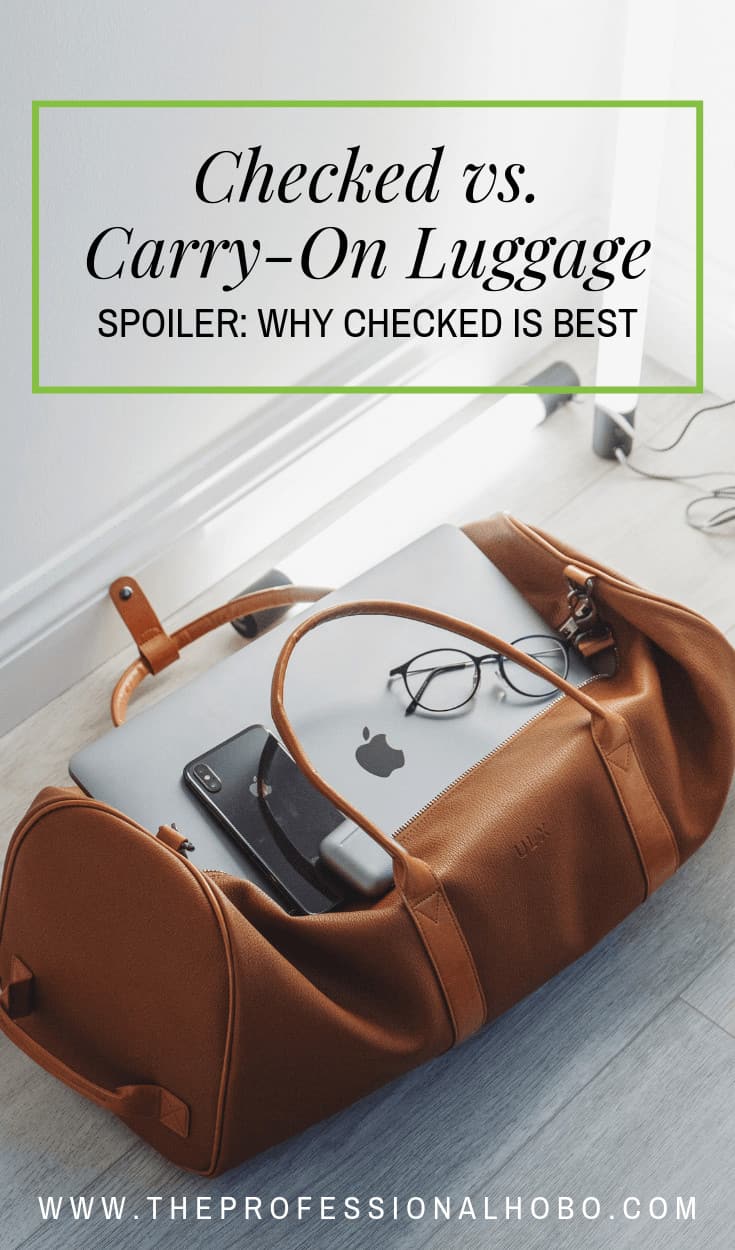 NOTE: My luggage suggestions in this post have not been influenced in any way; in most cases I purchased all luggage on my own (unless I mention otherwise), and any luggage suggestions that I have not owned personally have been road-tested and endorsed by friends and colleagues.
If you click any of the luggage links in this post, I will earn a small commission for your subsequent purchase; your own price is not affected, and I thank you in advance for supporting The Professional Hobo this way.

THE CASE FOR CARRY-ON LUGGAGE
Oh, to gallivant around the world without a care, and just a light bag that never leaves your side. To enjoy the freedom of being able to handle anything your travels throw at you, without the weight of the world (or at least, a checked bag) holding you back.
Here are some of the benefits of traveling with carry-on luggage:
It's Stress Free. No more worries about whether your checked bag made it on the same plane as you; it's a sure thing.
Faster Airport Arrivals. You're golden once you've cleared customs and immigration. I once clocked 15 minutes from the plane landing in a new country to my walking out of the terminal.
Moving Around Isn't a Hassle. Changing accommodation/location frequently? Walking your stuff a little further than you thought? Navigating a cobblestone street? No problemo. Packing up is easy (since there's not much to pack, after-all), and your carry-on luggage is light enough that you can carry it over rough terrain/stairs/etc with ease, even if it doesn't have backpack straps.
In my first 12 years of full-time travel when I had no official home base, I did two standalone trips with carry-on luggage, before ditching my checked luggage for good and spending the next two years living out of a carry on case: I spent three months sailing the Caribbean, living on five boats spanning three countries. To do so with a 20kg checked bag would have been a nightmare. The other was a sponsored trip through Europe where I traipsed through eight countries in three weeks; traveling at that pace would have been miserable with a lot of stuff in tow.
Packing is Simple. Even if your carry-on luggage is chock-a-block, there's still just not that much to pack. Hence, the process is quicker and easier.
(See also: Pro Packing Hacks – These are the Best Travel Accessories)
You'll Save on Checked Luggage Fees. With airlines separating out more and more fees (like meals, seat selections, and bags), you can save a few bucks by not having to pay for a checked bag.

Best Scenarios for Carry-On Luggage
You're Going Somewhere Warm. Hot, preferably. The lighter your clothing requirements, the more packing options you have.
Fixed-Length (Short) Trips. I've packed for trips as long as five months with carry-on luggage only. Having said that, I'd suggest the ideal carry-on trip length would be one month or less.
It's a Busy Trip. The more you have to pack up and move from one destination to another, the better you'll appreciate traveling light.

Best Carry-On Luggage Types
With increasingly stringent airline carry-on luggage restrictions, the lighter your bags, the better. Here are some specific luggage types and suggestions:


Wheeled Luggage
I prefer wheeled luggage in general; I'm spared of back pain, wear-and-tear on my clothing (from hauling on and off a backpack all the time), and call me vain, but I simply prefer the image of rolling luggage vs. backpacks. While some people might argue that wheeled luggage is impractical over rough terrain (like cobblestone or dirt roads), being carry-on sized, it's light enough to carry by the side handles when necessary.


WHEELED CARRY-ON LUGGAGE SUGGESTIONS
My own carry-on travels have been made pleasurable by the Pacsafe Venturesafe EXP21 Anti-Theft Wheeled Carry-On, which I absolutely adore to this day. It's lightweight, has all kinds of awesome security features, and has super sturdy wheels for rolling all over the place. I've had it for 10 years and it's still going strong.
2023 NOTE: Tragically, supply chain issues forced Pacsafe to discontinue their lineup of anti-theft rolling luggage.
While mine is still going strong, if I had to replace it, I'd get the Osprey Daylite Carryon Wheeled Duffel 40L. While it's not anti-theft in the same way as Pacsafe, Osprey makes excellent bags and luggage and I stand by the brand.
In the meantime, I've been dabbling with hard-shell spinner luggage; specifically the Grace EXT 20″ expandable rolling carry-on by Level8, available exclusively on Amazon, here.
Here's why I adore Pacsafe, with a deeper exploration of various anti-theft features they offer.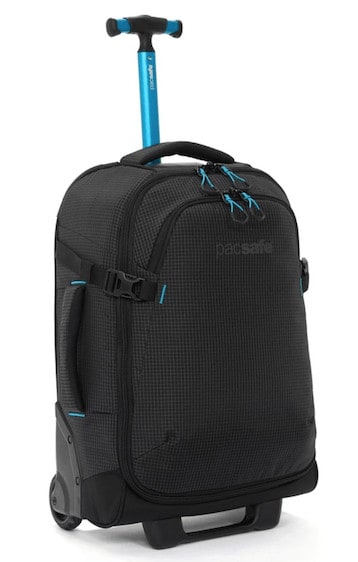 Keep reading for a section further down dedicated to hard-shell spinner luggage, and my recommendations therein.
Backpacks
I'm not a backpack girl for many reasons (which I outline here). But if you're going to travel with a backpack, a carry-on backpack makes the most sense. They're generally the most lightweight form of luggage you can find, allowing you to allocate the most weight and space for your stuff. Aim for a 40 litre (or so) backpack, which will give you the most space while adhering to (most) carry-on luggage rules.


CARRY-ON BACKPACK SUGGESTIONS
The Osprey Porter 46 is the largest carry-on backpack you'll likely find at 46L. (In fact it's so large that it doesn't always qualify as carry-on, depending on the airline).
Osprey makes solid luggage and is particularly adept in the backpack department.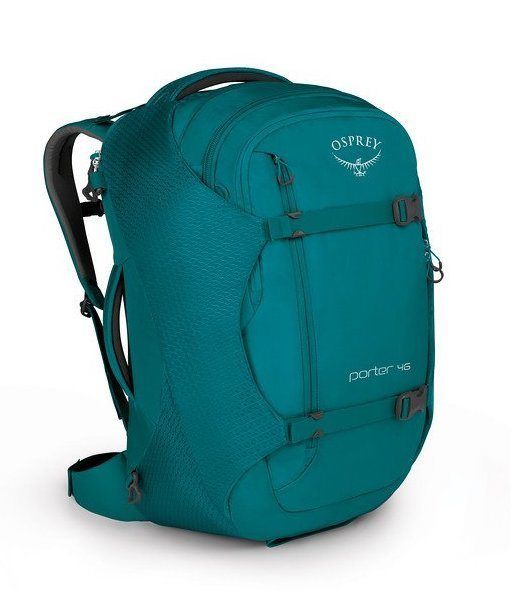 For something a little smaller, and massively popular amongst my carry-on travel colleagues, check out the Osprey Farpoint 40 Travel Backpack. People love it for its versatility, organizational features, and harness comfort (with multiple sizes to choose from, depending on your own size/stature).
Buy on Osprey or Amazon.
Women will appreciate the almost-identical Osprey Fairview 40 Carry-On Travel Pack with a suspension system built for ladies.
Get it from Osprey or Amazon.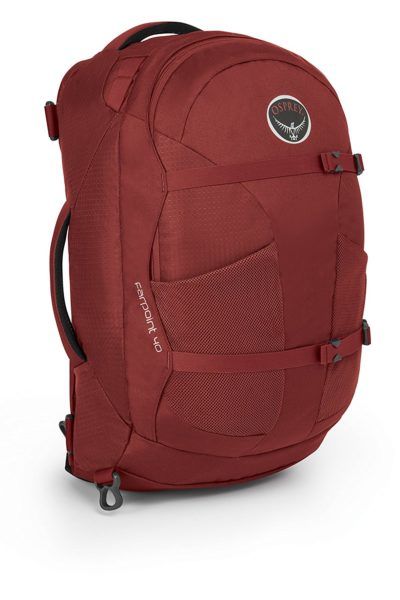 Personally, I love Pacsafe, and would consider the Pacsafe Venturesafe EXP45 Anti-Theft Carry-On Travel Backpack for its security features (like slashproof material and tamperproof lockable zips), its light weight, and great amount of space. It also has a front pocket with lots of organization power, and Pacsafe's signature locking cord so you can lock the bag to a secure fixture.
Get your Pacsafe Venturesafe EXP45 backpack at Pacsafe or Amazon.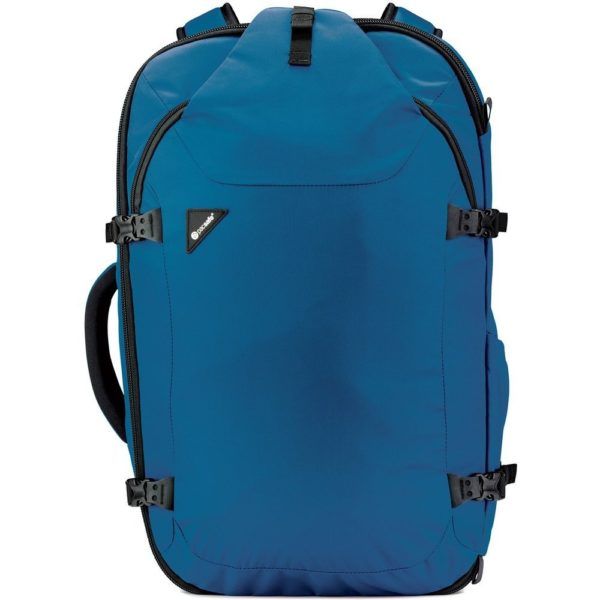 And, new to this list as of June 2019, is the Knack Pack expandable backpack. What makes it a super-cool carry-on backpack is that it is expandable – the idea being that there's plenty of space while you're in transit with all your stuff. The magic happens when you arrive and unpack your things; the Knack Pack zips down and becomes a day bag. This is part of the "One Bag Travel" movement, which I will be writing about in more detail in the coming months.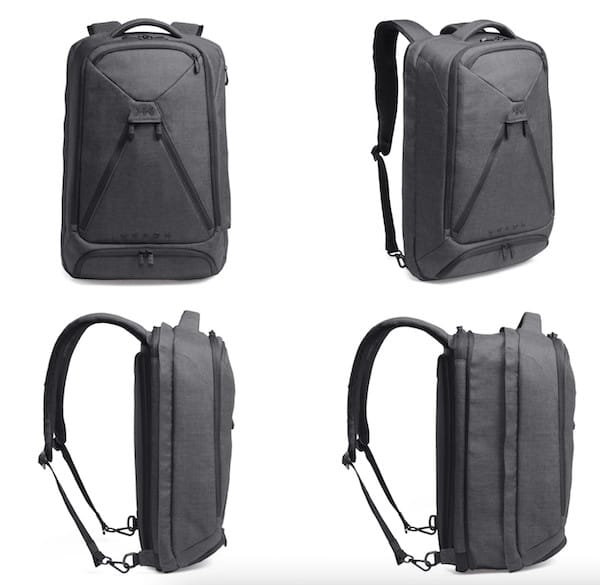 Knack Pack sent me their Large Expandable Pack for free to try out. At its smallest it's 30 litres and can fit under the seat in front of you in airplanes. Fully expanded, it's 45 litres and measures 21.5″ x 14″ x 9.5″ – which fits most carry-on guidelines. It's made of water-resistant material and has about a gazillion organizational features.
My biggest complaint might be somebody else's complement; that there's too many pockets and slots and zippered sections. The first few times I used it I kept forgetting where I stashed stuff! Also, without lockable zippers, I won't keep anything of value in the front pockets presumably made for things like cards, keys, and passports – with the pack on my back it would be waaaay too easy for somebody to unzip and take my stuff without my noticing. But as a woman that's not a huge issue anyway, because I don't ever leave home without my purse (into which such things go).
For a day pack, the large size is…well, large. Although 30 litres is a good size for a daypack, because of the dimensions, it feels large on my small(ish) frame. In some ways, I might prefer their Series 2 Medium Expandable Pack, which expands from 24 litres to 35 litres. I think the Medium pack would be ideal for short trips and one bag travel adventures. That said, I used the Large pack for a week-long trip, and it's a good size.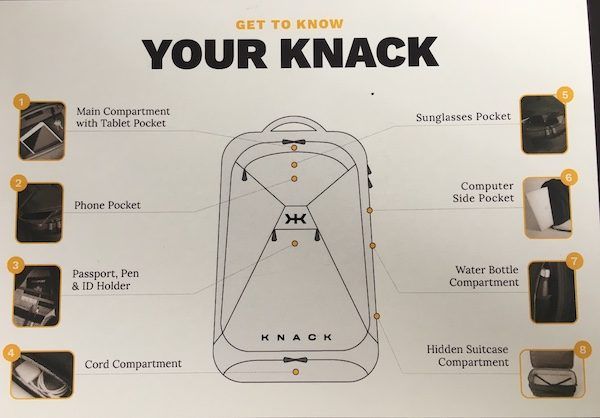 CARRY-ON WHEELED BACKPACK SUGGESTIONS
I adore wheeled backpacks and have traveled with a few different ones over the years. (See also: Wheeled Backpacks: Why They're the Best, and Tips for Buying One).
But I would generally shy away from wheeled backpacks of the carry-on ilk, simply because the combination of both wheels and straps comes at a cost of weight and space, which is vital when traveling ultralight.
Having said that, Osprey has (in my opinion) the best carry-on wheeled backpack on the market with the Daylite Carryon Wheeled Duffel 40L. It has all the great packing and design features you'd expect of Osprey, and the backpack straps are designed so they don't take up valuable packing space – and you wear them on the front of the pack which is much more comfortable than the hard back of the pack.
Shop for the Daylite Carry on at Osprey.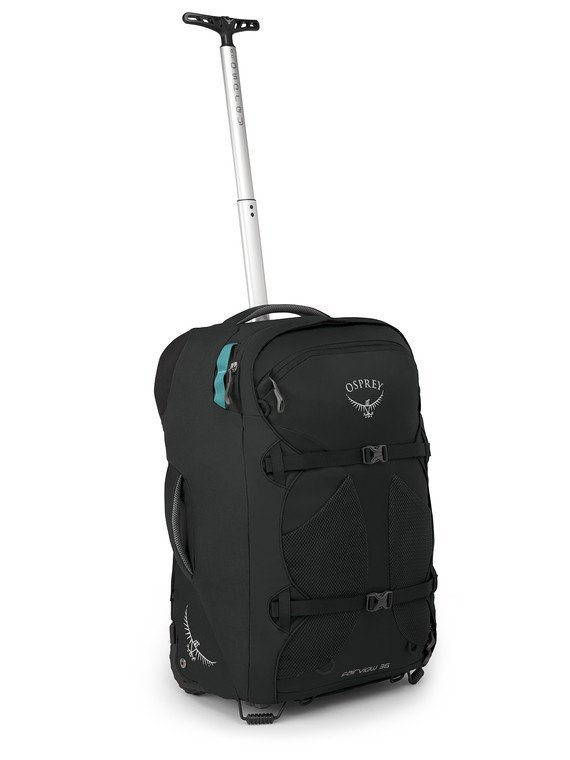 CARRY-ON LUGGAGE: THE DARK SIDE
While carry-on travelers sing the praises of ultralight travel (almost evangelically so – I know, I'm still one of them), it also has many drawbacks, some of which might be insurmountable depending on your travel style or trip at hand. Let the carry on vs checked bag debate begin.
Your Wardrobe Will be Extremely Limited. You won't have an outfit for any occasion; and will likely be perpetually over-dressed or under-dressed. Buying clothes at each destination to suit the circumstances/climate (and getting rid of them before you leave) can be expensive and impractical.
Winter? Forget It. My carry-on packing list got me through three seasons (barely); the sheer bulk of my very limited selection of cool weather clothing made it difficult. Packing for winter climates as well would have been impossible.
Constant Hand Washing. With a limited wardrobe, be prepared to wash your clothes in the bathroom sink all the time. This can get tricky if you're moving around often and your stuff doesn't dry easily overnight. If you're staying in communal quarters, good luck finding somewhere to modestly dry your undies.
You Might Have to Check it Anyway. General airline carry-on luggage dimensions are 22 x 14 x 9 inches (roughly 55 x 35 x 23 cm), but some airlines are much smaller. Other airlines are stingy on weight, some allowing carry-on luggage to be only 5 kg (11 lbs)!
And don't think the airlines will let it slip if you're a hair over in weight or size. I once took a flight where the check-in agents didn't check the size or weight of anybody's carry-on luggage if they were checking a bag, but they meticulously weighed and sized up all the bags for people flying with carry-on luggage only. I watched a couple forced to check their carry-on luggage, frantically pulling out their laptops and other items inappropriate for the cargo hold, and having to carry it all in a plastic shopping bag for the rest of their trip. And for this inconvenience, they also had to pay (top price no less) to check their bags at the last minute.
There May Not be Room in the Overhead Bins. Depending on when you board, and how many other people have bulky carry-on luggage, you might be out of luck. Sometimes the gate attendants will nail you before you even board; if too many people have carry-on luggage only (which is common on domestic flights), they'll go around the waiting room and tag your bag to be checked at the gate, whether you like it or not.
You Might Still Have to Pay. Some airlines are getting cheeky and not only charging for carry-on luggage, but charging even more than for checked luggage. They're doing a great job of capitalizing on the popularity of carry-on travel.
Long Layovers Suck. Although carry-on luggage is a delight compared to schlepping checked luggage around outside of the airport, toting your carry-on bags around the airport before your flight and during long layovers is not fun. One ill-fated nine hour layover in a poorly laid out airport gave me back pain for a week.
Souvenirs? Think Again. While limiting the things you can buy might be great for tight budgets, sometimes you really want that special something to commemorate your travels. You'll be outta luck unless you're prepared to throw something out to make room. Which, to be honest, is also a bit wasteful.

THE CASE FOR CHECKED LUGGAGE
Taking into account the dark side of carry-on travel as outlined above already creates most of my case for traveling with checked luggage. It ultimately depends on you, your travel style, and trip requirements. Here are some general benefits of checked luggage:
No Stress at Check-In. When I traveled with carry-on luggage, I always worried that the check-in agent would deem my bag too big or too heavy. Once, when flying with Ryan Air in Europe, in the middle of a horrendous heat wave no less, I had to wear all my heaviest clothes and hiking shoes for an agonizing flight, all so my carry on luggage could stay within the limits. With increasingly stringent carry-on restrictions, stress at check-in will only increase with time.
Bring What You Want. You don't have to pack your checked bag to the seams; simply having the option to pack whatever you want and/or to get a few extras along the way makes your trip more civilized, and less an exercise in stingy discipline.
As a full-time traveler, this is the biggest reason I reverted back to checked luggage. While I was in Asia renting apartments with kitchenettes, I carried a small espresso maker with me to make my morning routine a delight. When I was in South America doing shaman-things, I had space for all my shamanic accoutrements. I also like to have specialized nutritional supplements, which take up space. So no matter where I go, I have room in my luggage for a few extras (adding either comfort or aesthetic value) that make each place I visit feel a bit more like home. (And for a professionally homeless person, this has great value over the long run).
Packing is Easier. Although heaving my 18kg checked luggage up a flight of stairs isn't exactly pleasurable, at least I don't have to worry about playing tetris while packing a maxed out carry-on bag. I can use all the organizational packing tools I wish without worrying about the extra bit of space or weight they take up. This makes packing and unpacking (something you do a lot on the road) a dream.
Lost Luggage is on the Decrease. While it only takes one incident to make you reconsider ever checking your bag again, stats indicate that the chances your bag will be misplaced have drastically reduced. According to SITA Baggage Reports, cases of lost luggage are down 70% over the last 10 years, despite global passenger volumes being at record highs.


Best Scenarios for Travel With Checked Luggage
You Travel Full-Time. If everything you own has to fit into your luggage, going with carry-on will involve sacrificing either comfort, style, or versatility (or a bit of all three). Why bother? If travel is your lifestyle, consider just that: it's your life.
You're Traveling Through Multiple Climates, Including/Especially Winter. Taking a winter trip on its own practically necessitates checked luggage; going from snow to beaches requires even more luggage space.
You Want to Get Souvenirs. If you're taking a trip of fixed duration and want to bring back some gifts or souvenirs, you'll have the space with checked luggage. Alternately, you can bring an extra bag to check full of goodies on the way home.
You Travel With a Lot of Electronics. Would you check your laptop or expensive camera? Probably not. Digital nomads in particular are renowned for their electronic requirements; photographers have it the worst with multiple cameras and lenses, and even drones. In these cases, traveling with just carry-on is near to impossible. (See also: Electronic Travel Gear – Travel Experts Reveal What's in Their Bags)
You're a Gear Head. If you participate in any kind of specialized sport or activity requiring "gear", you'd better bring along a checked bag. Some types of gear aren't even allowable on-board.


Best Types of Checked Bags
While some travelers swear by their giant backpacks, I don't. So by the process of elimination, I won't recommend any here. (I speak from experience; click here to see the various backpacks I initially started traveling full-time with, and why I don't think they make sense).
Okay, then. On with the various checked luggage types I do recommend:


Wheeled Backpack
The wheeled backpack is the best of both worlds, and was the first form of luggage I actually enjoyed traveling with. However beware: you won't want to take it hiking in the countryside. Think of a wheeled backpack as rolling luggage that you can put on your back when you need to. You can reduce the discomfort of using straps by getting a model with a padded hip belt, and pay attention to the construction of the bottom part of the pack, so it doesn't dig into your back/hips.


CHECKED WHEELED BACKPACK SUGGESTIONS
For a checkable wheeled backpack, look no further than Osprey's big brother to their 36L wheeled backpacks:
The Fairview Wheeled Travel Pack 65 for women (only available at Osprey), and the Farpoint Wheeled Travel Pack 65 for men (available at Osprey and Amazon).
Designed with all the high-quality bells and whistles that Osprey is known for, these packs are also compatible with Osprey's Daylite pack series so you can attach your daypack to the front of your case to make it way easier for carrying on your back. (I personally refuse to wear a backpack on my back and another one on my front, so these details are important to me).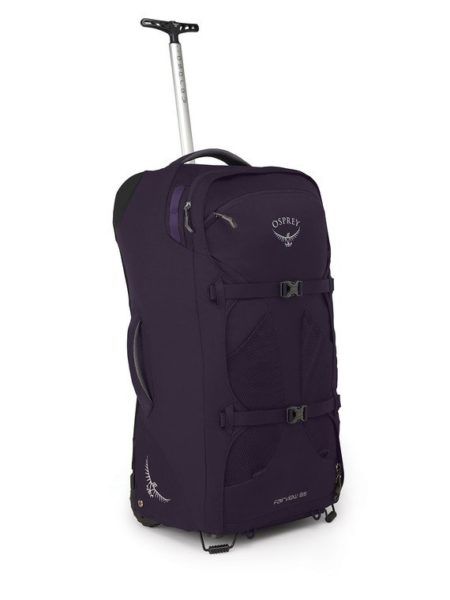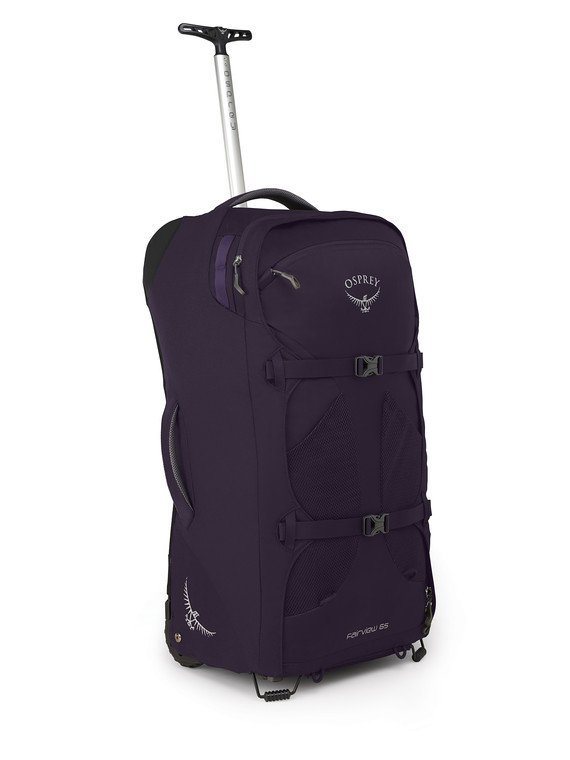 Rolling Luggage
For a few years, I consistently traveled with checked rolling luggage. Ever since my shamanic escapades, and having a home base that I thought was "for good" in Peru (a couple of years before setting up a "for real home base" in Toronto), I started to insist on having a few extras that meant my checked bag weighed in at 18-19kg. (Remember, that was pretty much everything I owned).
It was a little too heavy to wear on my back, so I compensated with indestructible wheels that I abused over gravel, dirt roads and cobblestones. But more often than not, if I had any choice in the matter, I minimized actual travel time with my luggage in tow, and paid extra to travel from door-to-door with it. I have a packable large daypack for shorter/side trips.
(See also: What and How to Pack for Long-Term Travel, with a Video of What I Look For in Luggage, How I Pack, and What I Pack)


CHECKED ROLLING LUGGAGE SUGGESTIONS
I own the Eagle Creek Gear Warrior 29, which has since been discontinued. In fact, Eagle Creek has changed their whole lineup so dramatically, I wouldn't know where to start in making recommendations, however the closest approximation to what I had would be the Caldera Wheeled Duffel, though I'm also intrigued by the Tarmac XE lineup.
However if I were in the market to buy checked rolling luggage today, I would pick up the Osprey Transporter Wheeled Duffel 60L.
It has a lot of the same features; it's soft-sided, high-tech, incredibly rugged and durable, and still lightweight (only 6.4 lbs!). (Click here to learn why I prefer soft-sided luggage). And because it's soft-sided, I don't have to pack it to capacity to keep everything from bouncing around inside; the handy compression straps keep everything together. I watched a friend of mine pack it with about half as much stuff (he planned to fill the bag with other things along the way) and the compression straps worked wonders. You wouldn't be able to do that with hard-sided luggage.
And the wheels and chassis can handle all kinds of terrain including gravel roads and mountainous terrain. My Eagle Creek luggage has similar wheels and I threw everything at it, including a 4 km (4 km!) walk on a crappy dirt road in India (not one of my happiest moments), and it's still going strong.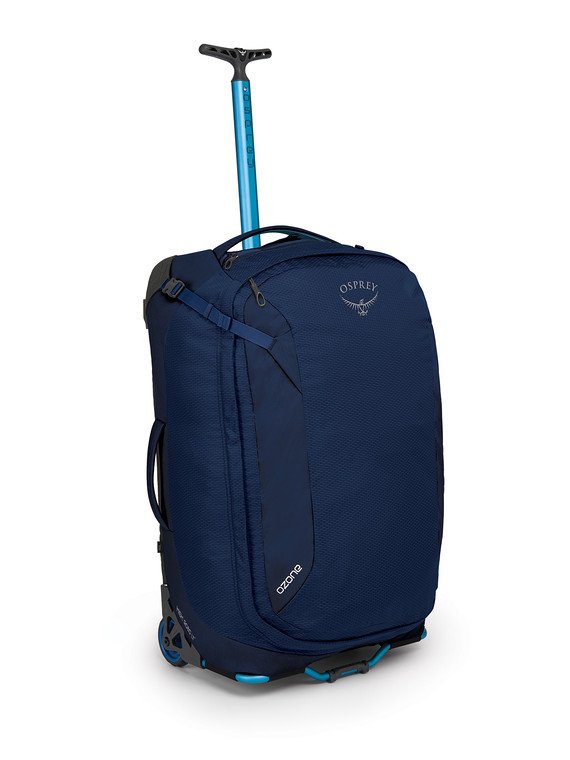 What about Hard-Shell Luggage with Spinner Wheels?
Unlike most people I see in airports, I never jumped on spinner luggage or hard-shell luggage bandwagons.
So in 2022, when Level8 sent me a couple of their lightweight carry-on luggage with spinner wheels to try out, I figured it was time to see what all the fuss has been about.
Level8 makes both carry-on and checked luggage in multiple sizes. Here are some features of all their luggage:
It's made with aerospace-grade ultralight hardshell material for maximum protection of your stuff.
The have TSA-approved combination locks built in.
Their 360 degree spinners are designed to be ultra-quiet and anti-shock.
The interiors are fully-lined with dividers and zippered pockets.

I personally like the Level8 Textured Collection (in both checked and carryon sizes) because the hardshell has a texture that protects it from scratches which can happen all too easily, especially if you're checking it in. (And unlike the picture here, it comes in a rainbow of colour options.)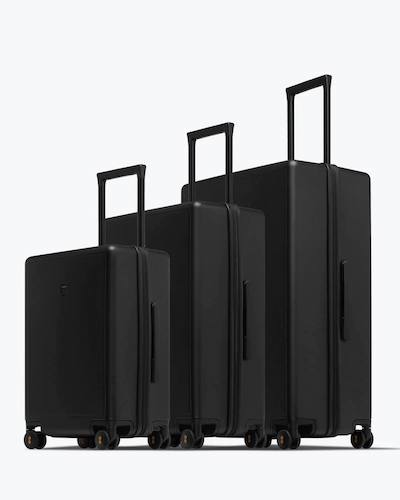 But carry-on warriors will appreciate their Road Runner Carry-on because it has a separate pocket for a laptop and other miscellaneous items, which can be handy if you don't travel with your laptop in a separate daypack.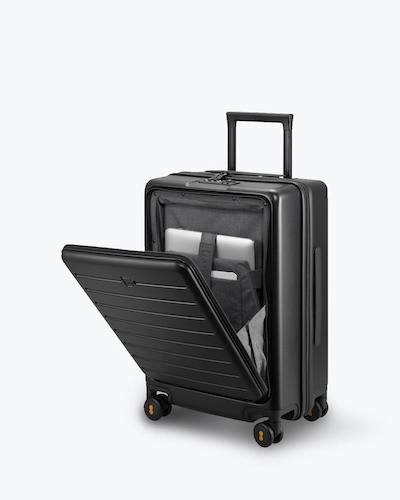 Not sure whether the Textured Carry-on or Road Runner will be best for you? I go through both in this video:
And for the best of both worlds (carry-on luggage with an anti-scratch exterior plus a separate laptop pocket AND expansion capabilities), then check out the Grace EXT Carry on Luggage lineup, available exclusively on Amazon.
Here's what I've discovered about hardshell spinner luggage:
Pros of Spinner Luggage
Dramatically easier to roll on smooth surfaces.
You can still tilt and roll on two wheels when the terrain is rougher.
Luggage doesn't tip over the way it can with awkwardly-packed 2-wheel luggage.
Easy to slip your daypack over the telescoping luggage handle using a pass-thru strap and transport both as one (this isn't so easy with soft-shell and/or 2-wheeled luggage).
Spinner wheels are just plain cool!
Cons of Spinner Luggage
The wheels aren't quite as bombproof as the wheels on a lot of 2-wheel models, which often have a tread and are made of rubber. This makes rolling on uneven terrain like dirt/gravel/cobblestones easier (and quieter).
Spinner wheels almost always stick out from the luggage which reduces the packing capacity of the luggage. (The wheels on 2-wheel luggage are usually inset).


Pros of Hardshell Luggage
Better protection for your stuff. (At least in theory; I'm not totally convinced – I think they're about equal at the end of the day).
Because it opens clamshell-style into two halves, it's easier to see and organize your stuff within the case. (Versus soft-shell which has one big space.)
It looks cool.
Cons of Hardshell Luggage
If you don't pack it full, your stuff will bounce around in the luggage. (This problem is partially solved with flaps that hold the contents in each half of the luggage).
No room for overpacking. For better or worse, soft-shell luggage has a bit more leeway if you want to take a few extra things home from your trip.
You can't access the content's on the go. The only way to get into hardshell luggage is to lay it down and open it up completely. This is both awkward and a huge inconvenience if you just want to pull out a jacket.
It takes up a larger footprint. Again, because the only way to open it is to lay it down and open it completely, you need twice as much space as soft-shell luggage, which only has a flap that opens and peels back.
While not universally the case, hardshell luggage tends to be a bit heavier.
Bulkier to store when not in use.

As you can see, I have not seen the light regarding hardshell luggage. Perhaps with more time and use on the road this will change. But I also know I'm in the minority for not being a huge fan, so if you're in the market for hardshell luggage, I suggest you take a peek at what Level8 Cases has to offer.
And get 10% off with discount code Nora10!


Don't Forget This Crucial Luggage Accessory
Whether traveling with checked or carry-on luggage, I insist on having a packable daypack that I can take on mountain adventures, or grocery-shopping missions alike. Here are my criteria:
Waterproof (or at least water resistant)
Comfortable straps
Ultralight and easy to pack into my luggage
Sturdy material on the bottom for durability and use
One or two drink pockets on the outside (optional but ideal)
I have been using a variety of packable daypacks solidly for over 12 years. They're perfect for day trips, grocery shopping, day hikes, weekend excursions, and more.
Want to know what I've learned in that time (without all the trial and error)? Then check out my article comparing the top packable daypacks on the market.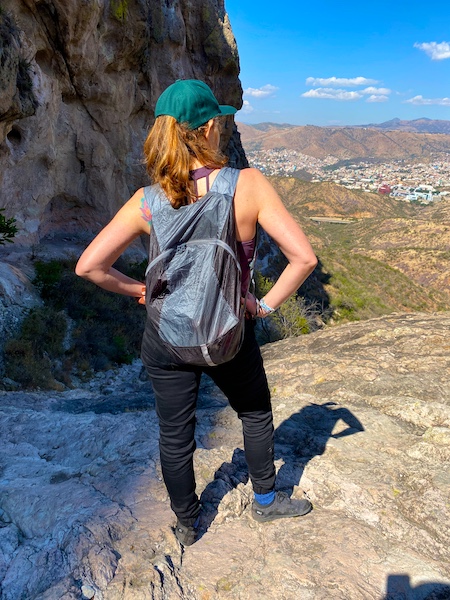 FAQ
Should I check a bag to Europe?
Ultimately it depends on your trip, but my short answer is no – if possible, it is best to travel to Europe with carry-on luggage only. The challenge for Europe in particular, is that usually when people visit Europe, they move around a bit. And Europe is a fantastic area of the world to explore overland by train or bus.
But, between the Cobblestone streets, and train stations, which often involve some steep steps to get on and off the trains or buses, hauling around heavy luggage is no fun.

Should I check my bag or carry on?
If you have carry-on sized luggage, you may still be wondering whether it's worthwhile to lug it around the airport with you versus checking it in. This is a personal decision that depends on how fragile the contents of your carryon luggage are, how much time you have to wait for your luggage to arrive on the carousel at your destination, and more.
It also depends on the weight of your luggage and the airline's carry on rules. Some airlines have particularly low weight limitations (eg: 7kg) with no provision to allow you to purchase additional weight. Other airlines restrict the size of carry on luggage to personal item bags only. In these instances, it is best to check your bag.


Want More?
I love writing about this stuff. Evidence:
The Ultimate Packing List for Full-Time Travel
Wheeled Backpacks: Why They're the Best and Tips for Buying One
Best Luggage for Long-Term Travel – Backpacks vs. Rolling Luggage
Pro Packing Hacks – Here are the Best Travel Accessories for Organization and Saving Space
Travel Packing: What and How to Pack
The Best Travel Clothes for Men (+ 4 Items From Western Rise You Won't be Able to Live Without)
Lastly, take a look at what I pack, and how, here! (Click here to watch on YouTube)