I'm a roll-aboard girl only, and here's why I made the change, and the criteria for when you should choose backpacks, rolling luggage, or a hybrid of both as the best luggage for long-term travel.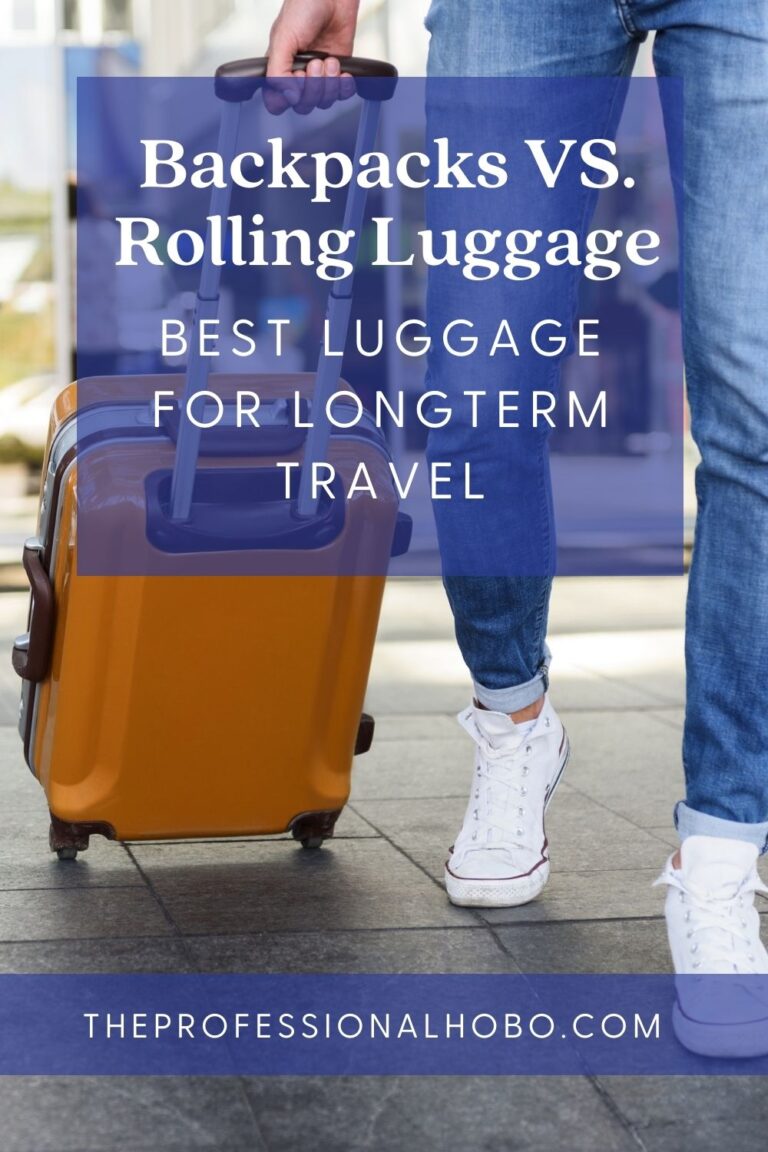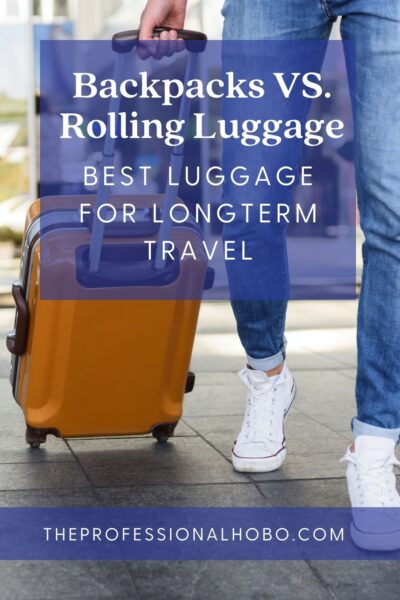 When a Backpack is the Best Luggage for Long-Term Travel
I started traveling full-time with a backpack, before getting a different backpack, before deciding I hate backpacks. (Read here to find out why I hate backpacks).
My choices of backpacks probably weren't ideally suited to travel; however the vast majority of travelers I know with packs use the same kinds. I don't know how – or why – they do it.
Despite my seething dislike for backpacks, they are suitable for long-term travel when:
If you like to go hiking/camping on backcountry trips
If you walk a lot with your bag (instead of just going from the airport to accommodation and leaving it there)
If you travel in places with really rough terrain where wheeled luggage is useless, you'll need a hiking backpack.
If you're young and eager and haven't discovered back pain yet


When a Wheeled Backpack is the Best Luggage for Long-Term Travel
When I discovered wheeled backpacks, I was in heaven. As a "recovering backpacker" I still had an umbilical need for straps, but also a burning desire for wheels. In the ensuing years, I wheeled my way through two-wheeled backpacks – the High Sierra Overpass (which has been discontinued) and the Osprey Sojourn 60L (which has also been discontinued, but thankfully replaced by the even cooler Osprey Fairview Wheeled Travel Pack for women (which you can buy at Osprey or Amazon), and the Farpoint Wheeled Travel Pack for men (only available at Osprey).

I LOVED my wheeled backpacks.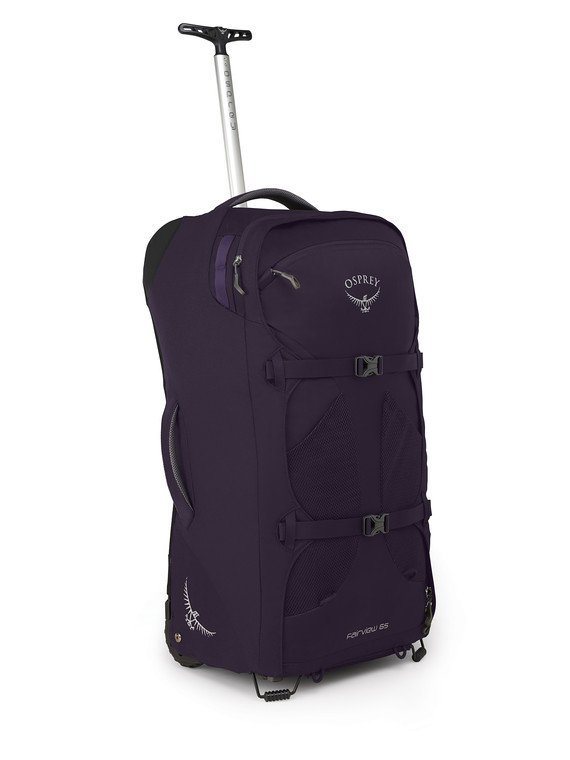 Curiously, however, I rarely – if ever – used the zip-away backpack straps. Why? Because just to do a flight of stairs, it was hardly worth the hassle of pulling out the straps and putting the pack on my back. More often than not the wheels worked just fine, and when they didn't I simply carried the pack by the top and side handles until I could set it down and wheel it again. Carrying it wasn't entirely ideal, however, since my pack weighed a good 20kgs.
I still like wheeled backpacks, and if I hadn't made some recent changes to my travel entourage (read on), I'd still own one.


Wheeled backpacks work best for long-term travel when:
You travel with checked luggage (as opposed to carry-on only)
You mainly like to wheel your luggage around (ever-so-handy in airport lineups)
You occasionally end up in places where wheeling your luggage isn't practical and you want to strap it on your back
You want easy access to the contents of your luggage


When Rolling Luggage (My Current Choice) is the Best Luggage for Long-Term Travel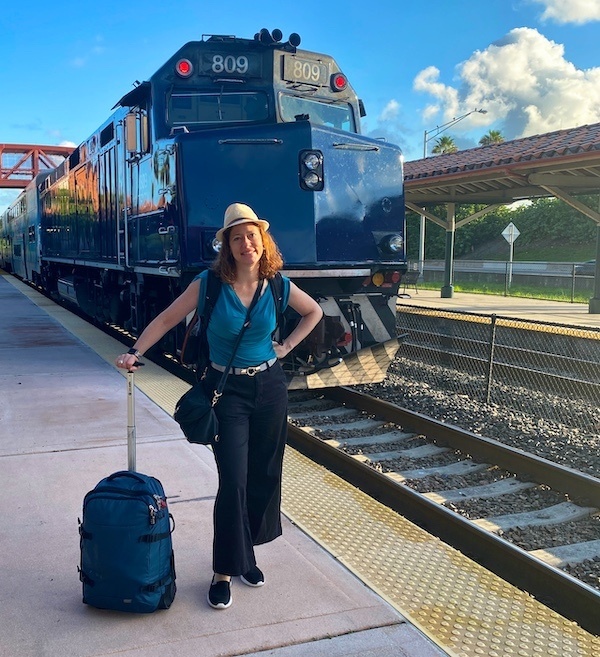 At one point I stashed my wheeled backpack somewhere and did a few trips lasting as long as three months with my rolling-carry-on travel bag only.
Eventually I realized if I could survive for months on end (even in varying climates) with carry-on luggage only, I didn't need the larger bag at all. Thus, I converted my full-time travel entourage to carry-on sized luggage only. It's occasionally a wee bit stressful since there's no room for additions, but the ease of traveling with carry-on luggage is not to be underestimated.
And more importantly, my carry-on luggage is pure and simple rolling luggage. Why don't I need backpack straps any more? Because if and when I can't wheel the luggage, I can simply carry it by the handle. Since it's carry-on sized, it's not bulky and doesn't weigh much more than 10kgs, thus it's easy to carry by hand. I could get a carry-on wheeled backpack, but the zip-away backpack straps use up valuable carry-on luggage space, and fitting a full-time travel wardrobe into carry-on-sized luggage is enough of an ask as it is.
My wheeled carry-on luggage of choice is the Pacsafe Toursafe 21 (since replaced by the EXP21 Anti-Theft Wheeled Carry-On) wheeled luggage (pictured below) which is lightweight, sturdy, has nifty security features, and some handy organizational features on the inside.
2023 NOTE: Tragically, supply chain issues forced Pacsafe to discontinue their lineup of anti-theft rolling luggage. I have left this blurb above intact in the hopes that they'll bring it back to life, or I find some comparable anti-theft luggage to love and feature in its place; whatever happens first. Stay tuned!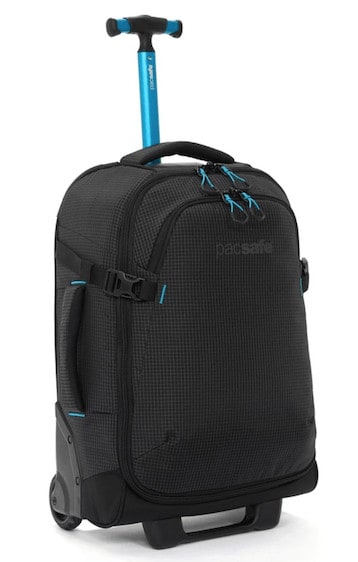 Rolling luggage isn't always the perfect fit for long-term travel, but here is when it makes sense:
You travel with carry-on luggage only (and can easily carry it when it can't be rolled)
Your travel days are concentrated and linear (ie: you travel directly from one place of accommodation to the next, without too many detours)
You "rough it" less
You fly a lot
You have back problems and don't like to (or want to) haul a backpack on and off
You want easy access and organization of your luggage contents

Before making a new luggage purchase, ask yourself, does the luggage have:
A telescoping handle
Lockable zippers
Zip pockets
Is it top loading (and is that something you want)
Does it fit in an overhead bin
Does it have premium spinner wheels (and if it does, do they come at the expense of packing space)


Having an Extra Daypack
My carry-on luggage system wouldn't work without my daypack, which houses my computer and other essentials that never leave my side. Most carry-on flight regulations allow for one piece of carry-on luggage (ie: my Pacsafe), plus an extra "purse/briefcase" type of bag. My daypack is that additional bag. (Although I carry a small purse as well, if I were challenged on it I could put the purse in my daypack).
This daypack is practical for outings to cafes with my computer, carrying shopping and groceries, and even for multi day treks such as the 5-day one I did in Peru. (Although realistically, if you want to do a day-trek through the mountains of Peru, leave the wheeled luggage behind, and bring along this bag instead)!
Here's what I look for in a daypack:
Side pockets for a water bottle
Padded shoulder straps for comfort
Separate compartment(s) for ease of organizing things
As an unintentional Pacsafe poster girl, my daypack is the Pacsafe Ventursafe Daypack. I love it to pieces. Pacsafe offers a ton of different-sized and styled backpacks in their Venturesafe line; personally I find the 25L pack the perfect size and best backpack for travel.

If you want an ultra-light packable day pack, I suggest:
Sea to Summit Ultra-Sil Day Pack – This multi-award-winning 20L packable day pack stuffs into its own pouch that is smaller than a tennis ball. It's great for day-hikes, grocery shopping, and simply having an extra daypack on hand without taking up any space or weight. Here's a video demonstration I did of the pack.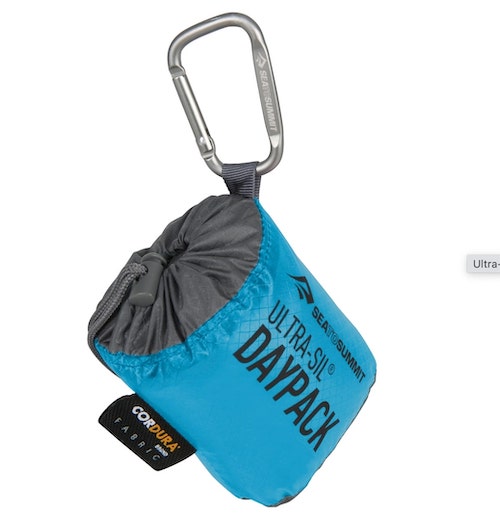 2021 Update…
Now that I have a home base, I can pack in a strategic way for every trip I take. Even if I'm traveling for months at a time, the nature of the trip will entirely dictate what kind of luggage I use.
For example, if I know I'm going from A to B and then staying at my destination for an extended time, I'm more likely to go with checked luggage so I can carry some discretionary items that will make my stay more comfortable. Or if I'm going on a long trip that will involve multiple climates and/or technical activities: again I'm likely to choose checked luggage.
But at the moment that I'm writing this update, I'm on a three-month trip and I took my rolling carry-on Pacsafe. Why? Because this trip involved about 7,000 miles of train travel (most of which was with a colleague) and I knew our train cabins wouldn't have room for checked luggage. Also, I knew I'd be in summer climates so I didn't need much in the way of heavy clothing.
Interested in some of the decisions that go into choosing checked luggage versus carry-on luggage? Let this article be your guide.

Other Travel Gear Posts
Looking for some more travel gear inspiration? Get some ideas here:
The Ultimate Packing List for Full-Time Travel (Updated to include my full checked entourage which I still use as of 2020)
Pro Packing Hacks – Here are the Best Travel Accessories for Saving Space and Organization
The Best Carry-On Backpack for One Bag Travel
My Travel Capsule Wardrobe: Best Wrinkle-Free Travel Clothes For Women
The Ultimate Travel Capsule Wardrobe for Men
My Search for the Perfect Travel Sandal
And TONS more Travel Gear features and reviews!