Travel success has more to do with intangible factors than we often realize. And one of those intangible factors is packing. How easy – or difficult – it is to pack your luggage can make or break your trip, especially if your trip involves a lot of moving around. When your luggage is your makeshift house, you'd better ensure it's well organized. Here are some pro packing hacks, featuring the best travel accessories to help you save space, stay organized, and make the most of your trip.
What are the Best Travel Organizers and Luggage Accessories?
This post is going to outline a whole heap of luggage organizers, almost all of which I've used at one time or another. But it's very important to note: using them all simultaneously will not make you a better traveler! In fact, too many luggage accessories will take up so much space that you won't have any room for the things you actually need to bring!
You'll also notice that some items are great for travel organization, and others are meant to save space. The best traveling accessories are those that save space and organize your stuff, and when I find one of these gems, I take them on every trip (you'll read about a few in this post).
But generally speaking, each trip is different, and you'll need to employ different packing hacks and travel organizers to suit the mission at hand.
So have a gander at the various packing tools for travel that I've used over the years, and pick and choose what works best for you.

Note: Many of the links below are affiliate links, which means I'll earn a (paltry, but still noteworthy) commission on anything you buy when you click through. This doesn't affect your price, but it does help me to keep running this site and kicking out quality content, so for that, I thank you in advance.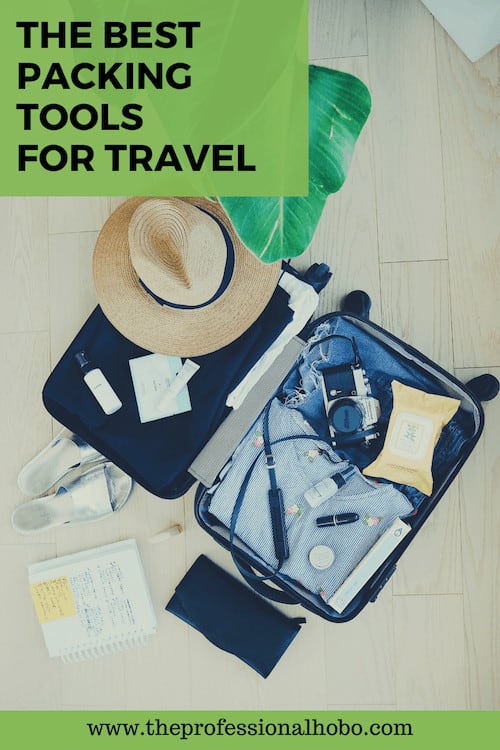 Best Suitcase Organizers for Saving Space
Clothes have a nasty habit of taking up a lot of space. Even if you're judicious about how many items of clothing you take with you, they'll likely take up a large portion of your luggage space. With the help of these suitcase organizers, you'll be traveling in style.
(See also – Travel Capsule Wardrobe: Best Wrinkle-Free Clothes for Women)

SegSac Traveler (aka The Hoboroll) – Best Luggage Organizer for Carry on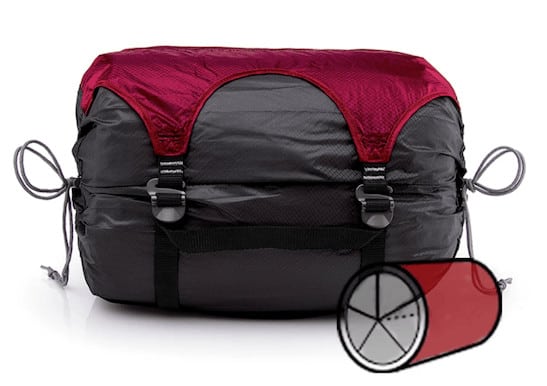 I reached out to these guys almost 10 years ago when they launched The Hoboroll (before they renamed it SegSac Traveler), and we've been BFFs ever since. Not only did I adore their product, but with a name like "The Hoboroll", it was like a match made in heaven for "The Professional Hobo".
Ingenious names aside, this has ever since been my #1 all-time favourite travel accessory. So much so, that I use it even when I'm not traveling, because not only is it a fabulous space saver, but it's a great organizational tool. I traveled full-time for two years with carry on luggage only, and it is in large part thanks to The Hoboroll. It's that awesome.
The ultralight cylindrical compression stuff sack features segmented compartments inside (including a zippered pouch for valuables) and cinches shut on both ends. Then, the straps around the body of it compress the contents down to a fraction of the size.
I use the Hoboroll to organize and compress smaller items that would otherwise be lost in my luggage, like socks, underwear, workout clothes, scarves, hats, gloves, bathing suits….it's a catch-all for smaller wardrobe bits. When I arrive at my destination, I simply open one side of the SecSac Traveler to gain access to the contents, and I leave it like that – no need to unpack!
PROS: Awesome for organizing and compressing; ultralight material takes up no space or weight.
CONS: Honestly? None. Except perhaps that you'd be advised not to order it off Amazon; they're struggling with knock-off versions.
SecSac Traveler Features and Specs:
Ultralight
Water-resistant, rip-stop, 30D fabric
5 internal compartments
Opens at both ends
Converts to day bag by attaching shoulder strap (which admittedly I never use, but makes it handy if you want to use it for outings)
Storage pouch reverses to secret pocket
Aircraft grade, lightweight aluminum buckles
2 compression straps
NO PLASTIC is used in their packaging or shipping process
2 Sizes: 18.5 Liters | 30 Liters
Weight: 18.5L – 3.5oz | 30L – 4oz
Size: 18.5L – 15″ x 10″ | 30L – 17.5″ x 12″
Gobi Gear – which also makes the Free Spirit 30L Adventure Travel Backpack (which I review in this video), is a part of 1% For The Planet, and they donate 1% of their profits to One Tree Planted (a non-profit in Vermont).
Click here to order your SegSac Traveler (aka The Hoboroll) – and use the Discount Code the-prof-hobo for 25% off ($10 minimum purchase)!
Are Packing Cubes Worth It? These Compression Packing Cubes Are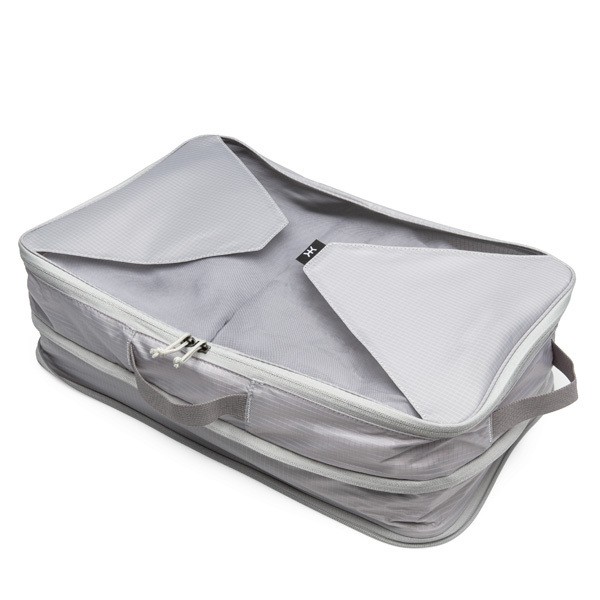 What are packing cubes? They're basically square or rectangular travel pouches with zippers. Nothing special. Packing cubes are great for organizing stuff, but they're not always the best at saving space. That said – throw in a compression feature, and you're off to the races.
Compression packing cubes offer many of the same benefits as the SegSac Traveler – just in rectangular form. I use compressible packing cubes for clothing – especially sweaters and jackets and other things that are especially squish-able.
From a space-saving perspective, it's worth noting that I'm specifically recommending using packing cubes that compress. Why? In an ideal world, everything would fit into regular rectangular luggage cubes, which would in turn fit perfectly (like Tetris shapes) into rectangular luggage, making optimal use of all space. In reality, this doesn't happen. Packing cubes in general are great for organization, but not always for saving space, since it leaves gaps in your luggage that you can't always fill with other things. But the compression feature in packing cubes marginally makes up for this, which means they're good for both organization and making the best use of space.
PROS: Saves space by compressing clothing and organizing items for easy access. Especially helpful when moving around a lot with no time to unpack. Also helpful when packing clothes for multiple climates; keep your sweaters compressed in one cube and only open when you arrive somewhere cold.
CONS: If you aren't filling each packing cube optimally, you won't fully benefit from the compression feature, which in turn means you won't be saving space (see above for my observations about regular packing cubes).
I own and am a big fan of Knack compression packing cubes (pictured above). The material is sturdy yet lightweight, the mesh on top allows me to see what's inside, and the compression zipper is easy to use and helps me save lots of space.


Compressible Shoe Bags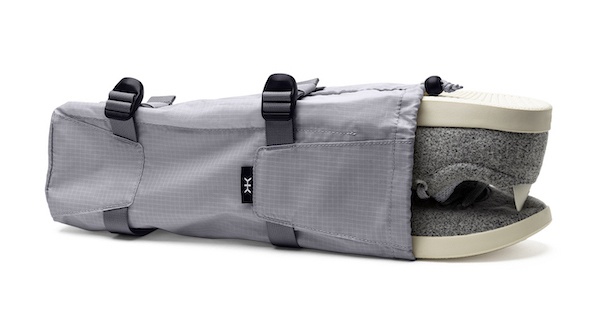 New to my packing tool entourage in 2021, I am adoring my Knack compressible shoe bags. First of all, they make it easy to pack my shoes without worrying about any of the gunk from the bottoms of my soles sullying anything else in my luggage. The compression straps help to maximize space, and having my shoes in these bags is a great organization tool. The material (similar to Knack packing cubes, as above) is both sturdy and lightweight.
Since my shoes are size Women's 8.5, I ordered both a medium and large compression shoe bag. The large is absolutely enormous! The medium is plenty big enough, and in fact I can pack both my ballet flats and my travel sandals into it, no problem! I actually use the large shoe bag for dirty laundry, since it's not just a shoe bag; it's a great way to organize – and compress – anything at all.
Check out Knack Compressible Shoe Bags here!
Does the Knack name seem familiar? It's because I own their expandable carry-on backpack and wrote about it extensively here. It's a solid piece of travel gear.


Spacesaver Bags / Compression Bag for Travel – Vacuum Bags Without the Vacuum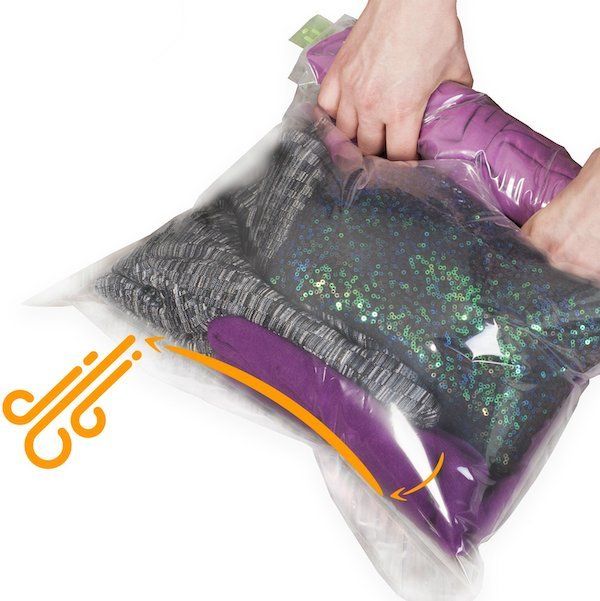 If you have a ton of clothes to pack, then spacesaver bags (also called compression bags for traveling) will be your saviour. They're the travel version of vacuum bags, which suck all the air out, leaving a compressed brick of stuff. The difference is, you don't need a vacuum to make these work; simply fill the bag, zip it closed, and roll it so all the air can escape through the one-way valve.
These travel space bags are incredibly useful for sweaters, puffy jackets, and other items that unnecessarily take up a lot of luggage space. Also, if you are traveling long-term or full-time with a wardrobe for multiple climates, you can have an organized suitcase by keeping your winter clothes in a space saver bag while you're traveling through warm climates, and vice versa – making them valuable suitcase accessories.
PROS: These are super duper space saving packing tools. They'll maximize luggage space more than anything else will.
CONS: If you use these bags to squish everything down and then you fill up the rest of your luggage space, you may run into weight issues. (Also, if the bag stops working properly part-way through the trip and you were counting on the space it saves, you could be in trouble – this happened to me once). Lastly, prepare for anything you put into these bags to come out horribly wrinkled if its not wrinkle-free material.
Get your travel space saver bags at REI or Amazon!


The Rolo (Roll-up Garment Bag) – Best Space-Saving Travel Clothes Organizer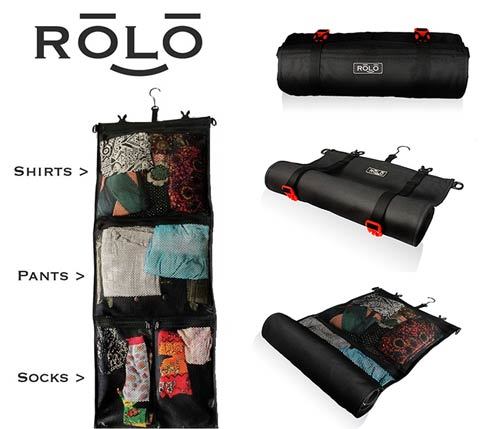 The Rolo is another travel organizer bag favourite of mine. It squeaks into the space-saving category only by a hair though – in truth, it straddles the space-saving and organization categories equally. I love it because it's a portable closet; I pack my clothes into it, roll it up, compress it with the straps, and throw it in my luggage. When I arrive at my destination, unpacking is as simple as unrolling it and hanging it up.
It's water-resistant and incredibly sturdy; I have abused mine for over five years and it still looks brand new. However this is a double-edged sword, since sturdy comes at the cost of being ultralight. Thus, when I'm traveling carry-on only with just one bag, I don't usually take The Rolo with me.
PROS: Packing and unpacking is ridiculously easy, and clothes get some compression as well. Ridiculously convenient when moving around a lot.
CONS: It's a bit heavy and a wee bit bulky for super ultralight packing. Sturdiness comes at a cost.
The Rolo Features and Specs:
2 big clothing pockets, each 13" x 16.5"
2 small clothing pockets, each 14.5" x 8"
Unrolled size 45" x 17"
Military grade nylon mesh zipper pockets
Patented high-performance buckles and zippers
360 degree swivel hook for hanging
Reinforced support bar for hanging
Waterproof PVC-coated ballistic nylon fabric shell
Compression straps on the outside
Shoulder strap for carrying on its own (which admittedly I never use)
Click here to level up your travel packing strategies with The Rolo travel bag organizer!


Best Travel Packing Bags for Clothes
Sometimes having your clothes well organized is more important than saving space. For example, if you must travel with clothes that easily wrinkle, squishing them down will only exacerbate the wrinkle-effect. In other cases, you might have plenty of room in your luggage, or you're moving around all the time, and it's more important to have easy access to your luggage's contents than it is to save space.
If this is you, then these travel packing bags – which aren't really bags at all – are optimal.
(See also: Checked Luggage vs. Carry-On – and Why Checked is Best for Long-Term Travel)

Packing Sleeves / Garment Folder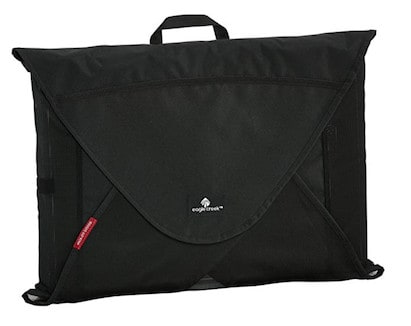 I know people who use packing sleeves and love them. I am not one of those people; at the best of times, folding clothes neatly is not one of my strong suits, which is why I generally must have wrinkle-free travel clothes.
These little packing envelopes for clothes usually feature a flat board with detailed instructions on how to fold your stuff around it so it lies perfectly flat, then the garment sleeve wraps around your pile of perfectly-folded clothes. You'll probably love having a garment folder if you have dress shirts and other clothes that are susceptible to wrinkling. Or, if you're like my boyfriend and you have a compulsive need to fold everything perfectly, even dirty laundry (I find it endearing).
PROS: Great for folding clothes perfectly and reducing wrinkles.
CONS: It's difficult to keep everything in its perfect folded form if you need to access the shirt in the middle of the pile. It's also time consuming to fold everything (rolling clothes or haphazardly cramming stuff in your bag like I do is much quicker).
This Garment Folder by Eagle Creek is very highly reviewed – buy it here on REI or Amazon!


Packable Shelves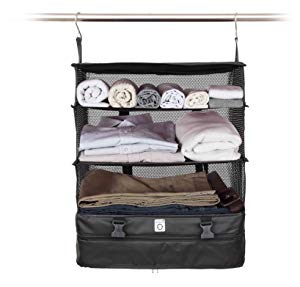 Packable shelves will do nothing to help you to save space, but as far as packing accessories go, they make packing and unpacking ridiculously easy. It's like a mini hanging dresser; put your clothes and other items on the shelves, then take it off the rod and plunk everything directly into your luggage. The bottom zippered portion in the model pictured here is great for dirty laundry, shoes, or miscellaneous items. This fits into carry-on luggage (20"), although it wouldn't leave much room for anything else (depending on how much stuff you put on the shelves).
PROS: Packing and unpacking couldn't possibly be easier.
CONS: If your luggage doesn't open fully (or you have a backpack that only opens on one side), I suspect these shelves would be difficult to pack and unpack.
Sto-N-Go Portable Luggage System Features and Specs:
3-tiered organizer with zippered compartment at bottom
High-strength hooks for hanging shelves in closet, on shower rod, or over door
Latches help to keep everything in place when stowing shelves
Fits suitcases 20" and larger
Measures 17.7" x 11.8" x 25.2"
Amazon Choice product with great ratings
Click here to get your Packable Shelves!


Origami Unicorn Tuo – Best Small Item Organizer / Portable Closet
Many years ago I got an Origami Unicorn Tuo, which is supposed to be a hanging portable closet and small item organizer for things like underwear and socks. For years I used it all the time, but not as it is intended (because I put socks etc in my SegSac Traveler); instead, I used it for toiletries and other bathroom items.
It has three sections, each of which is closed in by mesh so you can easily see the contents. The top two sections have divided compartments for additional organization. The snappy straps at the top allow you to hang the Tuo anywhere you like, which makes it very handy for hanging anywhere in the bathroom (or anywhere else). When you're not using it you can fold it up in thirds and snap it closed. Conceivably if you use it as intended with squishy things like socks, there would be some compression available when it is folded up.
While admittedly it's not 100% ideal for toiletries (eg: it's water-resistant but not waterproof), I like using it as such because it is a fabulous travel bag organizer that allows me to access and use all the contents easily without having to unpack anything. (It's like a smaller version of the packable shelves or The Rolo).
Lastly, I liked using it for toiletries because instead of folding it up, I tended to slide it flat into the separate front compartment of my luggage for easy access, separate storage (in case of leaks), and it took up less room than a bulky square-shaped toiletry case would have. Also, because it hangs, it doesn't take up (often valuable) counter space in the bathroom.
PROS: You can hang it anywhere, it's lightweight, and flexible for your specific needs.
CONS: It's a bit pricey. You'll want to know how it fits your packing strategy (eg: underwear? Toiletries? Something else?) before you buy.
As you'll read below, I would later realize that the Tuo was considerably bulkier than I thought, as compared to my (new) ultralight hanging toiletry case.
Origami Unicorn Tuo Features and Specs:
Made of water-resistant nylon fabric
3 see-through mesh zipper pockets
6 internal elastic pockets
Strap/handle at top with snaps to hang it anywhere
Flat/hanging dimensions: 13.5" x 28"
Folded dimensions: 13.5" x 9.5"
Click here to check out the Tuo by Origami Unicorn!


Packing Accessories for Toiletries and Other Miscellaneous Items
Clothes are only part of the battle when it comes to organizing and packing for travel. Here are some other tools to help you stay on top of your travel game.

Sea to Summit Hanging Toiletry Bag – Best Ultralight Toiletry Bag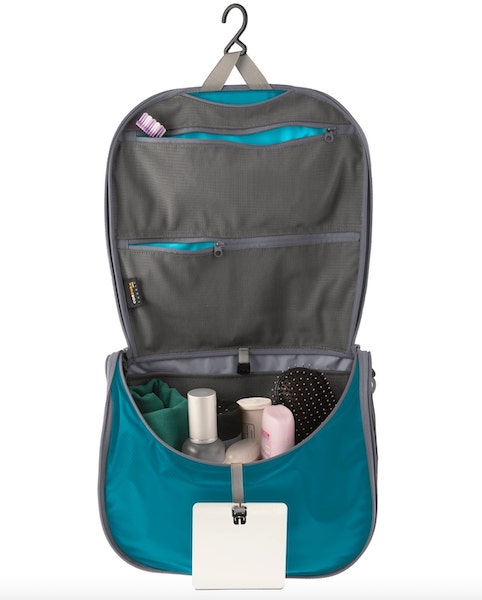 After seeing a fellow traveler's toiletry kit and realizing that my Tuo was considerably bulkier and heavier than I'd thought, I went ultralight and got the Sea to Summit Traveling Light Hanging Toiletry Bag. I was initially worried that I wouldn't fit everything I needed into it, but my worries proved futile. The large size fits everything I need, and takes up way less space than I thought it would!
It satisfies a lot of criteria that I believe a toiletry case needs, such as:
It hangs, so you can access and use your toiletries anywhere
Made of water-resistant/waterproof material
Multiple compartments for organization
Easy to see the contents for use on the go
Super-light, strong and water-resistant Ultra-Sil™ fabric (similar to the SegSac Traveler material, which I adore)
It even comes with a wee mirror, which comes in handier than I thought it would
The Sea to Summit toiletry bag comes in two sizes: Small (3L) and Large (6L). I have the large and although there's lots of space in it, I wouldn't want anything smaller. (Then again, I have five months' of toiletries in the bag. If you're on a short trip, the small might be just fine.)
PROS: The ultralight material is so strong and takes up virtually no space or weight. Fantastic for carry-on travelers with limited space.
The material is also flexible enough that if the toiletry bag isn't full, it doesn't take up any more space than necessary. (This is a big win, since many toiletry cases have solid frames that don't squish down if you're not using all the space.
It keeps all your toiletries organized and relatively separate from the rest of your luggage to protect against possible liquid spills (although I still take extra measures to prevent leaks like putting liquids in ziploc bags and using the liquid spill trick below).

(Also, let's get it right – most of my toiletries are solid; I'm a huge fan of everything that Lush makes; check out my personal packing list to see what I use).
CONS: Toiletry Cases can be a bit impractical if you travel with carry-on luggage; you'll need to keep your liquids separate in an easily accessible ziploc bag for clearing security.
That said, it's only on travel days that the liquids need to be kept separate. As soon as I'm at my destination, I put everything in this toiletry case.
Sea to Summit Hanging Toiletry Case Features and Specs:
Dimensions of Large: 10x9x4, 6L capacity, weighs 4oz/112grams
Dimensions of Small: 9x6x3, 3L capacity, weighs 2.8oz/80grams
Water-resistant fabric
Internal mesh pockets and dividers for organization and visibility
Durable zips with good grabs for easy opening and closing
Shatter-proof mirror
Get your Sea to Summit Hanging Toiletry Bag here!

Pill Organizer (For More Than Pills)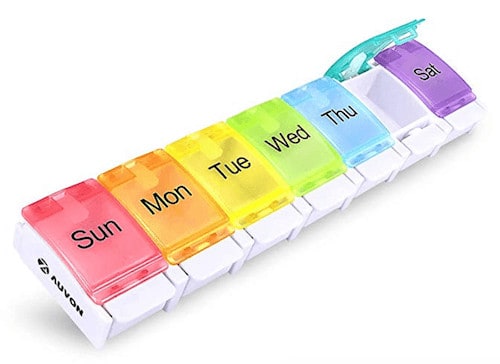 Sure, you can use a pill organizer to bring along nutritional supplements (here are the supplements I travel with) and prescription medications (although, for prescription meds, be sure to have the medicine/prescription label in case you're asked what the pills are). But these handy organizers are also good for so much more! Here are just a few things you could store in them:
Earrings
Necklaces
Rings
Over-the-counter meds (painkillers, allergy meds, etc)
Ear Plugs
Coins (if you're carrying around different currencies)
Spices (if you're renting an apartment with a kitchen)
Really, anything small that you don't want lost in the shuffle is a good candidate.
PROS: Keeps supplements etc. organized without having to carry entire bottles. Invaluable for protecting and storing jewelry. Also an ingenious way of traveling with spices you like to use but don't want or need full containers of.
CONS: Too many little things in too many compartments might be hard to keep track of, and will use up more space than just using baggies.
There are plenty of pill organizers out there. Here's one that looks pretty solid and fits any budget.


Small Travel Tubs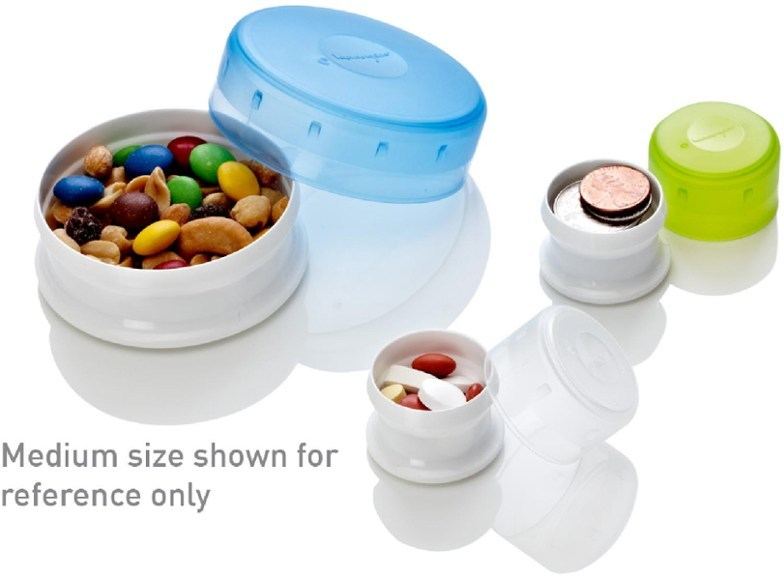 There's nothing worse than a headache on a travel day (or any day). So I keep a small stash of easily accessible painkillers (and allergy meds) in my purse, in a little tub like this one. I also use these small tubs to travel with sunscreen, various creams, and other toiletries that I use in small quantities.
PROS: Perfect for keeping a small amount of [whatever] handy.
CONS: Easy to go overboard and have a tub for every little thing.
GoTubbs are a popular option for travelers; easy to open (and stay shut when they need to).


Contact Lens Case (for Creams or Condiments)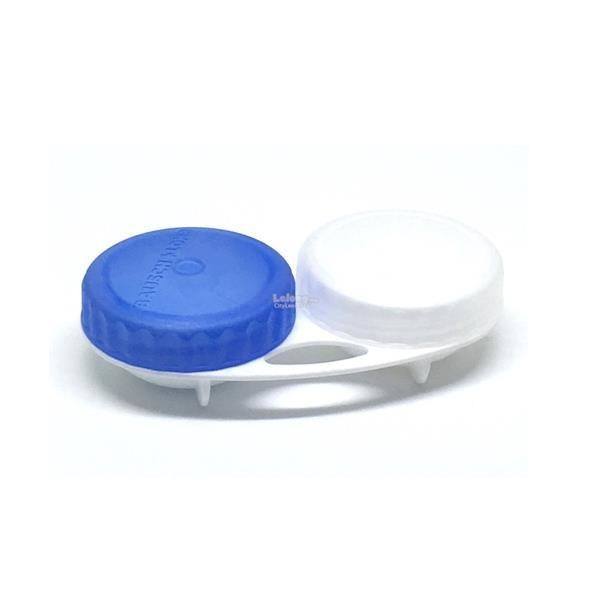 These are ideal for small amounts of creams and other toiletries you don't need much of. Also, they're great for condiments or spices (think: salt & pepper, chili flakes, etc) that you like to add to food on the go but don't want a whole jar of.
PROS: Super-cheap, great for small quantities of things for short trips. Also water-tight, which is great for liquids and creams.
CONS: Small enough that they can get lost in the shuffle.
They're cheap n cheerful here.


Electronic Bag / Cord Organizer / Travel Charger Organizer
Admittedly, I'm a bit chaotic in my general management of cords and cables; I just stuff everything into a bag and pay the price later when I have to dump it all out to find and detangle the cord I need. So my boyfriend (who is not only particular about folding his laundry but also about managing electronics and such) has been a good influence on me. Let's learn from him on this one, shall we?
His first cord organizer travel of choice was the Cocoon Grid-It Accessory Organizer (pictured above, on the left), which is basically a flat board covered with elasticized bands so you can insert whatever you want wherever you want, from cords to external hard drives to adaptors to SD cards and beyond. It's a great minimalist item that can be used in a variety of ways, but depending on where in your backpack it goes, I think it leaves everything a bit exposed.
I guess my boyfriend concurs, because suddenly it disappeared and he was using the BagSmart universal cord and cable organizer (pictured above, on the right). With lots of pockets and elastics, it's similarly flexible to hold a variety of objects (charging cords, headphones, dongles, USB sticks, external hard drive, as well as smaller items like SIM cards and SD cards). The difference is it folds shut and zips up so everything is much more contained.
In both cases, these organizers aren't great for extra long or thick cords (for example an HDMI cord or extension cord), which would need to be stored separately (check out the cable ties below to keep larger cords in check). Also, if you don't have too many cords and want to save money on an electronic bag here, then you could just use a hard-sided eyeglass case to store all your charging cords and miscellaneous electronic paraphernalia.
Lastly, your need for a cord organizer depends on what you use to carry your electronics. Many laptop bags and daypacks have special pockets and travel charger organizer features for storing your cords and adaptors such that you wouldn't need one of these. As always, make sure the packing tools you get fit your overall luggage and packing strategy.
PROS: Keeps your cords, cables, chargers, etc. well-organized and easily accessible.
CONS: All this organization comes at the cost of some additional space and weight. The Cocoon is the most minimalistic of the electronics organizers if you want the best of both worlds.
Check out the Cocoon grid-style cord organizer here, and the BagSmart zip-up electronics organizer here.


Reusable Cable Ties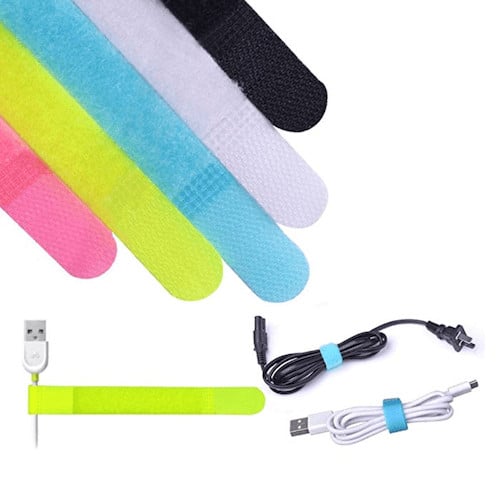 Here's another item inspired by my boyfriend, and one I thought was thoroughly frivolous until I realized one day I'd slowly absconded half of his stash for my own use. Now, I'm amazed I lived like such a savage before.
These reusable velcro cable ties come in a variety pack of different sizes and are so handy for organizing cables and cords for storage, and even for keeping excess cord out of the way while in use. This is money well spent – both for home and travel use.
PROS: Colour-coded ties so you can see at a glance what cord you need (if you remember what colour you've assigned to that type of cord). Easy to use and transferrable/reusable. Makes your cords and cables last longer (less wear and tear).
CONS: It takes a few extra seconds to wrap your cord nicely (compared to simply shoving it willy nilly into your bag). With enough use, I've seen the odd thread fray off the ties – it's mildly annoying but nothing more.
Click here to get your reusable cord and cable ties.


The Scrubba Wash Bag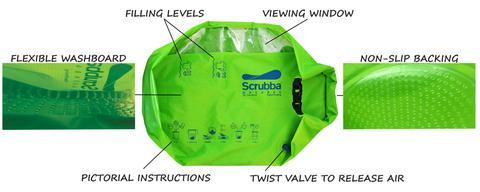 Even though I consistently hand-wash my clothes (because I'm traveling with carry-on only and/or I have delicate items I don't trust in many foreign washing machines), I resisted getting a Scrubba wash bag for years in the name of minimalism. This is a shame, because only about 50% of the sinks I encounter can properly handle hand-washing. Many don't hold water properly, and my universal sink plug is often useless (depending on the sink/drain configuration). I initially thought The Scrubba wash bag was simply a water-tight roll-top bag (aka: dry bag), but there's more to it than that, and it doesn't take up so much space that my inner minimalist feels violated.
PROS: You can do hand laundry anywhere, regardless of the sink configuration. Can get clothes cleaner, using less soap and water. Good for not only travel, but camping too.
CONS: It's pricey for what it is; ultimately you could get away with using a regular dry bag. Also, if you're traveling super duper ultralight, it's small, but still it's an extra 145 grams (5 ounces).
Features and Specs of The Scrubba Wash Bag:
Uses less water than normal hand-washing in a sink would
Textured washboard inside for thorough cleaning
Transparent window so you can monitor clothes (eg: make sure it's as sudsy as you want it to be)
Twist valve releases air prior to scrubbing with the washboard feature
Outside backing is sticky so the bag doesn't slide around while you're scrubbing
Folds down to pocket size when not in use
Multi-functional: doubles as a dry-bag
Get your own Scrubba Wash Bag at REI or Amazon!
And, if you love multi-functional items, Scrubba makes a wash bag/compression sack/waterproof backpack combo that even serves as an outdoor shower!



Luggage Scale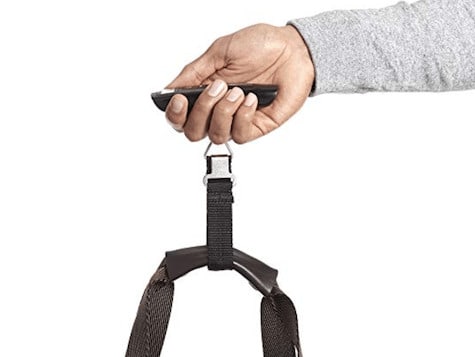 There's nothing worse than standing in line to check in for a flight, and watching the check-in agent meticulously weighing all the bags of people ahead of you (even carry-on and personal items), before forcing customers to either pay extra to check their bags or repack on the spot.
I'll admit, I don't own a luggage scale. But, this also means that every time I pack, I'm pretty stressed out. Many airlines weigh carry-on luggage (especially if you're not checking a bag), and some airlines have very strict (and stingy) weight limits for both checked and carry-on luggage. Thus, a luggage scale is on my list of things to get, to reduce pre-travel stress.
PROS: Know you're within the airline's weight limits and/or adjust as necessary before you leave for the airport.
CONS: I haven't been able to find one that is rechargeable or uses rechargeable batteries.
This portable luggage scale is simple, cheap, and does the trick.


Cheap/Free Travel Packing Hacks and Traveling Accessories
I didn't write this post intending that you would race out and buy every single item on this list. It's a comprehensive collection of packing aids so that you can pick and choose what works best for you. Because let's get it right: if you bought all these handy packing tools, you might not have much space left in your luggage for your actual stuff, nor money left for your actual travels – and travel is what this whole thing is about.
I'm frugal (some would say to a fault). So let's look at my favourite kind of traveling accessories: the free (or very cheap) kind. Also included are some travel packing hacks that I suspect you'll enjoy.

Ziploc bags
Ah, the almighty ziploc bag. I've always got a stash of them in various sizes that I use (and reuse and resuse) for a variety of purposes, including:
Keep small things separate and organized
Hand-wash small items
Makeshift packing cube / space saver bag
Pack a wet bathing suit (or other wet items)
Separate dirty laundry from clean
Fill with water then freeze and use to keep foods cold while in-transit
Keep liquid toiletries from contaminating other things if they leak


Dryer Sheets
Luggage can get a bit musty over time, either because it's not being used enough (and has been stored in a humid airless space for too long), or because it's being used too much (and has seen too much dirty laundry). In both cases, a dryer sheet will prevent icky smells from setting in. Also great for stinky shoes.


Shower Caps for Shoes
If you don't have the Knack compression shoe bags, a shower cap will do. Next time you're staying at a hotel, grab the free shower caps and use them to cover the bottoms of your shoes before you pack them. (And don't forget to stuff your shoes with other items to help them maintain their form and to maximize luggage space).


Foolproof Liquid Spill Prevention Trick
This one's gold. Before you pack your liquid toiletries, unscrew the cap and place some plastic over the opening. The plastic can be cut from a plastic shopping bag, plastic food wrap, an old ziploc bag; you only need a small piece. Then, screw the top back on. Ta-dah! You've leak-proofed your toiletries.
I still take it one step further after doing this and put them in a separate ziploc bag, but that's as much for organization as for protection.


Develop a System
Here's a final piece of advice to tie everything together. Successful travel packing (and unpacking, and packing again) depends on having a system from which you don't deviate. Everything has its place, and that's that. This is especially important when traveling with checked luggage, because the larger your bag is, and the more stuff you have, the more likely you're going to lose stuff in it.
I don't know how many times I had to tear my luggage apart in search of one thing; something I'd ingeniously tucked into a specific pocket (thinking it was so smart I'd never forget) before immediately forgetting where I'd put it. I actually lost something for years, once. Years.
By developing a system that is uniquely yours, you'll not only be able to put your hands on anything and everything with ease, but it will also dramatically reduce the time it takes you to pack.


Do you like Travel Gear and Packing Hacks as much as I do?
It's okay! You're not alone. Don't seek therapy. Instead, read these posts:
The Ultimate Packing List for Long-Term Travel
The Best Anti-Theft Bags, Purses, Backpacks, and Luggage
Travel Capsule Wardrobe: Best Wrinkle-Free Travel Clothes for Women
Checked vs. Carry-on Luggage – and Which is Best for You
The Best Carry-on Backpack for One Bag Travel
…and all my other Travel Gear posts and reviews

Here's the Web Story for this article