For two months, I lived in Chiang Mai, Thailand, in a place reminiscent of many Chiang Mai apartments; it was gloriously well-appointed condo (fully furnished, with a kitchen, washing machine, air conditioning, and even a pool and a full gym!) that cost me less than a hostel, and gave me a comfortable place to call my own – something I needed badly after having my ass handed to me (literally!) in India.
It was cheap, and easy to find.
But there are a few tricks to doing it right; here's what I learned about finding apartments in Chiang Mai.
SEE ALSO: How to Book Monthly Digital Nomad Accommodation (alternatives to AirBnB)
Click here to watch this video on YouTube.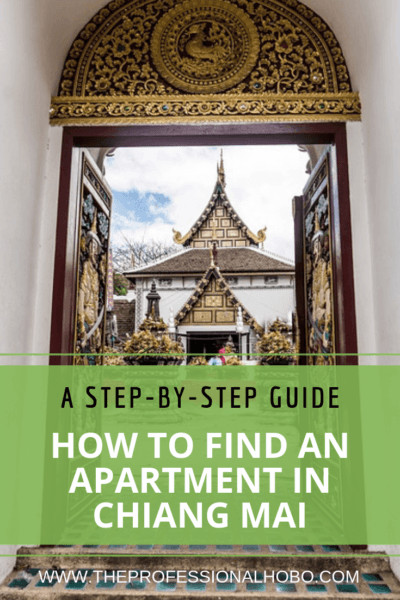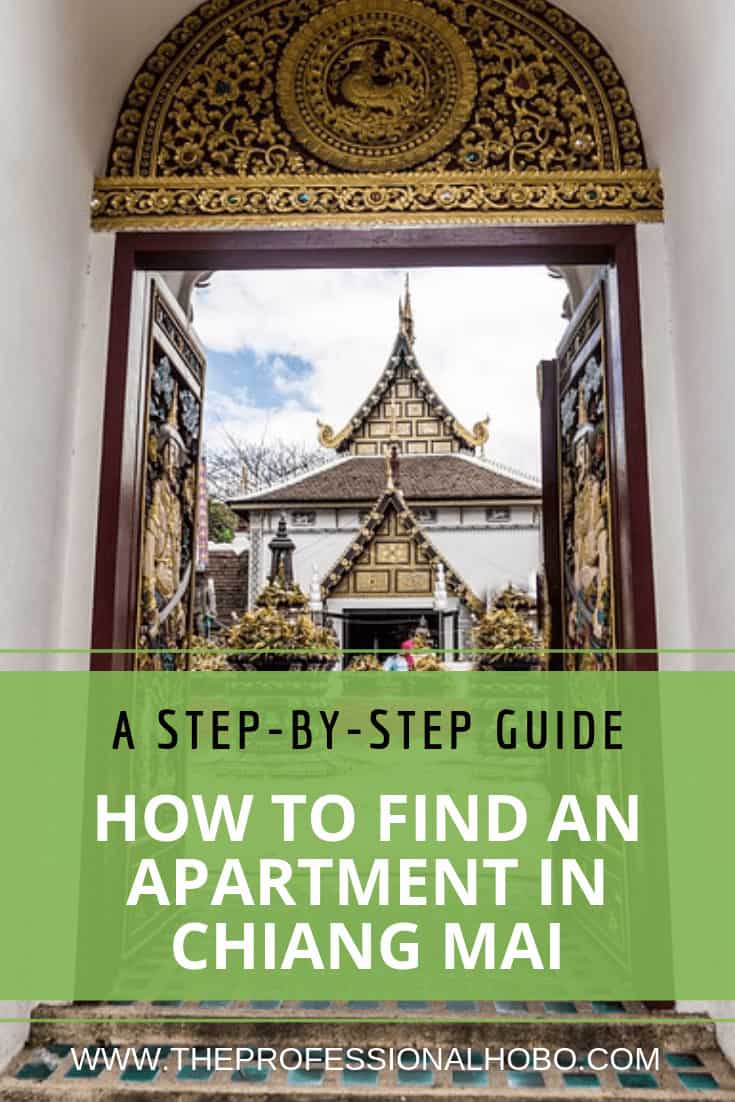 Chiang Mai Apartments: How to Find an Apartment in Chiang Mai
As I expounded on in another article, Chiang Mai is the Digital Nomad Centre of the Universe. More specifically, the Nimman area of Chiang Mai is the beating heart of this digital nomad headquarters. (See also: Chiang Mai's Nimman: The Unapologetic Bubble)
Hundreds (if not thousands) of digital nomads descend upon Chiang Mai every year, often staying for months at a time. Many even come for a month or two, and fall in love with the culture/amenities/social scene/cost of living so much, they stay for much much longer. Similar to Bali, it's one of those places that sucks you in and doesn't always spit you back out.
The Thai people are very smart and incredibly entrepreneurial; instead of resisting the onslaught of visitors holding wads of Euros/Dollars and craving some modern comforts at affordable prices, they welcome them. As such, an entire industry of serviced apartments exists. These furnished apartments are available for monthly rentals, often with lower rates if you commit for six months or a year.
Here's how to find an apartment in Chiang Mai, and get a good price while you're at it.


Step One: Book Only Your First Few Nights Before Arriving
Although I had to lean into a lot of discomfort, I resisted the urge to book an apartment (through AirBnB) for the duration of my stay prior to arrival. Given what I knew of the cost of living in Chiang Mai, the online prices made no sense. I knew I could do better. So I just booked my first three nights, specifically at a place called The Dome, which is conveniently located within walking distance of both the old city and the heart of the Nimman district.
Not convinced The Dome is in the right area or will suit your needs? Check out some of the best deals for Chiang Mai accommodation here:
Now. I found my apartment in half a day, so I didn't even need three full nights in a hotel. But if you're arriving in Chiang Mai during the peak season for digital nomads and tourists (typically December/January), you might not find an apartment as quickly. Depending on your budget and criteria, three nights may be more than enough. Or perhaps you'll need a bit longer.


Step Two: Get a SIM Card
Although most of the apartments I looked at had staffed reception areas, apparently some just have noticeboards with phone numbers to call. Either way, you'll need a phone number for the reservation and leasing process. SIM cards are cheap and cheerful in Thailand, with great data plans. I bought my SIM card in Bangkok airport while waiting for my luggage to arrive on the carousel.
(See also: Cell Phone Travel Basics: International Phone Plans, SIM Cards, and More)


Step Three: Take a Walk
The best place to find out where you want to live is to walk around. If you prefer, you can cover more ground on a bicycle or a scooter. (Me? I'm not inclined to rent scooters in foreign countries after suffering a near-fatal accident on one in the Caribbean, and especially not in big cities on arrival. But if you're more comfortable with the idea, knock yourself out – figuratively speaking, that is).


Step Four: Find Apartment Buildings in Chiang Mai Neighborhoods
There are a few neighbourhoods that have groupings of condos that typically have an allotment of apartments for short/medium-term rentals. One of these neighbourhoods is just north of the Maya Lifestyle Shopping Centre. Green Hill is a popular complex, as is PromT and Moda. Further south are some other places, such as Hillside (which is near to a co-working space I quite enjoyed frequenting called Mana).
Keep your eyes peeled not only for buildings themselves, but if these don't stick out at you, look for signs; anything from billboard ads to small handwritten signs at intersections will direct you to buildings where you can rent an apartment.
Perhaps you'd prefer to find a place outside of the Nimman area, closer to the old city, or the University, or the "mountain". If you have a scooter, you'll have more possibilities. Take a drive, and also, ask around. There are also a couple of websites that have listings for apartments, such as Perfect Homes and Faz Waz (Faz Waz being a tool you can use to find places all over Thailand), and you can always lurk one of the Facebook Groups dedicated to expats; I found the Chiang Mai Digital Nomads group to be useful on a variety of levels.


Step Five: Ask/Call
Like I said, many of these buildings are condominiums that have staffed reception areas. This makes it dead easy; simply walk in and ask if they have any vacancies. The pricing is usually standardized and the process simple. If there is a vacancy that suits your needs, ask to see the apartment (this should go without saying).
Other buildings may not have a reception area, but instead a notice board at the front where unit owners can post their own vacancies with a phone number to call. Have at 'er.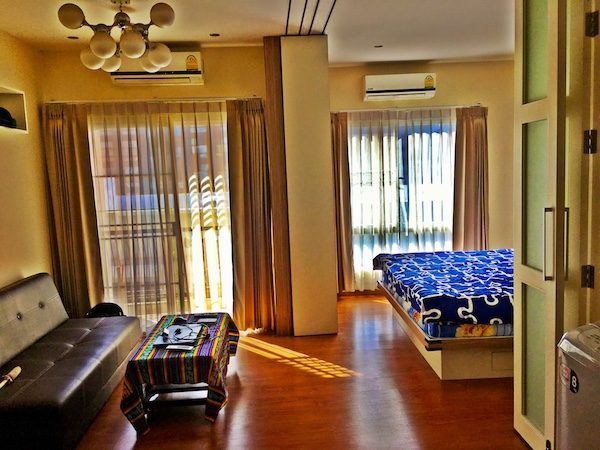 Step Six: Confirm Fees
Before you commit, make sure you know what you're getting into. Most apartments require one to two months' rent as a security deposit, which will be refunded to you when you leave (assuming you haven't trashed the place).
Rent varies, and is generally on the rise from year to year, as Chiang Mai (and more specifically the Nimman area) increases in popularity. The general rate for a one bedroom furnished apartment in 2017 was 10,000-15,000 Thai baht (about $300-450).
You're also usually responsible for paying utilities. Find out what the rate is (the rate in my building was 5 baht per kw for electricity, and 35 baht per water unit – in the end it worked out to about 800 baht/month for (a very conservative use of) electricity and 200/month for water. On moving in, make sure you know what the starting meter readings are, and also where the meters are so you can monitor your usage (air conditioning is the killer). There are some horror stories of people being presented with outrageous utility bills on leaving that they couldn't dispute because they didn't have enough information nor time to sort it out (with a plane to catch or the like).
In my case, I was also informed that I'd be responsible for a 500 baht cleaning fee on vacating the apartment, and I was also promised that the apartment would be cleaned free of charge prior to moving in (and it was).


Step Seven: Pay a Deposit
To reserve your apartment for the move-in date (if you're not moving in the same day), you're going to have to put some cash on the line right away. (For my apartment it was 5,000 Thai Baht – about $150).
On move-in day, the 5,000 became a down payment for the refundable security deposit.
All my fees were payable in cash, so be prepared to make a trip to the ATM.


Step Eight: Move Into Your New Apartment!
…and enjoy! Although this system for how to find an apartment in Chiang Mai works really well in Chiang Mai, it may not work as well in other cities that aren't as well equipped for short/medium-term renters (aka: digital nomads). More recently, I applied this process to finding an apartment in Hoi An (Vietnam), and I found a dedicated Facebook Group (Hoi An Expats Property – Buy and Rent) to be the most valuable.
Considering I've been on the road for over 11 years, you'd think I have more experience finding apartments around the world. Strangely, I don't. That's because the vast majority of the time, I have chosen my destinations based on a specific opportunity to go there, which, much of the time, involved free accommodation like house-sitting or volunteering. This made it exponentially easier to get my bearings; all I had to do was arrive and plug myself into whatever community/local neighbourhood awaited me. Not only did this save me a ton of money on accommodation, but it was incredibly rewarding. (See also: How to Get Free Accommodation Around the World)
Although, as I've discovered, there's also something to be said for having your own space without the commitment of volunteering, nor the onus to care for somebody else's home and pets (which often also restricts your time and movements). It's all a trade-off, and depends on how you wish to live your life on the road.
Be sure to watch my video on how to find an apartment in Chiang Mai, including a tour of my sweet little pad!


You'll Also Want to Check Out….
Chiang Mai, 10 Years Later: The Impossible Search
Chiang Mai's Nimman: The Unapologetic Bubble

Things to do in Chiang Mai