Kim and Ryan Desmond are the cofounders of CodingNomads, a traveling coding bootcamp that helps aspiring digital nomads learn career-changing tech skills while on an international trip. They created CodingNomads with the mission of helping people gain access to the thriving global tech job market while also enhancing their lives through travel. Along with their students, Kim and Ryan travel the world while training the next generation of software engineers.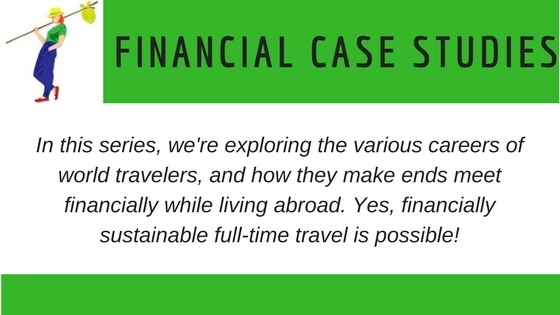 This post was originally published in 2018. It has since been updated for accuracy of links and content.


How long have you been living/working on the road, and how did you get your start?
We've been on the road for two years. In the beginning, my husband Ryan took his San Francisco software engineering job remote, and I worked as a freelance writer and marketing consultant. After meeting countless travelers who longed for technical skills to work while traveling, we were inspired to launch CodingNomads.


Where have you traveled to?
Since leaving San Francisco two years ago, we've traveled to 10 countries throughout the Americas, and spent two months at each of our bootcamps in Bali, Thailand and Mexico. We have so many favorite spots, but some of our highlights include the highland jungles of Peru, Garrapatero Beach in the Galapagos, and the amazing food and culture in Mexico. For working remotely, we've found awesome coworking spaces to host our bootcamps including Outpost in Ubud, Bali; Tao Hub in Koh Tao, Thailand; and Nest Coworking in Playa del Carmen, Mexico.
Please describe what you do for income.
We teach accelerated software engineering training courses around the world for people who want to travel and learn programming. Coding bootcamps have emerged as a quick, cost effective way to break into software engineering without the cost and time required to obtain a university degree. Most bootcamps are in the US and Europe, and on average cost more than $10,000. By offering more affordable coding bootcamps in Southeast Asia and around the world, our students get to take a break from the distractions of home to focus, travel AND learn programming for less than the average bootcamp tuition. We also offer scholarships to local students in effort to expand opportunities for people everywhere. Ryan leads the courses, while I oversee business/marketing, student support, trip planning, etc.


How many hours per week do you work on average?
During our courses we average 40-60 hours per week. In between courses we try to keep it under 40, giving ourselves breaks to prepare for the next bootcamp, visit family, and enjoy where we're living. We both come from high stress jobs where we worked too many hours. Work-life balance is important to us, so we make sure to treat ourselves well even when work gets demanding.


How much money do you make?
When working as a part-time remote developer and marketer, we averaged $6000/month for both of us. In our first year with CodingNomads, we earned an average of $3,500/month. While starting our own company meant a pay cut, we see our income growing over time. Plus, we get an incredible amount of fulfillment from traveling, being our own bosses, and teaching income-boosting skills to others. With sincerity, humility and a ton of gratitude, we're happier now while making less money, spending less money, traveling the world, and helping others make bold career and travel moves.
Do you make enough money to support your lifestyle?
Yes. As a remote developer and marketer, we were able to save more money working part-time from the road than we could earning twice as much at our full-time jobs in San Francisco. Now as business owners, we are able to support our lifestyle by selecting affordable locations for our courses. This also helps keep our coding bootcamps affordable for students.
Since our income ebbs and flows between bootcamps, we have leaned on savings when needed to stay comfortable in our first year of business. In 2018 we plan to earn enough to invest in hiring another teacher, and offer additional courses! We have a lot of excitement and signups for our upcoming coding bootcamp in Bali, so we've also hired an assistant instructor to make sure each student still gets the personalized mentorship they need to succeed. So for now, we are reinvesting back into our business. In the future, we'll implement profit sharing with our future employees, and save the rest!


What do you like most about your career and lifestyle?
Freedom, adventure, and creating our own dream jobs. CodingNomads is the most gratifying work we've ever done. We get to see and support our students' journey into software engineering, as well as the enjoyment they get (and frankly, that we all get!) from making new friends and exploring the world. We get to choose our destination, find awesome little spots to live in, all the while doing something we believe in. We cherish the precious time we spend with family and friends now more than ever. By focusing on quality versus quantity, this is truly the best time of our lives.


What are some of the challenges you have with this career and lifestyle?
When I think of it, every aspect of what we do has challenges. Living internationally, where we may not speak the language or be able to drink the tap water. Spending long amounts of time away from family and friends. Limiting our comforts from home to what we're willing to carry. Bringing together a group of people from all walks of life to learn challenging material, at an incredibly accelerated pace, in a foreign country.
All careers and lifestyles have their challenges, and we all figure out how to make the best of them. Being a digital nomad is no different. Something I learned when I first started traveling is that challenges – and the ability to overcome them – usually lead to great things. Running a traveling business challenges us to adapt to new environments, learn new things, keep in better touch, require less stuff, and create enriching experiences for our cohorts even when we're tired or homesick. For the traveler, adventurer, and entrepreneur, challenges are fuel for finding better solutions. Plus, challenges always make for better stories!
What is your vision for the future of your lifestyle on the road?
Over the coming years we plan to continue traveling and growing the business in new locations, and with new course offerings. Our dream is to save enough to invest in a place to call home in between our bootcamps, and for if we ever decide to "settle down." Until then, discovering new spots to call home for a few months here and there is working just fine for us!


Any advice for the aspiring traveler about living and working on the road and managing finances?
If you've got the itch to travel, DO IT! You CAN. You just have to take the steps to make it happen. If it doesn't work out, you can always go back to life as you knew it. But you can never replicate the unique lessons you learn, people you meet, and experiences you have while on the road.
Once you're ready to take the plunge, there are lots of ways to make money while traveling. Our advice is to find what you enjoy, stay true to what you're already good at (or willing to get good at), then see how you can monetize that. You're already committing to a passion-based lifestyle by combining work and travel. Why not explore how your other skills and passions can earn the income you need to thrive? Maybe you'll even find or create your dream job.
In regards to working on the road and finances: Always having a few months' living expenses saved helps us stay level-headed in between income lulls. Be sure to periodically keep in touch with your professional network while you travel, as your network is your best friend for finding remote gigs in the future. Trust yourself to take calculated risks while still respecting your personal comfort zone – that goes for personal finance, and life on the road!


Is there anything else you'd like to add?
It took months of mentally detaching ourselves from our previous corporate jobs before we had the headspace to create CodingNomads. In these months we had some difficult moments, unsure of next steps: Turn back to what we know? Or dream big? Because we had some savings in the bank, we were able to give ourselves the space to let our creativity flow without worrying about our next pay day. Giving ourselves that space was one of the best decisions we made. If we can do it, you can do it too!