A large chunk of the world has a problem that most westerners don't consider when they turn on the tap: clean water (or rather, the absence thereof). Here's a guide to getting clean water around the world, and how you can avoid problems when you're traveling and living in places where clean drinking water isn't a given.
I speak from experience, having dealt with parasites, bacterias, and even heavy metal poisoning.
Don't be me. Read this post!
See also: Staying Healthy While Traveling: Natural Preventions and Cures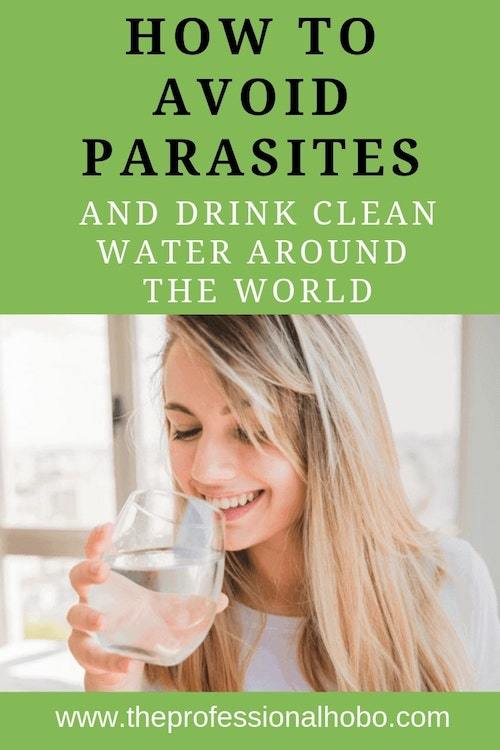 Note: This post was originally published in 2014. I have since completely re-written it to be a comprehensive guide that will keep you healthy when you travel. It's about more than clean drinking water; brushing your teeth, cooking, and eating at restaurants are all hazardous if you don't know what you need to know – which you'll know by the end of this article.
Product recommendations in this article contain affiliate links, which earns me a (pitiful, but still important) commission on anything you buy. I appreciate your support in advance!


What is Contaminated Drinking Water?
According to the WHO, 1 in 3 people around the world do not have access to safe drinking water. At least 2 billion people use a drinking water source contaminated with faeces (ie: poop). Parasites in water can transmit diseases such as diarrhoea, cholera, dysentery, typhoid, and polio. All this is estimated to cause 485,000 diarrhoeal deaths annually.
Death by pooping is no way to go. Not only that, but it's entirely avoidable. (Read the rest of this article to learn how).
Countries With the Worst Drinking Water
While much of Central and South America, as well as most of Asia and Africa suffers from contaminated drinking water, here are the 10 worst offenders:
Mexico
Congo
Pakistan
Bhutan
Ghana
Nepal
Cambodia
Nigeria
Ethiopia
Uganda


Parasites in Peru – My Experience with Clean Water (or Not)
I remember being in Nepal and telling somebody that I brushed my teeth with the tap water.
"It's not a problem, is it?" I asked when I saw the look of horror cross their face. They told me about the numerous outbreaks of cholera in our neighbourhood that week. The cause of the cholera outbreak? The tap water. Parasites in tap water are nothing to mess around with.
Although you'd think I learned something there, I had to re-learn it – the hard way – in Peru…a few times over. What happens if you drink tap water in Peru? It ain't pretty. The irony is I didn't drink the water in Peru, but I still suffered.
I'm not sure how I contracted the first parasite (it could have been callously brushing my teeth with tap water, washing my vegetables in it and not drying them properly, or eating contaminated street food), but suffice it to say, it was a gastronomically unpleasant experience. (There are many types of parasites, but the parasites in Peru to beware of include giardia. Is giardia a parasite? Yep, it is; one that's caused by water with traces of poop in it. Yummy).
After a week of being violently ill (diarrhoea, debilitating stomach cramps, and gas/burps producing rotten egg smells that I refused to own) and realizing it wasn't going to go away on its own, I staggered into the local pharmacy and with my limited Spanish said "parasito". Within seconds, I had a three-day course of medication (for $10) that cleaned everything up lickedy-split.
But I still hadn't learned my lesson. During the two years I lived in Peru, I suffered many water-borne illnesses, before I finally figured out how to live in a country with contaminated water and not get sick.
Let's look at some of these strategies.


How to Avoid Contaminated Water When Traveling
Contaminated water precautions go well beyond making sure your drinking water is filtered and/or sterilized. Here's what you need to know:
CLEAN DRINKING WATER
This is the most important way of avoiding water related diseases, since the sheer volume of water we consume daily is in the form of drinking. Here's how to get clean drinking water:

Fill Up Your Reusable Bottle
Most travelers carry reusable water bottles with them; and many hotels/hostels in countries with dodgy water have water coolers in the lobby or restaurant area. There's a pretty cool app called Find Tap that will direct you to a nearby fill station, be it a restaurant or hotel or dispenser.
(See also: Best Travel Apps)

Sterilize Water With the SteriPEN Water Purifier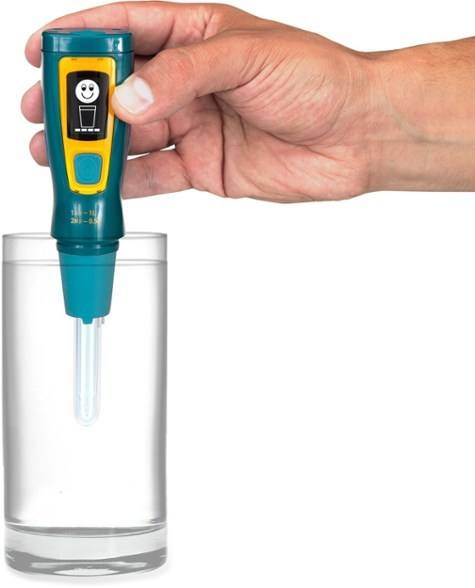 The SteriPEN Ultra is an ultraviolet water purifier that fits in your pocket and kills the bacteria and viruses that can live in water. I got one in 2008, and used it throughout a few months in Asia, saving the waste of 360 bottles of water, and saving money too.
It takes a bit of a leap of faith to shine this light in your tap water and to trust that it's really clean water, but it worked a charm.
I like the Ultra SteriPEN water filter in particular, because it's USB rechargeable, and made in such a way that when you use it with a bottle that has a standard water bottle opening, you can create a seal so that you can turn the bottle upside down to agitate the water to sterilize it properly.

Filter Water (Lifestraw vs. Grayl vs. Lifesaver Liberty vs. Sawyer )
SteriPEN problems include a lack of filtration. While it kills all parasites and bacteria, it doesn't take care of heavy metals or plastic contaminates, both of which are increasing problems in many countries. One of the many ailments that took me down in 2017/2018 in Asia was a light case of heavy metal poisoning, after (I believe) drinking too much tap water that was sterilized but not filtered. Much as I love my SteriPEN, In the SteriPEN vs. filter battle, filters win.
Some options that filter water completely of contaminates/particulates and parasites/bacteria are the Lifestraw, Grayl, Lifesaver Liberty, and Sawyer. Here are my thoughts on each of them.
I've used the Grayl Ultralight Water Purifier (pictured above, available at REI and Amazon), and I like it because I can filter water and then drink it on the spot or decant it into my water bottles so I have lots of clean water for a day out. While it's known for producing the best tasting water and can be used anywhere (as long as the water is clear to begin with), it's kind of a pain to use, especially when filtering a lot of water at a time.

Arguably more popular than the Grayl is the Lifestraw Personal Water Filter (on sale at REI and Amazon). It's basically a large straw-shaped filter that you can stick into any water source (their ads tend to show hikers using it to drink water directly from a river) and suck up totally filtered clean water. Because of its versatility and relatively compact size, Lifestraw tends to be a hit with not only travelers, but also backcountry hikers and people putting together "preparedness" kits (for storms, earthquakes, and zombie apocalypses).
Grayl vs Lifestraw: I have a few problems with the Lifestraw. First of all, when I'm really thirsty, I don't want to suck my water through a filter/straw; it's not a satisfying way for me to drink water. Secondly, there's no way to use the Lifestraw to filter a lot of water at once, which is often necessary when preparing for a hike (and water sources like rivers aren't always available).
Lastly, as far as I'm concerned for the Lifestraw to be practical, it would have to be paired with a Universal Adapter Kit so it can be used with water bottles, or conversely, you can just get the Lifestraw Water Filter Bottle to have a potable drinking water purifier bottle. (But then, you're limited to only having one bottle of water with you at a time, and if there's no place to refill the bottle, you go thirsty unless you've brought along other bottles of yet-to-be-filtered water).

Next up, we have the Lifesaver Liberty available at REI and Amazon). It's most comparable to the Grayl in that it is a water filtration system that you can use on the go to filter and drink from simultaneously, and you can also filter larger amounts of water to decant and carry with you.
Unfortunately, in going toe-to-toe with the Grayl, Lifesaver doesn't come out as sparkly as I had thought it might when I got it. It's more expensive, heavier, a wee bit bulkier, and filters slower. I believe the Grayl also filters out heavy metals, whereas the Lifesaver Liberty doesn't make that claim (but with a carbon filter, they may well still be able to).
Plusses for the Lifesaver Liberty are that it takes way less strength to filter water than the Grayl (which requires lots of awkward pushing down of the filter component that actually hurts your hands if you're filtering a lot of water). If you are filtering a lot of water at once, you can simply insert the Lifesaver hose into your water source and start pumping (very easy to pump), and clean water will come out the other end which you can direct into a water vessel of your choice.
Lastly: filter replacements for the Lifesaver Liberty are about double the cost of the Grayl filter cartridges, but they can filter more than 10 times the water before requiring replacement.
So, it's a toss-up. To be honest, both the Grayl and the Lifesaver Liberty frustrate me, each in their own way.

In an attempt to solve the shortcomings of the Grayl, Lifesaver Liberty, and Lifestraw, I came across the Sawyer line of filters, including the Sawyer Mini Water Filtration System (pictured above) and other models that seem to be perfect for travel.
I own the Mini system, but haven't yet had a chance to put it through its paces. You can filter water much easier and faster than the Grayl. You can either screw the filter on to each of your water bottles as you need them, or you can use the straw feature to drink anything you want out of a glass, or you can use the squeeze pouch to filter water into bottles in advance so you don't need to carry the filter (though it's very small). It's lighter, more compact, and appears easier to use than its counterparts above.
However, I don't believe this model filters heavy metals.

Boil Water
Most of the locals in countries where you can't drink tap water just boil it. How long does water need to boil to be clean? According to the US Centre for Disease Control, boiling your water for one minute will kill anything in it. At higher altitudes (above 2,000 metres), you need to increase the boiling time to three minutes.
Boiling water won't deal with particulates, nor will it deal with any icky taste in the water. But it is certainly an easy way to get clean drinking water in large quantities.

Water Purification Tablets (Clean Water Tablets)
Admittedly, I don't know any travelers who use clean water tablets. They're known to leave behind an unpleasant taste, although these ones are apparently quite palatable. The purification process isn't instant, but with a bit of planning, these tablets can give you clean drinking water.


Other (Necessary!) Precautions to Keep Water-Borne Diseases Away
Drinking water is just the tip of the iceberg. When I lived in Peru, I got sick at least four times (each time requiring anti-parasite medications or antibiotics), and none of them were because I drank contaminated tap water. Instead, they were from a variety of other mistakes I made. Here's what you need to know.
Brushing Your Teeth (Can You Brush Your Teeth With Tap Water?)
When I visit a country with contaminated water, I ask around to see how other people brush their teeth. Depending on the country (and the constitution of the traveler), the quality of the water may suitable for brushing teeth, but not for drinking.
I always say better safe than sorry. I fill a small glass with filtered water, and use it to wet and clean my toothbrush, and also to rinse my mouth.

Washing Vegetables and Fruit
Generally speaking when eating fresh produce while traveling, the mantra goes "if you can't peel it or boil it, don't eat it". But if you have your own kitchen and are attentive to cleaning your produce properly, it is possible to eat salads and other things that you wouldn't eat at restaurants.
Anything that can't be peeled (or boiled) needs to be soaked in water with a disinfecting component. Some people use (small quantities of) bleach, others use grapefruit seed extract or Microdyn.

Other Kitchen Tips
Cross-contamination is a huge problem when cooking with contaminated tap water. Here are some things to be aware of:
If you chop unclean produce on a cutting board, wash (and dry!) the knife and cutting board before chopping something that doesn't need cleaning.
Make sure knives, cutting boards, and dishes are totally dry before using them.
Don't store produce you've washed properly with unclean produce, or in a bag/container that once stored unclean produce (unless you clean and thoroughly dry it first).
Don't buy fruit (eg: watermelons) that has been halved at the store; you don't know if the knife they cut it with was clean.

Foods to Avoid in Restaurants
If you can't peel it or boil it, don't eat it. No matter how upscale the restaurant is, you are taking a risk if you eat salad or any food that breaks this rule. Beware of fresh garnishes like herbs and sliced tomatoes.
While it's an inconvenience to have to avoid some of these foods you might really like to have, spending your trip on the toilet (or worse, in the hospital) is much more of an inconvenience.

Street Food/Restaurant Precautions
In Central and South America as well as Asia, local produce markets often have stalls that make delicious fruit smoothies. Use at your own risk; it's relatively safe to assume these fruit stall owners aren't using filtered water to wash the fruit, blenders, and glasses.
The same goes for any market food that is served with reusable plates/glasses/bowls/etc. While I'm all for reducing single-use waste, if you are served food on a plate that was washed with contaminated water and not dried properly, you are at risk.
Also, avoid drinks served with ice, unless you can confirm that the ice is made with filtered water.

Just In Case….
Even using all these precautions for drinking clean water, I've learned not to leave anything to chance. Because a medical emergency abroad (especially in the wrong place) can be financially devastating. So to cover my butt, I always have travel insurance (or expat insurance – which is an international medical health plan, designed for full-time travelers).
From experience (including claims experience), I recommend World Nomads. They're the most flexible for insurance, allowing you to apply for and renew it from abroad. Get a free quote here.
2021 UPDATE: In a post-pandemic world, travelers have a lot more things to consider when choosing insurance. Read this article to know what you need to know! The Best Travel Medical Insurance for 2021.


Related:
Staying Healthy While Traveling: Natural Preventions and Cures