Sharon Gourlay of Digital Nomad Wannabe started her online business as a way to create a better life for her family of four where they would have more freedom and flexibility with their time with no need for one or both parents to spend most of their time outside of the house working. She did this in part by becoming a digital nomad to free them up from the expense of a life in Australia. Now a family of five, Sharon again calls Australia home when not travelling every school holidays and fully supports her family by blogging.
UPDATE: This Financial Case Study was originally published in 2016. Since then, Sharon Gourlay has made a big name for herself and her online business and lifestyle has evolved. I thought it would be interesting to check in with her and see how things have changed. Below, you'll find her original answers to each question, along with her 2019 update.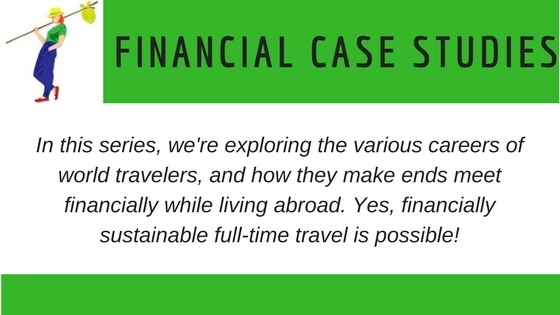 How long have you been living/working on the road, and where have you traveled to?
2016: One year this time – we have mostly been based in Penang, Malaysia, but I never stay put for long! We have also been to Thailand, Bali, Kuala Lumpur, Langkawi, Myanmar, Sri Lanka, Sweden, Finland, Estonia, Latvia, Lithuania, Poland, England, France, Italy, San Marino, Slovenia, Croatia, Norway, UAE, Oman, the Philippines, and the US.
2019: We are no longer digital nomads. We returned back to Australia in 2016 when our oldest child started school. There was no way we wanted to add homeschooling to parenting and working especially as I was pregnant at that time with our third child so we knew we had to settle somewhere. We do love Melbourne so we came back and are happy to continue to call it home.
Our love of travel has not diminished though and we travel every school holidays. In fact, it's mid July when I am writing this and I've spent three months of this year travelling already. We just got back from a month in Peru yesterday!


Please describe what you do for income.
2016: I make money primarily through three different websites. My main one is my travel blog Where's Sharon, and the other two are Amazon niche sites built to maximize Amazon affiliate earnings.
2019: I have actually sold all those sites in the last couple of years and was able to buy a home in Melbourne in our dream area thanks to the proceeds!
I do still blog and build niche sites and have a goal to sell a six-figure site every tax year which I am meeting so far. The sale is our savings and our day to day life (which is ridiculously expensive between all our travel, private school and living in inner city Melbourne) is supported by my blogging income.
My main blog is Digital Nomad Wannabe where I publish tutorials showing other bloggers how to get traffic and make money from blogging. I make money from affiliates on this site as well as by selling an eBook and my own courses that teach detailed SEO and affiliate marketing strategies.
I have a variety of other sites that make money in the lifestyle and personal finance niche currently.
I also have a new site that I see being my next big income producer called Dive Into Malaysia. It's about travelling in Malaysia.
I make some advertising money but most my income is from affiliates. I don't do any freelance or sponsored content. I prefer hands off methods of monetization.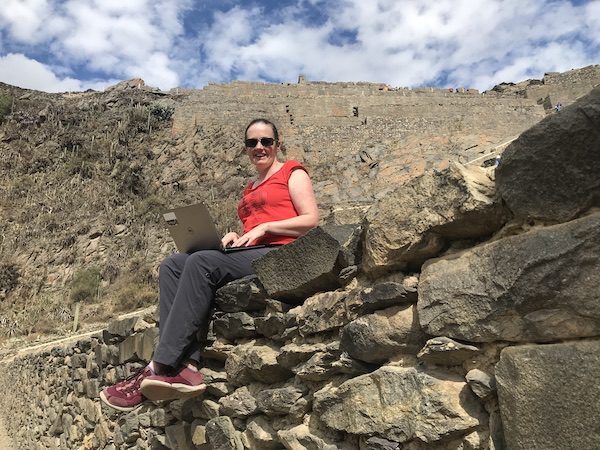 How many hours per week do you work on average?
2016: When we are at home in Penang, it'd probably be about 50 hours. It's hard to say exactly on the road as there is a blur between travel/work since I write about my travel. Probably at least 25 hours of sitting at my laptop.
2019: I have been working full-time when we are at home which is about 40 hours a week. As stated earlier, we travel a lot and now I no longer travel blog, I probably average only an hour a day when we are travelling.
My husband is about to return to work (he has been a stay at home dad for the last couple of years), so I am about to drop back to part-time to look after the kids. It's his turn to get to focus on his career again for awhile.


How much money do you make?
2016: I'm making about $5,000US/month these days. When we left our home in Australia in December 2014, I was only making about $1,000/month but this has increased dramatically since we became digital nomads and started relying on this income.
Initially most of my income came from sponsored posts and reviews. Now it is basically all affiliate income. My goal is to have my income be passive income so I no longer work on short term income earners such as these and would prefer to work on growing my affiliate income.
(Note: Sharon publishes her monthly income reports with very useful information and business strategy. Check it out here.)
2019: I no longer share exact details of my income – it's awkward when people I know in real life read it! But we do get to live a very comfortable life and I no longer have to factor money into our life choices which is truly amazing.
I don't work on any short-term income earners such as sponsored posts.


Do you make enough money to support your lifestyle?
2016: Yes! We do not have any excess though and still struggle a bit as we have costs at home. Stuff can also go wrong, like our tenants are currently moving out of our rental property in Australia which means we also have to cover our mortgage payments (which are high in Australia) until we find new tenants.
2019: Yes.


What is your vision for the future of your lifestyle on the road?
2016: It is temporary for us. We plan to return to Australia next month when my eldest is due to start school. We love being digital nomads, but I want my kids to be bilingual and the best way for that to happen seems to be through attending a school in another language. This requires settling down for a while. We love our home city of Melbourne so this is the best choice for us.
We will take off again though and the income I earn online will still be great at home and will still give me the freedom to structure my life how I want – it will great to be at the school gate every day for my kids while still earning a great income.
For me, working online was all about the freedom of having the life I want – sometimes I want to be travelling, sometimes I don't. I love being able to chose.
2019: We love having a home base and I don't see us changing that model. We are all happier with a mix of travel and "normal" life. The home base will continue to mostly be in Melbourne but we plan to move to Europe for a year next year which we are excited about.
Our two older kids are bilingual now so bilingual schooling has definitely worked for us. We look forward to them becoming trilingual after our move next year which is amazing given hubby and I are monolingual! (I hope to change that as well!)
See also: How to become fluent in another language

Any advice for the aspiring traveler about living and working on the road and managing finances?
2016: JUST DO IT! You don't have to have it all worked out before leaving home either. Just make sure you have other money saved for a few months, head somewhere cheap (and awesome) to live, and work it out when you get there. You won't be sorry.
2019: I still completely agree with my advice above 
I would also add that you can always change your mind too. You don't have to travel forever. I highly recommend building an online business so whatever you chose to do, it's your choice!
(Nora's Note: Amen to that! I travelled full-time for 12 years. Through most of those years, I didn't react particularly gracefully when people asked me when I would "settle down". And I most certainly never thought I would live in my home town of Toronto again. Well, in 2018 I came to eat those words when I established a home base…in Toronto. While I had to eat a bit of "humble pie", I'm also so grateful for my own online business and digital nomad lifestyle, because it has given me the flexibility and freedom to travel the world at will….and also to change how – and when, and where – I travel. A big thanks to Sharon Gourlay for this updated interview.
Related:
How to Make Money While Traveling