"He wondered whether home was a thing that happened to a place after a while, or if it was something that you found in the end, if you simply walked and waited and willed it long enough."

– From the novel American Gods
In my last 12 years of being proverbially homeless, I've had a few home bases along the way, namely in Australia (1.5 years, 2008/09), Grenada (2 years, 2011/12/13), and Peru (2 years, 2014/15/16).
In all cases, these home bases provided a jumping off – and landing – point for all kinds of travel adventures, in addition to an in-depth exploration of my stomping grounds of choice.
I might even go so far as to say that the years I had a place to return to, were, for various reasons, the best years of my travels.
It has been over two years since I vacated my last home base in Peru, and I'm feeling the pinch. It's time to search for a home base….and perhaps this time, one I can stay in for as long as I choose. Like, a real home. My home. (Base).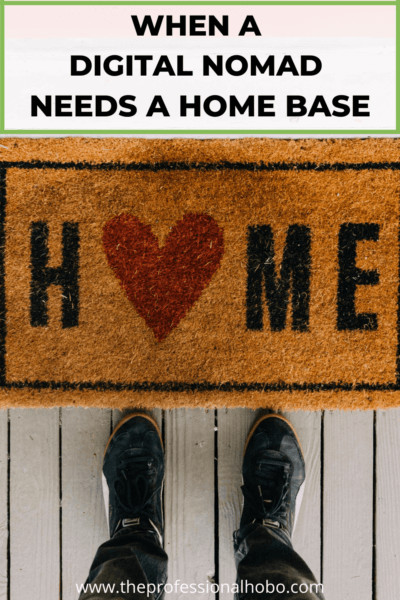 This post was originally published in 2018. It has since been updated for accuracy of links and content. I've also added an update circa 2022 at the end to reflect on this home base and how it fits into my digital nomad lifestyle.


Mine, But Not Mine
Last year I published a post about how Hollywood Florida is my (Kind of) Home Base. It's a great location for travel to/from South America (which I was doing a lot of at the time), and my friend there calls her spare bedroom "Nora's room", her office space "Nora's office", and the mango tree in the backyard "Nora's mango tree". While I'm so grateful for my friend's generosity in welcoming me into her home and her life, it came to my attention that even though I have a room/office/mango tree, they're not really mine, nor will they truly ever be.
Neither was my home in Peru truly mine, which was all mixed up with the apprenticeship I was doing; when it all fell apart, I was bereft of many things, including my home (a home which I thought was going to be "for good", as I had been assured was the case).
My home in Grenada also wasn't really mine; it was tied with my partner at the time and his daughter. It was a very complicated time in my life, and when we broke up in Panama, I never returned to my "home" (or stuff!) in Grenada.
And while you could say that my place in Australia was more "mine" than any of the other home bases I've had so far, I simply wasn't ready for a home base so early on in my full-time travel career.
In all cases, my home base was in some way tied to another person; and when circumstances changed, I was the one who (by choice or otherwise) ended up taking a hike. (See also: My Sordid Attempts at Love on the Road)
Too Much Traipsing
When I left Peru in 2016, I knew something had shifted in my full-time travel lifestyle. I was leaving a place I had called home, and I wanted to find another place to call home. While I hoped that Ecuador might be "it", it didn't resonate, and after eight months, the complicated stack of paperwork required to stay longer sent me running. (I was still traumatized by the bureaucratic nightmare I encountered in applying for Peruvian residency; a process that was cut short before it was completed – for better or worse).
So, the search for home went on the back burner and two months of house-sitting in Japan happened. This was followed by eight more Asian countries in as many months. (I figured while I was already in Asia, I'd make the most of it).
By the time I landed in India in October of 2017, I was in trouble. I had been moving too fast for too long. Even my planned hiatus in Bali a month prior was thwarted by a spewing volcano prompting me to evacuate.
It created a perfect storm for my experience of India; a country they say is often a reflection of what's going on inside of us at the time. In my case the reflection was harsh, despite at times a ridiculously lavish and heavenly set of outward circumstances. (See also: Heaven and Hell: Panchakarma as a Reflection of (My Time in) India)
The next two months in Chiang Mai Thailand were better, but by that point I was so completely burned out that I was suffering frequent migraines, inexplicable agonizing stomach pains, and more. (Here's a video of the lovely apartment I rented that brought me solace).
But, I had to leave Thailand regardless after two months (for visa purposes). After a month checking out expat life in Hoi An Vietnam, I returned to another part of Thailand to undergo a dramatic detox program that I hoped would help. It may or may not have helped; either way it made for a great story: All Life is Suffering: A Month in Koh Phangan, Thailand.


Australia Saved my Life
You read it right: Australia. I'll bet you didn't even know I was in Australia for six weeks earlier this year. That's because I didn't write about it. I didn't even whisper about it on social media. Australia was solely and completely for me.
I stayed with some friends who offered me a room in their home and no obligations/expectations other than to simply recharge my batteries. I did healing sessions three times a week, slept, ate great food, worked a bit, and very little else.
In so doing, I also explored the depths of my misery to find out what was going on. Sure enough, it was about home (or my complete lack thereof). I believe that staying with these friends in Australia saved my life in that it got my health back on track, and helped me realize that I need to get a place of my own, where I can unwind from traveling, unpack my stuff, assimilate my experiences, have time to work on the ever-expanding list of projects I'm jazzed about, and – last but certainly not least – to recharge.
Oh, Canada.
When I left Toronto in 2006, I was pretty sure I'd never live there again. While Toronto's familiarity is comforting, its mix of cultures is fascinating, and its arts culture is nourishing, there are other boxes I need ticked that a big city can't do.
Oh yeah, and then there's winter. I don't do winter. I think I've proven this in the last 12 years of hemisphere-hopping when the weather turns. I grew up with winter. I know it. And I know I don't like it.
So with all these factors in play, over the years I discounted the possibility of living in Canada ever again.
But somewhere in there, I also unwittingly discounted some criteria that has become increasingly important to me, like:
Living – perhaps even buying property – somewhere that I have rights as a citizen (or at least, as a resident).
Living somewhere I have access to health care (which, as a Canadian, requires provincial residency – something I've lost over the years and had to compensate for with Expat Insurance).
Being amongst people with whom I share linguistic and cultural commonalities.
Suddenly, Canada doesn't look so bad. And let's get real – I'm a traveler, planning on using this place as a home base. I can get outta dodge for the winter.


Here's the Epic Plan. Whoops: New Plan
When I originally drafted this article it was all about how I was going to explore a certain area in Canada's most westerly province of British Columbia. I was going to embark on the mother-of-all-road-trips in an epic search for my next home base. It was going to be rad.
But now I'm not doing that.
Which in some ways is good, because if you think about it, an epic road trip is perhaps not the best plan for somebody who is recovering from burnout. (Nora: "So…hey….I'm looking for a home base cuz I'm tired of lugging everything I own around the world…..so I'm going to live out of a car (!) for a few months and drive like 10,000 miles while I'm looking." Yeah, cuz that won't be tiring or ungrounding at all.)
Since arriving to Toronto in June of this year, my life has taken so many twists and turns, I'm dizzy from the changes. The daily dramas of my life are so resplendent and constant at the moment, that if you put it all together, it bears an uncanny resemblance to minutia, but I assure you, it's not. So I won't bore you with the details, which would require hours to read and likely leave you more confused than before you started.
But many of these dizzying life changes have pointed me towards staying in Toronto….at least for now. And while I have no hope of ever affording a piece of Toronto real estate as an owner, everything else about the place feels right, including my proximity to family and friends, and the sheer ease of setting up shop in a place that I know like the back of my hand.
Over all these years of full-time travel, I've learned over and over again that moving is tiring. A massive amount of effort is required to acquaint yourself with every new area; how and where to shop, get around, meet people, and more – all just to achieve some sense of comfort and sense of "home" in the surroundings.
And while this was a big part of the thrill of travel as a lifestyle, frankly, I'm over the expenditure of such gargantuan amounts of time and effort at the moment.
So although certain other areas of Canada still intrigue me as a home base, for the time being, what I need is a more nurturing environment, and the sheer familiarity of Toronto feels right.
At least, for now. Because something else I've learned over the years, is that few things are forever, and a home base is one of those things. So as long as Toronto feels good as a home base, great. No lifelong proclamations of undying love need be made.

What About Full-Time Travel?
Even with my home bases around the world, I've continued to call myself a full-time traveler for the last dozen years (and nobody has particularly argued that point).
Will I still be considered a full-time traveler if I have a home base in Canada? By many if not most accounts, perhaps not.
Quite frankly, I'm not concerned if it counts or not. I will continue to travel (likely at least half of the year in total) from my home base. And if anything, I expect that my travel disposition will be much more positive and lively on the whole once I have a place to rest and recoup, and a renewed lust for the road.
Even the simple idea of not having to pack up everything I own to go somewhere makes me more excited about travel.


Full-Time Travel is Sustainable, but Not Maintainable
But Nora! Hobos don't have homes. (Right?)
You might balk at my eschewing the full-time travel lifestyle in favour of having a home base. I've hinted in newsletters and posts about craving a home, and it has met with reader comments cautioning me against the "anchor" that they've found their own homes and stationary lifestyles to be.
The reality is very few full-time travelers last as long as I have. Pretty much all the full-time travelers who started around the same time as me now have home bases. They still travel all the time, but they also have their own place to return to. And I believe this makes a huge difference.
Years ago, I balked at a friend who wrote to me saying it was time to "return home and get back to an ordinary life". While I still bristle at various aspects of what he wrote, perhaps the vehemence with which I responded in my post about Why "Settle Down" is a Bad Word has tapered.
The beauty of my life and lifestyle as I redesigned it way back in 2006, is that I have freedom. I have freedom of where and when and how to work, and where in the world I want to be at any given moment.
By these criteria, absolutely nothing is changing for me. If anything, I'm excited to harness this ultimate freedom that I have to redefine and redesign my life again.
2022 Home Base Update
I'm writing this in September 2022, almost exactly four years after moving into my Toronto apartment. While the apartment remains, my experience of it has changed many times in the last four years.
My intention on moving in was to spend a cumulative six months per year (give or take) in Toronto. This was for a few reasons, but ultimately it was a relatively arbitrary decision. That said, it was a decision that felt like more of a commitment (albeit entirely self-imposed).
In 2019 I came and went at will and it was good.
Then the pandemic happened, and what was supposed to be a resting and launching pad turned into a prison of sorts. While I was grateful to have a place to lock down in, and my parents felt better about me being "safe" at home rather than traipsing around the world, it was the first – and only – 15 month period of my life when I didn't travel anywhere further than the grocery store.
So when travel became possible again, I was reborn. I came and went in the last half of 2021, and even did an epic train trip to kick things off.
The first half of 2022 was a flurry of travel, and for the most part it was amazing. So amazing that when I returned to Toronto in July, it was the last place I wanted to be. I was confronted with the fact that I had no real life or social network after almost two decades of travel. My close friends were still in my life, but they'd ostensibly moved on and I felt it. And the pandemic had obliterated whatever progress I'd made towards developing a new social network.
It felt like a prison again, but one that I realized was 100% of my own design.
So going forward I've released myself of the idea that I must be in Toronto for six months, or five months, or even any months of the year. But – I am keeping the apartment.
Why, you might ask?
Because it's comfortable, familiar, and near to my family. I have my espresso maker, my smoothie maker, and my comfy bed. Whenever I want or need a break and a dose of the familiarity of Toronto and my place, I've got it.
I also have the deal of the century on it so it isn't prohibitively expensive to keep, and I can leverage it through home exchanges and such as and when I like.
It works for now. But like I've said before, anything can change. Just like I gave myself permission to change how I view my Toronto apartment, I can redesign my entire lifestyle once again, and whenever I choose.
And so can you. What's next on your radar?