I was attracted to Hoi An after reading a few articles about this charming, well-preserved historic town halfway down the coast of Vietnam. I last visited Vietnam in 2011 and fell hopelessly in love with the cuisine, so when I heard that Hoi An is considered to have the best food in Vietnam, the decision was made. My idea to visit Hoi An was further supported by a few digitally nomadic colleagues who generally had great experiences there. (See also: Digital Nomad Life in Chiang Mai)
Unfortunately it wasn't until almost the end of my time in Hoi An that I got into a groove and began to understand more about expat life in Hoi An, and why (and how) people who come, often stay for many years. Instead, I wrestled with the place, eventually truncating my stay and leaving (earlier than intended) after six weeks.
Here's what happened, and what I learned about expat life in Hoi An.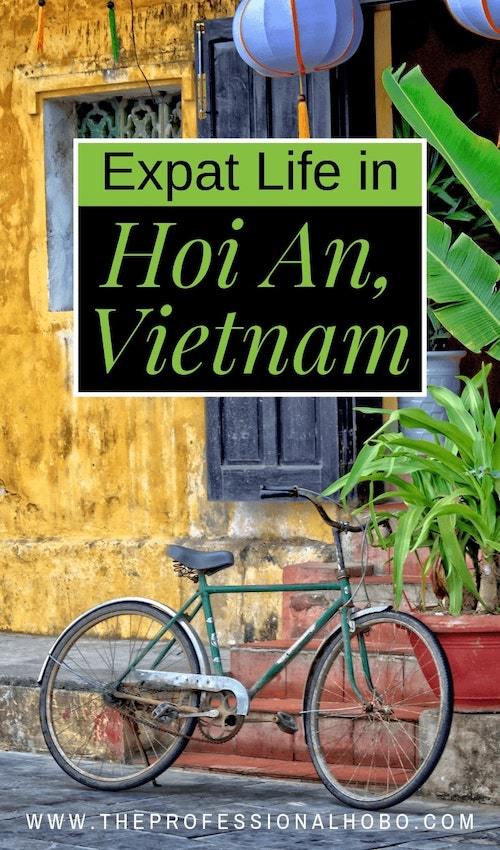 Weather
I had no idea just how dramatically the weather in Hoi An was impacting my mood until it improved (after I'd already made onward plans of course).
"Hoi An really is a different place when the sun shines," said my expat neighbours when I was lamenting one day. A solid month of grey skies and chilly(ish) temperatures had severely affected my mood. (Silver lining: it confirmed that I have no business ever living in a place where the sun doesn't shine regularly).
But I didn't really believe them until the sun eventually showed itself. Not only did my own mood improve, but so too did the dispositions of everybody else. The energy of Hoi An literally changed in a day, as did the scenery; a formerly drab townscape took on a new personality and colour.
My neighbours told me so. "Hoi An is three months of misery, and nine months of sunshine," they said. Lucky for me I was there in January/February, at the tail end of the miserable season, so the constant rain and floods already had their way with the place. That, I wouldn't have survived.
So if I can recommend a time of year to go, it would be between March and July, before the suffocating heat of summer sets in, followed by the onset of the rainy season. "Three months of misery, eight months of sunshine, and one month of ridiculous heat," is how another expat explained Hoi An's humid climate, further describing the hottest time of year as pretty unbearable, which happens around July/August.
Where to Stay in Hoi An: Choice of Neighbourhood/Transportation
Finding accommodation in Hoi An was relatively easy. We booked a place (through Booking.com) for the first few nights on arrival, and searched on foot for places to rent by the month. There are a few Hoi An Expats Facebook groups, one of which is dedicated solely to properties for rent and sale. In a day, my boyfriend and I had toured two self-contained apartments that fit our needs and budget.
One was brand new (like the many places being built for short/medium term rental purposes in Hoi An at the moment), on a busy street, and about a 10-minute walk from the historic old town of Hoi An (for $350 U.S./month all-inclusive). The other was part of a family compound in the quiet neighbourhood of Cam Thanh (on a rice paddy!) a 50-minute walk from the old town (for $300/month + utilities). The neighbourhood had a local fresh food market with a number of vendors selling hot/prepared foods, which at first glance appeared to have plenty of variety.
Given that we had just spent two months in a busy area of Chiang Mai, we chose the quiet more rural location of Cam Thanh.
(See also: How to Find an Apartment in Chiang Mai)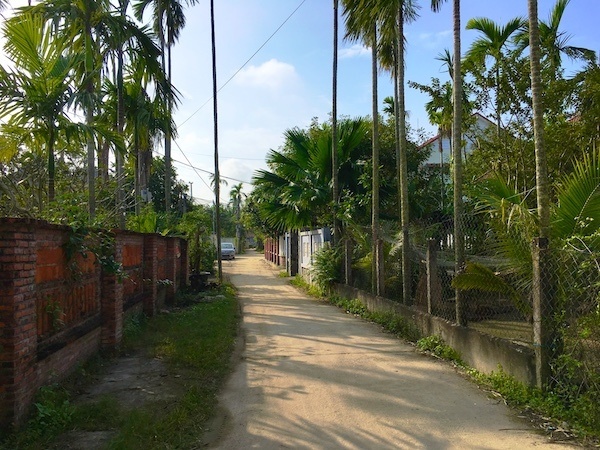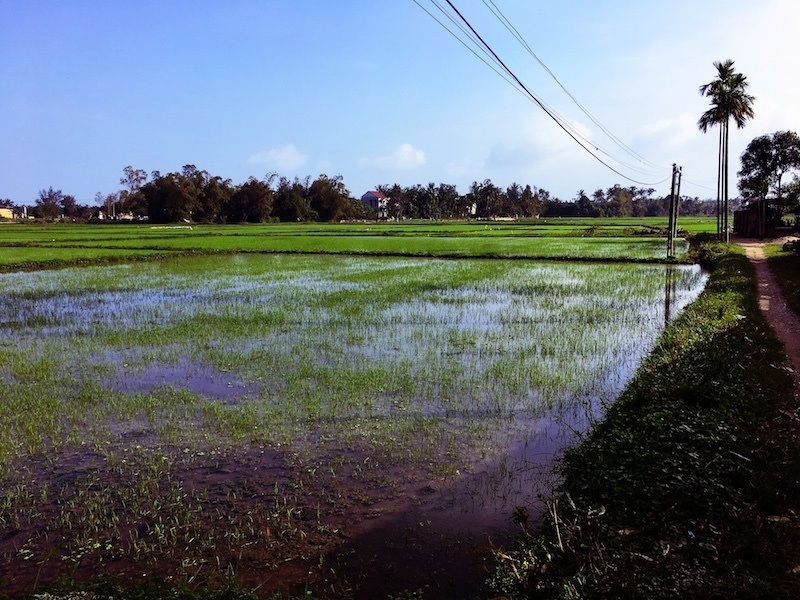 ---
Are you looking for accommodation in Hoi An? I thoroughly recommend Booking.com. Check out some of the latest deals below!
---
The problem with living rurally was, in keeping with my pattern of counter-intuitive living in Ubud and Chiang Mai, we also didn't rent scooters, which is how everybody in this part of the world gets around. Given my own experience in a near-fatal accident in Grenada, and my boyfriend's total lack of experience on two wheels, it just didn't seem like a good idea. Besides which, we like to walk, we didn't figure we'd need to visit the hustle and bustle of central Hoi An that much, and we could always Uber for about $2 each way.
Given our lack of scooters, our choice of rural neighbourhood was a mistake. We found ourselves isolated – logistically, culturally, and gastronomically.
Taking a yoga class or doing much of anything in the centre of town became too much of a "trek" to bother with on a regular basis.
Because we were living rurally and very locally, almost nobody spoke English, and we discovered Vietnamese to be a horrendously difficult language to learn and understand.
And the local selection of prepared foods at market vendors (which we had largely planned to subsist on) turned out to be quite limited.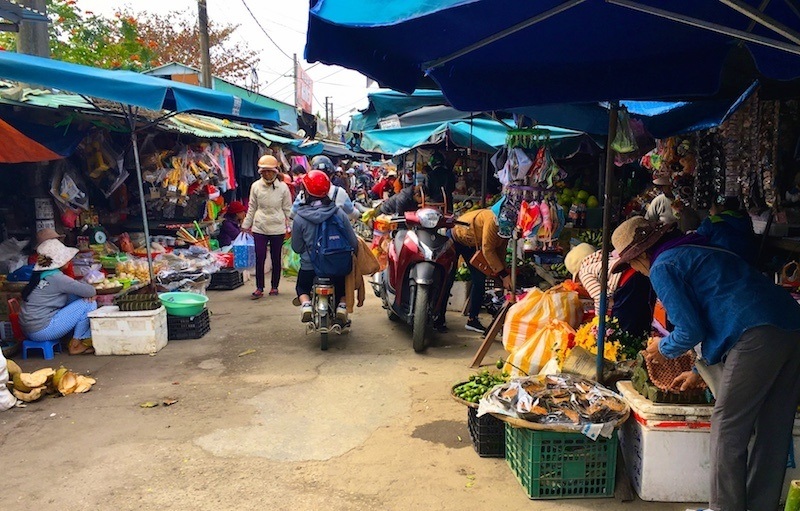 And after my boyfriend suffered a rough bout of intestinal illness requiring antibiotics, western food was all he craved, which wasn't particularly available in our hood. Except for one place……
The Dingo Deli Bubble
I read about Dingo Deli before arriving to Hoi An, as being a deli/restaurant/market with a selection of groceries you can't generally get elsewhere (like imported cheese and meat and high-quality breads baked on-premises), and a very location independent-friendly atmosphere with great WiFi, lots of outlets, and even a "co-working" quiet room. (For digital nomads, it's also worth noting that Hoi An has an official coworking space called Hub Hoi An. I didn't go because it was a bit out of the way for me, with Dingo Deli so close).
It's a foreigner joint through and through, featuring a western menu with western prices. You'd think the prices would keep people away (when a local Vietnamese banh mi sandwich costs less than $1, why would you pay $7 for a deli sandwich?); instead, the place is packed, all the time. I would know; I was among the ranks who made it a regular hangout and informal office space, often camping out for hours at a time. Why? Because it was the only place in walking distance of where I lived that was truly comfortable, well-equipped, and welcoming of people wanting to work and hang out.
And I learned over time, it was also a hub of expat life in Hoi An.
Learning About Expat Life in Hoi An
On my last full day I was seated at Dingo Deli when a man (who I'd seen there many times prior) approached me. "Do you live in Hoi An? I've seen you here a few times. I'm Syd." (I've changed his name here just in case he wasn't interested in eternal fame on my website).
"I've been here for the last six weeks (if you can call that living here), but I'm leaving tomorrow," I replied.
After remarking on the unfortunate timing of our introduction, we chatted about our respective paths to and from Vietnam. He has been living in Hoi An off and on for 15 years, working the odd contract abroad (as a consultant), but always returning to Hoi An.
For Syd, life is easy in Vietnam. "I keep thinking 'maybe I'll try another place', but Hoi An is where I always end up. You can live comfortably for $1,000/month. The weather is hot at times, and the rainy season is a drag, but on the whole the climate is a lot nicer than many other places. And you can really get stuff done here." By 'getting stuff done', Syd was referring to Hoi An as a relatively untouched marketplace. He recently helped a local restauranteur launch a book which ultimately made a bigger splash than it could have in other more saturated markets abroad.
Gordon, the owner of Dingo Deli (a smart man who does the rounds daily and gets to know all his patrons, making the place a community rather than just a restaurant) is testament to the untouched markets of Hoi An. Eight years ago he brought his wife and two daughters to Hoi An from Australia, in an attempt to raise their girls in a non-suburban environment, away from a traditional school system and consumeristic lifestyle. His daughters are now almost grown and he feels he has succeeded in his mission. (On that note, I was surprised at the number of expat families with children I saw whilst in Hoi An).
In the last eight years, Gordon has dabbled in numerous businesses, and although he said it isn't easy to run a businesses as a foreigner in Vietnam, it can be done (and judging by the constant stream of expats in and out of Dingo Deli every day, it can also be quite lucrative).
Syd and Gordon are both among the many ranks of expats who have made lives for themselves in Hoi An (and to a larger degree for other expats, Vietnam on the whole). The expat community in Hoi An is extensive, but feels small. With places like Dingo Deli (and other similar establishments, which you'll discover after lurking the Hoi An Expat Facebook group), expats congregate and mingle to form a tight-knit community. When Syd and I finished our conversation, I watched him go on to greet and chat with half a dozen other expats, all of whom knew him by name.
The Visa Situation
While Gordon operates on business visas, almost all the other expats I met lived in Vietnam on tourist visas, skipping the border every three months to renew. When I asked Syd if he's ever had trouble at immigration after 15 years of visa stamps in his passport, he shook his head. "No problem at all," he said. This surprised me, given that many countries start to question your activities after a few visa runs.
What fascinated me was the number of expats who were able to find under-the-table work in Hoi An. Working online is one thing; waiting tables or teaching English is quite another; in a country like Vietnam, there's no mistaking who is a foreigner and who isn't. And my assumption that Vietnam would be strict about this (being a communist country and all) seemed to be misplaced.
I met travelers who were waiting tables to supplement their travel budget for anything from weeks to months. And I met full-on expats who had homes and roots in Hoi An, earning a full-time living at English schools.
So, if you're interested in sampling expat life in Hoi An yourself, no problemo. Give it a whirl.
Cultural Integration in Hoi An
Cultural integration is a touchy topic among travelers and expats, and something deserving of a more in-depth exploration (coming soon). After almost a solid year of bouncing around Asia (Japan, Indonesia, Hong Kong, Macau, Sri Lanka, India, Thailand, and Vietnam), I can say that local cultural integration in Asia in general is incredibly difficult. With language and cultural barriers that are difficult to understand and transcend, you have to stay a long time and work very hard to be accepted. Although on the surface I found Vietnamese people to be hospitable and friendly, it was also somewhat superficial. I doubt that people with western backgrounds could ever truly be considered "local". My own experience of living "off the beaten track" in a local community was more isolating than rewarding.
That's where expat life in Hoi An comes in, providing a greater sense of community that's lacking for foreigners. It's not for lack of respect of the local culture by any means; rather, I see the bonding of expats as an outlet for connection – often, a deeper connection than the bonds we create in our home countries where we tend to take connection for granted. And frankly, in a greater world where connection is suffering everywhere we go due to our digital afflictions, perhaps a little in-person expat connection isn't such a bad thing.
Given that my attempts to integrate by living locally were a bit of a flop, ironically, the most connected I felt in Hoi An was when I did a tour. Although hardcore "travelers" eschew tours as pre-fab non-local experiences, I learned more in one morning of touring Hoi An's fresh market with a bilingual local and later cooking a meal with her, than I did in the rest of my six weeks.
Seriously. Consider taking a tour. You'll learn a ton.
My Take on Expat Life in Hoi An
I ruminate in another post about expat life in general (pros and cons) given my experiences around the world, and the intersections between "travelers" and "expats" therein.
With regards to expat life in Hoi An, I can say that by the end of my six weeks there, I had discovered a small but thriving community of expats from around the world who were living an inexpensive and socially fulfilling life – though not particularly a life of true cultural integration; something that I believe is difficult – if not impossible – in Asia.
If you want to give expat life in Hoi An a whirl, (learn from my mistakes and) give yourself the best chance of evaluating the place fairly by arriving at a climatically favourable time of year, and getting a scooter. The rest, is up to you.