I recently spent six weeks in Hoi An, Vietnam; my eighth Asian country in as many months. (See Also: 10 Countries and 29,254 miles: This Was 2017). While the experience wasn't necessarily everything I had hoped it to be (more on that here), on reviewing my photos I realized that Hoi An has a few stories to tell. I'm here to tell those stories, through pictures.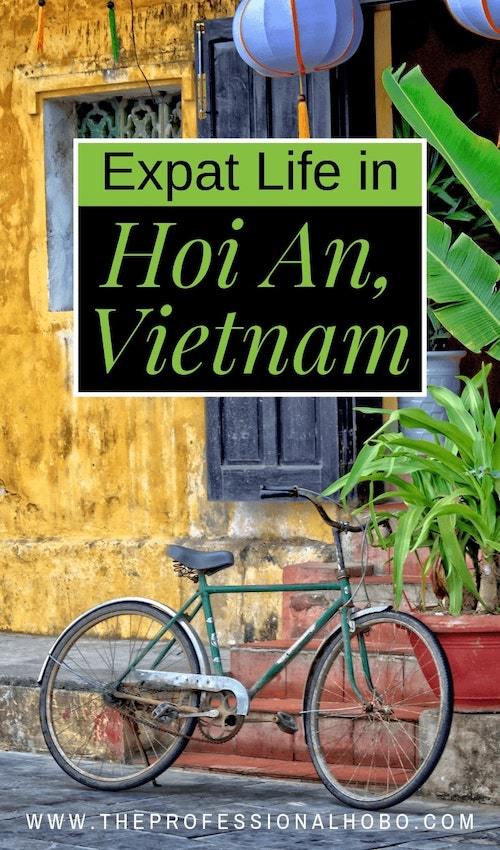 This post was originally published in 2018. It has since been updated for accuracy of links and content.


Hoi An Old Town
Hoi An's old town (also known as Hoi An ancient town) is the main attraction, which is located halfway down the coast of Vietnam, a 45-minute drive from Da Nang (where the airport and train station are). With a blend of cultures and time periods, this well-preserved largely pedestrian area is full of restaurants and shops lining both sides of a river.
It's usually pretty crowded, so if you want the place to yourself, it's best to go early in the morning. Hoi An old town also takes on a new life at night, with colourful lanterns everywhere, and wooden boats to take you down or across the river to release floating offerings with candle lanterns.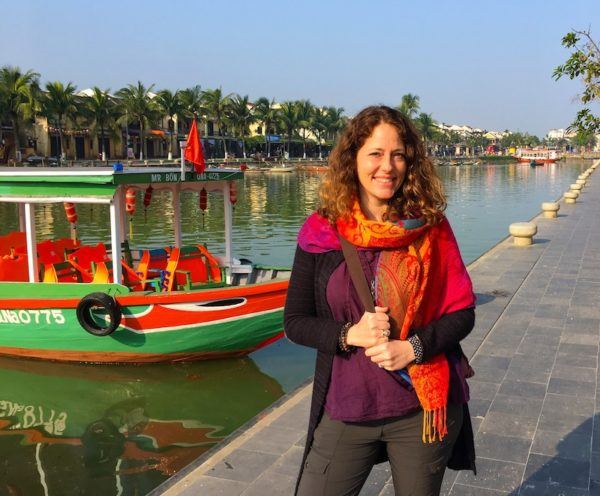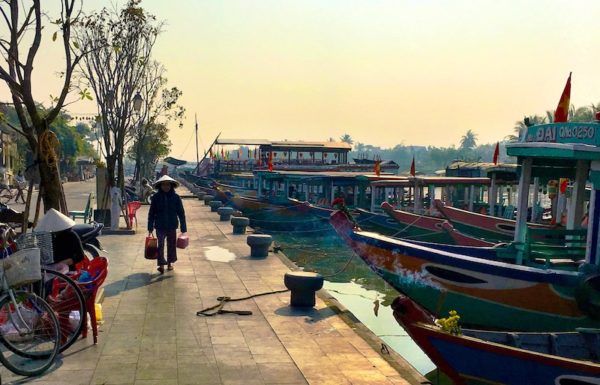 Hoi An Cuisine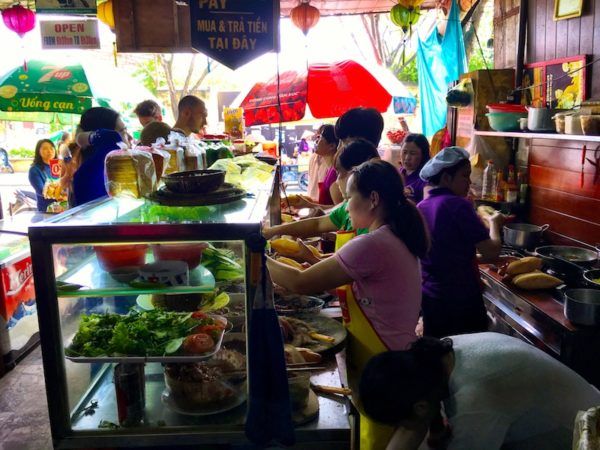 Hoi An reputedly has some of the best food in Vietnam – a country with amazing food no matter where you go. Anthony Bourdain helped put Hoi An on the culinary map, and the handful of eateries he frequented and mentioned on his television shows are not only worthy of their reputation, but also usually have a crowd to match.
Banh Mi Phuong is one such place; ironically I went because a Hoi An local told me it was his favourite place to get a traditional banh mi sandwich, only on actually going did I discover its popularity and realize why.
(Speaking of Anthony Bourdain, on his (sort of) recommendation, I saw "The Greatest Show in the History of Entertainment" in Tokyo – and I wasn't disappointed!)
Hoi An is also home to some special dishes you can't get elsewhere, such as cau lau and white rose dumplings. While vegetarians may have some trouble eating on the streets of Hoi An (given the Vietnamese general love of meat, especially pork), if you have an adventurous palate and no dietary restrictions, I highly recommend trying anything and everything you see.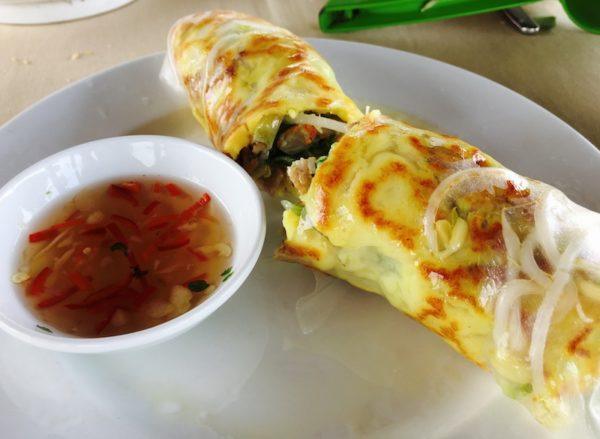 Because of Hoi An's culinary leadership, cooking classes are available everywhere, and they're great fun. I found one that involved a short market tour, followed by a boat ride down the river where we anchored and prepared the above foods and a couple of other dishes. Learning to cut vegetables as garnish (tomatoes into swans, cucumbers into hearts, and carrots into flowers) was especially fun as we all made butchered attempts.

Hoi An Markets
As part of the cooking class, I got a tour of Hoi An's large fresh market, which shed light on dozens of otherwise unidentifiable foods had it not been for our bilingual guide.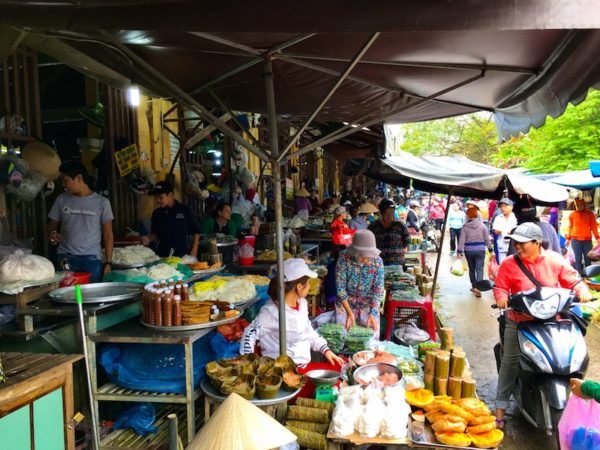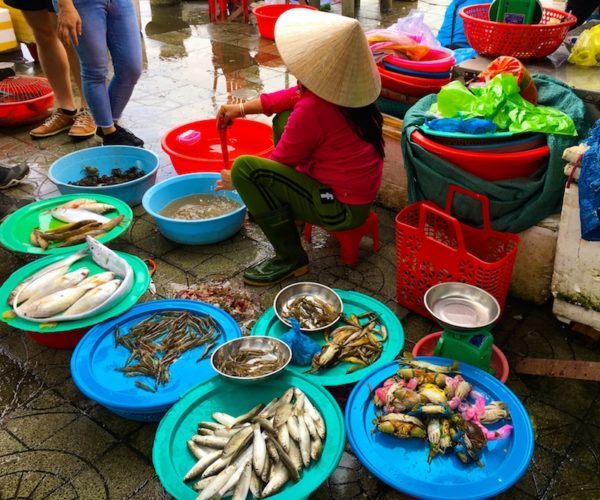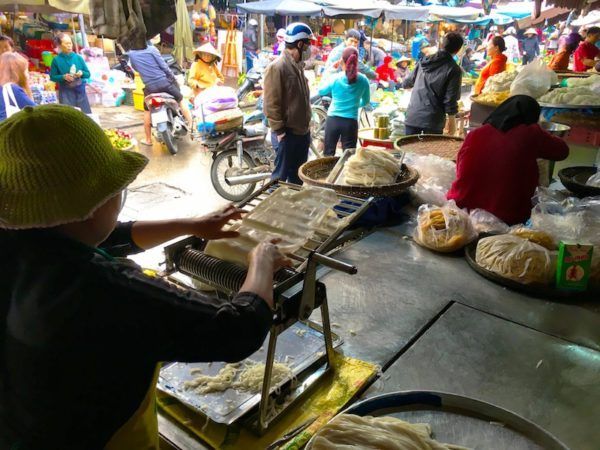 National Pride
During my six weeks in Hoi An, a number of international soccer games were held. The air was palpable on the days Vietnam played; coffee shops and restaurants were packed beyond capacity with people crowded around televisions. When the Vietnamese team scored a goal, the cheers resonated throughout the entire town.
A few times during my stay, Vietnam won a game, and it turned into a huge event. The sidewalks were lined with people cheering on an impromptu "parade" of vehicles (mostly bikes) waving Vietnamese flags. Anybody (and everybody) with a vehicle could join this parade, which roamed around and around and around all of Hoi An, honking continuously.
This outpouring of national pride was an uncharacteristically gregarious display, given that to a larger extent in my experience, the Vietnamese people are relatively reserved. And the enthusiasm was contagious; it was hard not to get caught up in the energy of the game and after-game festivities.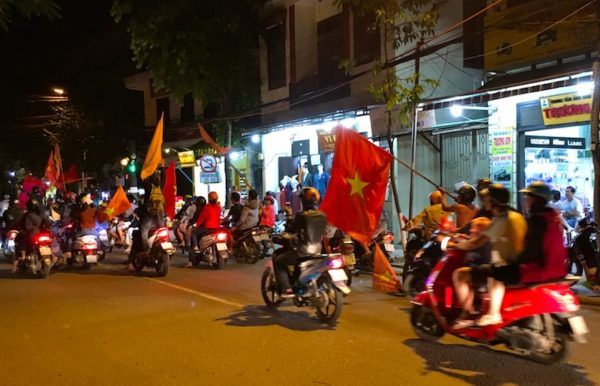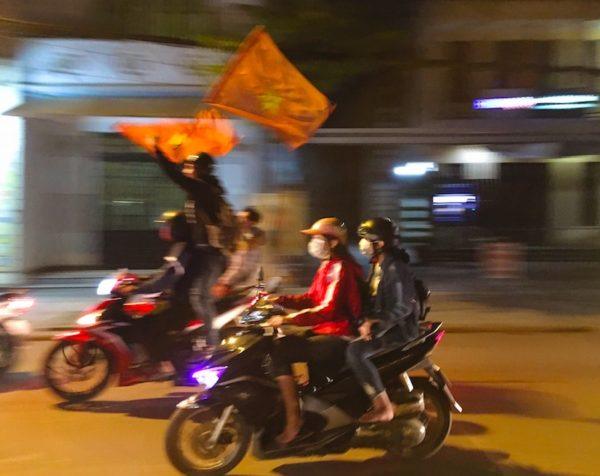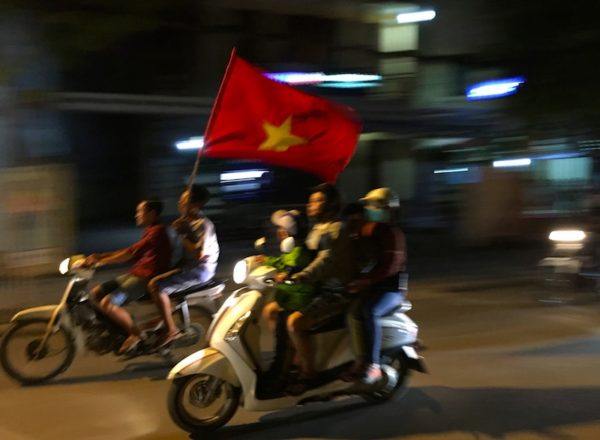 Tet in Hoi An
Speaking of festivities, the Vietnamese celebrate lunar new year, known as Tet, which coincided with my time there. It's both a good and bad time to visit Hoi An; because it's Vietnam's biggest holiday of the year, many restaurants and markets shut down for up to 10 days – which limits the things you can do if your time in Hoi An is short. Its also worth noting that the banks all close for about 10 days, which means that many ATMs end up running out of money. So if you're visiting Vietnam during Tet, make sure you have enough cash before it begins.
If you're around for a while and have made a few Vietnamese friends, you might be invited to some parties and dinners, which are beautiful displays of Vietnamese hospitality. My landlord and his family hosted a dinner for the tenants in the family compound where we all lived, and it was one of those quintessential "off the beaten path" experiences you can't possibly plan for, but that every traveler aspires towards.
I found the build-up to Tet fascinating, with the change in pulse at local marketplaces (including the regretful disappearance of my two favourite food vendors weeks in advance), the increasing sound of karaoke parties wafting through the streets, and flowers. Oh, so many flowers. Pots and pots of flowers for sale. So many flowers, in fact, that they occupied space on entire sidewalks – a form of public decoration as much as items for sale.
The sun didn't shine much for me during my time sampling Hoi An as an expat; the first proper day of it coincided with the appearance of these flowers, and the experience was magical, if not comical.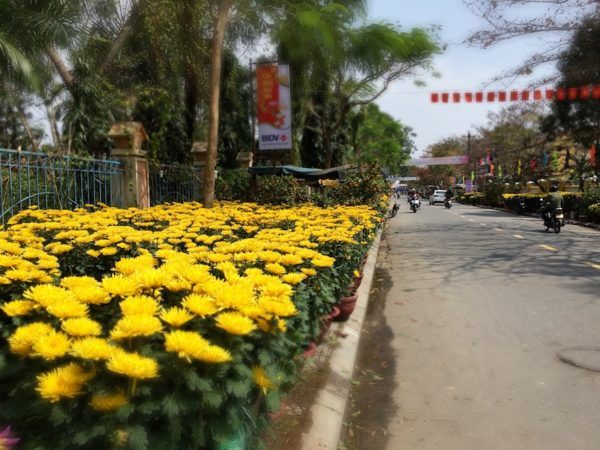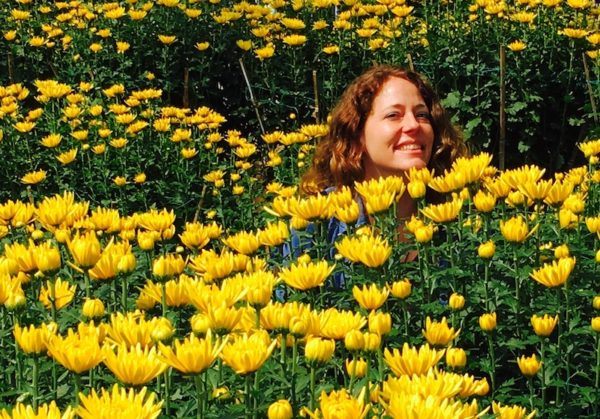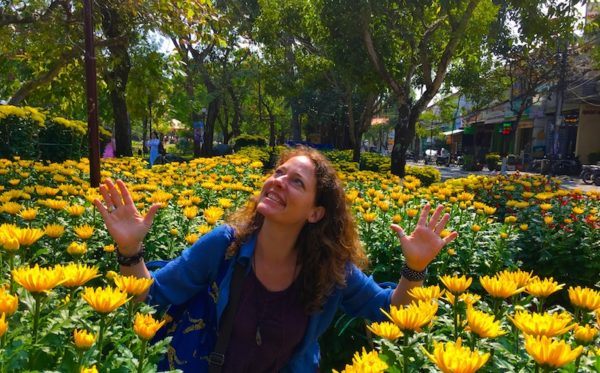 Where to Stay in Hoi An
Hoi An accommodation abounds. I found my accommodation in Hoi An for the first few nights on Booking.com, while I found an apartment to rent for the next 6 weeks. Check out these Hoi An accommodation deals below!


More on Vietnam, From my First Visit
How to Cross the Street in Saigon – and other Bike-Centric Observations
Vietnam Food Culture: Coffee, Street Food, and Hygiene
Random Saigon: Little Stools, Big Wires, and Lots of Smiles