When I rode my motorcycle in Canada, riding in the city was a dangerous ask. Managing obstacles from wayward cars, to (wayward) people, animals, debris, potholes, whack-a-moles – you name it – required lightning reflexes and an iron constitution. One mistake, and splat (and "splat", I mean "dead" or unrecognizably mangled).
Riding in the rain? Only if you were extremely unfortunate, and enjoyed flirting with death even more so than normal.
Riding on the back of a bike? Ha. That was reserved for dumb teenage girls in hot pants or people who could handle allowing somebody else to deliver them to their death without any control over the events leading up to said tragedy.
I remember all this with a smile, as I ride – on the back of a bike in Saigon, poncho on, rain coming down hard, surrounded by hundreds of other bikes in the same watery predicament.
In Canada, it's a death wish.
In Saigon, it's how you get around.
(And I learned, not even close to as dangerous as riding in Canada ever was).
This post was originally published in 2011. It has since been updated for accuracy of links and content. 


Back of the Bike Tours
A day with Back of the Bike Tours held two significant appeals for me. One was a chance to actually sample Saigon's bike traffic from the inside out. After watching entire families (and ridiculous combinations of people and miscellaneous objects get around in the sea of traffic and make it look easy, I had to see what it was like for myself. I couldn't even imagine what it would be like to balance on the back without holding on, as most people did.
The other appeal was my increasingly ravenous love of Vietnamese food, and a desire to better understand street-food culture and the various local dishes I couldn't recognize but wanted to try.
Enter Chad & Thuy: Back of the Bike Tours wonder-couple.
Chad is a young American chef who came to Vietnam to work in a restaurant, and on his first day, fell madly in love with Thuy, a Vietnamese girl also working in the kitchen who captured his heart. That was a few years ago; now they are married and live in Saigon with cats, turtles, a puppy, two motorcycles, and a desire to share their passion for Vietnamese food with everybody.


The Tour
Chad & Thuy arrived on their bikes at the Thien Thao Hotel where Jeannie and I were staying, along with mutual friends and expats Angela and Max, who had their own bike and came along for our "Back of the Bikes Tour".
"Right. What do you want to see?" Chad asked as we put on our bike helmets and adjusted the straps.
"Um….I don't know what I don't know!" I said. "Show me your cultural and gastronomical Saigon. I'm hungry!"
"Okay, that's a good start," Chad said. After a short liaise with Thuy about where to start, we were off; me on Chad's bike, Jeannie riding with Thuy, and Angela with Max.


Riding Tandem
Riding on the back of a bike was ridiculously easy. As soon as we pulled into traffic I berated myself for being so nervous. Nervous about riding up curbs, around corners, through busy intersections, and around the crush of other bikes chaotically darting in every direction.
Instead, there was an instant rhythm and flow to riding in Saigon traffic, and the slow speeds made it easy to navigate anything with relative grace and ease. I sat up and balanced without holding on – like I'd been doing it all my life. It was exhilarating, as was evidenced by my wide untameable grin.
Chad and I chatted about travel and our respective lifestyles. I asked him about his travel experience and motivations to move to Asia to be a chef.
"Adventure brought me to Vietnam, and the food and a girl kept me here," said Chad of a country he now calls home. Shortly after they met, he and Thuy traveled the length of Vietnam on bikes, and he has sampled the food in both rural and urban centres. His love of both bikes and food makes him the perfect guide for an excursion like today's.


Lunch
After getting our "bike legs" under us, we stopped at a small busy "restaurant" down a nondescript narrow street for a much-anticipated lunch. We found a corner to sit down while Thuy and Chad ordered up at storm at the counter, where a dozen pots and concoctions were on offer to the steady stream of customers (both eating in and taking food away).
Minutes later we were feasting on broken rice, braised fish in clay pots, pork meatballs in sweet tomato sauce, stir fried pickled cabbage, sweet and sour soup, and steamed fish with pineapple.
As an all-inclusive tour we didn't have to worry about whipping out our wallets at each meal, but I was also pleased to observe that good food in Vietnam doesn't break the bank; the six of us walked away stuffed for a grand total of $11 (including iced tea). That's $11 – for all of us.


Shopping
Enroute to lunch, I casually mentioned to Chad that I had a few things I wanted to buy while I was in Saigon, and asked him for suggestions. Little did I know my shopping needs would be seamlessly incorporated into the framework of our tour, but right after lunch, we made for Saigon Centre where we browsed in the capable negotiating hands of Thuy.
"Don't look interested," Chad said. "The more you look like you hate it, the better. If you like something, tell Thuy," were my words of instruction as we wove through the fray of shoppers.
And so Jeannie and I put our grimaces on and shopped for a few items. I didn't find anything I needed (at a price I was willing to pay), but Jeannie made away with a few pieces of clothing at a great price.


Ice Cream and Fish Balls
I had no desire to railroad our day of riding bikes and eating food with comparison shopping, so after Jeannie's purchases were made, I suggested we move on, assuring them my shopping list wasn't urgent. So we loaded back up on our bikes and drove out for an afternoon snack: fish balls and ice cream.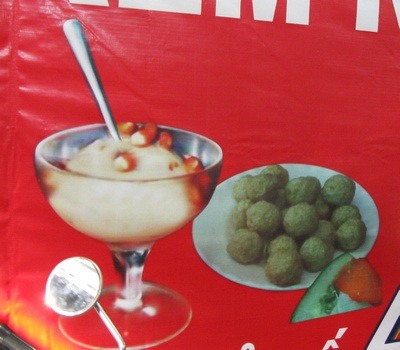 This was a restaurant (again I use the term "restaurant" loosely – I'd consider most of these places as "street food", except for the miniature tables and chairs set up in a covered nook that lends itself to being more of an organized establishment rather than a cart you stand and eat beside) that sells nothing but ice cream and fish balls.
Ice cream and fish balls are an unlikely combination to sell. You don't eat them together, so I'm not sure what entrepreneurial stroke of wonder inspired a menu that offers nothing but these two delicacies.
In any case, that's what we enjoyed: logan berry ice cream, followed by a helping of fried fish balls with a sweet and sour dipping sauce. Even the the unlikely marriage of these two snack foods was good.


River Break
Even with the shopping interlude, I quickly realized our pace of eating food wasn't going to be sustainable through dinner. It was only mid-afternoon, and we were even more stuffed than we were at lunch. And although riding around was fun, we couldn't do it constantly for the next few hours until the next meal; for starters our back-sides wouldn't appreciate it.
Chad and Thuy had already anticipated this, and we were headed to the perfect spot to digest and enjoy some peace and quiet uncharacteristic to Saigon. We pulled up to a river-side stand with chairs set up along the river wall, and ordered fresh coconuts for everybody. The coconut water was delicious, and the long spoon to dig out the fresh coconut meat afterwards was a form of entertainment unto itself.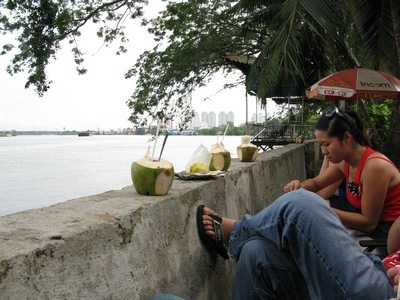 While we were relaxing and discussing all manner of things, a woman selling quail eggs (with salt & pepper for dipping) and green mango (with shrimp salt for dipping) tempted us with her wares, and we snacked on these as we sipped away the afternoon.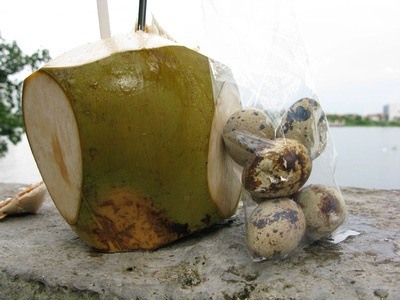 I'm not used to dipping fruit in salt, but this is common in Vietnam. I had already discovered this the hard way after dinner one night when I generously coated a slice of pineapple in what I thought was sugar but realized after-the-fact was salt. It's a taste that requires some adjustment, but I must admit the green mango slices were nicely augmented by small doses of the shrimp salt.


Rush Hour
Eventually it was time to keep moving, as we were starting to lose light, rush hour had taken a firm hold on Saigon, and our dinner spot was across town. If I was excited to get back on the bikes, by the time I arrived to dinner I was just as excited to get off.
At first even rush hour traffic was fun. I was used to the flow of traffic and was very confident in Chad's riding ability; there was no question about that. Weaving through unimaginable numbers of bikes all charting their own conflicting courses had an appeal all its own.
Where the effects of Saigon's rush hour began to wear on me was in the fumes. There were a few points when even the crush of bikes had nowhere to go, and we were idling for long periods of time – along with a few hundred other exhaust-heavy vehicles. Many bikes revert to riding on the sidewalks when it comes to this, but we were wedged too far from the sidewalk to join these rebels. And the two buses directly in front of us spewing visible dark clouds of exhaust in our faces became quite overwhelming.
"Thread the needle, Chad!" Came a cheer from Max, behind us, goading us to get ahead of the fume-heavy buses by riding through the impossibly small gap between these two giant creatures. Although nothing was moving, the possibility of being squished between two buses was ever-present as we revved the motor, hesitated, then…..went for it.
It was a relief to be beyond the buses, followed shortly by a subsequent hair-raising manoeuvre using a bus as a shield of sorts against oncoming traffic for a left-hand turn.
If earlier in the day I had pompously thought I could handle riding my own bike in Saigon traffic, a pass through the city during rush hour taught me I still had a few things to learn!


Dinner
With a note of relief and some sore butts, we dismounted our bikes in District 8 at a restaurant that serves fresh beer for about 15cents a glass. Here we feasted on coconut heart salad, wild boar (which we grilled at the table ourselves) with stinky tofu sauce, minced curry eel (which you eat on prawn crackers), crab fried rice, Thailand style warm root salad, and stir-fried morning glory, and bon bon vegetables (pleasant green tubular veggies) with garlic.
Back of the Bike Tours
I'm not usually a big fan of taking tours. At least, not the mass-produced kind where you feel like you're being carted from one replicable experience to the next. What sets Back of the Bike Tours out from the rest for me is the feeling of just going out for a ride and some great food with friends. Chad's mastery of food and his North American background makes it easy to communicate and creates a sense of instant comfort. And Thuy's local home-grown experience and Vietnamese upbringing lends an important authentic edge. (Not to mention they are an adorable couple, and each very friendly approachable people on their own).
You can hire Chad and Thuy for anything from a 2-hour tour to a full-day excursion, and they will customize the itinerary entirely to your needs and desires, at incredibly reasonable all-inclusive prices. Unless you have anything specific in mind, I would suggest letting them take the wheel (literally and figuratively) and take you on a culinary tour of Saigon that will leave your tummy happy and senses enthralled.