On my last day in Saigon, I realized I'd already taken ownership of sorts of the place. I had one last nostalgic visit to "my coffee guy" in the morning before eating breakfast with "my noodle lady", and doing a number of similar rounds in "my area" of Saigon – a little corner of this big city that I carved out and learned to call "mine".
And I'd only been there for a week and a half.
As huge, hectic, chaotic, random, and non-sensical as Saigon is – it's also incredibly friendly, the chaos has flow, and the random-ness is artistic, if not downright poetic.
Here are some random observations I made in my time in Saigon – observations almost as random as the place itself, but that lend a certain sense of explanation to this city with so many edges.
This post was originally published in 2011. It has since been updated for accuracy of links and content.


A City for Little People
This has nothing to do with the stereotype that Asians are short, so don't worry – I'm not going there (sadly, knowing I just did).
But when the majority of "street food" stools and tables along the sidewalks – and even in some restaurants – are of the miniature variety, you begin to wonder if you missed the sign welcoming you to munchkin-land.
Granted, small stools and mini tables are more space-conscious, and in a crowded city like Saigon space is premium (heck, "my" bubble tea cafe doubles as a motorcycle parking garage). But my long legs just don't cope well with the little stools.
Webs of Wires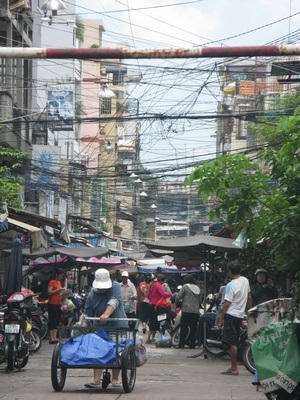 The webs of telephone wires that hover above the streets are so thick, I think they actually block out the sun in some places. Okay, so that might be a slight exaggeration, but as you can see from the pictures – it's not that far off the mark.
Themed Streets and Stores
If you want a camera, you go shopping on "camera street". For luggage, go to "luggage alley". You'll find coffee beans at "coffee corner" and stereos on "stereo street". Although these aren't official (or even remotely recognized) street names, many streets and shopping districts do indeed have informal themes.
It's handy for comparison shopping, and although I initially surmised that it would be good for keeping prices competitive, in fact store owners (in their easy proximity to one another) simply get together and agree on a price below which they won't venture so as not to dramatically undercut each other and let the customers in on the "real price".
Such enterprising folks, they are.
Stuffed Animal Frenzy
I'm not sure what's going on, but I detected a mild obsession with massive stuffed animals in Saigon. Maybe I was unwittingly staying on "stuffed animal street", but it seemed to me that no matter where you go you're within paw's reach of a store selling giant stuffed animals. Who exactly buys these stuffed animals, and what they do with them – I'm not sure. Aside from seeing a few on the backs of bikes, I never saw anybody actually shopping for said creatures.
Adorable Bike Helmets
When Saigon introduced a law requiring people to wear helmets on bikes, there was a small revolt. Women didn't want to flatten their hair and succumb to such gauche requirements!
So in order to cope with this atrocious law, a market opened up for fashionable bike helmets. From a distance you might think you're looking at a cute cap until you get up close and realize it's a cap with sustenance. I absolutely love these lids, although a part of me does question just how protective they truly are. Ah well – let's not let function get too much in the way of fashion!
Contagious Smiles and Genuine Friendliness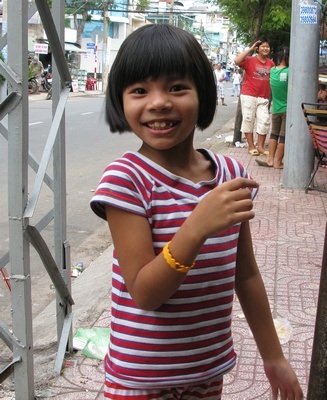 I was really lucky to be staying at Thien Thao Hotel in District 3, which is away from the tourist fray of Saigon. Going for a walk for lunch or coffee revealed a much more local side of the city, and I rarely if ever ran into other tourists. Thus, when I was pulled by the elbow by the smiling "noodle lady" on my first morning and gestured to sit at her sidewalk establishment and sample her fare, I was happy to oblige. She wasn't a tout flashing a menu in my face – she just wanted to cook for me. (Incidentally, her food was so good, and the charades-based conversations with she and her friends were so entertaining, I ate there many times).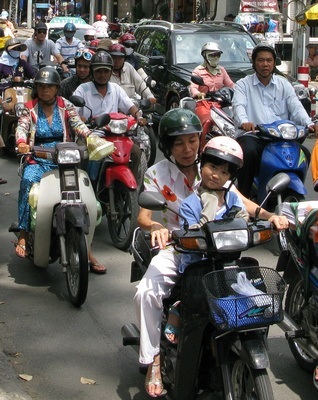 If I wanted to have a more "market-based" shopping experience (buying local handicrafts for example), I had to look harder in District 3, or simply take a taxi to the centre of town where touristy District 1 lies. For these trips I could brace myself for the inevitable barrage of touts and high-pressure sales tactics used to peddle over-priced items. But I always knew I could return "home" to District 3 and breathe a sigh of relief when I got there.
On my last night in Saigon I opted not to go to the night market (which is very contrary for me; I love night markets) in favour of instead investing further in my area that I got to know over the previous 10 days. Here people didn't pay me much mind (except to look quizzically or curiously at me, wondering if I was lost); there were no touts, just contagious smiles and genuine friendliness that, for me, characterized Saigon – and Vietnam – as a place I look forward to returning to.


Other articles about the quirks and eccentricities of Saigon that you might be interested in:
How to Cross the Street in Saigon – and other Bike-Centric Observations
Vietnam Food Culture: Coffee, Street Food, and Hygiene
Also: