Given that I've been living in Grenada on and off for the last year and change, I've discovered a lot – and there's still a lot to discover (which, given the small size of this island country, is amazing).
Here are some random observations about Grenada island, and daily life in Grenada:


Capital city = Town
The capital of the country is St George's, which is referred to as "town".
"Where is _____?"
"Oh, it's in town." No further address or description is usually offered. Once you're in town, you'll probably find what you're looking for. (Read on).


Grenada Island Addresses? Not really
I live in a house with no number on a street with no name. My "official" address for the cable company is "third house on the right after the pasture". No really.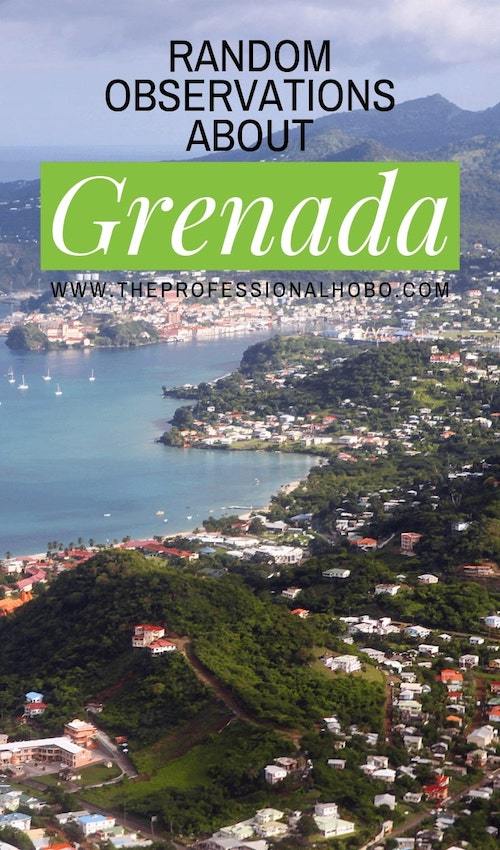 Got a political campaign? Get a loudspeaker
A totally viable political campaign strategy is to drive around with a loudspeaker and announce your message to the island. In fact, this is one of the more effective ways of communicating any important message to all Grenadians.


Living without a car is a pain. Sort of.
Taking the bus is quite a colourful (and relatively efficient) experience, however buses stop running by 10pm and they don't run on Sundays at all. This inspires a much simpler lifestyle – which is good. But it's murder for going out on weekends and being social in the evenings.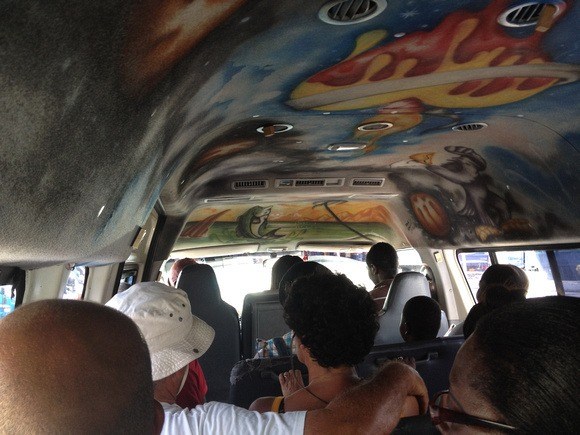 Night life?
The buses may stop running early because there just isn't enough night-time demand. Although there is a decent selection of night life in Grenada, it's not huge. Big nights for going out tend to be Wednesdays, Fridays, and Saturdays; there are a few marinas and bars or restaurants that tend to be "the place to be" on those given nights, before you move on to a handful of clubs open from late night through early morning. Night life exists, but it's not prolific.


Sunrise, sunset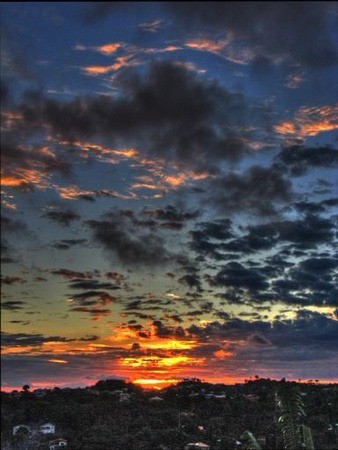 Why is night life not prolific? Despite the slightly cooler night temperatures, Grenada is best experienced during the day. With the beaches, waterfalls, coastal drives, and colourful island flavour to experience, it's no wonder that Grenadians generally rise with the sun, and are relatively early to sleep.
And you can almost set your watch to it; Grenada gets about 12 hours of sunshine a day year-round: 6am-6pm.


Drive slow on Grenada Island
A local friend observed that "the real way to show somebody Grenada is to drive slowly". To some extent it's a given, with the curvy roads and random obstacles.
But as you drive along, you'll notice that every angle and aspect of Grenada looks different. I can drive the same route daily for months and I always see something new. Like – entire houses that I didn't notice before, partly because there's so much to look at, and partly because the hilly landscape and dense foliage plays tricks on the eye.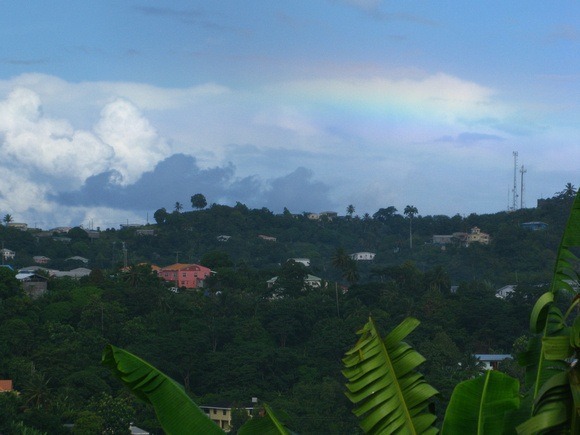 Go sloooow
The above observation applies to enjoying Grenada in general; slowly. Everything in Grenada happens slowly (as has become painfully evident in the aftermath of my accident and ensuing insurance battles).
But icky business aside, the slow pace of life is generally worth celebrating. Liming is Grenada's national pastime, after all. People look up and engage more; whether they're in line together, in the market, or in a waiting room. No matter where you go or what your mission, you'll probably end up doing two things: waiting for something, and chatting to somebody.


Two degrees of separation
In chatting with the random stranger next to you in line, if you spend much time in Grenada, the conversation will quickly turn to who you are, where you live, and who you know. There are at most two degrees of separation between most Grenadians, and it's fun to discover common friends and family members.
Although I wouldn't say I have two degrees of separation, it wouldn't be a stretch to say I'm four (or less) degrees of separation from everybody in Grenada.


Friendly – and safe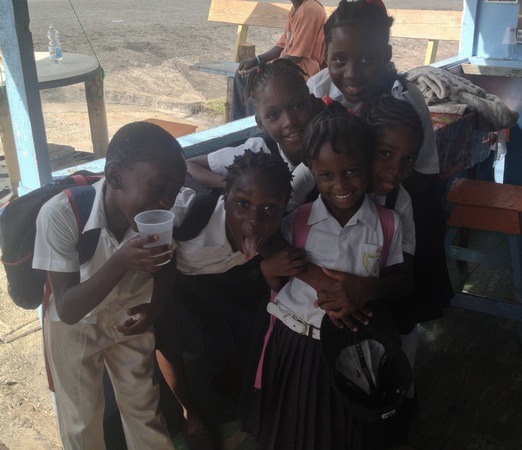 "Grenada is the sort of country where you can still give a lollipop to kids," said a friend of mine. Most school kids take public transportation, and not usually with their parents. Grenadians generally take care of one another, and parents can rest assured that their five year-old will be under the protective eye of the bus driver and conductor, and will be dropped off at school/home safely, and even escorted across the road.
This safe atmosphere and friendly chatty culture makes for a wonderful destination of discovery.


Kissy faces
This friendly culture is abundantly evident in the rampant remarks of appreciation women receive from passers-by. Although it's generally harmless, kissy-face culture in Grenada is very much alive and well.


Rum Shop Culture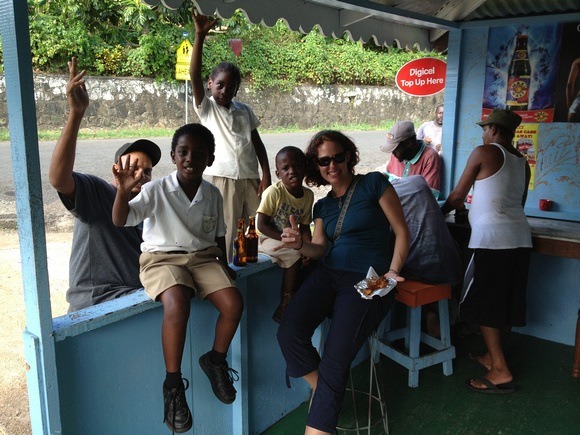 From early morning to late night, rum shops line the roadsides just about everywhere. Many offer convenience items and some offer prepared food (most commonly fried chicken); and all of them offer rum; an eighth of hair-raising rum costs about $2US – it's ridiculously cheap, and most often drunk straight with a water chaser.
It's fun to stop off at a rum shop or two along the way as part of an island excursion; and if you're not of the rum-drinking ilk (I'm most certainly not), there are always a few cold drinks on offer.
(Women be warned: most rum shop lurkers are male, and they can be drunk at any time of day or night. As long as you are friendly but firm, their kissy-face advances are harmless).


It's a university town
St George's University makes up for almost 10% of the population of Grenada. It is best known for its medicine and veterinary medicine programs, and draws an international student body.


It's all on the south side
Almost half the population of Grenada lives in the parish of St George, which encompasses the southwest corner of Grenada – which, in turn, encompasses the capital city of St George's ("town"), Grand Anse (the hub for most holiday-makers), the university, and the airport.


"Grenada has a bit of everything, and not too much of anything"
This is what a friend said while chatting about all things Grenada. The "everything" in Grenada includes all the accoutrements of the Caribbean like beaches, waterfalls, water activities, bars, restaurants, markets, etc. But there's not too much of any of it…nor is there too much of…pretty much anything.
Grenada is a place where you have what you need to get by and not too much more; but once you learn to enjoy the simplicity of Grenadian life, there's very little to miss.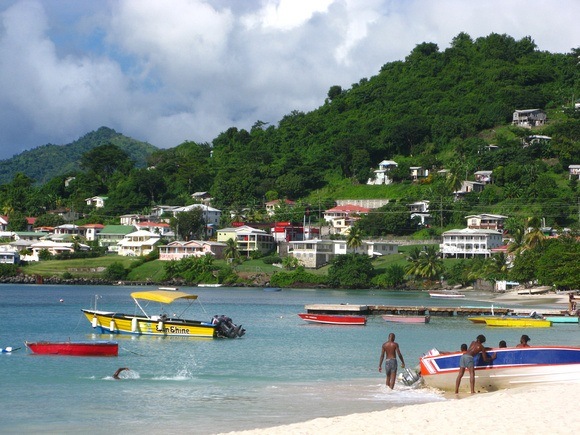 Things to Do in Grenada Island
There's no shortage of interesting activities to make your time in Grenada both informative and fun. Check these tours out for starters:
Where to Stay in Grenada
I'll come right out and say it: accommodation in Grenada ain't cheap. Through some connections, I managed to rent unfurnished apartments for about $300/month, but it's almost unheard of. If you're looking at short-term accommodation, expect to pay for it in the Isle of Spice. Then again, it's a pretty cool island. Search for your accommodation below: