"Rent a scooter! You'll love it, it's so much fun!" wrote my friend Sherry when I was in Saigon; an old haunt of hers. She had written a few years prior about the harrowing experience of buying a scooter and then integrating with the teems of scooters and other two-wheeled beasts dominating the chaotic streets of Vietnam.
I could barely cross the street while I was there, so there was no way I was going to rent a scooter.
This post was originally published in 2013. It has since been updated for accuracy of links and content.
So instead, I indulged in a culinary tour of Saigon – on the back of somebody else's scooter, and between the amazing street food and the joy of riding, it was one of the highlights of all my travels thus far.
I made this teensy little video from my spot on the back of the bike; I think you'll agree that the streets of Saigon are not great for beginners!


Fast Forward…to Grenada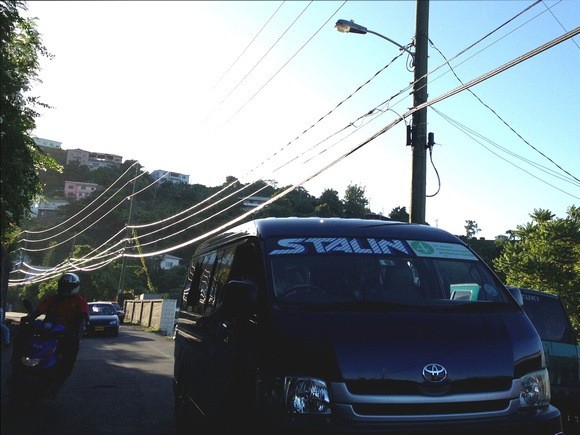 Although I love riding the buses in Grenada, it's not the most ideal way to get around. Hours and days of operation are restricted, and although each fare is relatively cheap, it adds up when you have to take multiple buses each way to reach your destination.
So…I bought a scooter.
And I must say, a scooter is one of the best ways to live in and experience Grenada.


Ode to the Scooter
Oh scooter!
You help me feel the breeze on a hot day instead of getting into a steamy car and sweating miserably.
You allow me to interact with my environment much more; enjoying the sights, smelling the smells, and hearing the reggae blaring from roadside rum shops.
I can park you anywhere.
You cost about $5 to fill (1 gallon), and a tank lasts over 100kms.
Brand new, you cost less than half what I'd pay for a crappy used car.
You take up very little room on the roads, which is good because the roads are only little to begin with.
Traffic jams? Rush hour? Pshaw! You scoot around traffic without losing a beat.
I will admit…
Handling speed bumps is not one of your virtues. But you only have little wheels, so I forgive you. And I can still get over the bumps faster than cars.
And at night, Grenada's many pot holes and dogs like to jump out at you, dear scooter, which can be a very precarious thing.
Rain isn't very much fun for you or me either, but thank goodness most rain is isolated and doesn't last long.
And a friend of mine who prefers motorcycles, calls you, dear scooter, "$2,000 worth of hair dryer on wheels".
Don't listen to them. You're so much more than a hair dryer (even a very good hair dryer).
And all that is wrong becomes so right when I lean around corners, take in the lush roadside foliage, and zoom, zoom, zoom.
Oh yeah, and…
You make me feel cool.
(literally and figuratively).


Seeing Grenada from a Scooter
Would you like a tour of Grenada by scooter? Take the driver's seat with this ride on various back roads, into town and through the capital of St. George's, up to Concord waterfall, down to the beach, and around to the east coast. Throw in a few pit-stops at rum shops (with new friends made every time, despite the fact that I don't drink rum), and all in all it makes for a perfect day (or few days rather, as it was shot over the course of a week).
Click here to watch the video on YouTube.
Other Grenada Adventures:
Random Observations About Grenada Island
The Art of Liming: Grenada's Unofficial Pastime
My House has no Address, My Street no Name