I'm sweating under the hot Caribbean sun as I labour up my street to the main road, a 15 minute stroll from my house (although I could easily manage the distance in less than ten minutes in other climates, there's no such thing as walking quickly in the heat).
As I make the final turn, I can see my destination – the main road, and a bus stop – about 200 metres away. A large blue van pulls up to the distant intersection. The side door opens, somebody steps out and waves to me. I wave back.
I've just hailed a bus, from a distance longer than ear shot.
This post was originally published in 2012. It has since been updated for accuracy of links and content.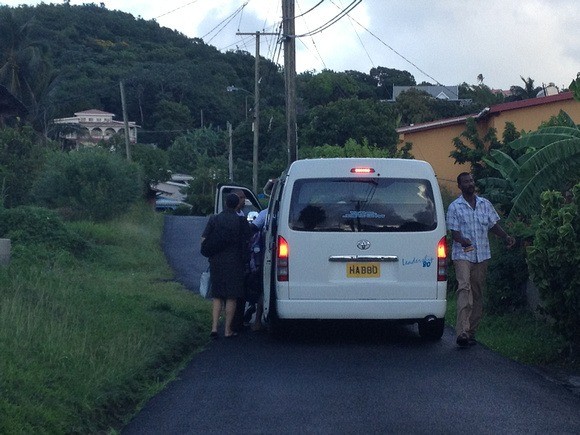 There is a lady and little girl behind me who are also headed for the bus. Despite the fact that there are other passengers on the bus waiting for us, she does not pick up her pace. So I follow suit and continue my amble towards the bus.
The bus, in response, backs down our street to meet us so we don't have to walk all the way.
Getting personal off-route pick-ups is just one of the many things that makes Grenada's public bus system one of the most unique – and enjoyable – forms of transportation I've encountered around the world.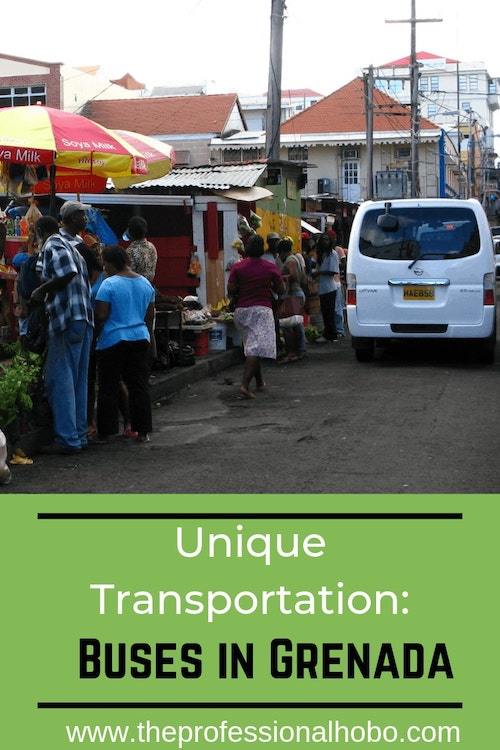 How Buses in Grenada Work
Buses in Grenada are privately-owned vans that seat up to 20 people. It's a tight fit, with lots of shifting around to let passengers in and out. The owners of the buses – who are usually also the drivers – are accompanied by a conductor who sits beside the sliding side door, often with their head hanging out the window.
As they drive, the conductor scouts the roadside for passengers and with a word or snap of the fingers they signal the driver to stop. (Which is why, when you're driving in Grenada, you need to be ready for vehicles ahead to make sudden stops).
Although there are formal bus stops, anybody – whether or not they're at a stop or even on the main road – stands a chance of getting the bus to stop for them.


Why are buses so flexible to picking up passengers?
Because the more fares they can squeeze into the bus, the more money they'll make. And since they only get a limited number of daily runs on the route (they can't just go whenever they want), they need to make the most of it.
And the most of it, they certainly do make. Among some of the more amusing things I've experienced, a driver I know regularly makes a purposeful turn off-route…to pick up his sister.
As the bus is nearing your destination, just knock on the side of the bus (or press the doorbell beside you if there is one), and the driver will pull over at the nearest safe spot to let you off.
For this (almost) door-to-door service, you'll pay the equivalent of about $1 US dollar. (Per bus – more on this below).


Party on Wheels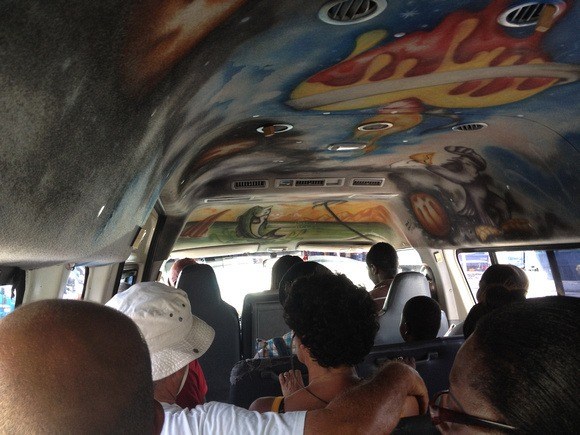 Hailing the bus and enjoying the creative routes is where the fun starts. Once you're on the bus, you can admire the occasional custom paint job (as seen above), and even the odd light show with strategically placed neon lights. (The outsides of buses are also often adorned with custom slogans too, creating a personality of sorts for each bus).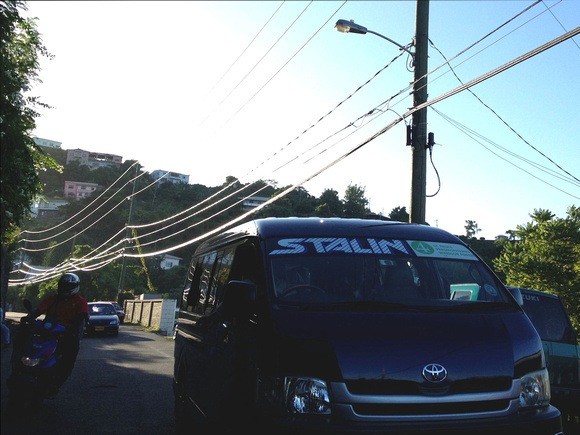 Depending on the taste of the driver, you're also likely to be serenaded by reggae music, which is at times played a few decibels higher than it should be, but is generally received with grooving head bobs all around.
And sometimes, it's nice to have something to listen to while you're hanging on for dear life.


How They Drive
Yes, I said it. Hanging on for dear life. At the best of times the buses usually rocket past other traffic, and at the more life-threatening of times, they careen around corners with screeching wheels and harrowing consequences if something were to go wrong.
What exactly sets the pace, I'm not sure. Once, I was on a bus that was going at a relatively comfortable speed, but on receiving some sort of signal from a bus driver coming the other way, my driver put his cell phone down (ha!) and kicked the vehicle into a gear I wasn't aware it was capable of.
I had no idea that such a large boxy vehicle could manage the tight (blind) corners on the narrow roads barely two cars wide, and despite my general affinity for speed, I was at my safety limit and almost got off the bus early.
(I didn't get off the bus, on the premise that I haven't heard of buses rolling over cliffs from taking corners too fast, so I placed faith in the driver's guru-talents, hoping he knew something about the laws of physics that I was unaware of.)


Where Grenada Buses Run (and When)
The central hub for most bus routes in Grenada's is St. George's (the capital, also referred to as "town"). Buses in Grenada cover most of the main roads, and you'll rarely wait long for a bus…at least when they're running.
But this is part of the problem; buses don't run on Sundays or holidays, and depending on the route, the last bus into "town" may leave as early as 4pm. (The major buses usually run until 8 or 9pm).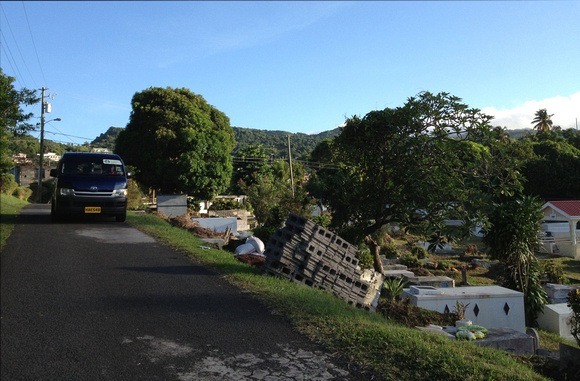 So between potentially long walks to and from the main roads and a severely limited way to get around after hours (taxis – which look just like buses – are way more expensive, even if shared), the bus system in Grenada is just a hair shy of being practical. (Or rather more appropriately – it's not always convenient).


A Sense of Community
But Grenada is a small island, which to my eyes requires forgiveness if not everything is convenient. Although the infrastructure of Grenada is formally organized, it also relies on the community coming together to make things happen.
As an example, buses often make informal deliveries along the route. The conductor will step out to pick up a packed lunch waiting at the shop, and drop it off for the woman manning a fruit stand further down the road. Or if somebody gets news that an elder is ill, the bus will stop at the chemist to pick up medication and deliver it down the road (along the route) to them.
This is just one of the many ways that this small Caribbean island feels more like a little community than an entire country.


More Stuff About Living in Grenada
Don't Send me Presents: My House Has no Number, My Street No Name
The Art of Liming: Grenada's Unofficial Pastime


Things to Do in Grenada
Grenada is a quiet island, but there's still plenty to do. Here's some inspiration:
Where to Stay in Grenada
Most people stay in the south part of the island near Grand Anse which is one of the best beaches in the world. But there are lots of options to suit many budgets. Check out the map widget below to find your perfect accommodation (zoom out to see the island).