If you are an intrepid traveler who likes to venture away from the tourist trail, enjoy nature, meet new people, and have a drink on the beach, then travel to Grenada. You may just find what you're looking for. Here is an introduction to the place.
This post was originally published in 2011. It has since been updated for accuracy of links and content.


But first, a little introduction to Grenada is in order.
This is not a comprehensive guide to Grenada; there are plenty of places you can go online for that.
Rather, it's a random accumulation of interesting things I learned here that paint a picture – a backdrop if you will – for my future posts.
See Also:
Curious Facts About Grenada Island
Driving in Grenada
Taking the Bus in Grenada
The Art of Liming: Grenada's Unofficial Pastime

Pronunciation
There are two key garish blunders people make before they arrive to Grenada; mistakes that immediately delineate them as "newcomers" to the Caribbean as soon as they open their mouths.


How to Pronounce Grenada
The Caribbean island of GrEnada is not to be confused with the southern Spanish town of GrAnada (not the least of which is the spelling of each).
And as you might imagine, the pronunciation of the two is also most certainly not interchangeable.
Spain: Grah-NAH-da
Caribbean: Greh-NAY-da
In both cases, emphasis is put on the second syllable, but here in the tropics, think "Nay", not "Nah".


How to Pronounce Caribbean
For the longest time I had trouble even spelling Caribbean right, much less pronouncing it.
Many people off-shore (can you even officially say "off-shore" in reference to a conglomeration of islands? Ah well – you know what I mean) say Cah-RIB-bee-an, putting emphasis on the second syllable.
Although in some circles, somewhere in the world, that might be acceptable, every single local here in GreNAYda says Cah-rib-BE-an, making the "be" the focus of the word, the place, and the lifestyle.
Kind of poetic, huh?

Grenada is the Island of Spice
I read prior to arriving that Grenada is referred to as the "Island of Spice" due to being the world's largest exporter of nutmeg and mace, and a huge producer of cinnamon, ginger, tumeric (which locals call saffron), cloves, organic cocoa, and a few others.
And having heard that the "air smells of nutmeg and cinnamon", skeptical though I was, I still came off the plane sniffing the air like a dog to see if I could catch a whiff of these glorious multi-purpose spices.
Nada.
But they are indeed readily and widely available, as are lovely by-products like nutmeg syrup (which is good on everything) and spice necklaces, which are delightfully fragrant "necklaces" (though I'd sooner hang it in my wardrobe than around my neck) made of things like orange, clove, cinnamon, and nutmeg.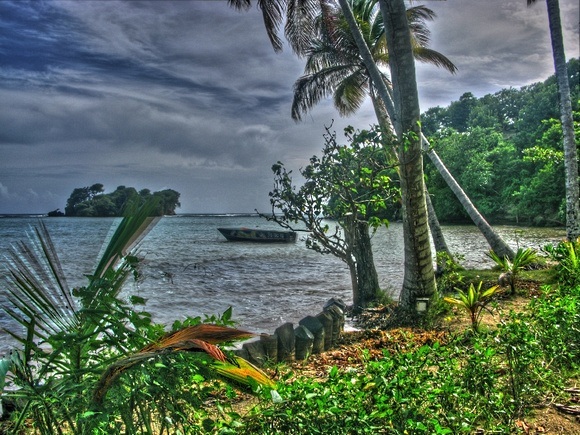 Friendly People in Grenada
Grenada is renowned for its friendly people.
You can literally talk to anybody (English is the national language, though it's often masked with accents of heavy creole or french patois dialects), and the conversation is cordial and fun, often followed shortly with an invitation of some sort – for a walk, fishing, snorkelling, over for dinner, or for a phone number.
The phone number requests admittedly come from the men, who are very interested in the company of white women; single white women need to be aware of this persistent level of interest, and are best advised to say they're married! Although this isn't a complete deterrent(!), it at least keeps some eager suitors at bay.
Most of the time it's completely harmless though, and offers of friendship are largely genuine.


Oil Down – the National Dish
"Oil Down" refers not to auto mechanics or the application of sunscreen; it's Grenada's national dish!
It's a one-pot wonder that includes chicken, pork (snout and all), crab, green plantain, breadfruit, callalloo (taro leaves, similar to spinach), dense dumplings, saffron (which is really tumeric), and lots of coconut milk, all stewed until it has cooked down and there is a thick layer of coconut oil left on the bottom of the pot.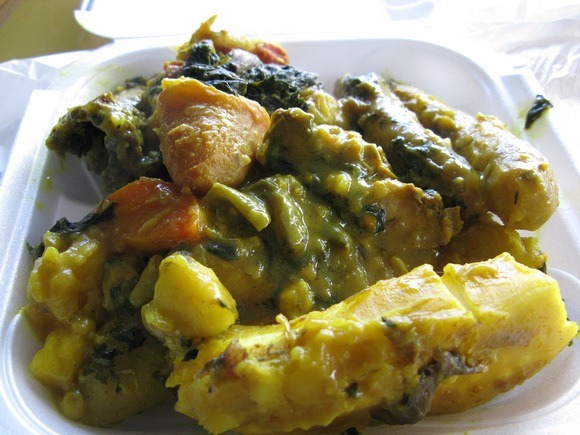 It tastes better than it looks (and sounds, when described), but vegetarians need not apply.
I would wager that "barbecue" is another national pride of Grenada; go for a drive in the late afternoon or evening, and you'll see lots of large cylindrical barbecues with smoke pouring out along the roadside. Stop to see what's on offer and you'll find chicken, pork (again, snout included), fish, and sometimes roasted corn on the cob or breadfruit.


Waterfalls in Grenada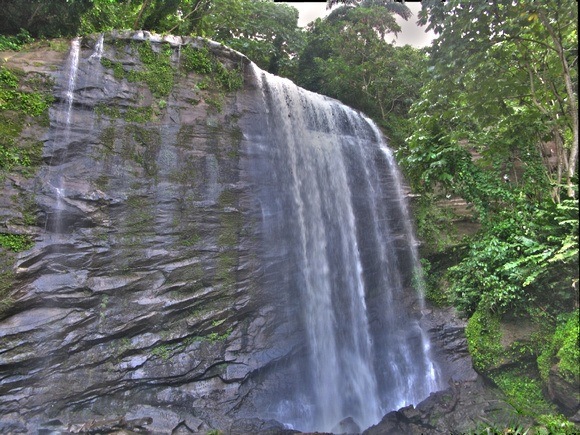 There are many waterfalls on Grenada, with it's hilly landscape covered in rainforest. Drive to one, or hike to one (through ankle-deep mud!), and enjoy the scenery – which is often all yours to take in, with few if any other people around.

Hurricanes in Grenada
When I told a friend in Prague about my intended house-sitting gig in Grenada, he squished up his face and said "when does hurricane season end there?" To which I replied "the end of November…yes, almost two months after I'd arrive".
"Hmm…" was his upsettingly accurate response.
And although I visit the hurricane watch website daily (and have already seen two blow through this area of the world since I arrived – one just touching Mexico, the other off the coast of Florida), Grenada is actually nicely situated away from the brunt of most tropical storms.
Although hurricane Ivan wreaked havoc with Grenada (affecting 90% of homes) in 2004, followed by the weaker-but-venerable hurricane Emily in 2005, during the previous 50 years Grenada was hurricane-free.
It seems that Grenada's location NE of Venezuela and just NW of Trinidad and Tobago puts it out of the line of tropical storms that blow through the Caribbean and southern US with some degree of regularity.


Beaches, but Not
All beaches on Grenada are public. And although there are some beautiful beaches with the iconic Caribbean crystal clear water and soft white sand (and surprisingly few people), they're not as common as I would have thought. Much of the coastline I've seen is rocky, reefy, and full of seaweed.
And since I'm a bit of a fickle ocean-lover (loving the ocean from the shoreline much more than being on it or in it), less-than-ideal swimming conditions have meant I've only been in the water a handful of times.
Some would say it's Caribbean sacrilege; I say I'm still appreciating the ocean…just from a respectful distance. But my hut is a mere 20 metres from the shore, so I'm getting plenty of ocean fixes (of the dry persuasion).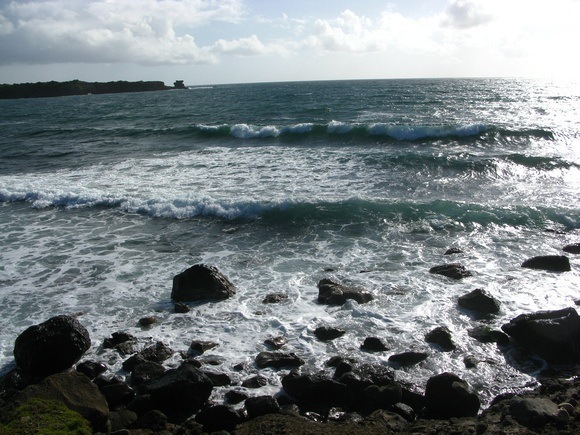 Island Fever, but Not
With Grenada being less than 350 square kilometres in size, you can drive around it in half a day (if you're on a mission; a day if you make a few stops).
So although I feared that "island fever" would set in and I'd be eager to broaden my horizons beyond the shores of Grenada within mere weeks of arriving, I still haven't even been all the way around the island. I have waterfalls to discover, mountains to hike, organic chocolate factories and rum distilleries and spice gardens to visit, and towns to explore.
(Recovering from the frenetic Ultimate Train Challenge, and spending a week flat on my back with Dengue Fever with an ensuing recovery period did nothing for getting me out and about right from the start.)
So instead of taking Grenada by storm (in my usual fashion), I've been slowly branching out and exploring this beautiful tropical island in bite-sized pieces, choosing rather to discover and refine the art of "liming".
I'm living in the CaribBEan, after all. And if I want to do as the locals do, being in a rush is not the way to do it. So instead, I'll sit back today, read a book, listen to the ocean, lime a bit, and seek out a new adventure tomorrow.


Things to Do in Grenada
Grenada is a quiet island, but there is still plenty to do. Travel to Grenada to check out these great activities:
Where to Stay in Grenada
Most people who travel to Grenada stay in the south part of the island, around Grand Anse (because the beach there is epic). But use this map widget below (zoom out to get a layout of the island) to find the perfect accommodation deal for you; if you want a quiet retreat, the north can be ideal!