Fiona Harper is an Australian specializing in freelance travel writing on topics like soft adventure, boating and outdoor lifestyles. Widely travelled, highly acclaimed and much published, Fiona's articles and images are published across the globe. When not writing about travel she's probably running a marathon, hiking a mountain or sailing into a tropical sunset blissfully disconnected from deadlines. She's rather partial to mountains and mojitos, islands and highlands. While the bulk of her income is generated through her freelance travel writing, you can read her personal adventures at Travel Boating Lifestyle. Learn more about Fiona's long-standing career in freelance travel writing here!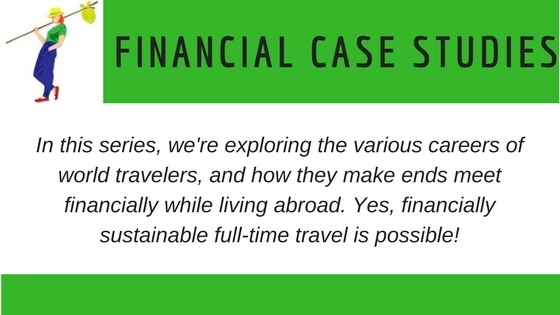 This post was originally published in 2018. It has since been updated for accuracy of links and content.


How long have you been living/working on the road, and where have you traveled to?
I've been in freelance travel writing for almost 15 years. The amount of time I spend on the road varies each year. Last year I spent most of the year in Fiji, other years I will travel to multiple destinations, both within Australia and overseas, throughout the year. While my well-thumbed passport reads a bit like War and Peace, there are plenty of destinations I've yet to visit. Seychelles, Jordan, Morocco, Russia, and Argentina I'm looking at you – though I did pop over to Argentina for lunch one day, which doesn't really count (though it comes with kick-butt bragging rights).


Please describe what you do for income.
I write travel articles that are published on websites, in magazines and newspapers. I also work with business operators to manage their communication needs, which involves website content, social media management, press relations and generally managing their digital presence and reputation.


How many hours per week do you work on average?
It's not unusual for me to work 15 hour days for weeks on end during busy periods. When workload allows I'll put in a few hours at dawn before taking the rest of the day off to go for a run, ride or hike, catch up with friends over lunch or curl up with a good book.


How much money do you make?
It depends on how hard I've worked! If I've had a quiet year, I might gross something around $60k, though even an exceptionally busy year aspires to reach six figures.


Do you make enough money to support your lifestyle?
Absolutely! Though I love my work and am fortunate to make a living from doing something that I love, it is still a job, and the sole reason I spend up to 15 hours a day in front of a laptop is to earn a living. Even if I didn't have to work I'd still be travelling, taking photographs and writing about my adventures.


What do you like most about your career and lifestyle?
I love the freedom and the flexibility that comes with working for myself. It's entirely up to me how much work I take on. Or not. Because of my freelance travel writing, I'm fortunate to be offered some amazing opportunities to travel to far-flung places. Extraordinary experiences are all part of the job. Sometimes I'm able to indulge personal interests (like marathon running, sailing or mountain biking) in collaboration with work opportunities, which is a definite advantage.


What are some of the challenges you have with this career and lifestyle?
Work dominates a lot of my time. Because I may travel at short notice it's hard to commit to social, family or personal activities – I miss a lot of friends and family gatherings because I'm always away! And it's hard to maintain personal relationships when a partner is always being left behind while I jet off somewhere far-flung, filling my social media feeds with alluring photos from exotic destinations. (Sampling cocktails and swimming pools are an important part of the freelance travel writing job – seriously!)
As a creative writer it can be a challenge to channel inspiration when deadlines loom. I'm interested in continually learning how to improve my writing and devour self-help books and articles whenever I can. The digital revolution has changed much about my industry, opening new doors while dead-bolting others.


What is your vision for the future of your lifestyle on the road?
I'd like to work a little smarter in the future, so that the actual number of hours I work decreases. As our industry evolves, it's a challenge to keep on top of technology changes so I see myself constantly learning new skills.
As a writer, it's essential to keep finding inspiration and to remain enthused about the craft. Being a big reader is an important asset to becoming the great writer I'd like to become. (See also: 10 Rules for Being a Freelance Writer)


Any advice for the aspiring traveler about living and working on the road and managing finances?
Living and working on the road is far from glamorous. Sure there are plenty of moments when I find myself swishing through the gilded doors of luxury hotels or boarding a private jet or helicopter while on assignment. But, there are other times when I wish I was at home with nothing but 12 hours of sleep in my own bed ahead of me.
(Nora's Note: TELL me about it! I couldn't believe that while I was riding the world's most luxurious train in India, I was suffering).
The rewards of living and working on the road are equivalent to the amount of effort you're prepared to put into it. When all the ducks line up, it's an incredible lifestyle that provides innumerable benefits to body, soul and ultimately the bank balance.
As a freelancer, your reputation is everything. Be professional, ethical and work with integrity and honesty. Become the sort of person others want to work with.
As a freelance writer, actually any kind of freelancer, it's important to put a value on your work and not be tempted to work for free. There are plenty of business operators who will try and convince you to work for 'exposure' in order to help build their brand. This tactic might work briefly if you're a complete novice and need to build a portfolio of published work. Otherwise, I'd recommend setting a minimum bottom line as your 'break even' rate and never agree to work for less: if you don't value yourself and your work it's unlikely that your client will.


Is there anything else you'd like to add?
Being able to earn a living from anywhere on the planet is a rare privilege – go out and enjoy every moment of it!