Speaking at a travel conference a couple of months ago in Macau had some serious perks (aside from my chance to visit Hong Kong); one of those perks was making the connections necessary to earn me passage on India's Deccan Odyssey: the most luxurious train in the world.
My Indian adventures thus far had already begun on a pretty divine note, at the Fairmont in Jaipur. Little did I know the fun had only begun. After a few days of getting my feet wet in "the real" Jaipur (the apres-Fairmont Jaipur, that is), I was whisked back off to luxury la-la-land aboard the Deccan Odyssey.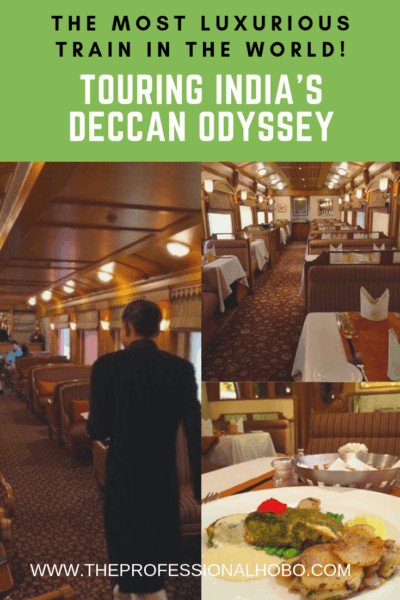 What Business do I Have on the Most Luxurious Train in the World, You Ask?
Great question. Let me tell you.
I'll save you the speech about how financially sustainable travel is not synonymous with budget travel (even though it's true), and how if I happened to be a bit more flush than I am, I could have paid my way. Cuz I didn't pay my way.
The beautiful people at Cox & Kings paid my way; mostly because they heard me talk at a travel conference and they liked my style and wanted to work with me. Cox & Kings is the world's oldest tour company, and they're based in India (though they offer trips around the world). When I discovered they owned a train, it was game over.
Update 2021: Cox & Kings is apparently out of business.
Why was it game over? Because, if you didn't already know, I have an evangelical love of long-distance train travel; to the point that I've done some epic (some may say epically stupid) train journeys around the world. I even wrote a book about it.
So as I was ironing out my initial few days in India, I realized I would be in Jaipur when the illustrious Deccan Odyssey would be pulling in, halfway through its journey from Delhi to Mumbai. I suggested if they happened to have some space, perhaps I could hop on? And they said yes.
And here I am. On the most luxurious train in the world: the Deccan Odyssey, in India.


What is the Most Luxurious Train in the World Like, You Ask?
Another great question.
It's crazy.
Of the 21 train cars, there are just 16 passenger cabins. So for a very long train, it's a pretty small number of guests. This leaves space for some gargantuan passenger cabins (by far the largest I've ever seen, with bathrooms that blew my mind – for a train). In addition, there are two restaurant cars, a bar car, a rec room/library, spa (!), gym (!!), and more.
Yes, there's a spa, and a gym, on the Deccan Odyssey.
I know, right? Wow.
And then there's the service. I believe the number of people working on the train actually outnumbered the number of guests, although it wasn't totally full when I was on board; a full occupancy of guests would probably see close to a 1:1 employee/passenger ratio. So as you can imagine, the Deccan Odyssey's wheels are well-greased.
I had my own valet/butler. Actually, that's not true. I had to "rough it" by sharing him with another passenger cabin or two. Guests with Presidential Suites have dedicated valets. He not only cleaned my cabin daily and turned down the bed each night, but he provided wake-up calls with the drink of my choice. I also had a phone in my cabin with my valet on speed dial whenever I needed anything. When I first boarded the train, if I was leaving my room or coming back to my room, he would just pop up out of nowhere and insist on accompanying me. He even tried (unsuccessfully) to carry my purse!
The Deccan Odyssey's hospitality on the whole was incredible. The guest manager had some outrageous stories to share with us each evening while prepping us for the day to come, as we sipped drinks in the bar car. The coordinators who came along with us on each day's tours were enthusiastic and informative. We even had a dedicated paramedic quietly playing wallflower for whenever a guest needed anything from painkillers to bug bite treatment to whatever. And at meal-time on the train, the wait staff were tripping over each other to be of service.
Which brings me to the food. Earning a moniker like the most luxurious train in the world means the food is top-notch. With both an Indian and International menu on board, all tastes were catered to. The Indian menu changed daily according to the local cuisines where the train was at the moment, which was a nice touch. Anorexics, need not apply. The food on this train is just too good to pass up. (Though I will admit with some gratitude that the portions of the multi-course meals were small enough that I wasn't over-stuffed at each meal).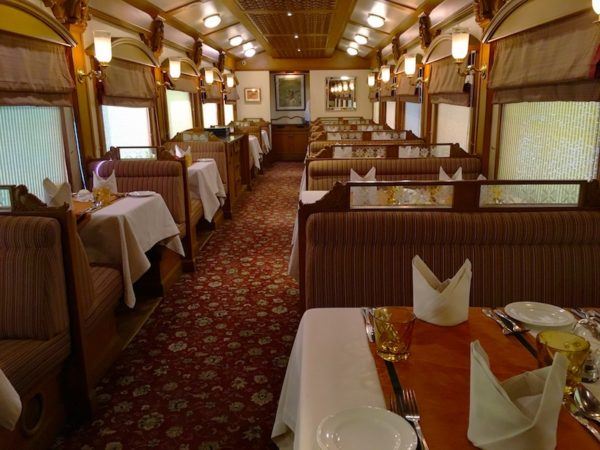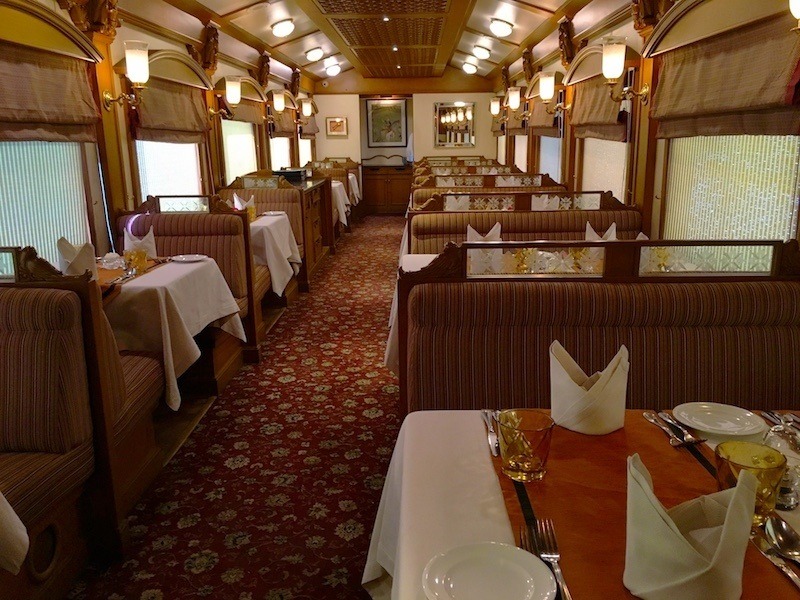 Wanna See?
Pictures don't do this experience justice. Come with me on this tour of the Deccan Odyssey. As you will see in the video, I'm pretty damn giddy about the experience.
Click here to watch this video on YouTube.


The Fun has Just Begun!
The plushness of the Deccan Odyssey extends way beyond the train itself; it's a full-meal-deal sort of experience. Check out two more posts and videos on my adventures aboard the Deccan Odyssey:
Udaipur India, with the Deccan Odyssey Luxury Train
Traveling on the Deccan Odyssey (Pt 3): Palaces, Caves, and Bollywood!


A Final Note About Semantics
Is the Deccan Odyssey really the most luxurious train in the world? Well, it's debatable. It has received awards for being the best luxury train. The difference between "best luxury train" and "most luxurious train" could be semantics, or not.
When I look up most luxurious trains, Google shows me a bunch of trains I've ridden: The Ghan and The Indian Pacific (in Australia), the Canadian and the Rocky Mountaineer (Canada), the Trans-Siberian (Russia), and more. (Most of these trains are covered in my book. Just saying.)
Although I haven't experienced other contenders like the Blue Train (South Africa) and the Maharaj's Express (India), I can say that from the trains I've ridden, the Deccan Odyssey wins the prize for most luxurious train in the world – hands down – in my books.


Accommodation in India
Looking for a place to stay in India (perhaps before or after your Deccan Odyssey adventures)? You're in luck! There's something for everybody. Have a look:
Things to do in India
To anybody who is visiting India for the first time, I strongly suggest taking (at least a few) organized tours. India can be an overwhelming place at the best of times, and it's difficult to make the sorts of connections that allow you to learn about the place, as well as stay safe and ensure you're not being ripped off or scammed. Check out some of the bestselling things to do in India below, and save yourself a whole lotta stress and aggravation! Also, check out my friend's guide to taking trains, planes, and autos in India!