42,000 kilometres.
11 countries.
44 days.
Traveling by train isn't always about getting to where you're going – at least it hasn't been for me, and the 25 or so countries I've traveled to and through by train.
In fact, I would go so far as to say there is no better way to see the world than by train.
(For me) the destination is irrelevant; rather, taking the train IS the destination.
That is what Tales of Trains – Where the Journey is the Destination is all about.

E-book version: Buy instantly here, for just $4.99!
Paperback version: Buy on Amazon Here!


This Isn't a How-To Book
Although you'll get some tips on how to upgrade to sleeper class on Australian trains, what not to eat on the Trans-Siberian, and I share the best resources for worldwide train travel, this book won't (directly) teach you how to travel around the world by train.
Instead, Tales of Trains – Where the Journey is the Destination is a narrative about what it's like to do some of the world's most epic long-distance train rides, including the Indian Pacific and The Ghan in Australia, The Trans-Siberian from Moscow to Beijing, the world's fastest train, and a whole host of much (much) slower trains as well.


What You'll Read About in Tales of Trains
Tales of Trains – Where the Journey is the Destination covers over 42,000 kilometres of train travel through 11 countries, in 44 days (in two concentrated stints over a period of two years).
16,000 of those kilometres were done in Australia – including 11,000kms in 11 days straight….all to see if it was possible to get bored on a train.
The following year I was invited to do the Ultimate Train Challenge, which involved 25,000kms of train travel between Lisbon and Saigon in 30 days….straight.
These are the two main focuses of Tales of Trains – Where the Journey is the Destination. Among other things, you'll read about:
The very slow "Very-Fast" train (and other paradoxical experiences) in Ukraine
Befriending a gaggle of Mary Kay conference attendees in China
Fending off a drunk Russian train conductor on the week-long Trans-Siberian
The million or so inhabitants I met in Cook, Australia
The most compelling toothbrush sales pitch I ever saw on a train (or elsewhere)
Having no money somewhere in Slovakia and almost getting kicked off the train
The glories of Gold Class in Australia, and my sorry attempt at "train-yoga"
Fending off the flu in Barcelona
Meeting a worldly (and adorable) senior couple who lives in opposite corners of the world and only meets up on trains
Arriving in Prague and ending up "naked at night" in the thick of it
…and much, much more.


Tales of Trains: Where the Journey is the Destination
Sit back, recline your seat, and enjoy all 180 pages of this e-book celebrating travel on trains for just $4.99.


Or, buy the paperback version on Amazon Here!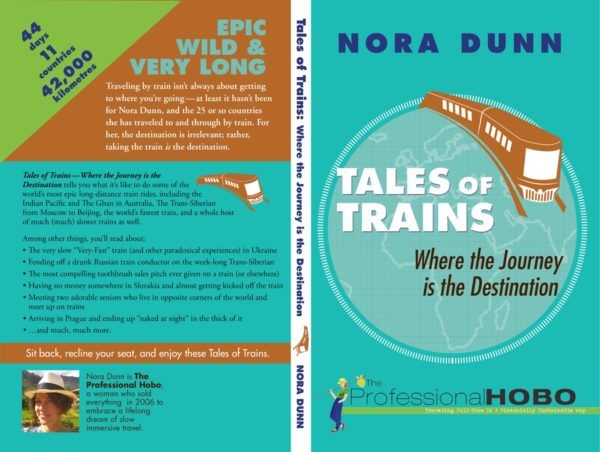 What Others Are Saying About Tales of Trains
"As a travel blogger who has long focused on the destination (and not the journey), Nora's 'Tales of Trains' forces you as the reader to prioritize the journey. The people you meet, the sights along the way you might otherwise dismiss, and the stories you partake in – they're all here. Whether you're already a convert to train travel or are looking for tips, there's plenty of meat to chew on here."

– Chris Backe, One Weird Globe
"Having done some train travel myself, I was skeptical if this book would hold my attention. Boy was I wrong! Through Nora's descriptive writing I felt like I took the journey with her – plus – now I can't wait for my next train adventure as well. The book made me laugh and visualize rich characters. I couldn't wait to get to the end of the book and fantasize about my next trip by train."

– Tiffany Soukup, Vagabond Way
"What a fantastic read! Tales of Trains made me feel like I lived through the exciting adventure of traveling the railways of the world–with all the elation and exhaustion that comes with traveling through multiple countries in one month. It's an entertaining book which brings the experience of train travel to life in a delightful way. I felt like I was right there, experiencing the journey with all of its fun and frustrations, and meeting the unique characters which made the trip even more interesting. Even though this is not a "how to" book, I found enough information to provide a bit of instruction and lots of motivation for planning my own multi-day journey by rail!"
Check out my Travel Lifestyle Guides for more ways to earn money remotely, spend it wisely, and balance the two so you can travel as long as you wish, in a financially sustainable way. 
Are you new to this website? Welcome! Check out this page to see where you can go from here.
A few teasers:
The Ultimate Packing List for Long-Term or Full-Time Travel
Pro Packing Hacks – The Best Travel Accessories for Saving Space and Organization
Cell Phone Travel Basics – International Phone Plans, Local SIM Cards, and More
Brace Yourself: Here are the Various Travel Disasters I've Encountered
My Sordid Tales of Love on the Road