I've had a few emails from readers asking for "the real deal" about the full-time travel lifestyle. They're afraid that I – and other travel bloggers – tend to candy-coat the experience, and people want the dirt.
Well, Brace Yourself: here it comes.
I have a funny way of turning a bad experience into a good one, so it stands to reason that my posts on the unsavoury side of full-time travel aren't so easily located.
Never fear! I'm giving it to you both barrels today.
Here's all the crappy stuff that has happened to me since starting my full-time travel adventures in 2007.
Note: This post is regularly updated and added to. (Hopefully, the additions aren't too frequent going forward, but….you never know).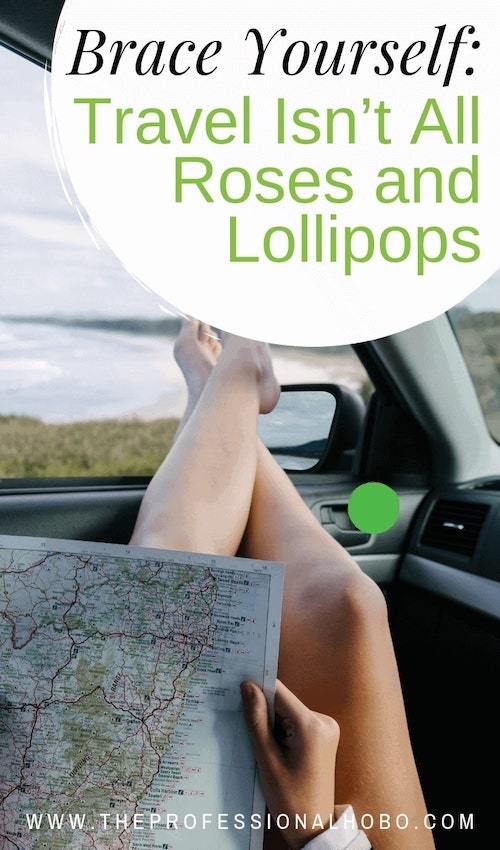 Brace Yourself: Romance Gone Wrong
I embarked on my full-time travels with a partner. We lasted a few years, but ended up breaking up in Australia (2010). Here's what happened, along with some observations on how travel can be hard on a relationship:
Then, in New Zealand (2011), I sparked up a romance with a fellow dubbed my "Swedish Squeeze" (but commingling travel agendas wasn't so easy):
…and he "squeezed" somebody else while I wasn't looking:
A new addition to this roundup as of February 2014: Yet another icky breakup on the road:
The Day I Was Dumped Via Instant Message
Then, in April 2016, my life changed completely. It wasn't a failed romance, but rather a failed relationship and alliance with a shaman in Peru that resulted in a total life change being thrust upon me:
Apprenticeship Update: BIG Changes for The Professional Hobo


Brace Yourself: Theft
This is a new category added since originally publishing this piece, where I was robbed – by a house-guest; a saga indeed:
The Saga of My $10,000 Passport
And in 2014, my purse was stolen in Cusco:
The Day my Purse Was Stolen, and Lessons Learned


Hospital Visits, Illness
It all started in Hawaii (2008) when my partner (at the time) dropped a 5-gallon glass jar onto his toe. He thought the hospital was a good first line of defence.
It's not.
His hospital adventures were far from over though; a few months later he spent a week in a Thai hospital fighting for his life with Dengue fever. Here's my account of a wee breakdown I had while picking up the slack:
This wasn't my only kick at the can with dengue fever….I had it myself (and by myself) in Grenada in 2011:
Oh yes, and I almost forgot – I got a neurological disease in Hawaii (2008):
An Introduction to Spearfishing…and Neurological Disease
…if you keep scrolling, my most dramatic hospital experience warrants a heading of its own…


Brace Yourself: Natural Disasters
Oh yes, I've had my share of encounters with natural disasters too.
The first was a dangerously close proximity to Cyclone Nargis (2008) which obliterated Burma while I was 100kms away in Thailand. I turned this into a good news story by launching an international fundraising campaign to help the victims.
Here's the news story CBC did about it
And then, less than a year later in 2009, I was stuck smack dab in the middle of Australia's worst-ever natural disaster, the Victorian Bushfires. The diary entry I kept that day was archived by the National Library of Australia as "a piece of history":
Victorian Bush Fire Diary: February 7th – Day One
I carried on the daily diary for 18 days; you can catch up on all the drama here:
As if all that wasn't enough, in New Zealand (2011), I got hit with two cyclones one atop the other, which stranded me (and others) in the place we were staying, and also cut off the whole peninsula from the rest of the North Island.

The Life-Changing Accident
In early 2013, I faced my biggest challenge in all my travels thus far; my partner (at the time) and I were in a near-fatal head-on collision (we were on our scooter, and were hit by a car):
Crash! Bam! How My Life Changed in a Second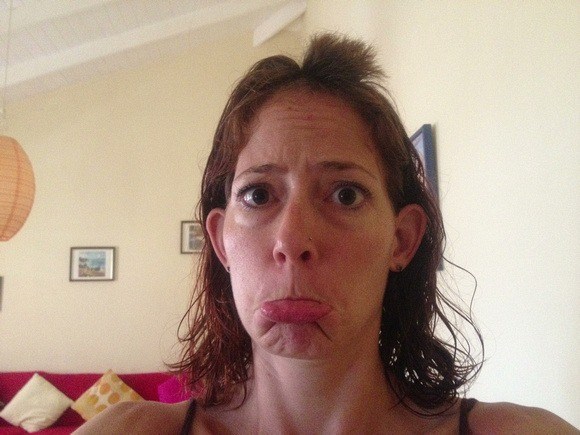 Eventually, almost two years later, after breaking up with my partner and other difficult events that in one way or another are related to the accident, I had to sign off on ever getting insurance compensation:
Cutting Your Losses: Why I'm Losing in Order to Win


Encounters with Creepy Critters
In my first two weeks of volunteering in Hawaii (2007), I was nibbled on by centipedes – twice. While sleeping. In bed.
Sleep didn't come easily after that.
Centipede Bites: The Worst Hawaii Has to Offer
…and the second attack a week later:
Just When we Thought it was Safe
Years later in Australia (2010), once I finally learned to sleep soundly again, I got 37 spider bites…while I slept:
Australian Seagulls, Spider Bites, and Blue Mountains
And again in Grenada (2011), I got devoured by icky bugs…and had some sort of centipede omen dropped at my doorstep on my first night there:
Wildlife in Grenada, For Better or Worse


Travel Fatigue, Loneliness, etc
Here are some of the more universal issues I've grappled with on the road, not the least of which are work-life-travel balance problems in trying to make my full-time travels financially sustainable:
Travel, Work-Life Balance, Time Management, and the Paradoxes Within
Solo Travelers Make Better Bloggers….or Do They?
And hitting a wall after traveling at too quick a pace for too long (2011):
Travel Fatigue, and Slowing Down the Pace of Travel
The trials and tribulations of traveling solo and being alone:
Learning to be Alone in Grenada
Trying to decide on my next travel move (2011):
After these challenges, I was good for a bunch of years on the Travel Fatigue front. Then, somewhere around 2017 when I wasn't looking, Burnout hit me – HARD. Of course I didn't heed my inner voice's urgent requests to slow down and I kept flitting around Asia until the bottom fell out completely. Here's the following sequence of events that happened over the course of the following year:
Heaven and Hell: Panchakarma as a Reflection of (My Time In) India – a gut-wrenching (literally!!) story full of humour
All Life is Suffering: A Month in Koh Phangan – another funny story with some starvation thrown in for good measure
My (Epic?) Search for a Home Base – a culmination of the above two posts and my ultimate treatment for burnout


It's Not All Bad!
If you're still reading this and haven't stabbed yourself yet or raced out and applied for the next day job you can find as an alternative to traveling, then you realize that sh*t happens. Many of these emotional and logistical problems could have happened anywhere, irregardless of my full-time traveling lifestyle.
You'll also see that in most of the articles featured here, I manage to find a silver lining to the situation.
Heck – some of life's greatest adventures are MIS-adventures. Our high moments wouldn't be nearly as amazing without the context and perspective of a few low moments mixed in for good measure.
So get out there, and create some mis-adventures of your own!