One of the wonderful things about tropical Hawaii is the lack of typically evil tropical critters. Critters that are poisonous, or gigantically grotesque, or both.
On land at least, there is a distinct absence of such critters. The worst we were told about were some nippy spiders, as well as the dreaded centipede. Although venomous, they don't carry the type that is poisonous to humans, but they can indeed pack a punch with their bites. Many people have landed in hospitals with baseball-sized wounds from the swelling, begging for something to deal with the pain.
Well, in our trial by fire here in Hawaii during our first week, we have already become acquainted with the centipede bite.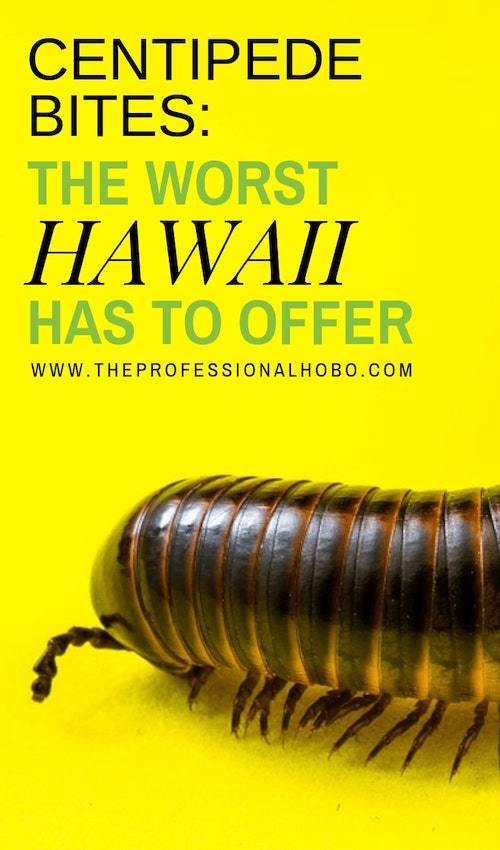 This post was originally published in 2007. It has since been updated for accuracy of links and content.


Kelly awoke one night with a series of "ouches" that woke me up too. Thunderstorms had been berating us through the night (as usual for us), so his first impression was that he was being shocked on his ankle, and he was somehow conducting a lightning strike. The pain continued as he eased into consciousness, at which point he realized he had probably instead been bitten by something.
I too, was feeling a significant amount of pain on the back of my left hand, as well as my right bicep. I was tired enough, though, to try to sleep through the pain, as I figured it was something inexplicably muscular.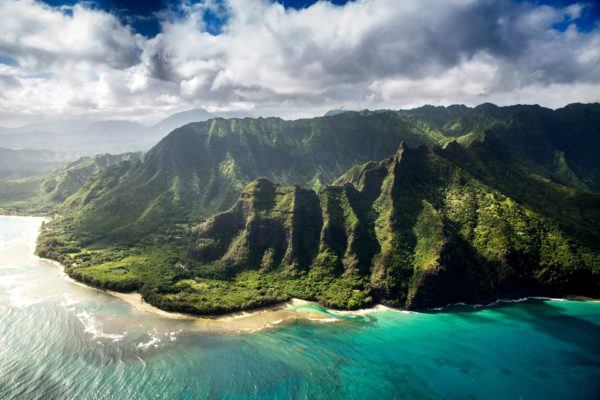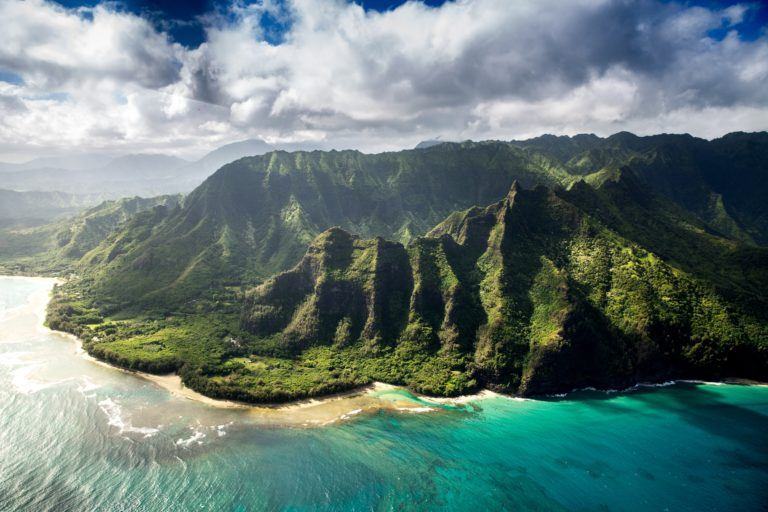 "Maybe it's a centipede…"
It was when Kelly tossed out the "maybe it's a centipede" phrase that I leapt from bed before he could finish the sentence.
We tore apart the bed, looking hard for something we could identify as the culprit, as we nursed and cursed our wounds. We both had local swelling and continuous burning pain. Kelly likened his pain to that of a cigarette lighter being held to his ankle, and I was just too tired and confused to identify my pains.
Of course finding nothing, we cautiously and nervously crept back into bed for a rotten night of tossing and turning carefully so as not to disturb the verifiable layer of centipedes crawling over us and waiting to for the right moment to attack.
The following morning we showed Rick our wounds, and he verified that they were indeed centipede bites. He wasn't so sure about Kelly's wound – he said it might have been a certain type of spider that can leave ugly blistery crescent-shaped marks, but Kelly's didn't quite look like that either. The thought of being attacked by not one but two ugly critters whilst sleeping at night certainly did not put our minds at ease for the next few nights of restless sleep!
Both of us were lucky in that our centipede bites weren't as bad as they can be, since the centipede(s) were quite small (Rick could tell by the spacing of the bites – they dig in with their two front fangs to bite, not their tail pincers as most people think).
Apparently centipedes here can grow to eight inches in length and almost half an inch wide. Now that's a bite that yields baseball-sized swelling and hospital-worthy pain.


But Centipede Bites Are Rare
The irony of the whole episode is that centipede bites are apparently quite rare here. Rick says he may see one or two in a year, and has developed something of an immunity to their bites. Chris had never seen the likes of a centipede or spider, and hadn't been bitten by anything more than a mosquito in his seven months here.
But us: no. We must get bitten within our first week, whilst still trying to learn how to just plain survive here. All we can say to this experience is at least we aren't starting out in a place like Costa Rica, where the weather is just as oppressive, the bugs are just as plentiful, but there they carry poison and disease, and we can't even communicate in the same language.
I have to wonder if our time here is preparing us for other less hospitable places in the world, or scaring us away from them.


You May Also Like:
Related Hawaii Posts:
Centipede Bites: Just When we Thought it was Safe
An Introduction to Spearfishing…and Neurological Disease
Volcano National Park Adventures


Other Related Posts:
The Complete & Easy Guide to Insurance for Travelers
Expat Health Insurance: Travel Insurance for Full-Time and Long-Term Travelers
Travel Vaccinations: How to Decide if You Should Get Vaccinated