Breaking up while traveling – this is not an easy task….trust me.
There are heaps of articles about survival tips for couples on the road. The stress of travel can take a toll on a relationship, accelerate the natural evolution of a relationship, or even force two people to stay together longer than they should.
But breaking up while traveling? Yikes – there's a can of worms (trust me – I know). However despite the challenges, breaking up while traveling is sometimes the best thing.
Let's first take a look at some of the challenges travel can impose on a relationship: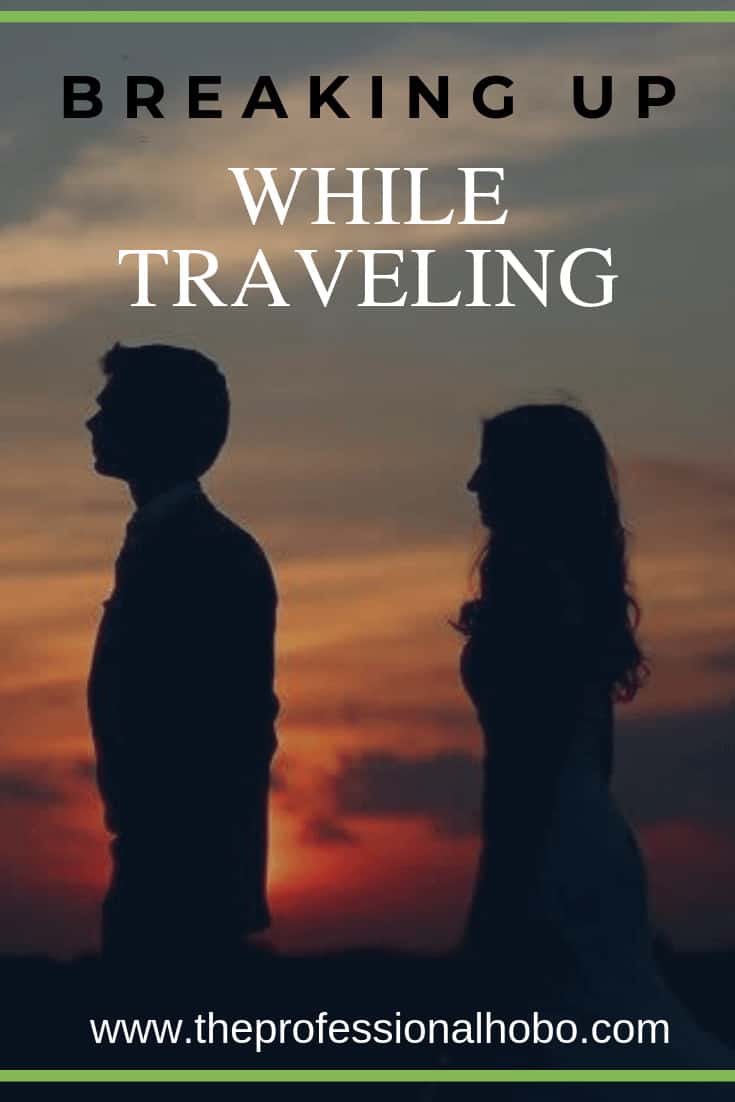 This post was originally published in 2010. It has since been updated for accuracy of links and content.


Travel stress takes a toll
When you are in a relationship while living at home, you're rarely on top of one another 24-7. Most couples work separately, immediately creating at least 40 hours per week of separation. Many also have individual extra-curricular activities which also divide their time together.
However when traveling, you are together all the time. Even concerted efforts to spend time alone (or even just separately) are almost contrived, and often impossible depending on the pace, style, and length of travel.
Now add the natural stress of traveling (which exists no matter what) to this potentially explosive recipe of being in constant contact. Are we going the right way? Which bus do we get on? How do we book the cheapest flight possible? What will we do once we get there? How do we stay safe? And where the heck is your passport?!
And on it goes.
As a couple, you can combat these stressors with constant and effective communication, and a well-laid routine and division of tasks that suits you both.
But sometimes, it's just not enough.


Travel accelerates the natural evolution of a relationship
Building on the concept that you are together all the time while traveling as a couple, this accelerates the evolution of the relationship. In a traditional work-life routine, you usually only see your spouse for a few hours a day. During that time, you fill each other in on the activities of your day, run errands, prepare meals, and generally unwind from work.
You don't have a lot of time to determine whether or not you are the perfect pair.
When you're traveling together, however, this natural evolution of getting to know one another, becoming accustomed to each other's quirks and eccentricities, and (in some cases) discovering that you're not well matched, happens much more quickly.
A relationship that might last many years in the "normal" world could run a much shorter course on the road, given both the constant contact and stressful moments. You have no choice but to show your true colours much quicker while traveling.
And sometimes, your true colours don't match.


Staying together longer than you should because you're traveling
This can be one of the sad consequences of the above two factors. You meet. You fall in love. You hatch lofty plans to travel the world, sharing a passion and dream for foreign horizons.
And then…
You start to identify personality conflicts, communication issues, and other incompatibility traits; a process that has been accelerated by traveling together. You try to work through them as best you can, all the while still battling the constant barrage of travel stress.
It's not working.
But what do you do? You're halfway around the world, and have planned and paid for this trip. You're committed to the trip emotionally, financially, and logistically, which means by default you're committed to the relationship as well.
I mean really. You can't break up on the road, can you?
Yes. Yes, you can. And in some cases, you should.


Why I'm writing about this
I've been pretty subtle about personal developments in my life until now, writing almost in code (if at all) about my relationship with Kelly. He has quietly disappeared from my About Me page and any current media interviews, but remains permanently embedded in the last three years of posts (and memories).
Although I don't feel the need to account for my relationship (or lack thereof), I do think that I'm probably not the only person who has had relationship problems on the road to contend with. And maybe by talking about it, there are others who can benefit from it.
Kelly and I had been dating for six months before we made the big decision to travel together. And if we were to be completely honest, the decision to travel was mine, accompanied by something more like an invitation for Kelly to come along with me. We had been dating for too short a time for me to squelch my own dreams of full-time travel for the relationship, but too long for it to be easy to just pick up and leave.
But there was lots of time for us to make sure the decision was right for both of us, as it was almost another year before we actually hit the road, bags in hand. Kelly came to the table with the enthusiasm of a puppy dog, having dreamt of traveling the world himself, but not having seen much of anything beyond Canada's borders.
We worked hard on the relationship during this preparation phase, even going to counseling as a preventative measure so we could develop coping mechanisms for the anticipated travel stress we knew could be problematic.
And for the first couple of years of traveling, things were pretty good. Sure, we had our challenges, but who doesn't?
However, at some point the challenges became overwhelming and the good days few and far between. There seemed to be an invisible power struggle between us; one that neither one of us could identify or understand.
After the Victorian Bushfires, we were given Australian visa extensions and working rights. Although in staying longer I felt I was compromising my own desire to keep moving, this seemed to be a blessing so that Kelly could earn more money to keep traveling (not having a location independent income to rely on as I do), and we could both catch our breaths after the trauma of enduring two natural disasters in one year.
Shortly after however, our power struggle heightened. Kelly threw himself – body and soul – into his job, and started making noises about seeking Australian sponsorship. He had also spent a large amount of time and effort trying to get a music production career off the ground; something that was proving to be incredibly difficult with a nomadic lifestyle.
In the meantime, we had been in Australia for a year and a half – longer than I was already comfortable with, and with an ever-disappearing departure date. I needed to keep moving – for my soul, my happiness, and my business. I was tired of answering interview questions that went along the lines of "You've been in Australia for a long time. You're not a traveler any more. Do you realize you've settled down?"
No! Wait! I am a traveler! My dream is one of travel! It's just….I've got to compromise for now.
But when the compromise "for now" started to look like "forever", we both realized we had a problem.
Ultimately, after seeking sponsorship and having it offered to him, Kelly felt he owed it to his employer to accept it, at least for an extra year. As you will remember from a post I wrote about planning a year of travel in two weeks, the cost for me to stay in Australia along with him was prohibitive. So we compromised in a way; agreeing that Kelly could satisfy his commitment to work and music, while I could scratch my itchy feet by traveling solo for a stint. I would go back to Australia after six months on the road, and then we could continue traveling together.
At least that was the plan.
In reality, our time apart was instrumental in us further defining our personal dreams. And Kelly's personal dream wasn't travel any more – at least not the sort of travel I had signed him up for.
Kelly's dream was to get his music career off the ground; something that seemed increasingly impossible while traveling. And my dream was to travel; something that seemed increasingly impossible with each additional day in Australia.
As you might suspect, there's considerably more to this story than meets the eye. There were breakdowns (emotional and physical), fights, and many, many tears leading up to the decision for me to travel for six months. We didn't want to separate even temporarily, but had come to a stalemate that was taking an increasing emotional and physical toll on both of us. And after unsuccessfully trying a few different solutions, a separation seemed to be the most innocuous of compromises.
But the upshot of it all was that the separation helped us figure out what was important. And once Kelly defined his dreams of making music, he also understood the reality that it had to be done in one place. And he really wanted that place to be Australia.
So although I left Australia – and Kelly – for a temporary period of six months, during the course of my absence we decided that we simply couldn't be together any more. Although we still loved each other, we were both compromising a part of ourselves to be together, and neither one of us could achieve what we wanted.
Remaining happily together yet unsatisfied as individuals is not a winning combination.
Kelly and I suffered the consequences of each of the challenges of traveling as a couple. We dealt pretty well with the stressors of travel, but it wasn't without a degree of challenge. Our relationship evolved faster than it would have had we not started traveling, and our individual paths and personalities didn't evolve in a complementary fashion. Whether we stayed together longer than we should have is debatable, as I'm a big believer that we get what we need in life when we need it. Although there was a good deal of struggle and strife for both of us near the end, it was a time for growth, and a necessary process for the relationship to run its course.
After coming back to Australia to gain some closure on this relationship (which ended many months ago while I was out of the country), I am pleased to report that both Kelly and I have flourished given our new directions. And we are happy to be friends and continue to share in each other's success; the best outcome I could have hoped for in a breakup.
So is it possible to break up while traveling? Absolutely. In fact, in some cases, it's downright necessary.

This was the first of a few romances I've had in my full-time travel career. Feeling voyeuristic? Sure you are. Click here.
In 2020, I recorded a podcast with my friend Christopher Rudder of Travel Horror Stories, recounting the story of my relationship in much more detail. Despite the sad topic, we actually had lots of laughs and covered some very applicable tips. Listen to my tale of woe here!