The Victorian Bush Fire Diary commences: It's so hot today, even the candelabra has melted.
This post was originally published in 2009. It has since been updated for accuracy of links and content.


Saturday, February 7th, 2009
We are prepared for a forecasted day of dense sweltering heat. Temperatures in excess of 48 degrees are on tap. Although I love the heat, I am also keenly aware that with forecasted winds of 100 kilometres per hour, this is heat that presents a very serious risk for fire. It goes without saying that today is yet another Total Fire Ban day. If only everybody would heed the request.
On a day like today, every action we might take for granted is re-evaluated. You don't drive unless you have to, especially if you are driving across a field or grassy area, where the heat of your exhaust alone is enough to start a grass fire. And once a simple grass fire is started, trouble begins. We are in one of the driest countries in the world, in the midst of a 10 year drought, and with unprecedented high and dry temperatures.


2:20pm
We spot plumes to the west of Taggerty, the small town close to where we live. We watch them grow and billow with amazing speed. We take pictures.


2:30pm
A friend who works for the DSE (Department of Sustainability & Environment – the government body that among other things fights wildland fires) pulls up to chat with us. We hear on his radio that the fire fighters in the Toolangi forest where the plumes are coming from need a change of underwear. This is getting ugly.


2:45pm
We pack up all the essentials into our car as a precaution. Laptops and passports are essential. We drive away thinking about all the things we should have packed. However we don't really fuss about it too much since we figure we are still being cautious.
See also: Travel Security, and How to Keep Your Stuff Safe
3:00pm
Our friend Dave is a volunteer for the CFA (Country Fire Association); a pivotal and essential volunteer force that is often the first to respond to fire emergencies. His CFA pager goes off, and off, and off. It doesn't stop beeping. We see the plumes of smoke over the range getting bigger, and our stomachs drop. There remains a sense of unreality about it all. Dave rushes around looking for his turnout kit so he can respond to the CFA call for volunteers.


3:10pm
Having found Dave's fire kit, we are at the CFA shed in Taggerty, only to find the two pumper trucks have just left, on their way to a fire call 5kms away. We wait.


3:20pm
The local alarm outside of the CFA fire shed in Taggerty goes off. This signals that the fire call these trucks responded to are much bigger than originally reported. This is a call for all hands on deck. It eerily reminds me of a WWII bomb alarm from the movies.


3:30pm
The pumper trucks return to Taggerty. False alarm. Our hearts return to our chests from our throats.


3:40pm
We go to the river nearby to cool off. The thermometer on Kelly's watch is registering over 50 degrees, and the hot wind verges on being painful. This is the sort of heat where you can douse yourself with cold river water, and get an initial energizing rush from the temperature difference. But within minutes, you are bone dry again, feeling the wind's constant bite.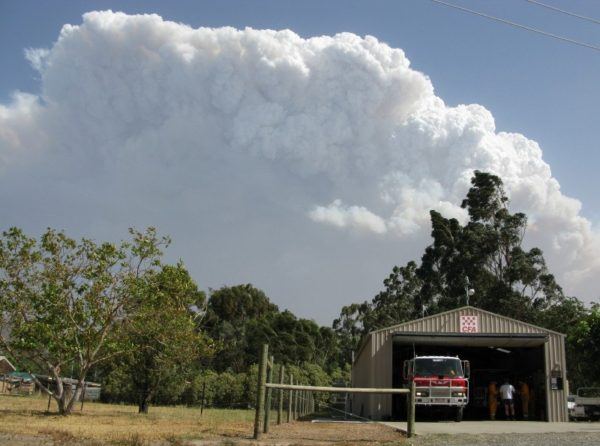 4:00pm
The local alarm at the CFA shed in Taggerty goes off again. We clamber out of the river immediately, run for the car, and are back at the CFA within minutes. We listen to reports of various fires all around us. The sky is starting to haze over. It is sunny, but looks overcast, and is getting darker by the minute. The original plume we spied now takes up most of the south-western horizon, and billows are now overhead, they are so large. We learn that the roads to Melbourne are closed, along with many others.


4:15pm
A guy pulls up to the general store in Taggerty, towing a boat (obviously a weekender from Melbourne "enjoying" some time in the nearby resort town of Eildon).
"We can't get back to Melbourne with the road closures. What are we supposed to do?" he yells angrily at the nearest person who will listen. We understand that his stress is bred of fear.
"Sorry mate," comes a response. "We're all in this together. You're safe, that's what counts."


4:30pm
Reports indicate that the Toolangi forest (a state reserve located over the hill to the west of us) is gone. The fire is moving south, towards Melbourne. Phone calls are rampant to and from our friend Jade's family in Melbourne. We assure them that we remain safe and ready at the CFA shed.


5:05pm
One of the CFA trucks is already helping out with the fires south of us. The second truck is dispatched to do a patrol. Sitting in an empty CFA shed knowing that both trucks are elsewhere leaves us feeling more than a little vulnerable.


5:10pm
We receive a report of two people in Narbethong (25kms south of Taggerty), trapped and surrounded by fire. We know people in Narbethong.


5:20pm
We experience rolling blackouts. After the power goes off and on, we lose it completely. Using a generator is not an option, as it can spark and cause (more) fires.


5:25pm
The SES (Special Emergency Services) is evacuating Marysville, located about 20kms to the south.


5:30pm
The Cathedral mountain range – where we used to live, only 5kms away – is so dim from the smoke that we can barely see it.


5:45pm
Marysville is evacuated.


5:55pm
Kelly goes back to the house in a last ditch attempt to collect all the things we forgot to get the first time around. I am resigned that we won't be going home tonight, and possibly ever again. He also stops at Dave & Jade's place to pick up a can of petrol and some extra food.


6:15pm
We receive reports that Narbethong is gone.


6:20pm
A wind change is forecasted to hit us at 7pm. With this shift, the winds will start blowing the fires east and north, directly towards us. There are fewer and fewer smiles, and a somber "calm before the storm" mood sets in.


6:30pm
All roads south of Taggerty have been blocked off and closed. Between fire, embers, and falling trees, it is not safe. The only way to go from here is north.


6:45pm
We learn that Melbourne has officially had the hottest day on record at over 47.3 degrees (Celsius). Since our area is regularly five degrees warmer than Melbourne, we figure we saw 50 degrees today. No matter. Either way it is bloody hot.


7:05pm
We are not completely bereft of our humour. We figure that after the fires of Ash Wednesday and Black Friday, today should be dubbed "Shit Saturday".


7:08pm
Our laughter ends when we hear a report that 10 people (including children) are trapped and surrounded by fire at a timber mill in Narbethong.


7:29pm
The smoke is so thick that I have lost sight of anything beyond 10 metres. I forget what the horizon looked like. Flies are everywhere, flocking to our faces and limbs in search of moisture and respite from the smoke. Taggerty is officially in evacuation mode: we head for Alexandra, a larger town 20kms to the north. All mobile phone signals are lost.


7:45pm
We are driving through thick smoke on the way to Alexandra. Almost there, we emerge from the smoke and realize that there is still lots of daylight. We hoot and holler with joy as we drive out of a wall of grey smoke. The thick haze lifting has lifted our spirits too, if even a little.


7:55pm
Alexandra is a mess. The streets are full of people wandering around, lost and looking for accurate reports of where the fires are and what they are doing. The secondary school is a gathering point for all those evacuated marooned from Narbethong, Marysville, Buxton, Eildon, Thornton, and Taggerty. People are crying, looking for family members, and begging for guidance from anybody who will give it to them. We speak to a girl from Marysville whose parents are still there. She has no idea if they are alive.
A guy approaches us, covered in sweat, flushed, and beet red. "Water, water," is all he can say. We hand him our drink and tell him to keep it. A brief conversation reveals that he is from Buxton, and when he left his house was in flames.
Amidst this chaos, somebody approaches us, offering up frozen ice pops and hydrating drinks. His smile alone leaves everybody in his wake a little perkier. He is a saint.


8:05pm
The smoke has enveloped us again. Our brief reprieve is sadly over.


8:30pm
Staying in Alexandra is depressing. The smoke is thick and darkness is setting in. People are wandering the streets, aimlessly. Some people have already seen horrible atrocities and made narrow escapes, while others made it out before the fires became extreme (like ourselves), but are now lost, wondering what to do next.
Dave's sister and son (who incidentally live two doors down from Kelly & I) left Taggerty before us, heading straight for Mansfield, about 100kms NE of Taggerty. We decide to join her in Mansfield.


8:40pm
There are six active fires in Victoria.


9:10pm
There are 10 active – and serious – fires in Victoria. We find a petrol station enroute to Mansfield and fill up. This is the first place we have seen with power, so we take advantage of it, not knowing when we will find another petrol station with power.


9:55pm
There are 14 people already confirmed dead. The gravity of the situation sets even deeper into our psyches.


10:54pm
We are settled in Mansfield for the night. Jade's parents have generously put us up in a motel, and for this we are thankful. It is a welcome touch of luxury in an unsettling situation. We feel very lucky.
As we are busy feeling lucky, the CFA pager (which Jade has with her) goes off with a message that there are three people trapped in a house in Taggerty, and are surrounded by fire. Chances are we know these people.


11:44pm
Another CFA pager report indicates that 11 people are trapped in Cathedral Lodge (around the corner from where we used to live), and are surrounded by fire. Fire has breached Cathedral Lane – the street where we lived only one day ago.
Sleep does not come easily.


NOTE: The publication of this Victorian Bush Fire diary today is not an indication that we are in the clear….by any stretch. The fires are burning at over 200,000 hectares, and we have yet to return to our home. The fire is in fact, burning in our back yard (literally) according to recent reports. We are in this one for the long haul.
You can read the entire Victorian Bush Fire Diary here.