The wildlife in Grenada is quite an eclectic mix of creatures….some big, some small. Some that bite, some that I bite. Here's a random selection of critters I've had dealings with – of one sort or another.
This post was originally published in 2011. It has since been updated for accuracy of links and content.


Centipedes
I thought I'd done my time with centipedes when I was bitten twice in my first two weeks of living in Hawaii, while minding my own business and sleeping in bed.
But on the first night while minding my own business and sleeping in bed in Grenada, a foot-long centipede crawled not into my bed (thank god), but into the dog's water bowl. I awoke to this (thankfully) dead and formidably ugly creature floating in the water, and wondered if it was some sort of omen – or even an occult warning of sorts.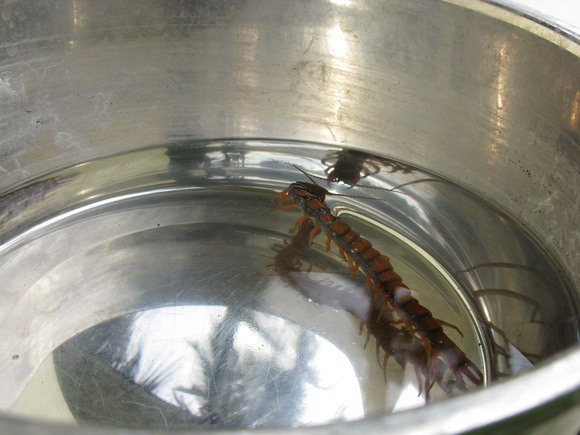 Omen or warning notwithstanding, I immediately thereafter got hit with heartbreak and dengue fever, and I've had a few more "encounters" with creatures I'd rather not have had (read on for more).
If the island is trying to tell me something, I'm staunchly not listening. The good still far outweighs the bad!
Oh yeah, an I'm stubborn as all hell.


See also:
Introduction to Grenada
Curious Facts About Grenada
Buses in Grenada
The Art of Liming – Grenada's National Pastime


Goats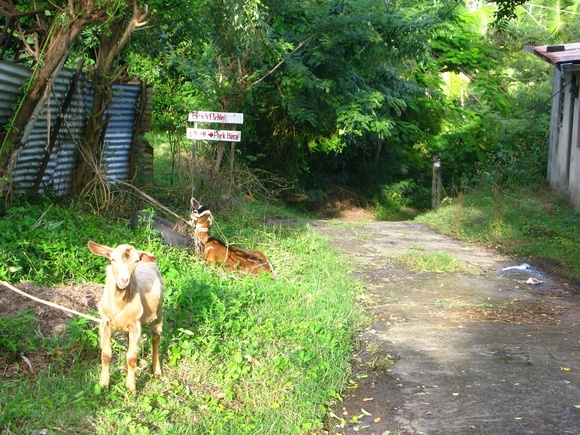 On to nicer creatures, like the goats that line the street-sides all over the place. I'm not sure if they're kept for grass-reduction purposes (like the sheep that I had in Australia), or for dining purposes; I imagine it's a bit of both.


Lobsters
Lobster is one of my favourite foods, as has been the case since early childhood. On my birthday every year, my grandfather used to get live lobsters and prepare them for a celebratory feast. However I was never in the kitchen for the preparation phase, so I didn't have to contend with the act of actually cooking a live lobster – and all that it entailed.
So when the local fisherman here at my beach pulled up with a tub of lobsters, I had one in my hand and was marching towards my hut before I even understood the consequences of this wanton act.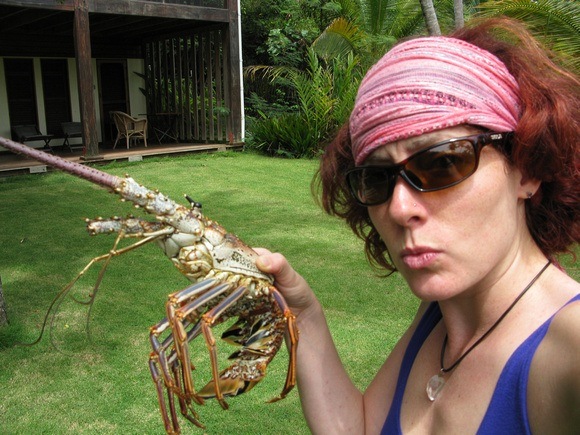 Now I had to cook it.
Which meant killing it.
In that moment, when I was holding the writhing lobster and looking into its beady little eyes wondering what to do, I had a brief flirtation with becoming a vegetarian and letting it go back to its watery habitat. Just how was I going to kill this creature? Even logistically, I couldn't wrap my head around it, with the lobster's sharp spines making things particularly difficult.
But then I gave my head a shake, as I knew I'd continue to eat meat and seafood in future, and I tend to preach about how we should be more in touch with what we eat (from origins to hygiene). So I bit the bullet – as did my lobster friend – and hours later I was enjoying the "fruits" of my labour.


Bugs – the Biting Kind
Thus far, the centipede avoided me, the goats are cute, and I won the battle with the lobster.
But sadly, this is where the story takes a tragic turn. Despite regular application of insect repellant, from day one in Grenada I've been taunted by sand flies (miniscule little creatures that pack a punch with their bites and leave little bumps all over my arms), and given Dengue Fever by mosquitos.
If that wasn't bad enough, a few weeks into my Grenadian stay, I was attacked – ravaged, even – by something, over a couple of days. Almost overnight, dozens of bites appeared on my legs, mostly below the knee, and a few on my arms. It was reminiscent of the 37 spider bites I endured in Australia, including the reaction that ensued which devolved into an infection that required antibiotics.
The verdict is still out as to what the creatures were this time, but the general consensus is mosquitoes or sand fleas. Although I'd been nibbled on my mosquitoes all along (all my life, in fact), this time they invoked a violent reaction causing large dark red swollen marks that blistered and hardened in an oh-so unsightly manner.
I've never reacted to bug bites in quite this fashion, but maybe the sheer quantity of bites was the impetus.
I hit a new low point in my Caribbean stay when I was awake at 2:30am, unable to sleep (and unwilling to tolerate yet more horrific dreams about how these bites were evolving and would eventually envelop me as a new alien life form). I started taking "souvenir" photos of my blistered bites, thinking nobody would believe just how bad they were. For posterity, you know.
(I'll spare you these gory close-up 2:30am photos).
Since then I've purchased an insecticide and reluctantly fumigated my hut (not being a fan of such chemicals, this wasn't far from an act of desperation). I also staunchly refuse to go outside at dawn or dusk, and I almost never walk on the expansive lawns on the property – which is where I think I contracted a large portion of the bites (I had been spinning poi in the grass).
I still get bites, which tend to become an exaggerated bumps that most normal people don't have, but the lion's share (or leg's share, as it were) has largely healed.
Too bad for me I had to contend with all those painful bites while also dealing with a case of dengue fever. (And heartbreak). But that's another story…