When a fellow travel blogger recently wrote about fire spinning in Thailand, I realized while I was reading it that I have been amiss with you, dear readers.
You see, I have blatantly (and unintentionally) kept you in the dark about a new part of my own life; a hobby that is both relaxing and actively playful….Fire Spinning!
This post was originally published in 2009. It has since been updated for accuracy of links and content.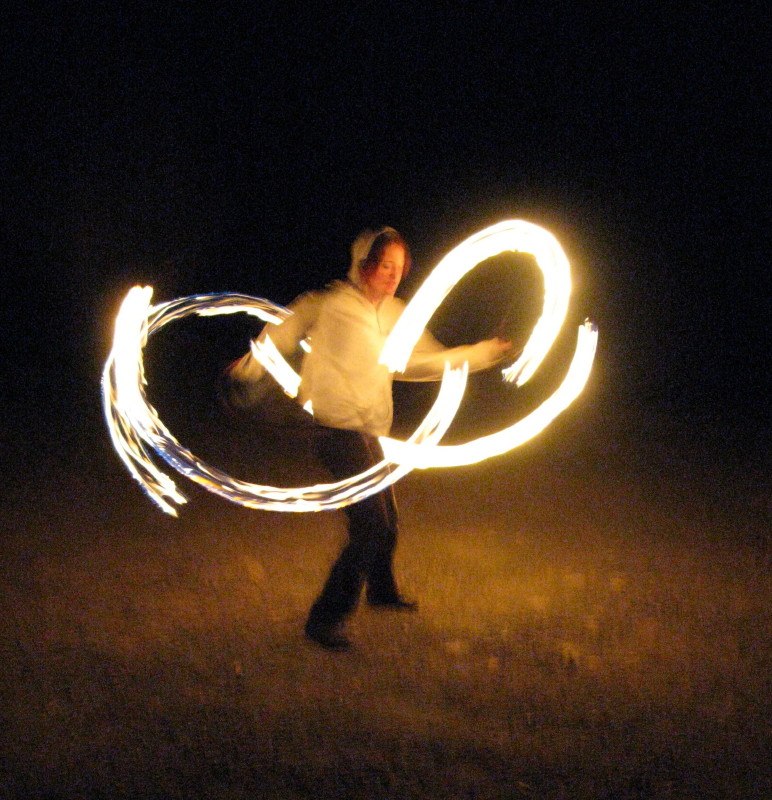 It all started with friends of mine who spin. When I first saw them spinning balls of fire on chains (called poi) and twirling fire staffs with the ends ablaze, I thought it looked neat but didn't have much interest in it myself.
It wasn't until I picked up a staff one day to try and imitate a move I had seen that I began to think of fire spinning as something I could get into. The staff felt smooth, was a perfect weight, and I realized with a few tips that it wasn't as difficult as it initially appeared.
Learning new moves felt great, and perfecting the art form of making spinning look good tapped into my love of dance and performance in general.
Months and months after I first picked up a fire poi or fire staff, I was at an outdoor music festival where some friends were "having a burn," as they say. There were 200 people gathered around a stage about 50 meters away, and on this little patch of grass to the side, about half a dozen people were fire spinning.
"Here, have a go," said a mate as they relatively unceremoniously tossed me a half-lit staff. "The other side didn't get fueled up by accident, so you're stuck with one," he said.
Ah well, "one's better than none," I thought, and started spinning the staff, surprised at the heat and size of the one fireball up close. My friends had been careful to teach me about fire spinning safety, our credo being "learn before you burn". So I felt prepared for this, my first time spinning fire.
And man, was I on fire (pardon the blatant pun). I had that staff spinning as it had never been spun before.
That is, until I smacked myself in the eye with the unlit end of the staff.
Convinced that I would be toting a black eye for the next week, I glanced up to see who saw my blunder. As luck would have it, if anybody had seen my spinning debacle, they had the good grace to pretend not to have.
So I kept spinning and got back to having fun. Mere minutes later when I was handed a fully lit staff to play with instead, I became confident that nobody saw my eye-poking antics!
"Yikes," I thought to myself. "It would hurt a lot more if I poked myself in the eye with fire," I pondered as I swallowed hard and attempted to track the whereabouts of not one but two balls of fire revolving around my body.
Turns out it's much easier to spin staffs with both ends lit than one…they're easier to see!
Since then, I've had a few chances to have fun with fire spinning and watch fire performers who are much better than I, have a go at it too.
Fire spinning is a beautiful rhythmic flow art dance that requires skill, courage, and practice. I'm so glad I've had a chance to try my own hands at it and I highly recommend that you at least give yourself the pleasure of experiencing it.
If you find the beautiful art of fire dance or spinning interesting, then go for it! You never know if it will become your next favorite hobby.
That being said, the fire props I mentioned aren't the only ones that are being utilized in fire spinning. The pieces of fire spinning equipment that I am familiar with and have used along with some friends are:
Fire Poi: two balls affixed to lengths of rope with handles. They are manipulated through the air to create beautiful shapes.
Staff and Double Staves: there are various styles all over the world and are unique in their way.
There are various tools that professional fire artists use such as juggling clubs, fire fans, rope darts, juggling balls, fire swords and knives, and plenty more. They maneuver these to make the beautiful fire art you see!
Take some fire dance classes from a professional or practice with some friends until you finally know how to spin in your free time. It's fun! Always exercise fire safety and avoid executing this without a guide to prevent any kind of injury or cause any harm.
The Best Poi for Travel
Traveling with fire toys isn't easy or space-savvy. Since my initial fire spinning days, I got a set of glow poi, which uses colorful lights instead of fire. They're super popular at parties! Everybody wants a go, and because there's no fire it's totally safe for anybody to play with.
If you're looking for the perfect glow poi, choose something that is USB rechargeable (eliminating the need to carry batteries) and lightweight. These ones would be my first choice; they're great for beginners and pack up easily.     
All the pictures above are of me, just in case you were wondering. Here are some pictures of various friends of mine fire spinning: