As many of you know, I spent two years in Peru apprenticing with an ayahuasca and san pedro shaman. These were two life-changing years that ultimately led me to where I am now: assistant-managing an ayahuasca and san pedro retreat centre in Ecuador, where I'm continuing to learn and assist in ceremonies.
Let me tell you a bit about how all this happened, what it's like to learn to be an ayahuasca and san pedro shaman, and where it's all going.
This post was originally published in 2017. It has since been updated for accuracy of links and content.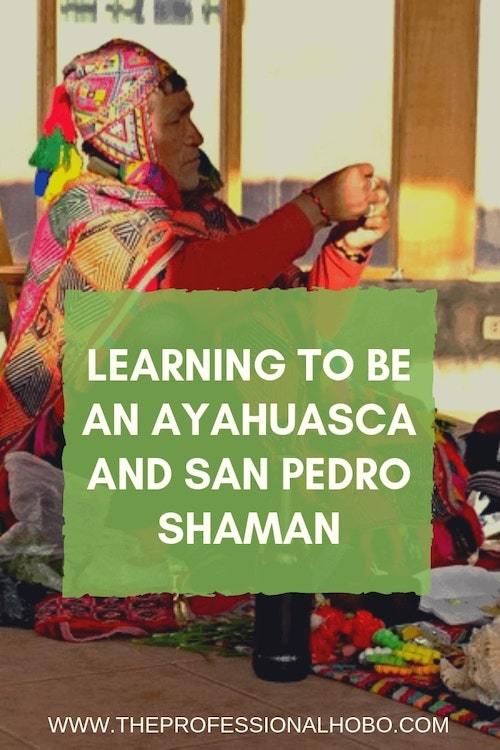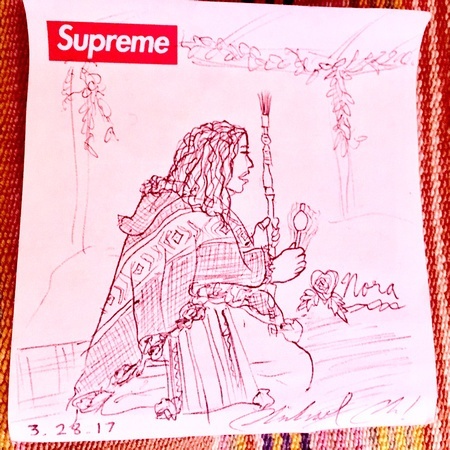 Learning to be an Ayahuasca and San Pedro Shaman in Peru
When I landed in Peru for the first time in March 2014, I had no idea what the following year had in store. Sure, I had known about ayahuasca for years and had been quietly calling it into my life, so I knew I'd participate in a ceremony or two. But as one thing led to another, my life veered in a new direction, and I took up an apprenticeship with a shaman there. (If you want to read the whole scoop on how that happened, check out Becoming a Shaman).


What it's Like to Apprentice With a Shaman
There is no actual manual or official process for this stuff – at least in Peru (we'll explore some of the differences by country later on). And depending on the teacher (and the student), every apprenticeship is different.
Actually, if there were a manual, my life would have been much easier. I'm a smart girl; give me the textbook and I'll study it, take the exam, and earn the accreditation. Blamo.
Instead, this apprenticeship was a very counter-intuitive process for me.
As with many spiritual endeavours, shamanism is not about book-learning or other such heady pursuits. Instead, it's about things that are way more intangible. In fact, as I've learned (and am still learning), the less I try to be this or feel that, the more smoothly wisdom and knowledge comes. It's about getting out of my head and honouring my intuition, which ultimately can't be taught or learned in any conventional format.
Has this been frustrating for me? You betcha. But ultimately rewarding? Hell yes.
But…specifics. You probably want to know what I actually did as a shaman's apprentice.
In Peru, I assisted my teacher with all his ceremonies and retreats. Logistically, people often need assistance during ceremonies. Depending on the ceremony (san pedro or ayahuasca), this can entail tasks like helping people to the bathroom, offering tissue if somebody is crying, and emptying puke buckets (mostly specific to ayahuasca ceremonies – a glorious job).
Aside from the logistics, the ceremony is spent singing medicine songs (known as icaros), which call in certain energies and spirits, protect the space, and help to move stuck energy. Icaros can be sung to the group in general, or to specific people, sometimes done in conjunction with body and energy work similar to reiki or massage.
As an assistant/apprentice, I learned many icaros and sang them as needed (to the group as a whole or to specific people). I was available to help people in need when my teacher wasn't around, or when a female energy was specifically required. Sometimes it was a matter of answering questions, providing assistance, doing bodywork, or simply offering a much-needed hug.
When I wasn't assisting my teacher with his ceremonies, I continued my apprenticeship by participating in ceremonies, both with my teacher and other curanderos (healers). I also did a few plant dietas, including one in the jungles of Peru with my teacher's teacher. (See also: A Month in the Jungle: Doing a Plant Diet and Ayahuasca Retreat)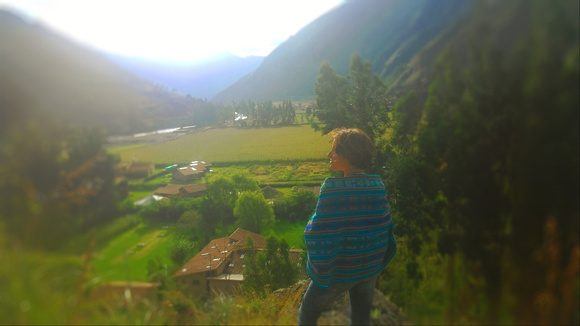 Moving on From Peru
Despite a very close relationship and reciprocal commitment between my teacher and I in Peru, it didn't last. (See also: Apprenticeship Update: BIG Changes for The Professional Hobo)
It was a heartbreaking upheaval in my life, but one that ultimately had to happen. With a good dose of retrospect and wound-licking, I can now see how divine this turn of events was.
I'm honoured to have learned so many things from my former teacher in Peru. He spent his whole life in the pursuit of spirituality in various ways that married well in his unique work as a shaman. Among other things, he was an effective bridge between the western psychology of most participants, and the native South American medicines and cosmology. This allowed participants to get the most from the experience and integrate the lessons learned, so that the ceremony became a lasting form of healing and not just a "trip".
In working with my former teacher, I gained an arsenal of experience and wisdom that serves me today, both in and out of ceremony.
When I left Peru, I also left behind any ideas I had of working with the medicine or becoming an ayahuasca and san pedro shaman. I knew that if I were meant to continue this work, I would be led back to it.
And so it was.


Continuing the Journey in Ecuador
Similar to Peru, it wasn't plant medicine that drew me to Ecuador; it was a house-sitting gig. After a few months in the States after leaving Peru, I was offered a house-sit for a couple of months in Cuenca, and off I went.
My timing was impeccable, because a friend of mine who has worked and facilitated at a variety of ayahuasca and san pedro retreat centres, had just taken a position as manager of Gaia Sagrada, which just happened to be an hour outside of Cuenca where I was staying.
So I visited the retreat centre, and did a san pedro ceremony with the staff there. I liked the property and the people, and was offered a chance to work there. But after my experience in Peru, I was gun-shy. So I decided to do a retreat as a participant once I had finished house-sitting.
I ended up doing two retreats, and at the end of it, I committed to return a couple of months later as a staff member.


Learning to be a Shaman in Ecuador
The process of becoming an ayahuasca and san pedro shaman in Ecuador is very different to Peru. In Peru, it's about doing plant dietas (a dieta being an intensive process involving weeks of isolation, a ridiculously simple diet, drinking special teas, and doing ayahuasca ceremonies). In Ecuador, it's about doing vision quests, sun dances, and working with the elders. And although there is an official four-year process of vision quests and sun dances, there still is no manual or specific way to learn the art of shamanism.
I've been lucky in Ecuador, because the shamans at the retreat centre here have acknowledged my training and relationship with ayahuasca and san pedro, and thus have given me some great opportunities to assist and even help lead ceremonies, even though I'm not formally trained in the Ecuadorian way. And because the ceremonial format is a bit different in Ecuador (or at least among the Ecuadorian shamans I've worked with), it has been a great chance to learn even more about the various ways to hold a ceremony. In addition to singing in ceremony and performing certain blessings and prayers, I've also learned how to tend the sacred ceremonial fires – which is a pretty big deal.
So, my apprenticeship has continued whilst living in Ecuador. I've expanded my skill sets greatly, and also been able to bring some of my knowledge and practices that I learned in Peru to help and support retreat participants in new ways. I've learned new icaros from the shamans in Ecuador, and I've taught them some of my icaros from Peru. My apprenticeship is much more informal; instead of answering to one teacher, I have many to learn from, and I'm also learning that the ultimate teachers are the plants themselves (ayahuasca and san pedro).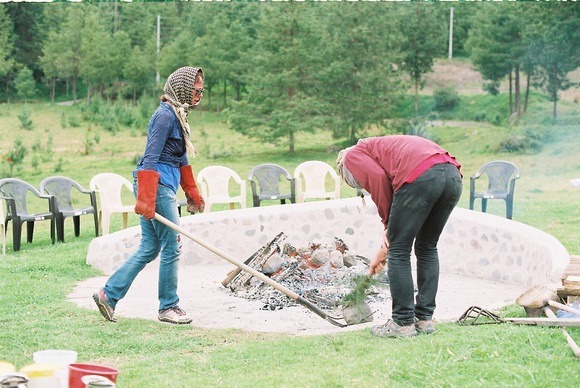 Becoming a Healer
My former teacher in Peru was fond of telling people that there's nothing to fix. We are already perfect as we are – lumps, bumps, and all. What he offered, was an opportunity for people to come home to themselves, and in so doing, to learn, to grow, to heal, and ultimately, to wake up.
This too, was a counter-intuitive process for me. For the longest time I couldn't understand what my teacher meant when saying "there's nothing to fix". When I first arrived in Peru in early 2014 and started doing plant medicine (san pedro and ayahuasca) ceremonies, you could say I was a broken woman – physically and emotionally. I'd recently escaped an emotionally exhausting relationship, and I'd suffered a near-fatal accident a year prior. In my first six weeks of doing ayahuasca and san pedro ceremonies, I experienced immense – even miraculous – healing. I accomplished more than 10 years of psychotherapy could get close to, in addition to physical healing that I initially thought would be impossible. For example, the scars (not to mention the chronic pain) from my accident the year prior practically disappeared.
Is this not "fixing"? Well, no. Not entirely. To approach any healing process with an idea that we need fixing is to focus on what we feel is wrong with us. And as long as we continue to focus on what's "wrong", the more energy we give to that idea (of something being wrong, and needing fixing), and the less we have the opportunity to change that story.
On the premise that there's nothing to fix, so follows that the healer doesn't heal. In the arena of ayahuasca and san pedro healing, the "shaman" (which although I've used this term a few times now, I do so begrudgingly – see my note below) simply facilitates and holds space for the plant medicine to do its own work, and ultimately for the "patient" to heal themselves. This theory applies to most healing modalities; and any healer who insists that it is solely their own personal talents and efforts that heal people, should be given a wide berth in my opinion.


A Final Note About Being a "Shaman"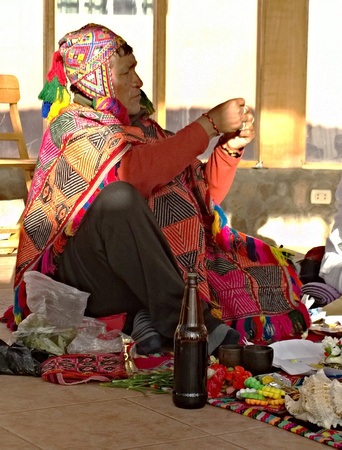 I've used the word "shaman" quite a bit in this post, and a few others as well. I do so because it's an easily accessible term, but it's also fraught with obscurity and can create a slippery slope for the "shaman" in question.
See, the word shaman is simply a catch-all term for a healer, more specifically a healer who uses indigenous healing arts. For some shamans, it's holding ayahuasca and san pedro ceremonies. For other shamans, it's working with other indigenous plants, or spirits, or elements, or energetic forms of healing.
So, to be a shaman actually doesn't mean much of anything. And yet, it does. The sheer title of "shaman" catapults the healer in question to a sort of rockstar status, surrounded by intrigue and magic. This creates a slippery slope for the shaman, who can easily let all those accolades go to their head, at which point ego can work its way into the job. And once ego gets in there, it can be harmful for both the shaman and the patient in question. I've seen it happen – it ain't pretty.
So please forgive me for even supposing that I am – or will be – a "shaman". Maybe I am already one, or will become one. But truly, I'm just Nora, and I like it that way.


What's Next for Nora
I have no idea what's next. I've enjoyed my time in Ecuador, learning so much about ayahuasca and san pedro shamanism, and being given great opportunities to assist the shamans. But living and working at a busy retreat centre can be exhausting, especially with an online business to run as well.
As such, I've decided I will move on from Gaia Sagrada in June. I may well return, but for the moment, I need a breather, to take a step back and re-evaluate a few things.
In the same way that there's no manual for becoming an ayahuasca and san pedro shaman, there's no manual for life. One of my biggest challenges (and when successful, greatest gifts) has been to simply accept the present moment for what it is, without projecting into the future or dragging up stuff from the past.
I have no idea if I'm going to become a full-fledged ayahuasca and san pedro shaman. I don't know if I'll ever offer my own ceremonies. If I do, I don't know if it will be in Ecuador, or Peru, or another country entirely. As much as living a life where my future is a giant question mark can be unsettling, it's also a gift, and I'm accepting that gift with both patience and an open mind.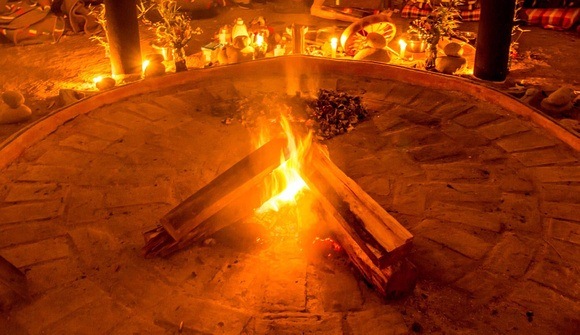 2019 Update: While working with plant medicines irrefutably changed my life, I don't currently have any desire to return to my work as a "shaman". This is for a variety of reasons, including concerns I have about the environmental sustainability of ayahuasca and san pedro, and my observations of people who are using it for the wrong reasons. But more than anything, I'm simply not called to it in the way that I once was. Perhaps it has served its purpose in my life….at least, for now.