It's 10:30am. Cuenca is a bustle of activity.
There is a woman sitting outside of an auto parts shop on a plastic stool, cracking open walnuts with a sledgehammer.
Beyond her is a man standing on the sidewalk with a plastic bucket full of freshly plucked raw honeycombs for sale.
Just inside a dark storefront, llapingachos (Ecuadorian potato cakes) are sizzling, alongside a pot of steaming tamales and another wok of pork pieces.
This post was originally published in 2016. It has since been updated for accuracy of links and content.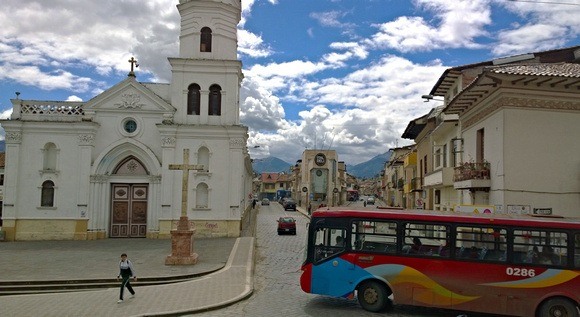 A woman in indigenous dress walks by me with a basket over her arm filled with baked goods.
As I walk, every three doors I pass by a panaderia (bakery) pumping out the most pleasant (and simultaneously agonizing) smell in the world: that of freshly baked bread.
Just outside the fresh market there is a pot of burning palo santo (a form of Andean incense with shamanic cleansing properties), and vendors of all sorts are selling random items like Ecuadorian flags and shorts, sandals, leggings, bags of avocados and mangoes, lottery tickets, and brooms.
On my way home from the market, another indigenous woman is standing by a wheelbarrow filled to the brim with perfectly arranged strawberries, apricots, mandarins, grapes, cherimoya, and avocados.
Another woman, toddler in hand, is standing on the corner with a large basket filled with bags of homemade chifles (fried plantain slices – like potato chips laced with crack; they're very addictive) and potato chips.
A man bumps into her on his way through the intersection, balancing a long pole on his shoulder with bags of caramel corn hanging off it.
And every afternoon a man parks on my street with a cart full of water coconuts, strawberries, guavas, and coconut pieces.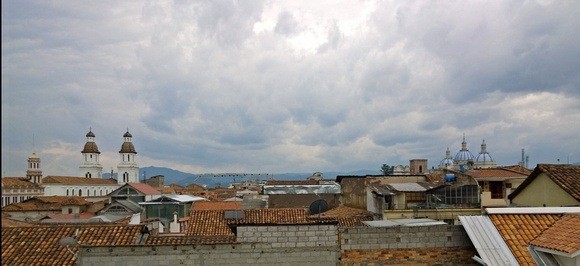 Life in Cuenca is alive and well, and the hum of so many different walks of life is tangible.
Since my introduction to Cuenca, I stayed in El Centro for six weeks. It's an intriguing place, and I easily could have stayed much longer. However, I'm not sure it's a place I'd like to live (like, "forever" kind of live). To be honest, the place kind of confuses me….and intrigues me at the same time.
Confused yet? Join the club. Here are some further observations I've had in my six weeks of calling Cuenca "home".


Food: Meh?
My description above is largely centred around food and street vendors. One of the rumours I heard on arrival is that Ecuadorian street food is largely non-existent. This of course, isn't true, but it's a far cry from SE Asia's food carts with freshly made delicacies like pho and pad thai.
Another common sentiment about Ecuadorian food is that it's boring. I met up with one expat who expressed a sore disappointment at the restaurants in Cuenca, saying she doesn't find the food inspiring.
I'll admit, Ecuadorian cuisine (what I had of it) pales in comparison to that of its neighbour to the south (Peru). But I had some lovely encebollados (soups), cazuelas (casserole/stews), and ceviche de camarones (an interesting form of ceviche with cooked shrimp that reminded me of a watered-down shrimp cocktail – which tastes better than it sounds).
My response to the woman's complaint about Ecuadorian cuisine being boring? For boring, she should try Panama or Costa Rica. (Sorry, guys).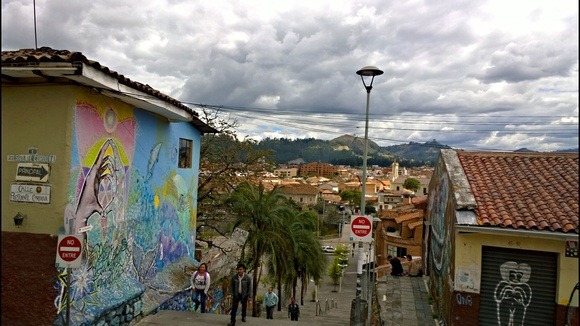 Interestingly, there are a lot of restaurants of varying cuisines in Cuenca – notably Italian, Mexican, and American. Many of these restaurants aren't just for expats; in fact I often saw more Ecuadorian faces than foreigners. And in some cases, given the high menu prices, I found it a bit confusing.


Confusing Cost of Living
In my first post about Cuenca, I mentioned the cheap cost of living along with the use of the US Dollar. As I spent time in Cuenca, I found an increasingly conflicting diversity of prices.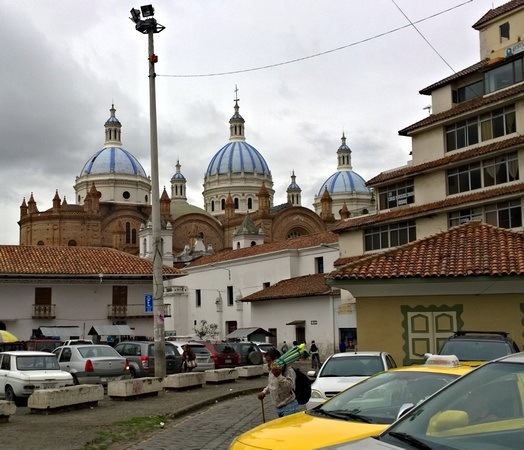 I could buy a week's worth of vegetables and an obscene amount of exotic fruit at the fresh market for $10. And then I could go to a cafe and spend $3 on a cappuccino, and later to a restaurant with $15 entrees – American prices in a developing country. And although you'd think these cafes and restaurants would only be attended by expats, instead they were filled with Ecuadorians.
The cost of living in Ecuador is certainly higher than in Peru, where they use the Peruvian Sol for currency. Many of the same items in markets and grocery stores cost roughly the same – in Soles, which is 1/3 of the value of the dollar.
I wonder if it's the use of the US Dollar. I saw a similar situation in Panama, where the average wage wasn't that high, but the super-mall full of designer stores (sporting American prices) was consistently full to capacity, with Panamanians. I also found Costa Rica (with the widely used US Dollar) had similar prices to the States, and I wondered how the locals could afford it – but somehow they do.


Safety, Walkability
Although I heard that the local sentiment towards foreigners can be shaky in Ecuador, I saw more animosity expressed between expats than coming from locals in Cuenca. I always felt safe walking at any time of day, and I found myself out at night a few times, both alone and with people, and felt no threats.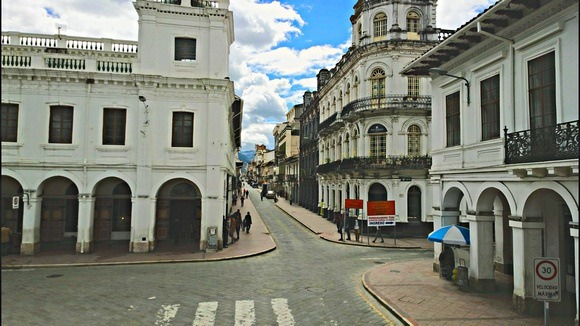 However. Shortly before I left Cuenca, I hit the town with a few friends to some bars. Something was slipped into one of my friend's drinks. Although she made it home before something really awful could have happened, she fell unconscious on her way inside, requiring a hospital trip and stitches, where they took blood and confirmed that she had drugs in her system.
So although I was ready to wax poetic about how safe Cuenca is, I must temper any glowing review with a reminder that in any urban setting there is a higher propensity towards crime, and that educated caution and street sense are a traveler's best friend. (See also Travel Safety for Women)


Exhaust and Noise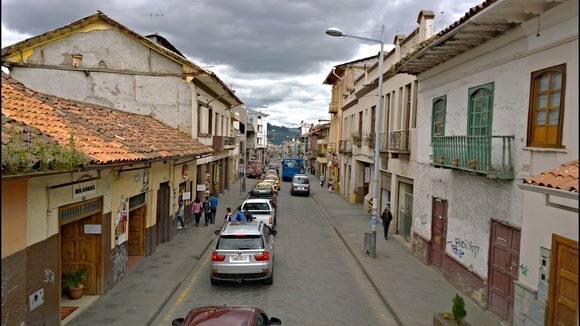 Not to be a miss-poopy-pants, but it's worth noting that a certain level of noise comes with staying in Cuenca's El Centro. There are some places tucked up and facing away from busy streets, but I was living on the third floor pretty much overlooking a busy intersection.
So, the car alarms. Car alarms! In my experience in South America (which so far has been Peru, Colombia, Bolivia, and Ecuador), I have observed that people like their car alarms. And that most car alarms seem to be hair-triggered. Just for a giggle, one day I counted out a 90 second time frame. Five car alarms (different ones), all rang out their cheery tune for varying lengths of time. It's far from harmonious.
Other noise-filled delights that come with staying in (my part of) El Centro include competing discos and karaoke bars on weekends, and the ever-present low sickly growl of the buses lumbering along.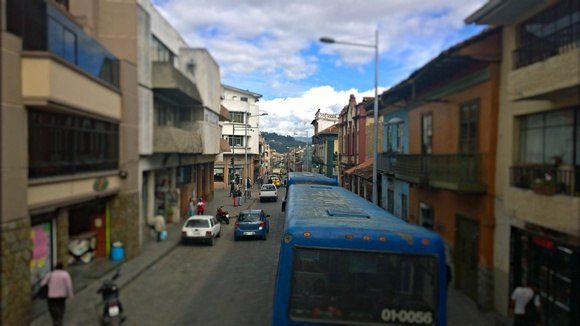 The buses are another thing entirely. These things consistently spew black clouds of exhaust. The backs of all the buses are black with it. I noticed that many people who work outside in the streets wear masks over their nose and mouth, and rightly so; I developed something of a smoker's cough after my first couple of weeks in Cuenca.
But there's hope. Once the Tranvia (a tram system currently under construction) gets underway, apparently there will be no buses at all in El Centro.
Now, I must temper my complaints of noise and pollution with the fact that I prefer living rurally. I love the pace and hum of urban life, but when given the choice I prefer to relax in nature. (The luxurious kind of nature, that is, with wifi and stuff).
When Dyanne was giving me the orientation for my house-sitting gig for her, I remarked on the noise and pollution. She said she'd just come from Vietnam, so if anything, Cuenca was quieter and cleaner. All things are relative.
So it's quite possible that my tolerance for things like noise and fumes is lower than others. If I return to Cuenca, I would look for a place in El Centro that is up and out of the way of excessive noise/exhaust, and if I couldn't find that, I'd find a place on or just south of the river Tomebamba.


Drinkable Water
It's relatively common knowledge that the tap water in Cuenca is safe for drinking. This is because Cuenca's water supply comes from the nearby lakes of the Cajas region, in the mountains. Most of Ecuador's tap water isn't potable, so the idea that Cuenca's is, is met with a healthy dose of skepticism among visitors.
Because I drink a lot of water, I sterilized small jugs of it with my SteriPEN, just in case. But I thought nothing of brushing my teeth with it, washing my produce in tap water and not drying it, etc. And I'm pleased to say I felt no ill effects. Unlike, other places. In Peru for example, I suffered multiple parasites; oh the joy. (See also: Dealing With Parasites: A Guide to Clean Water Around the World)


INTERESTING FACTS AND PLACES
Here are some random things I learned or discovered while living in Cuenca:
The Home of Panama Hats
Panama hats are 100% Ecuadorian. These straw hats have been crafted in Ecuador dating back to the 1600's. In the early 1800's, when exporting these hats, everything from this part of South America first went to the Isthmus of Panama (pre-canal) for shipping. The hats ended up acquiring the name of their point of international shipping, instead of their actual country of origin. But Ecuadorans quietly know the truth.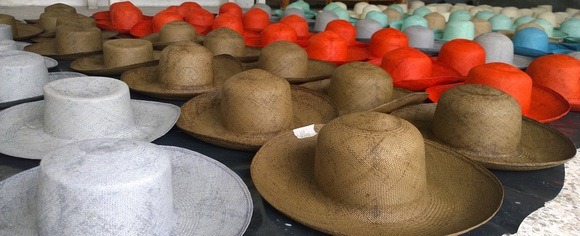 I learned this because I took two city-bus tours of Cuenca on a two-day ticket. Formerly not one to embrace highly touristic experiences, I've actually found that city tours can provide a nice overview, and go to a few places I might not otherwise see on my own (such as the El Turi lookout), and in some cases, you get an additional surprise.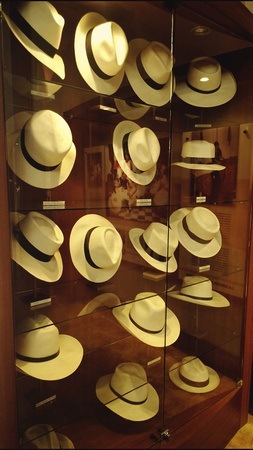 One such surprise was that we visited the Panama Hat museum – a place I surely wouldn't have gone to on my own, but am all the more enriched to have seen. It's a small miracle that, with my love of fedoras (they've practically become my trademark), I escaped without buying one.


Broken Bridge
In 1950, the flooding Tomebamba river took out a large bridge. It was never rebuilt, for reasons I couldn't decipher – procrastination? Tribute to history? Found a better place to build a new bridge? All are possible. Now, Puente Roto (Broken Bridge) is an interesting (even aesthetically pleasing) landmark that is also a popular meeting place in Cuenca. I even filmed my last vlog there.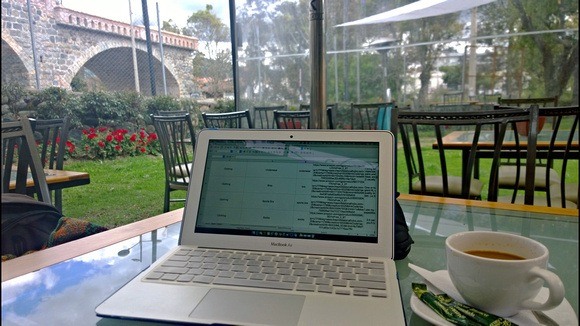 Hot Pool Oasis
Just outside of Cuenca is the village of Banos (not to be confused with the larger and popular town of Banos, further north in Ecuador). What both of these places hold in common, however, are their hot-springs.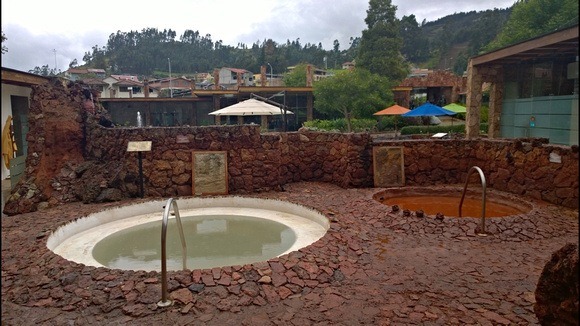 Piedra de Agua is a spa in Banos (Cuenca) not to be missed. I went twice. To get the full effect you need to drop $35 on the full spa circuit (they have 2-for-1 specials on Mondays if you bring a friend), which includes steam room, two different types of mud, another kind of steam, and then some underground hot and cold pools you can alternate to your heart's content while sipping some lovely juice concoction.
If your budget is tight, then for $6 you can chill out in the large outdoor hot pool as long as you wish.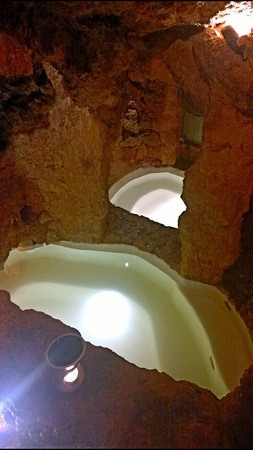 Where to Stay in Cuenca
Personally, I stayed (many times over the months ensuing since writing this article) at Del Parque Hotel and Suites which is oh so perfectly located overlooking the main square. The rooms are gigantic, well-appointed, and charming. Check out some other options here:
Things to do in Ecuador
On the main square of Cuenca, you'll find a few double-decker tour buses offering tours. I highly recommend taking one of these tours to orient yourself to the city! It's a great way to cover a lot of territory, learn about the history and people, and access some great vantage points for pictures. Here are some other ideas: