Shortly after my life went tits-up in Peru, I reached out to a long-time online friend and travel blogging colleague who had recently acquired residency in Ecuador. She was living in Cuenca Ecuador, and given that Ecuador was on my list of places to explore, I emailed her for some intel.
She responded with an enthusiastic offer to house-sit for her and take care of her cat, since she was planning to explore Eastern Europe for almost two months in September.
And so….here I am, living in Cuenca, Ecuador!
Here is some information and my first impression of this (spoiler alert: very cool) place!
This post was originally written in 2016, and has since been updated for accuracy of links and content.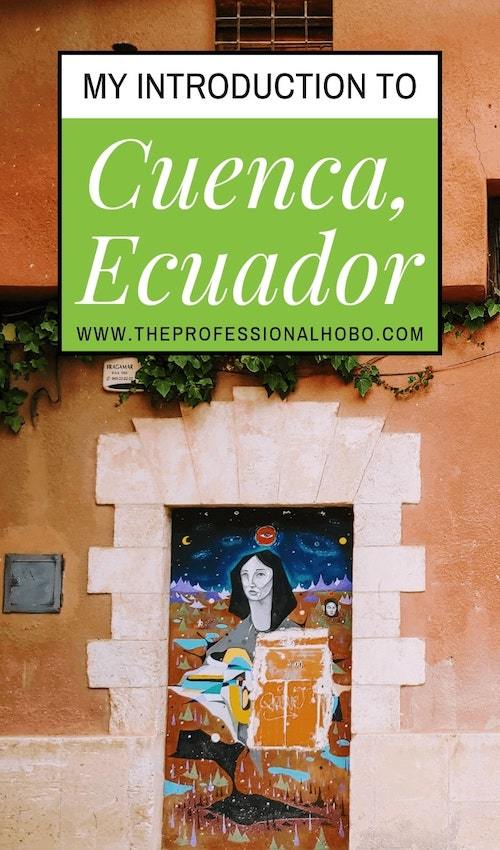 Cuenca, Ecuador: Basic Information
As soon as I arrived in Cuenca, I saw many similarities to Cusco, Peru – from the architecture, to the altitude, and general way of life. With a population of about 500,000 it's a bit larger than Cusco, but here in the centre of the historical district where I'm staying, it actually feels smaller. This could be due partly to the ease of navigation, with streets organized in a lovely grid pattern and without too many hills to climb (much unlike Cusco).
The historical centre (known affectionately as El Centro) is also a UNESCO World Heritage site, due to the prolific historical buildings (of the Spanish colonial era), and so being here, and living here, feels kind of….special.


Geography and Climate in Ecuador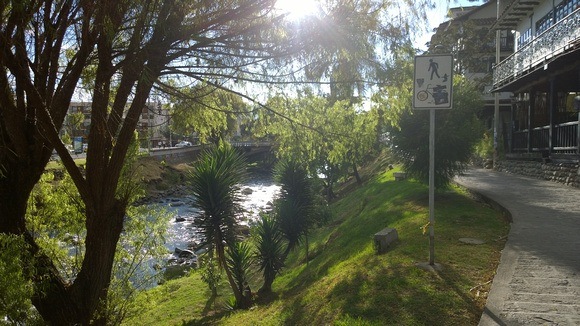 There are four main rivers (the confluence of which led to Cuenca's name), all of which ultimately flow into the Amazon. The most significant river, four blocks from my place, is the Tomebamba, which marks the south end of the historical centre. It's very walkable, with lots of green space to enjoy – something I'm very grateful for.
Due to the altitude of 2,500 metres (8,200 feet) above sea level, the temperatures are relatively steady throughout the year. Known for its "eternal spring" climate, Cuenca's daily highs can get up to about 20 degrees Celsius, but the daily mean is closer to 15 degrees, with nightly lows around (or below) 10 degrees.
Speaking of green space, Cuenca is interspersed with parks. By the river there is a lovely little park, adorned with wooden sculptures and even a "playground" for adults with various forms of exercise equipment.
And given the altitude, the strength of the sun is not to be underestimated. I suffered more than a few sunburns in Peru because of this, and thus, I was intrigued by this "sun meter" to warn people of its strength on any given day.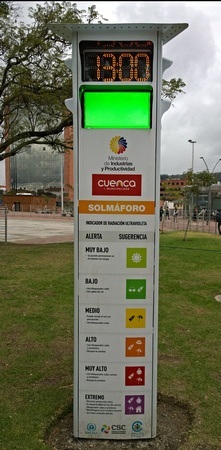 Where I Live
I'm staying in El Centro, which, although a bit noisy with traffic and weekend discos, makes for a convenient walk to everything I need.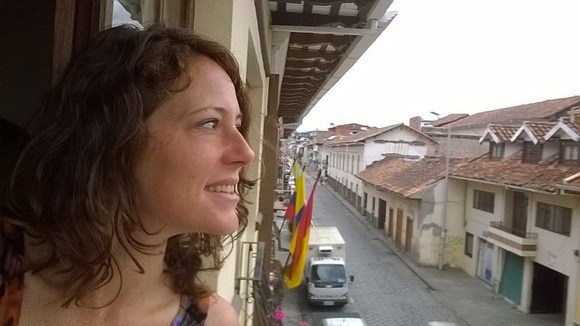 I'm taking care of a sweet little cat, who loves cuddling and spends most of her time on my lap while I work. And whenever I need to stretch my legs, I'm a short walk from Parque Calderon, with its famed cathedrals, lots of restaurants, and a beautifully manicured park.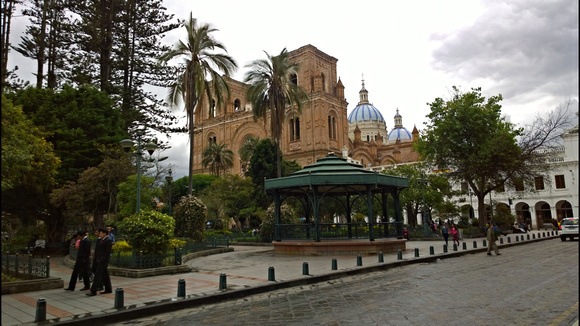 Where to Stay in Cuenca
If you don't have accommodation lined up in the form of a house-sitting gig, and you're not planning on staying long enough to walk around in search of an apartment, then check out what Booking.com has to offer below! Personally, I have stayed (many times) at Del Parque Hotel and Suites which is oh so perfectly located overlooking the main square. The rooms are gigantic, well-appointed, and charming.

Street Markets in Cuenca
Flower vendors are abundant throughout Cuenca, especially at the main market near Parque Calderon, which National Geographic named the #1 outdoor flower market in the world. For such a title, I would have expected it to be larger than it is, but the abundance of orchids, roses, and exotic flowers makes up for its size.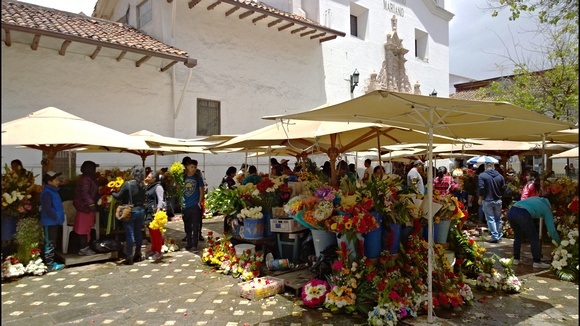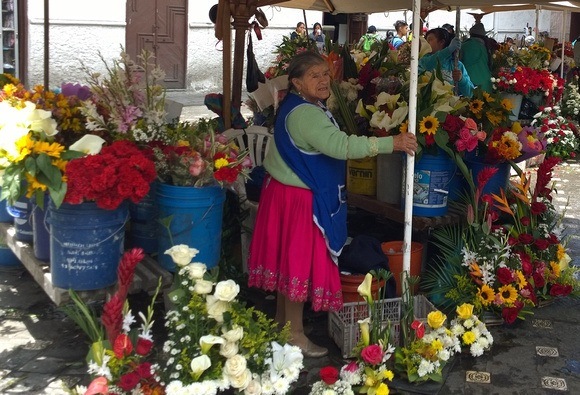 I'm also close to the main fresh market (mercado), a three storey building with fresh meat and fish in the basement, prolific fruits and vegetables on the main floor, and prepared food on the upper level. Much like Peru, mercados like these are full of stalls run by various mamitas and overflowing with whatever is in season at the moment – which is a lot. My morning smoothies (which I prepare at home) are filled with any combination of papaya, mango, guava, strawberries, blackberries, soursop, avocado, citrus, and more. I purchased more than a week's worth of exotic fruit and vegetables for just under $10.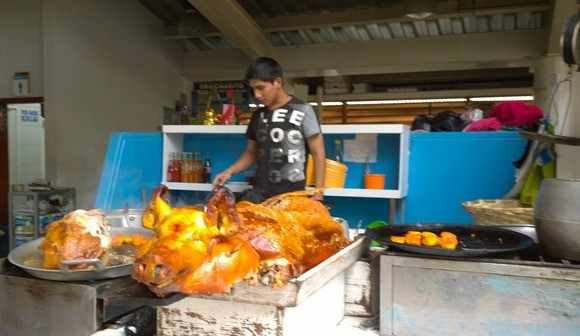 Upstairs at the market, you'll find pigs. A lot of them. If you like pork, don't be turned off by these beauties on blatant display, because a $3 plate of hornado will fill you up with pork, corn (called mote), delicious fried potato cakes (called Llapingacho – an Ecuadorian staple in the highlands), and some veggies.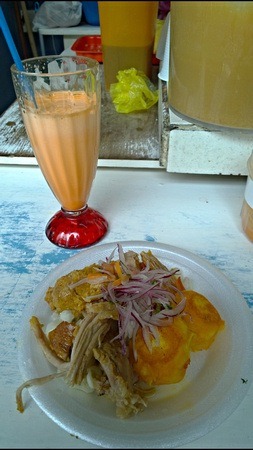 Cost of Living in Cuenca, Ecuador
Although Ecuador uses the U.S. dollar, it's generally (thankfully) not synonymous with U.S. prices (as seems to be the case in Panama). You can get a local lunch for $2-4, and a fresh juice concoction at the market for 50 cents. After currency conversion, I found the prices to be generally in line with Peru (though at times more expensive).
From what research I've done so far, a 1-bedroom apartment in El Centro will cost about $350/month (prices vary with location, size, and amenities), and a bit less outside of El Centro. This lower cost of living, along with a relatively easy immigration process and decent healthcare, has made Ecuador (and Cuenca in particular) a hot destination for expat retirees.
(See also: The Irony of Expat Life; Pros and Cons)


Things to do in Cuenca
On the main square, you'll find a few double-decker tour buses offering tours. I highly recommend taking one of these tours to orient yourself to the city! It's a great way to cover a lot of territory, learn about the history and people, and access some great vantage points for pictures. Here are some other ideas:
Getting to Cuenca
At the time of writing this, Cuenca's airport was closed for renovations (it's open again), so I was relegated to taking the bus from Guayaquil – Ecuador's largest city, near the coast. I was initially not looking forward to the 4-hour ($8) bus ride, but was pleasantly surprised with the scenery, which changed frequently as we climbed from sea level to Cuenca's relatively high altitude. We went through humid planes, cloud forests, and eventually high Andean vistas that reminded me very much of Peru.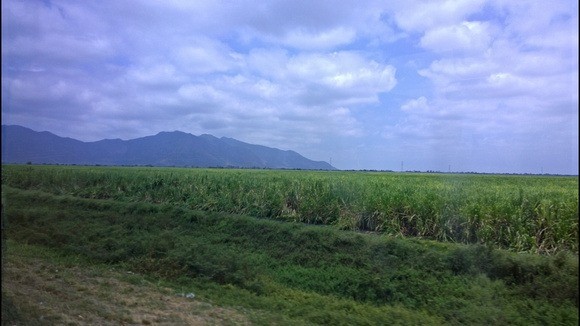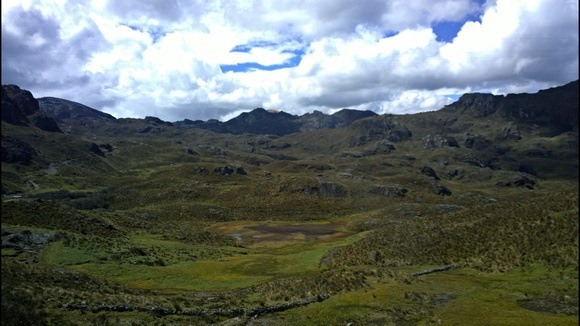 But you needn't go through the hassle of the bus ride from Guayaquil (which isn't a particularly exciting place to visit anyway); you can fly directly into Cuenca, and the airport is a stone's throw from the hustle and bustle of life in Cuenca Ecuador.


My Two Months in Cuenca
I don't have a tick-list of things to do while I'm here, other than to experience the daily pace of life, visit with some friends (both old and new, local and expat), continue to improve my Spanish language skills, and learn about the ways and means of life in this beautiful part of the world.
I also have an ever-growing list of online and business tasks to accomplish, and quite frankly, I'm still getting back up on my feet after my life upheaval in Peru earlier this year. So for me, this house-sitting gig in Cuenca is the perfect chance for a continued personal retreat, introspection, and a bit (okay, more than a bit) of work for good measure.
Given my location independent lifestyle, I am very blessed to set up shop wherever in the world I choose. To have this opportunity to live in Ecuador for a few months is something I'm grateful for every day.


You May Also Like…
My Experience After Two Months: Cuenca Ecuador: A City of Confusing Contrast
How To Travel On A Budget: 14 Creative Tips That No One Talks About
The Creative Guide to Free or Cheap Accommodation