During my seven-week house-sitting gig in Panama, I've practiced my usual art of osmosis. I've slowly gotten to know people, the lay of the land, and come to get a feel for the place. And it feels very different from many – if not most – of the countries I've visited in the world.
I will preface my observations by saying this is my first time deep in Central or South America. I suspect that some of my observations might be similar to the pulse of other Latin American countries (especially the readiness for potential violence). In other cases, I think Panama is in a unique position, as you'll learn in the coming paragraphs. Read on…
This post was originally published in 2014. It has since been updated for accuracy of links and content.


The Panama Canal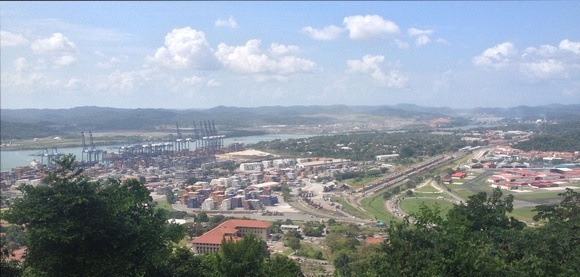 The first thing that differentiates Panama from any other country is the existence of the Panama Canal; something that has revolutionized shipping channels, and very firmly puts Panama – this narrow strip of country that connects Central and South America – on the world's radar.
A lot of money passes through that canal every day. A lot. And Panama gets its cut (those boats don't pass through for free).
The canal is 100% Panamanian (despite initial constructions done with the US), and it employs a huge number of people, not only to run and maintain the canal's 24-hour operations, but also for their current massive expansion project. The lowest-paying job on the canal pays well more than the average wage of $400US/month – and it's considered a job for life.
To what degree the money earned by the canal itself is infused into the economy is unknown to me. Panama has been a site of political instability, and corruption has existed – and probably continues to exist. (Read on about the Empty Skyscrapers to get an idea).


Developing, but Developed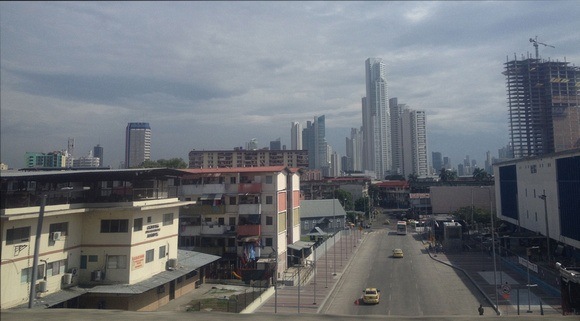 I would consider Panama a developing country, but it seems to have an edge on other developing countries. People drive nice new cars. Cars, which I learned are ridiculously taxed making them even more expensive to buy.
The Albrook Mall in Panama City is a massive shopping centre (even by North American standards), with every kind of store you can imagine, including the full complement of designer stores. It's not the only shopping centre of this ilk, and they're consistently packed. With Panamanians.
Even the "ramshackle" housing (outside which nice cars are often parked) is not necessarily indicative of poverty. People have disposable income, and many of them own their plots.
New construction is everywhere. Everything seems to be in various states of completion; although at times it's hard to determine exactly what they're doing – or rather taking so long to do. (I think it's a tropical thing).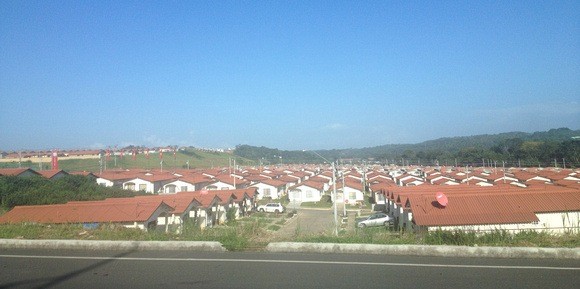 Travel along the PanAmerican Highway and you'll see Panama's version of suburbia, with masses of identical houses. I'm told at least some these swaths of homes are giant relocation projects, but I'm not sure of the general sentiment of the people being relocated nor what sort of "deal" they got. It might be considered an opportunity to have your own plot of land and a house if you've just been relocated from a dilapidated building of squatters in the city with machine-gun-toting police guarding every doorway. But somehow I doubt many relocation projects are embraced or transpire so smoothly – especially if the people being relocated already have their own home and community that developers intend to demolish.


Preparing For….?
I've felt a sense of fierce pride among Panamanians – despite the crumbling walls and garbage lining the roads and beaches. The pride seems to be two-fold; it's a pride in the land and life they have, and have fought for more than once (Panama has multiple "independence days"). But in some places, it's also a pride in knowing that they have what other people want, and will (hopefully) pay for.
I've been staying in Veracruz, a fishing village about 20 minutes outside of Panama City, on the Pacific side. This is a prime location for development and tourism. You know it's coming too; infrastructure such as new street lamps now line the largely undeveloped (but well maintained) road to Veracruz.
The people who live in Veracruz know they're on a prime spot, and it's a gold mine – but one that might not become so without some conflict.
I was chatting with a local fellow in his early 20's. He was proudly brandishing his latest purchase – a grenade – for $200. Looking at his foolish grin, I asked him why he bought it – was it a toy for him? (Panamanians have a penchant for fireworks every day of the week; maybe he was looking for a little more bang with this grenade).
But no – this grenade, although a source of amusement to show off, isn't a toy. "It's for what's coming," he said, while he casually referenced the hills behind town, as if a cavalry was about to come charging over it. His friends all nodded in agreement. It's coming.
What exactly they're preparing for, I'm not sure, as my Spanish simply wasn't advanced enough to understand. But with grenades in hand, they're getting ready. And this electricity hangs in the air. It's an edgy place, and feels like the Wild West.


Empty Skyscrapers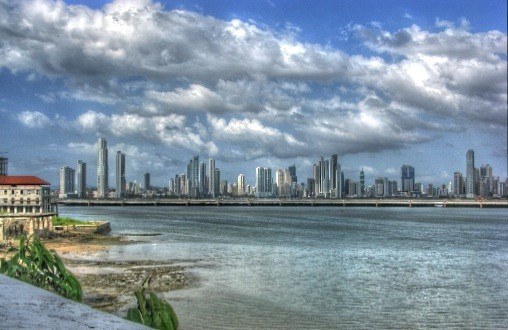 Panama City has two elements to its skyline. One is the skyline of the business centre and financial district, with a collection of high rise buildings and tightly packed infrastructure similar to most cities.
The other part is even bigger and looks fantastic – a bit like Dubai even – with soaring pristine skyscrapers, many of them condominiums. But most of these skyscrapers are empty.
This, I learned, is because Panama is one of the money-laundering capitals of the world. "Developers" build large buildings that they "rent out" to a fictitious collection of tenants who all happen to pay in cash. This cash is deposited into the "developer's" accounts each month, and voila: the money just became legitimate.
Buildings continue to go up at a furious pace; it looks pretty but is an eerie sight – and my head spins when I think about the sheer amount of money that must go through these places. That's a lot of dirty money.


Am I in Dubai?
Another visually Dubai-esque trait to Panama City is one of reclaimed land. In the building of the canal and current massive expansion project, the debris being dredged out has been used to reclaim land, thus connecting some some of the islands close to Panama City to the mainland.
Take a drive along the well-manicured reclaimed causeway to Amador, and you'll see a flurry of marinas and construction in progress, restaurants, a club, residences, hotels, and more.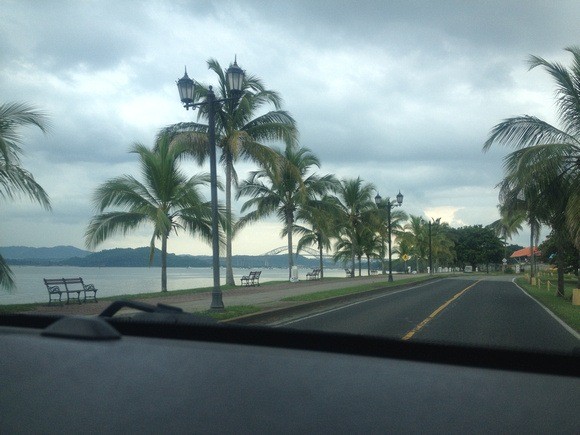 Expat Life: A Double-Edged Sword
Panama welcomes expats with open arms. There are currently many concessions offered to those who want to relocate here to buy property, start businesses, and more. It's a hub for retirees from all over the world (but mainly from the USA) who want to stretch their retirement dollars and live somewhere warm.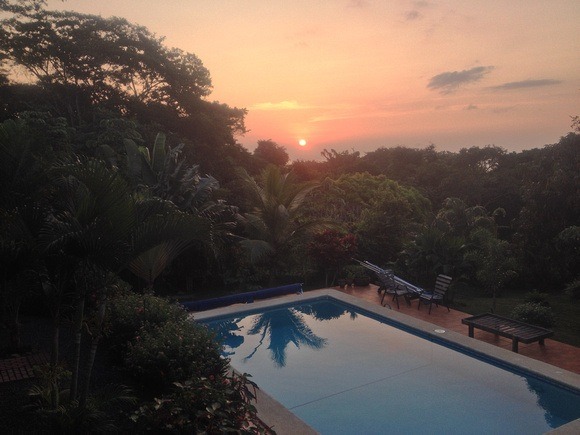 I'm house-sitting in one such expat community, tucked up just outside town, each house with a big wall and lockable gates. This is fairly typical of expat communities (and large houses in general, whether or not expat-owned) in developing countries. Minimal integration is also typical, and some expats even go so far as to express a general distaste for the local community. Comments like "Veracruz is an eyesore. We should tear it down entirely and build a big wall around it and build beachside condos and residences" are hard to hear. What of the local community – who has been there much longer than you? Why should you have all the answers, perched high on your hill and looking down on everybody else? Maybe it's this sort of attitude that my local friend with the grenade refers to when he says "it's coming".
I experienced the same thing in 2011 when I first house-sat in Grenada; the property owner (a widely disliked expat who lives there half the year) did such a good job of scaring me against locals that I barely left the property in the first couple of months (heartbreak and dengue fever notwithstanding). She couldn't hide her distaste of the place and the people if she wanted to, which made her self-interested drive to live there for the nice weather even more ugly.
As time passed and I got to know a more local side to Grenada, I observed a similar sentiment and line of demarkation between many expats and locals.
Now, having been in Grenada on and off for a couple of years, I can empathize – to a point. I've been ripped off, taken advantage of, and targeted by locals. It comes with the territory when there is an appearance of financial disparity. I may not be rich; but regardless, I'm seen as a source of money by virtue of the colour of my skin.
What I find refreshing about Panama (in comparison to Grenada) is the degree to which people don't just expect handouts. If a kid wants some extra change, he eagerly bags my groceries and carries them to the car. When my partner and I go into a local bar, we're not besieged by locals all asking (nay, expecting) us to buy them drinks (as in Grenada); no – in fact, in Panama, people buy us drinks! (Again, a sign that Panamanians have more disposable income than you might think).


Dear Panama: I'm Confused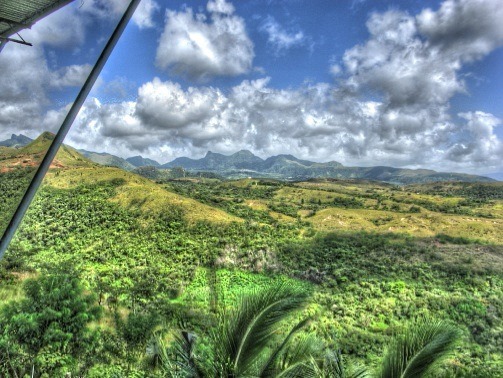 This post is probably about as dis-jointed as my impressions of Panama are. It's a land of contrast, and a tough place to get a pulse on in under two months, especially with language barriers. What is irrefutable to me is the latin american passion and zest for life, the pride, and the fact that nobody seems to be starving. Similar to Grenada, "poverty" is open to interpretation.
Panama is also an edgy place, and one that's ready to "go off": both in launches of development and economic booms, and also maybe in the launch of a few grenades.
Whatever it is, they're ready.