Want to fly for half price? Or perhaps get a free upgrade to business class? How about staying in a hotel or resort for free? You might even get paid to visit the buffet! Travel mystery shopping is real, and can be a way to subsidize your travel expenses and travel in Style (which…I like to do).
In this article I will cover the following:
Mystery Shopping Basics
Travel Mystery Shopping Details
My Experience as an Airline Mystery Shopper / Airline Secret Shopper
How to Qualify and do a Good Job as a Mystery Shopper
Travel Secret Shopper Downsides
Mystery Shopping Tips
Mystery Shopping Scams
Mystery Shopping for More than Travel
Resources for More Information
This one's another doozy! Sit back, and learn everything you need to know about becoming a mystery shopper.
Check out my Travel Lifestyle Guides for more ways to earn money remotely, spend it wisely, and balance the two so you can travel as long as you wish, in a financially sustainable way. 
Mystery Shopping Basics
Companies will use mystery shoppers (also known as secret shoppers, or in "the biz" they're known as "inspectors") when they want to perform quality control on their daily operations or understand how employees are behaving under normal circumstances (because of course if the boss is watching, the wheels have extra grease and everybody is in peak performance mode).
So they hire mystery shopping sites and companies who conduct studies to aggregate and report data collected by mystery shoppers.
Cue in you and me.
We go into these places of business on a secret assignment on behalf of the mystery shopping company. Sometimes we need to ask specific questions of employees, or go at a certain time of day, or buy/order a particular item.
We observe everything and fill in a detailed report which we submit to the mystery shopping company. In exchange for our efforts, we receive compensation; compensation can come in the form of a (partial or full) reimbursement, or pay, or both.


Travel Mystery Shopping
I remember meeting a fellow in Amsterdam who was an airline secret shopper for KLM. He flew around the world regularly, in exchange for providing feedback on the experience.
I was mesmerized. I wanted his job! I decided that mystery shopping airlines would be my next career.
So I asked him how to become a mystery flyer. Turns out, of course, it's not that simple.
His gig was special, as he was employed directly by KLM for his expertise, given that he was also a hotelier and his name and status carried some weight. Even so, he wasn't making money with this gig; it was just a way to subsidize his flights.
Even though I wouldn't be able to follow exactly in his footsteps, as luck would have it the following year, I was contacted by a travel mystery shopping company called EvaluateIt by SQM (SQM stands for Sensors Quality Management). They invited me to apply to be a travel mystery shopper for them, and, well…..keep reading.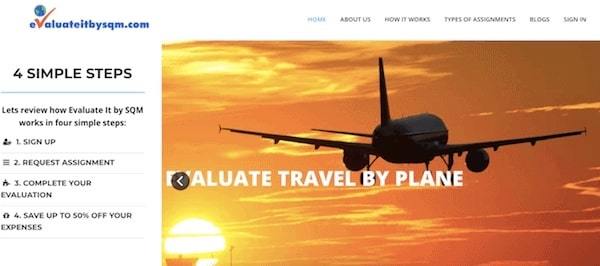 My Experience As an Airline Mystery Shopper / Airline Secret Shopper
In 2014 I flew return from Toronto to Lima (Peru) for a 50% discount, as an SQM secret shopper. Here is my SQM mystery shopping review and experience.
When I signed up as a mystery shopper with EvaluateIt by SQM, I gained access to view available travel mystery shopping assignments, which included airfare around the world, hotels and resorts, long-distance train and bus fares, and more.
To be honest I was a bit ambivalent about becoming a travel mystery shopper; my particular brand of lifestyle travel at the time wasn't a great fit for the sorts of gigs they had available. And to be honest, even after my friend's KLM testimony, I still wasn't entirely sure that it was legit. It almost seemed too good to be true.
See also: Here are the Most Common Travel Scams, and How to Avoid Them
I received email notifications when new assignments or categories of assignments became available, so I didn't have to lurk the site all the time. (Although if you are serious about mystery shopper travel, then check the site regularly since they tend to send email blasts only when they have special deals or are having trouble filling all the mystery shopper jobs. Many of their opportunities sell out fast from being in-demand and/or high-season.)
Finally, a flight shopper assignment came up that was perfect for me given my planned trip to Peru, so I applied for it.
Once approved, I paid EvaluateIt by SQM directly for the tickets (which is not always the case; in many other instances you book the travel directly with the airline/hotel/transportation provider/etc and get reimbursed).
I had to pay full price for the tickets; you receive the 50% reimbursement only after the mystery shopping assignment is complete and the report has been submitted and accepted.
You might also be interested in: 46 Hidden Travel Costs You Can Avoid


Mystery Shopping Airfare: What I Had to Do
Although not totally onerous, I did earn my airfare reimbursement.
Prior to flying, I printed out a 5-page detailed questionnaire. I also saved an electronic copy of my boarding pass, which would eventually be submitted with the report/questionnaire.
Although the actual report was submitted online after the fact, I found it necessary to work off the printed sheets during the flight due to the level of detailed observation required. (And of course, none of the airline staff can see the questionnaire or know that you're a mystery shopper, so I had to work as discreetly as possible).
Within three days of taking the flight, I went online and submitted the questionnaire and my boarding pass.
That's it.
Had I booked a one-way flight, I'd have received the 50% reimbursement from EvaluateIt by SQM after submitting the report. But because I booked a return flight, I didn't receive reimbursement until I had completed the last leg of the trip and submitted the corresponding report.


What's Covered in the Mystery Shopping Questionnaire
The mystery shopping questionnaire required me to evaluate all aspects of my flight experience, including boarding and pre-departure, cabin service, duty free service, cabin crew grooming, food and beverage, cabin environment, irregular situations (like delays), pre landing, and after landing.
Each category had 10-20 yes/no questions, and space for a (required) overall rating and detailed explanation of notes pertaining to that category.
It's a pretty serious undertaking to be honest! Though rumour has it that the more you mystery shop, the easier it gets because you know what to look for.


Would I Fly as a Mystery Shopper Again?
Yes. EvaluateIt by SQM has offered lots of long-haul mystery shopping airfares around the world over the years. To get a 50% discount off these flights is huge value, and even the requirements of a detailed report represent great value when you consider the savings.
While it has been quite a few years since my initial airline mystery shopping experience, I've remained on the lookout for opportunities. Again because of the nature of my travel lifestyle, compatibility has been an issue. But now that I have a home base in Toronto, there are more opportunities for me to jump on.
In addition to flights, EvaluateIt by SQM currently has lots of bus rides, train journeys, and some big hotel chains that require mystery shoppers. Within the next year alone I hope to mystery shop some epic train trips and stay in a few swanky hotels – all heavily discounted (or even free, and sometimes with pay as well).
(For other free or subsidized travel gigs, see: The Creative Guide to Free or Cheap Accommodation)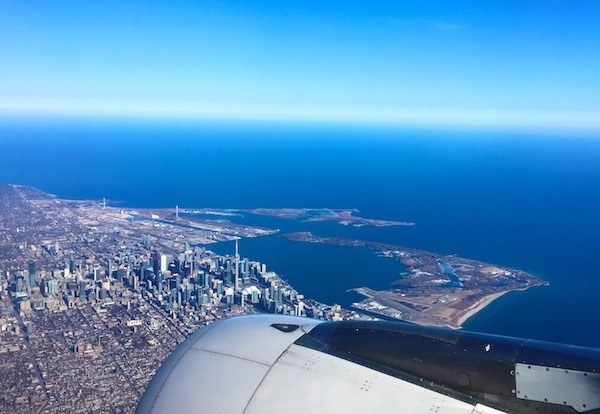 How to Qualify and do a Good Job as a Mystery Shopper
You need to be a detail-oriented person for mystery shopping. The report I filled out was quite involved, and required me to observe and evaluate every single aspect of the flight.
In some ways it was a hassle; for example instead of just enjoying my meal, I had to note every aspect of what I was served, the temperature, quality, etc. And I'm no Instagrammer, but I had to pretend to be one and take pictures of everything too!
Although the value received from mystery shopping airfare is huge, there's no doubt about the fact that mystery shopping is work, and it's important to take it seriously.
And it all starts with the application process. Not everybody is accepted to be a mystery shopper, and applications are scrutinized. It's important to use full sentences, and scour the instructions to ensure you are answering the interview questions exactly as directed.
As stated on the SQM website:
"SQM seeks mature, reliable, detail-oriented people to take advantage of these opportunities. Successful applicants will have a critical eye for detail, an excellent memory, and a proven ability to follow instructions."
Even if your application is accepted, you may not qualify for some of the mystery shopping jobs, which require a further comprehension test to illustrate that you understand everything about that particular mystery shopping assignment and can complete it to a satisfactory level.


Travel Secret Shopper Downsides
Every rose has a few thorns, and below are some of the thorny details of travel mystery shopping.
Mystery Shopping Is Best Done Solo
Most mystery shopper airlines only allow one mystery shopper per flight. The same applies to most transportation gigs as well (eg: buses and trains). So if you are traveling with a partner, you can both apply for the mystery shopping assignment and travel on separate days; otherwise one partner will pay full price for their ticket to be on the same flight/bus/train as you, and you may or may not be able to sit together.
It's also worth noting that when you're "on the clock", it requires an immense amount of concentration and observation, and traveling with somebody by your side may distract you from doing the best possible job.
The same isn't necessarily true for hotels or restaurant mystery shopping gigs though; it's important to see what is required before applying for the job, so you can determine how best to arrange your travel.


No Frequent Flyer Miles
As a frequent flyer mile junkie, I take pride in accumulating miles whenever I have to pay for a flight. So it was slightly painful to fly and not be allowed to use my frequent flyer memberships.
But of course, my pain was assuaged with the 50% discount, so I can't complain (too much).
(See also: A Beginner's Guide to Frequent Flyer Miles)
Mystery Shopping Tips
From evaluating gigs, to making your job easy, these mystery shopping tips will graduate you from amateur to pro in no time:
Only Accept Jobs You'd Normally Do (Without Pay/Reimbursement)
Remember: mystery shopping is work. It's not a free ride! So while I'm all for applying for mystery shopping gigs that perhaps aren't in the budget if I had to pay full-price, they need to be for experiences or products that I would like to be a legitimate customer for to begin with. Otherwise, in my opinion, it's just not worth it.
Let's take a non-travel-related mystery shopping experience, like eating at a certain restaurant. If you would never want to eat there in the first place, why on earth would you waste your time and energy in exchange for $X towards a meal (and maybe an extra few dollars)?
You can't make a living with mystery shopping; at best it's a side hustle. (At best.)


Join a Mystery Shopping Company that Resonates for You
When I was in Japan, I was encouraged by a colleague of mine to sign up as a shopper for a mystery shopping company she worked for. I didn't even take the time to see what sorts of gigs they offered, nor was the pre-application information particularly helpful.
Once I got into the system, I realized that all of the gigs were for stores I'd never shop at and to purchase items I'd never buy if left to my own devices. Even with full reimbursement, it wasn't worthwhile for me.
Mystery shopping needs to be for something that interests you. Why? (Hopefully you're following the theme I'm leaning into here)….because it's work.


Once You Do Join, be Patient
Opportunities come and go with mystery shopping companies. It depends on who their clients are at any given time. So even if you don't see something you like right away, don't rule them out.
In my years with EvaluateIt by SQM, I've seen a variety of travel secret shopper gigs with a few different airline mystery shopper jobs, bus rides, train journeys, car rental companies, hotel chains, and more. Sometimes they won't have any gigs of interest for years, and other times there will be so many compatible opportunities you'll have to prioritize among them.


Book in Advance
Only one mystery shopper is allowed per flight, so it pays to book mystery shopping airfare as far in advance as possible.
If you're so on the ball that the website is not showing opportunities for dates that far out, they may just not have it up on the site yet, but will need shoppers. You can reach out directly to them to see what's possible.


Get a Discounted Discount, or a Free Upgrade
When I flew with EvaluateIt by SQM, the particular gig I selected was a flight that offered a 50% discount off the retail cost of the flight. The airline at that time also happened to be offering a seat sale, which meant I got a 50% discount off a sale rate, which added up to a pretty spectacular deal overall.
Also, I have noticed that sometimes, EvaluateIt by SQM has offered a free upgrade to business class in addition to or instead of the 50% reimbursement. This is why it's important to read the periodic emails they send out; you never know what's on offer!


Calculate the Monetary Value in Relation to the Work Required
Higher priced items (like business class flights) require a more detailed report, but they also tend to yield a higher financial reward, even if that reward is in the form of reimbursement. For example, saving 50% on an $800 flight is well worth filling in a detailed mystery shopping questionnaire (in my opinion).
In order to properly evaluate and calculate the value of a mystery shopping assignment, it is important to scour the instructions and information about the assignment. Sometimes, you can find an example report so you can see the scope and detail of questions that will be asked. This will help you decide if it's worth your time and energy.


Screenshot/Save Your Questionnaire
If you're filling in your mystery shopping report online from chicken-scratched notes such that the online submission is your only full copy, take a screenshot of each page as you complete it, or better yet, copy and paste each written answer into a separate document.
It's better to be safe than sorry, trust me! Because of a poor internet connection when I arrived in Peru, I lost everything I had painstakingly transcribed and entered into the system and had to redo it from scratch.


Use an Online Fax Service
You may be required to fax your receipts or other documents to the mystery shopping company. I know right? Who even has fax machines any more?!
The good news is there are free programs (like Fax Zero) that allow you to send faxes from an email address. Alternately, you may be able to find an app that does the same thing.

(See also: Best Travel Apps)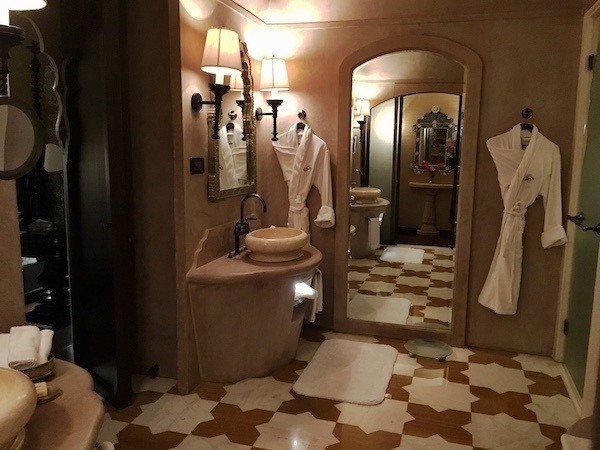 Mystery Shopping Scams
If a mystery shopping assignment or company seems too good to be true, that's because sometimes, it is. Mystery shopping scams exist. Here's what you need to know.
See also: 24 Classic Travel Scams


Mystery Shopping Fee Scams
There should never be a fee to join a mystery shopping company, or apply for a specific assignment.
In many cases, you may have to purchase your item/tickets up front, since you may be evaluating all aspects of the customer experience, starting with the purchase. That's (usually) legit. And yes, it can be a leap of faith that you'll be reimbursed you when the time comes. That's another reason why it's important to only do mystery shopping gigs that you would normally do anyway (as explained above in the mystery shopping tips).
In other cases, you may be purchasing the tickets directly from the mystery shopping company. This is what happened when I was an airline mystery shopper for EvaluateIt by SQM; I paid them directly for my flights, and I paid full price. But if that makes you nervous, consider that when you pay with a credit card, you are protected by the credit card issuer and if it turns out to be a scam (which it won't with EvaluateIt by SQM), you will have recourse.


Cheque Cashing Scam
There has recently been a mystery shopping scam going around for cheque cashing. The "mystery shopping company" sends you a cheque (for example $800) that you deposit to your account using a service like Western Union. Then you are instructed to wire only a portion of those funds (eg.: $500) back to the mystery shopping company; you are allowed to keep the rest as your "mystery shopping fee".
Trouble is, you have to wire them the funds immediately, before the initial cheque clears. And of course, the cheque is bogus so it never clears. You've just been scammed for all that money.


Email Scam
Email scams are everywhere. Whether an email looks like it is coming from your bank, or your mystery shopping company, or any other institution, if you have to click on something within the email and provide any personal information, treat it with great suspicion.
Better to open up your browser and log directly into your profile and find out the scoop. In general, don't click on (unsolicited) email links.
The MSPA (Mystery Shopper Provider's Association keeps a running tally of scams that have been reported to them. Check it out here.
Mystery Shopping for More than Travel
EvaluateIt by SQM offers solely travel-related mystery shopping opportunities such as flights, transportation, hotels, and resorts. And all their gigs are solely discount opportunities.
But EvaluateIt is a subsidiary of a larger parent company: SQM, which has a much broader selection of mystery shopping opportunities, including everything EvaluateIt offers, plus restaurants, oil changes, massages, haircuts, gym memberships, banking, clothing, attractions, parking, and more.
Some of these opportunities work on a reimbursement basis (like EvaluateIt) and/or might include a shopper fee – which means you're actually paid (anything from $5-$100) for performing the mystery shopping assignment in addition to being reimbursed for your related purchases/expenses. The more complicated the assignment, the more you're paid.
SQM also has a couple of travel-related mystery shopping hotel gigs that provide a free stay plus a shopper fee. Because there is pay involved, you won't find them on the EvaluateIt site.
Thus, if you are only interested in travel mystery shopping, sign up for EvaluateIt by SQM.
If you want to see the above gigs, plus other non-travel-related opportunities (and the odd paid travel assignment), then sign up for SQM.
But just to be clear, you will never get rich with mystery shopping alone.
Check out the resources below to find other providers.


Mystery Shopping Resources
Coyle Hospitality – While there are many mystery shopping companies, I mention Coyle specifically because they offer some great hotel gigs, as well as cruises, some airlines, and upscale restaurants. All assignments pay a fee plus reimbursable expenses as directed by the client. I don't know what is required of the mystery shopper to understand how good a deal it is (or isn't).
Independent Mystery Shoppers Coalition – As an association of sorts for mystery shoppers, it offers some networking opportunities and courses and certifications, as well as tools and resources. It's worth noting that you do not require any certifications to be a mystery shopper; it may help you prepare for mystery shopping, but it's not necessary.
Mystery Shopper Providers Association – You can search for mystery shopper companies in your area (though not all will be listed, because the association requires a fee for listing). They also aggregate some specific mystery shopping listings on their job board, keep a tally of scams, and provide some tools and tips.