I'm regularly asked how I became The Professional Hobo. What was the catalyst for my decision to sell everything in favour of full-time travel? How did I do it? And most importantly – why?
Although I've answered many of these questions in one form or another over many interviews for other websites and newspapers, I haven't properly documented the process on my own site.
Here goes…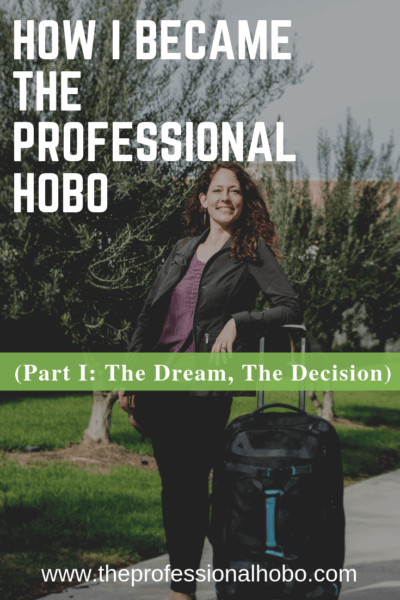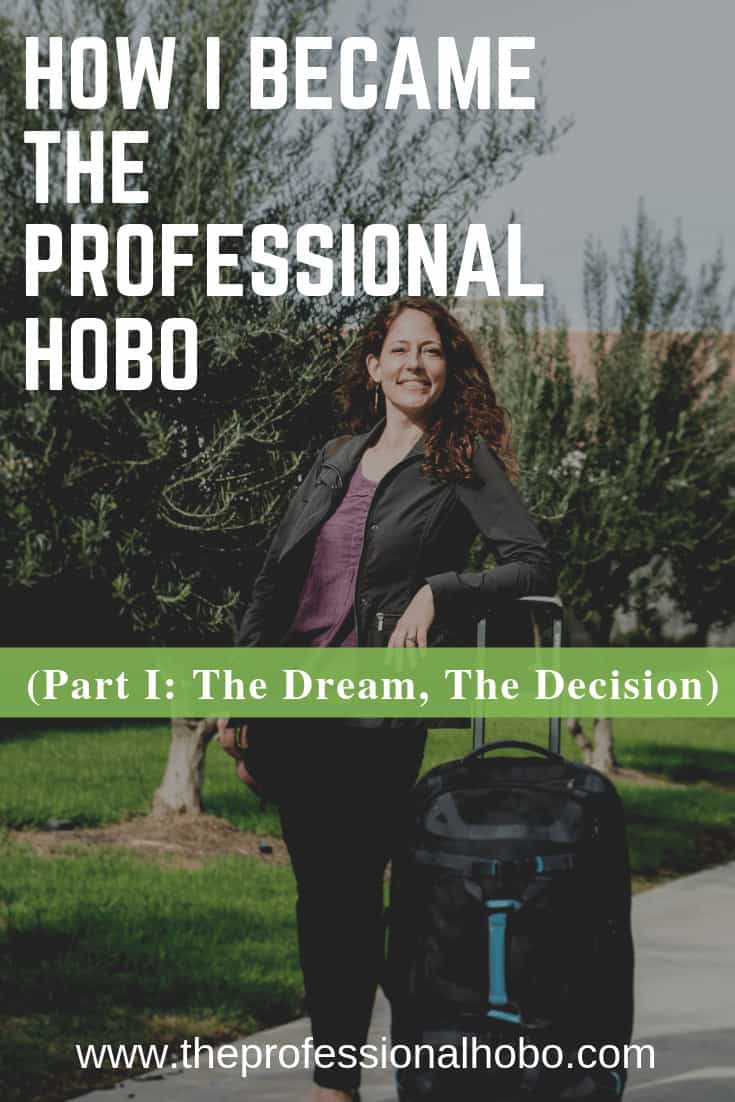 This post was originally published in 2012. It has since been updated for accuracy of links and content.


Tough Questions
"What are you running away from?" was a question recently asked of me by a friend who was trying to help me through a rough emotional period of confusion about what I wanted to do.
Travel is commonly seen as running away from something or an act of withdrawal, but try as I may to psychoanalyze my actions, I simply can't see how I'm running away from anything. In fact, it's quite the opposite.
Best to start from the beginning of how I became The Professional Hobo, so I can illustrate my point.


Success in Business – and Life?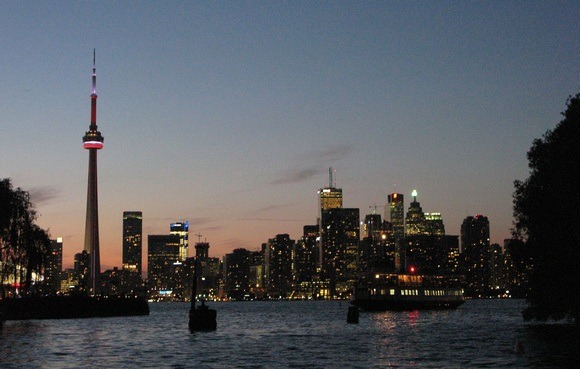 In 2006, I was running a busy financial planning practice in Toronto, Canada. I was what you could call a "medium-sized fish in a big pond," having achieved a certain level of success and a reputation for helping people engineer their finances to enable their life's dreams. I focused on the emotional issues of personal finance in an effort to transform our vision of money from a taboo hindrance into something that empowers and enables instead.
I regularly appeared on television, gave interviews in newspapers opposite financial "celebrities", and I spoke in front of audiences as large as 3,000 people.
But something wasn't right.
There was a little voice inside of me – a voice that has been a lifelong friend or pest, depending on how you look at it – that said "Nora…you're not doing what you're supposed to be doing. There's something else out there for you."
Those dastardly words. I'd heard them so many times before, and in the past when the voice kicked in I changed careers. I'd been a television producer and host, stage manager, professional actor/singer/dancer, operations assistant, assistant property manager, I started an administrative business, and – most recently – I ran a financial planning practice.


Not this time
But this time when "the voice" chimed in, I refused to listen. I'd put way too much blood, sweat, and tears into my business to leave it callously for yet another career. So instead, I filled my life with other things that I hoped would satisfy the ever-growing void in me. I became a Toastmaster, an active Rotarian, I sat on boards of directors for large charities, I got back into film & television acting, and I performed in numerous stage musicals.
Soon enough, I was busy 18 hours a day, and the voice was getting louder, not quieter.
In January of 2006, I was in two car accidents in one week. People said "the universe is trying to tell you something," but I was only annoyed at this diagnosis. "What is the universe trying to tell me, for goodness sake? That I shouldn't drive in the snow?! Get outta my way; I've got work to do".


Forced contemplation
It wasn't until a few months later when two bouts of bronchitis devolved into walking pneumonia that I was forced to stop everything for a spell. Shortly thereafter, the ball dropped. I was in absolute tears about having to go into the office to do some work that I'd been avoiding for weeks.
"What do you want to do?" was the poignant question asked of me when I had my head in my hands, at wit's end.
"I just want to…retire!" I wailed dramatically. Shortly thereafter though, I considered what retirement meant to me. What was the retirement vision I had for my golden years? I counselled my clients to describe a day in the life of their retirement so we could plan towards it, and I'd neglected to do the same for myself.
Retirement….meant traveling around the world, slowly. Meaningfully. But not just passing through; rather, living around the world.


Rewind: Some history about my view of travel
Before I go further, there's some back-story required.
When I was 8 years old…
I was sitting in class when the teacher showed us a documentary about Europe. I was fascinated. I saw people, but I didn't recognize their garb, the language they spoke, the food they ate, the markets they shopped at, or any part of the architecture or scenery. It was so completely foreign to me. And I desperately wanted to know how the children my age played, and what daily life was like inside their homes.
This is the very root of my literal life-long dream of travel.
As the years passed….
Travel being important to me, not a year passed in my adult life when I didn't go away for at least one vacation each year. But with a paltry vacation allowance and limited funds, most trips were only a week long, and were often superficial attempts to escape Canada's long winters rather than culturally immersive experiences.
Then, in South Africa….
I took the month of December 2005 to go to South Africa. People at home thought I was nuts.
"You're going away for a whole month?!" They said incredulously, implying that I was somehow irresponsible.
And the ultimate disconnect: when I was in South Africa, the heavily European-influenced locals asked "And how many months are you here for?"
"Months?!" I'd reply in disbelief. "I've only got days – no, hours – here! What do you mean?"
And at the end of my month, as I flew out over low-lying South African fields, watching the farmers tend to their livelihoods, I realized that I still had absolutely no idea how they lived. I'd thought that a month would be long enough to crack the code of the South African mentality; long enough to gain even a faint understanding of the people, their way of life, and their own dreams and ambitions.
Instead, a month of travel throughout this large and convoluted country left me with more questions than answers.


…Back to my breakdown…
So here I was, bed-ridden, considering what retirement meant to me.
I wanted to climb the mountains of the world.
I wanted to break bread around dinner tables round the world.
I wanted to shop at markets around the world.
I wanted to understand daily life in remote corners of the world.
I wanted to volunteer my services to help people around the world.
I knew I couldn't achieve these goals in the way I truly wanted with week-long – or even month-long – vacations. I had to go much deeper than that. It had to be a lifestyle.
Could I wait another 30 years for a conventional retirement to live out this life-long dream? What if I did, then come retirement age, I wasn't willing or able to do these things any more? How would I view my life as I lay on my deathbed? I already had a few close calls with the car accidents and my illnesses…what would I feel about my life if it ended right then and there? Would I have regrets?


Early Retirement
After considering these things, it became obvious to me that with only one shot at this life, I had to make the most of it. I had to "retire". Putting in time for another 30 years was not possible; time wasn't to be wasted or bided – it was for living.


Finances
I had the good fortune to have saved and invested for my future from a very young age, and had a good nest egg socked away for later years when I can't work and need income. And in selling my financial planning business I was granted a small income for 2.5 years; long enough to figure out what form my travels would take – or even just to play out whatever dreams I had of long-term travel and return to the "working world" re-energized and enthused.
Ultimately I had no idea what form my travels would take or how long they would last when I made the decision to go. I just knew I had to go. And for once – the voice agreed. Despite the counter-intuitive move of selling a business I'd just built to the point where it could run itself and generate increasingly larger amounts of income, my inner voice actually applauded this decision to break out of the mold and chase down my dreams.
And so it was with a good financial footing and a large dose of faith that I put the wheels in motion for a life of travel; it's how I became The Professional Hobo.


Continue on to Part II, where I discuss some of the logistics of how I became The Professional Hobo; from quitting my job, to selling everything, to deciding where to go and what to do, to developing a location independent career as The Professional Hobo.