After growing up with a dream of travel, and eventually making the decision to leave everything behind to chase down the dream, I had to start to walk the talk. Here are the nuts and bolts of how I Became The Professional Hobo.
This post was originally published in 2012. It has since been updated for accuracy of links.


In Part I of this series, I discuss how adversity forced me to celebrate the present moment and seize my dreams of traveling the world slowly. Now it was go-time.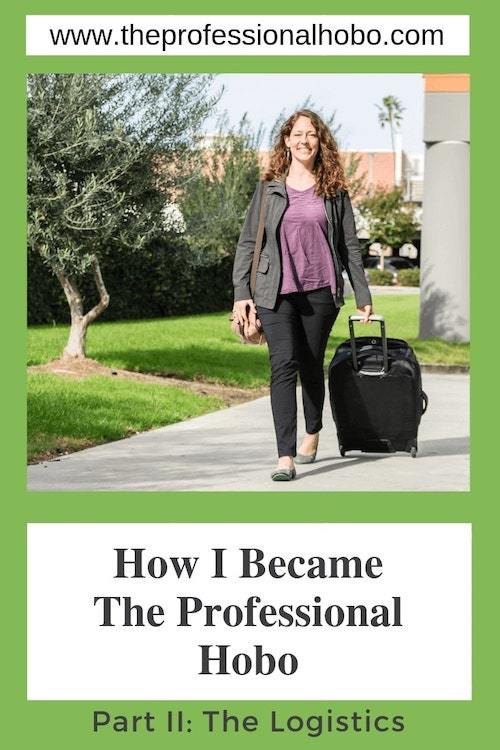 Telling my Boss, and Selling the Business
I'll never forget the day I walked into the office to meet with my divisional and regional directors. Although I'm not an egotistical person, it is safe to say I had garnered some attention in the financial planning industry, and specifically the company I worked for. In addition to my media appearances, I mentored new financial planners starting out in their businesses, was featured in training videos, and addressed groups as large as 3,000 people representing the company as a whole – the largest financial planning company in Canada.
So I wasn't particularly surprised when my announcement of plans to sell my practice and go off to "play" in Costa Rica (an arbitrarily-chosen first destination) was met with open mouths and wide eyes.
"See, I told you," said Bill the regional director, to my division director when he recovered from the initial shock. "I knew something was up." Bill had seen my downward spiral of both health and happiness over the last few months. In the weeks leading up to my announcement, I was hardly in the office at all. My division director, however, continued to sit in shocked silence, opening and closing his mouth like a fish out of water.
"Tell you what we're going to do," chimed in Bill, who seemed even more prepared for this announcement than I had anticipated. "We're going to manage your business for you. Go do what you need to do, for six months, a year, whatever. When you get it out of your system, you can come back and step right back into your life here. There's another consultant I know who does this; he builds mud huts or something for four months out of every year in a developing country and has somebody hold down the fort while he's gone."
This was a tempting offer. After six long hard years of work, I was earning six figures, and had reached the point in my business where I could follow a trend of working less and earning more. In many ways I had done all the hard work of building up a business without fully reaping the rewards. If all I had to do was "get something out of my system", then this arrangement would have been ideal. Traveling with the security of knowing there is something to come home to can be a wonderful safety net, especially if you're not sure what you're looking for or what you'll find.
However, instead of seeing this offer as a "safety net", I saw it as a limiter. A hindrance. How could I embrace whatever was on the road for me to discover if I knew I had to come back to a life so stressful for me that I burnt out mentally and physically from it? And how did I know that when I came back, I'd even want to live in the same city? I was drawn to western Canada's vast landscapes and giant mountains, and having a business waiting for me in Toronto seemed to complicate things more than simplify them.
I was also looking for a truly fresh start. Having anything tying me to "home" was difficult to comprehend; everything had to go. The business, the car, the motorcycle, the skydiving gear, the chic urban loft on the beach (I do miss that loft), and all the "stuff" that was inside of it. In so doing, I was letting go of the traditional definition of "home" in its entirety, knowing that letting go would reveal a new definition of "home" and a new way of life.
So I kindly declined the offer and proceeded to sell my business outright. But despite my confidence in this move, I still wasn't looking forward to the next three months of transition.


Selling Everything Else
Not only was I selling my business in as responsible a way as possible (in fairness to my clients who I had emotionally invested in – often waking up in the middle of the night in a cold sweat wondering how they'd react), but I was also selling everything else I owned.
There was no family home with lots of space to store my things, and I wasn't prepared to pay for monthly storage. And as with my business, in the name of transitioning to a new definition of "home" and freedom, I needed to divest myself of everything; not put it on hold.
So I sold all my crap over the next few months, deciding to store only the absolute "necessities": those things I deemed priceless or irreplaceable, as well as official paperwork and files I had to keep. In total, I had five boxes that I reverently stored in a friend's garage.


Deciding Where to Go
I'd arbitrarily chosen Costa Rica as a starting point, having heard of an Outward Bound instructor course that sounded ideal. I could enjoy nature and train to be an outdoor education instructor, which would be a skill I could travel with and enjoy using around the world. It was also a ticket to potential income for sustaining my travels, since I had no idea how to make the finances of full-time travel work (yet).
But for some reason I couldn't book the ticket.
Then my boyfriend at the time got a call from his brother who was getting married in western Canada and wanted him to be in the wedding party. So, west we went instead.
(You may note that in this tale so far, Kelly is only now being introduced, despite his role in the first few years of my travels. This is because I believe that my process to becoming The Professional Hobo was very much an individual one, as can be evidenced in this post. Although I treasure our relationship for what it was and what we learned from each other, I don't believe the dream of travel was a shared one. This is my story.)
And with our last-minute decision to spend the first summer "abroad" in western Canada, also came the faith and understanding that the next travel move will always reveal itself when the time is right. And so it did (and does)…every time.


Writing…for Pleasure, and Money
Barely being able to define a blog, and with no idea that anybody else in the world was doing what I was, I started a travel blog as a way to stay in touch with family and friends while I was gone and to chronicle my travels online without needing reams of paper.
But as I did more research, I found people making money online with writing and blogs. I still didn't see a market for my blog in particular, but I found a few others that invited me to write for them, including Wise Bread and Vagabondish; two fledgling websites at the time who were willing to give me a chance.
"Hey, wait a minute!" I said. "If I can write and making a living with nothing more than an internet connection, I've got it made for full-time traveling!"
What a revelation.
I had no delusions of this being an easy or quick way to riches; in fact I expected it would take years of relatively full-time work to build up a portfolio and reputation to crack into the industry. Luckily I had an income from the sale of my financial planning practice to cover me for 2.5 years; hopefully long enough to generate a new stream of income from writing.


Niche Writing
I also had the advantage of a niche expertise in personal finance to combine with travel that differentiated me from the masses of people trying to be travel writers.
So I wrote about travel for various financial publications, and I wrote about finance for travel publications. The two topics married quite nicely (since you need money to travel!), and soon thereafter I identified another niche in lifestyle design and location independent career management – since that was the life and career I was hacking into, one steep learning curve at a time.
So after a couple of years (and a lot of hard work with very little income), learning the ins and outs of traveling inexpensively using various tips and techniques, I eventually found the perfect balance; I had figured out how to make full-time travel financially sustainable.


"The Professional Hobo" is Born
Along this journey, I was often asked by people I met what I do, where I'm going, and how long I'm traveling. (This is standard "cocktail party" conversation on the road). Without having firm answers for any of these questions, I self-deprecatingly dubbed myself a "Professional Hobo" to get a laugh (which it often did).
But after a while it stuck. A "hobo" in its early definition was a migrant worker without a home who hopped on a train and rolled into a new town, found temporary work, then moved on to a new town when the time was right.
I was certainly a "hobo" – without a home I was rolling from one place to the next, often finding volunteer jobs that covered my accommodation expenses (allowing me to delve deeper into the local culture than I could as a tourist), before moving on to a new destination and volunteer gig.
But I also had a "professional" edge to my hobo-ness, with a fledgling writing career and finance background. I was putting a science to the hobo-lifestyle.
Eventually when it became apparent that I'd outgrown my blogspot blog and needed to upgrade, I embodied the "The Professional Hobo" through and through.
It has now been five years since I walked into my regional director's office to announce my decision to sell everything for a life of travel, unknowns, and the stuff (my) dreams are made of. Over 12 years of full-time travel later, I've found a way to make full-time travel financially sustainable and I'm still going strong.


When Will I Stop? (2021 update)
This is one of the most common questions I get; my lifestyle couldn't possibly be soul-satisfying for ever onwards, could it? Surely I'll want to "settle down" and adopt some sort of normality to my life.
Right?
Well….maybe. Maybe not. Prior to 2017, I'd have said I'll never "settle down" in any conventional sense. Since then I have, and haven't, at the same time.
Since my dream of travel is much more about living around the world rather than merely passing through it, I travel slowly, spending months – if not years – in a given destination. So travel fatigue is no longer as prominent issue as it once was to deal with, since I'm usually quite excited to explore a new horizon by the time I move on.
That said, in late 2018 I returned to my home town of Toronto to set up a home base – something I honestly never thought I'd do. In the years since, I have traveled several times a year for weeks to months at at time. My inner travel bug lives on.
My thirst for exploration, breaking bread around dinner tables around the world, climbing the mountains of the world, shopping the markets around the world, volunteering around the world, and – most of all – celebrating the human connection – hasn't waned.
The mechanics of what I do and where I go will continue to evolve with me and my lifestyle, as it should. So please stay tuned to The Professional Hobo to see what the next curve will be; if it's anything like the first 15 years have been, I'm sure it will be one hell of a ride.