My Ukrainian arrival in Lviv involves a weathered woman (me). I've had a few high and low moments on the Ultimate Train Challenge so far, and in less than two weeks, I've experienced a what feels like a lifetime of travel adventures. By the time I reached Prague, I had lost much of my sense of time, space, even culture.
So feeling dizzy with trains, arrivals, departures, hellos, goodbyes – coming to Ukraine is (initially) more than I can handle.
Here is my Ukrainian journey – a lifetime of paradoxes unto itself.
This post was originally published in 2011. It has since been updated for accuracy of links and content.


Day One – Lviv
12:30am – I'm on the overnight train to Lviv from Budapest. The previous morning I boarded a train in Prague. By the time I arrive in Lviv I'll have been on trains for 25 hours.
I'm jolted awake by a customs official who ponders my passport ad nauseam before finally stamping it to signify my exit from the EU. Shortly thereafter I'm handed a customs form entirely in Cyrillic – not even the English alphabet, much less English language. I blink, wondering if it's sleep in my eyes. Nope – I'm actually expected to fill this out. And nobody speaks English to help me. The lady in the cabin next door ends up basically filling it out for me; I have no idea what she writes, but it does the trick.
9:30am – I finally arrive to Lviv station. Again – no English. And – no cash. I try three bank machines and a number of debit and credit cards before I find a card and machine combination that works.
10:30am – I'm still wandering around the train station, bewildered. I don't know where to go, how to find the tram I'm supposed to take, or how to tell a taxi driver where I want to go. I'm so exhausted and overwhelmed, I was long ago bereft of my problem-solving or rational thought capacities.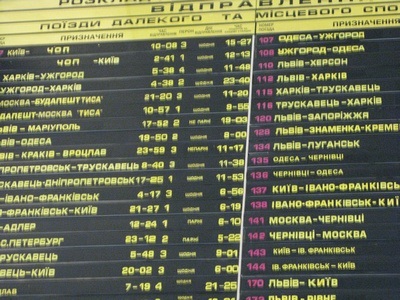 11:00am – I drastically overpay a kind-looking gentleman to drive me to my hostel. Although he bills himself as a taxi driver, I realize he's not when we get into his car, and I'm nervous the whole way. When we reach the hostel, I want to kiss him. Instead, I unwittingly overpay him three times the going rate.
11:30am – My first beacon of hope: Mister Hostel. The kind receptionist shows me my room, into which I collapse and enjoy releasing the tears that have brimmed my bewildered eyes since arriving.
1:00pm – I'm still hiding in my room, behind the safety of my computer screen. Not having eaten since yesterday, the need for food and coffee forces me out of my self-loathing stupor.
1:30pm – I enjoy an uplifting and heartening conversation with the hostel receptionist at Mister Hostel, who, sensing distress makes me a coffee as soon as I emerge from my room. We talk about life in Ukraine, things to do in Lviv, and our respective backgrounds. I leave the hostel with a better sense of Lviv, a map in hand, and a little more energy.
2:00pm – I'm eating the most typical (and filling) Ukrainian meal I can find: borscht and pierogies – all for the staggering price of $2. With sustenance, I have renewed faith in my ability to get through this day, much less this trip.
5:00pm – I've wandered the streets of Lviv for the last three hours, and I'm impressed. Unlike other places in Europe, the buildings here haven't been restored – and there's beauty in the "realness" of everything and everybody. There's a friendly energy, and I feel safe.
Now, I meet Oksana of Active Ukraine. Her contacting me online is a big motivation for my planning three days in Ukraine, and I'm thrilled to finally meet her in person. She helps me buy my onward train tickets (without this help I'm truly not sure how I would have managed), shows me some sights, and bids me goodbye.
7:30pm – It's very un-Ukrainian, but I'm indulging in a sushi dinner. I haven't had sushi in weeks, and I seriously doubt it will be available on the Trans-Siberian railway.
9:00pm – I return to Mister Hostel to discover I've been upgraded to a private room with my own shower and toilet. This is the perfect respite to repack my bags, shower, and prepare for my big trip to the mountains tomorrow.


Day Two – Carpathian Mountains
5:30am – I'm awake to go to the train station (by taxi, for 1/3 the price of my last taxi ride here), to board the 2.5 hour train ride to Ivano-Frankivsk, where I'll meet my Active Ukraine mountain guides.
9:40am – On cue, Olesia and her friends Jerry and Andry greet me at the Ivano-Frankivsk train station. We gather our gear, and a friend of Jerry's disappears with my luggage (which includes my precious laptop) to keep it safe while we're camping in the mountains.
12:30pm – After a long bumpy bus ride, we are dropped at the trailhead on the side of the road. So begins the upward hike.
4:30pm – We reach our first of three mountain summits over the next two days. It's a long, arduous trek, but I'm happy to be using my legs as a reprieve from the previous (and upcoming) sedentary train travel.
5:00pm – We stop in at a log cabin miles from anywhere, with cows grazing outside and plumes of smoke rising from the chimney.
Here, we meet a shepherd, who has lived here all summer. His job is to care for the cows, which belong to a various people in his home village (where there is no pasture for them to graze on). Each "owner" periodically stops in (a trip involving a long hike) for their share of cheese and milk.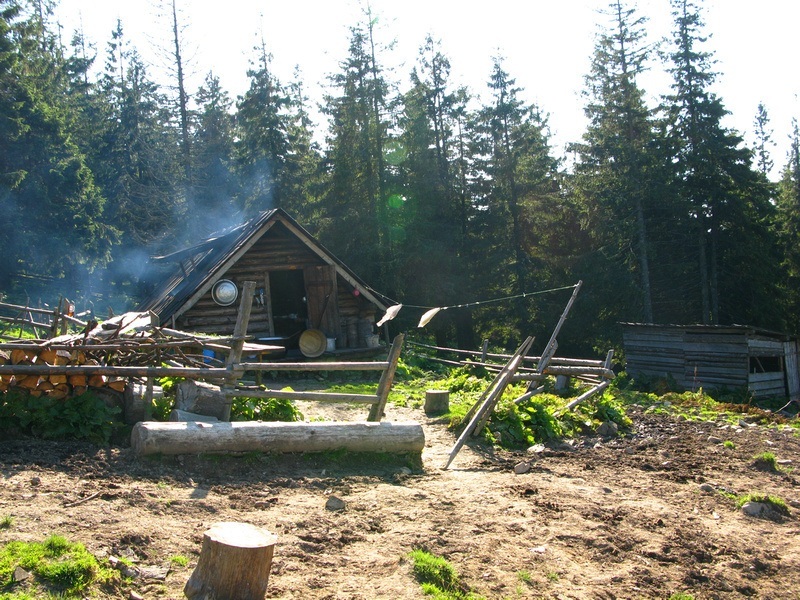 The shepherd is a "wholesome" outdoorsy fellow, probably in his 50s or 60s, and thoroughly in his element. He ducks inside and emerges with three different kinds of cheese and fresh Ukrainian donuts, urging us to take more than we can conceivably eat.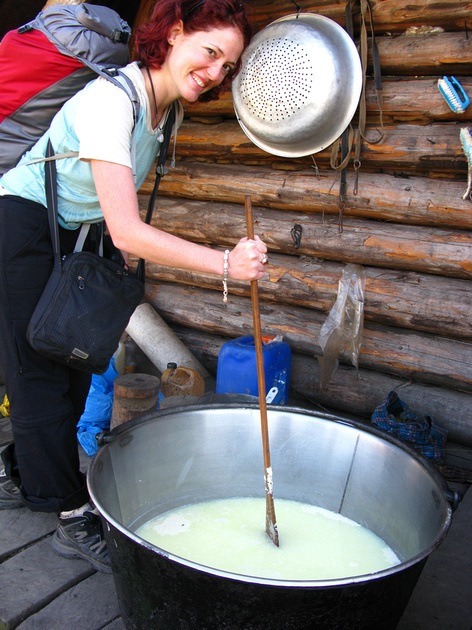 Through translations, I learn the shepherd is due to leave tomorrow for a winter in the village, and he starts to cry. His passion for this simple life of making cheese, tending pastures, baking bread, and sustaining himself here is evident. His emotive state is both surprising and incredibly moving.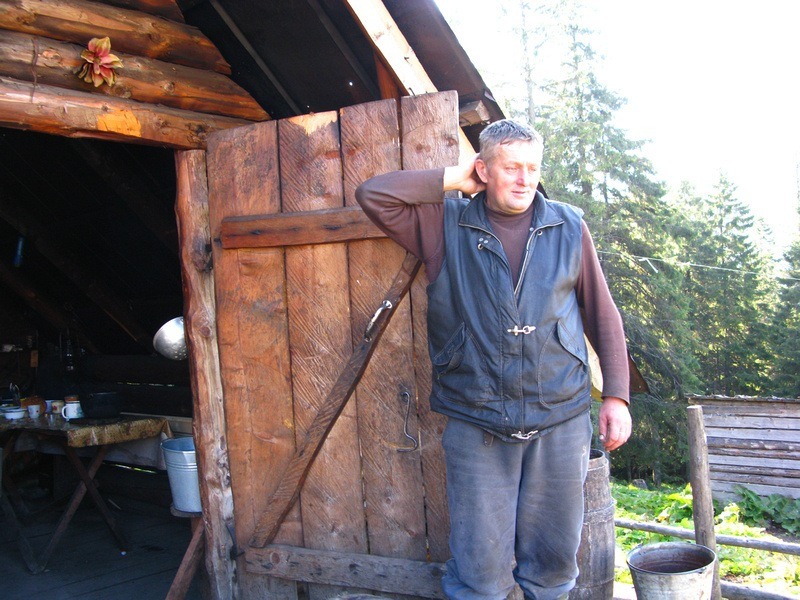 I hadn't imagined that this sort of lifestyle still existed. It feels like we traveled back in time to witness a way of life of decades gone past. It is an honour to meet this man, and to see a slice of natural Ukraine that very few people ever see.
6:00pm – We reach a good spot for camp. The four of us set to putting up tents, collecting firewood, and preparing dinner. Soon enough we're feasting on a delicious meal – which includes fresh cheese from our shepherd-friend of course.
10:30pm – We settle in after a night of singing Ukrainian and English songs around the fire. We break language and cultural barriers with this beautiful and ancient art of song and fire. With sharing song, hiking and camping, we are fast becoming friends.


Day Three – Carpathians, Showers, and Slow Fast Trains
8:00am – The guys already have a campfire going, and we make breakfast (sweet rice and dried fruit porridge).
11:45am – We've reached the second of our three summits, and the highest at over 1,600 metres. The summit (and much of the route up) is a jumble of large rocks (good balance and rock-hopping capabilities are essential), covered in light-green lichen. It lends a unique look to the Carpathian mountain range, both from a distance and up close.
1:00pm – "The way down will be very difficult," are Olesia's words that have been ringing in my ears all morning. I'm not good with coming down off mountains in the best of circumstances, and given the strenuous nature of the trek so far, I wonder what her concept of "very difficult" is.
I have my answer as we stand atop peak number three, and I look over the precipice at the steep rocky descent. The first leg will be the toughest, and from there it's all meadows and forest descents (which aren't exactly like lollipops and candy canes, but are comparatively easy).
3:00pm – We've made it down the tough bit, after some harrowing moments and a few minor slips. The trail has now disappeared. I wonder to what degree we're lost, and contemplate what it would be like to miss my train (involuntarily), instead making a life in these beautiful mountains, living simply like the shepherd does. (But then I realize that even the shepherd leaves these hills for the harsh winter, so I quicken my pace down the steep forest terrain).
4:00pm – All's well and we're back on the main road, at a massive ski resort under construction. Apparently I'm not the only person who thinks the Carpathian mountains are worthy of visiting; in a few months, this sleepy area will see thousands of ski-happy tourists.
6:30pm – Olesia and I say goodbye to Jerry and Andry, and I'm thankful for two new friends myself. We already have a few hikes planned for my eventual return.
7:00pm – We are in dire need of showers, especially given my pending overnight train ride. Olesia calls a friend in town (since she herself lives a few hours away in Lviv), who invites us to her home to clean up – even though the friend won't be there. We are assured that her brother and mother will take care of us.
8:00pm – Two blessed showers later, we feel human again. I tell the mother through charades that her cooking smells delicious, and within minutes we're sitting at the table and eating her homemade borscht, meat patties, and veggie/bean salad. It's a feast, and I'm quickly stuffed – and I've managed to get another Scavenger hunt item: a picture of me eating in a local's home!
9:00pm – Olesia and I are taking the same train (she gets off much earlier), and we wait at the station, along with Jerry's kind friend who returns with my luggage and insists on waiting with us so he can help us on to the train with our bags.
Although it's a far cry from the high-speed trains of Europe, this train is apparently called the "Very-Fast" train. The irony is almost painful when the announcement comes: "The Very-Fast Train Will be 1 Hour Late". The very-fast train is no longer very fast.
But things in Ukraine aren't always as they seem. What at first seemed an intimidating, uninviting, and formidable front in Lviv, opened up to be a beautiful place of raw and honest beauty, in spite of – or in fact because of – it's pock marks.
And once I saw this glimmer of beauty, so much more of Ukraine opened up for me. I met more and more people who offered their kindness – if not through their words (with language barriers), then through their generosity and demeanour.
The taxi-driver. The hostel receptionist. Oksana. The man at the dinner table next to me who helped translate the menu. Olesia, Jerry, and Andry. Jerry's friend who stored my luggage. The kind shepherd, who shared his food and his open heart with us. And the "ultimate" mother who opened her home to two strangers for showers and a hot meal.
In my three days in Ukraine, I feel blessed to have transformed from somebody beaten-down and exhausted, to somebody rejuvenated by the wonders of those things we least expect.
Thanks to Active Ukraine for taking me hiking in the Carpathian mountains. I wish I had time to do one of their city-based tours like the Kyiv Quest, which turns discovering the city into a fun game.
Thanks also to HostelBookers for connecting me with Mister Hostel in Lviv.