I sometimes get emails from readers who are intimidated by all the things to do before traveling abroad, such as paperwork and documents they think they need to collect in order to travel the world.
While it's super important to have your documents and visas in order before you travel, it doesn't have to be overwhelming.
In this guide, I break down all the important documents you should prepare and much, much more.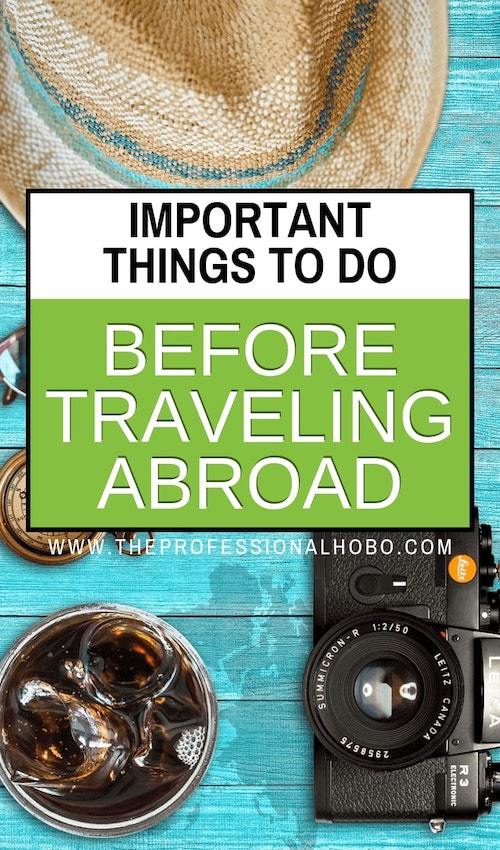 Table of Contents
Chapter 1: How do Visas Work? Everything You Need to Know to Get Started
Chapter 2: The Importance of Power of Attorney for Long-Term Travelers
Chapter 3: How to Provide Onward Travel Proof When You Don't Know Your Travel Plans
Chapter 4: The Benefits of an International Driving Permit
Chapter 5: Prepping Your Other Official Documents for Long-Term Travel
Chapter 6: How to Sell All Your Stuff So You Can Travel Light & Save Money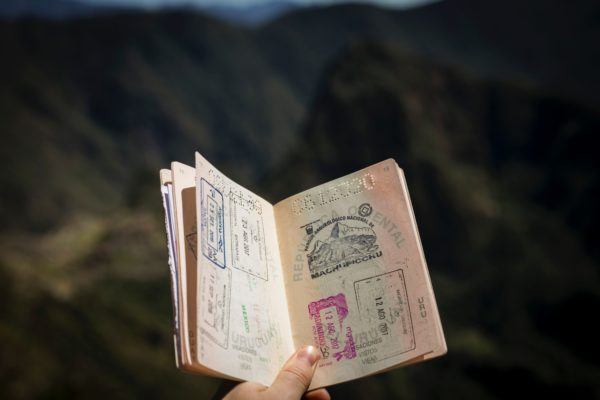 Chapter 1: How do Visas Work? Everything You Need to Know to Get Started
I've always gotten a lot of questions about how I manage visas for the countries I visit.
It can seem overwhelming trying to navigate visas if you've never done it before, so in this chapter, I cover the basics of tourist visas and how I live on them from country to country as a full-time traveler.


What is a Visa?
It bears noting that I'm using the word "Visa" liberally in this article. Depending on your citizenship and the country you're visiting, you won't actually need/receive a "visa", and instead you'll just get a passport stamp authorizing your entry to the country for a certain amount of time.
A formal visa is obtained through an application process. This application process can be as simple as an online form and payment, or as complicated as multiple visits to consulates and relinquishing your passport for days or even weeks. It usually ends up as a piece of paper glued into your passport, but not always.
But again, for the purposes of this article, I'm referring to visas as general permission to enter a country.


What type of visa do I get for long-term travel?
I tend to travel on tourist visas. (This means, when I fill out the immigration cards on arrival, I mark myself as traveling for the purposes of "tourist/vacation/recreation").
I do this because immigration agents don't generally understand lifestyle travel, and saying you travel full-time or that you're a digital nomad tends to open up a can of worms that can negatively impact your ability to enter the country. When it comes to immigration agents, less is more. Keep it simple!


Can I work location independently with a tourist visa?
Yep. Well, more accurately – in many countries you can. It's a good deal for the country you're visiting: you're earning foreign dollars and spending them in their country. Immigration would be daft to say you can't enter!
But alas, sometimes they will. In some countries, you can't even volunteer without a working visa. Be sure to check the visa regulations before you go.


What are the requirements for a visa?
That's entirely dependent on your country of citizenship and your destination country.
Here's a global site showing basic visa information for citizens of any country to enter any country.
I tend to check the site above, before visiting my home country's government website for travelers abroad (this site for Canadians, this one for Americans) to cross-check entry requirements. These sites also provide comprehensive information like vaccination requirements and travel advisories.


My visa is only for 60 days. How do I stay longer?
Again this depends on your citizenship and where you're visiting. In some countries it's common for long-term travelers to do "visa runs" where they cross the border for a day or so (sometimes as little as an hour) and re-enter the country on a fresh visa.
Other countries allow you to extend your visa while you're in the country. Thailand for example (a hotspot for digital nomads), has a few visa options, one of which is to receive an automatic 30 days on arrival (technically a "visa-free entry"), and to extend it at a local office for another 30 days. Bali (Indonesia) has a similar process.
In other cases you can apply for a longer-than-normal visa in advance of visiting. I did this in Australia – which at the time was giving out standard three-month visas. I applied for six months on the basis of doing a volunteer gig; it required some extra paperwork and proof of the volunteer gig (in the form of a letter from my hosts).
And sometimes, there's no option (or at least, not an easy one). Read on.


I'm visiting Europe. What's this Schengen Thing?
The Schengen agreement is likely to mess up your plans for Europe if you don't know about it.
In short, the Schengen area is a collection of 26 European countries that have no passport control at their borders. This makes it incredibly easy for travelers (Europeans and non-Europeans alike) to travel all over Western Europe.
Citizens of Canada and the U.S. don't require an official visa to enter Schengen countries. (Citizens of some other countries do. Check out this site for Schengen countries and visa information). Instead, we get a stamp on arrival allowing us to stay for three months…..and that's for all the Schengen countries, combined. So, if you wanted to spend six months traveling across Spain, France, and Germany, you're outta luck.
And there are no visa run opportunities either. Once you've used up your three months, you need to stay out of the Schengen area for three months before you can return. The official language is that you can stay for 90 days in any 180-day period.
Luckily the UK isn't part of the Schengen area, and they'll give you six months on arrival. So, if you've used up your Schengen visa time, you can head to the UK or perhaps to Eastern Europe.


What are the requirements for a longer visa application or visa extension?
The requirements vary, but often to stay a longer period of time as a tourist (even if you've got a location independent career), you have to provide financial evidence (ie: bank account statements) showing you have enough money to support yourself for the visa period being applied for.
I did this in both Australia and New Zealand, and in both cases I think I had to prove I had $1,000 in an account to cover living expenses for every month I wished to extend my visa.


Chapter 2: The Importance of a Power of Attorney for Long-Term Travelers
Having a designated representative at home is important when you're traveling long-term. They can help handle certain things for you on your behalf while you're abroad.
To take that concept even further, you can also assign them Power of Attorney.
In this chapter, I discuss the importance of having a designated representative, what the Power of Attorney actually means, how it can be helpful to you as a traveler, and the basics of how to make it happen.


Designate an Official Representative
If something goes awry on the road, it's good to have somebody at home who is in your corner. This person (in addition to being trustworthy and reliable) should have copies of all your ID and insurance policies and banking info.
With this information, they can do simple things like deposit cheques mailed to your home address, to more complicated tasks like advocating on your behalf with travel insurance companies in the event of a medical emergency, or even providing documents to your local consulate if you're stuck abroad and trying to replace your ID. (All of this has happened to me).
You can also give them Power of Attorney.


What is a Power of Attorney?
There are two kinds of Power of Attorney – one for Property (ie: stuff), and one for Personal Care (ie: what to do if you're in a coma and can't express your wishes).
Here, we're discussing the Power of Attorney for Property.
By assigning Power of Attorney for Property to somebody, you're giving them the legal right to do just about anything on your behalf. So obviously you need to implicitly trust the person you're giving it to. Although not imperative, this should be the same person you'd be willing to give power of attorney for personal care to, or to assign as your executor for your will.
How can a Power of Attorney help a traveler?
My designated representative (hi, Mum!) has helped me in the following ways while I've been abroad:
Alerted me when the tax department (or anybody) has sent action-required correspondence (since I don't have a

Virtual Mailbox

Service)

Collected tax slips, and forwarded them to my accountant (here's everything you need to know about

filing taxes as a digital nomad

)

Held on to certain things I need on my return visits (like driver's license renewals)

Deposited any cheques I've been sent

Forwarded some things to my address-du-jour
But because I've also given her Power of Attorney over property, she's also been able to do the following:
Received registered mail (which usually requires my signature) on my behalf – this includes simple things like

renewal credit cards

Perform certain banking manoeuvres that normally require my physical presence
That's all she's had to do for me so far on that level, but having somebody who can truly act on your behalf in your absence can be a blessing that comes in many forms.


How to Get a Power of Attorney
You're best to see a lawyer to draft one up. It's a one or two page document, so it shouldn't cost a bundle.
You can also search for a template online at your own risk (the risk being that the document isn't worded or completed correctly and doesn't satisfy legal requirements).
If you have doubts, then you can manage most of the intricacies of full-time travel without giving Power of Attorney to anybody. But I've saved myself a few expensive plane tickets in not having to return home by having one.


Chapter 3: How to Provide Onward Travel Proof When You Don't Know Your Travel Plans
On my Facebook Page, a reader once asked:
Has anyone ever been asked to produce that 'onward travel' ticket some immigration websites say you need, that demonstrates you will not be staying in the country you are entering?
The short answer: YES!
In this chapter, I go over what they mean when they're asking for onward travel proof, as well as my favourite strategy for doing so when you still aren't sure what your travel plans are.


Proof of Onward Travel Requirements
Many countries' immigration departments require you to provide proof that you're leaving their country (in the form of an onward travel ticket) before they'll let you in. This can be tricky, since sometimes we nomads just don't know where we are going next (or when), and shelling out a heap of cash for an onward ticket without knowing where you're going is impractical.
In some cases, you can't even board the plane to your destination without one.
True Story: I was once not allowed to check-in for a flight from Australia to New Zealand because I didn't have a valid flight out of NZ. I had to buy a full-fare ticket from NZ to Fiji on the spot (that was the cheapest one available) just to get on the plane.
And once I was in New Zealand, I wasn't even allowed to cancel the onward ticket without providing proof of a different onward ticket!
In other cases, you can talk your way out of it.
For example, depending on the geography of the country, you can say you're leaving overland by train/bus/ferry and you're waiting to book your ticket locally. Whether or not you'll be allowed in ultimately depends on the immigration agent in front of you and how lenient they choose to be.
Sometimes you can show them some proof of commitment to being somewhere else.
When I had to do some tricky visa paperwork in Thailand, they asked for an onward travel ticket. Because I was going to leave Thailand by train and had no tickets yet, I showed them my flight out of Singapore. That was enough to prove to them I had somewhere else to be and would leave Thailand.
Showing them confirmed accommodation reservations in another country might get you though as well…again depending on the leniency of the immigration agent and the country you're trying to enter.
And sometimes, they just don't ask.
I've dazedly left more than a few immigration counters having been ready to show my onward travel ticket but never having been asked for it. Island nations are usually the strictest for requiring onward travel tickets, but again – you just never know when you're going to need to show it.


Creative "Onward Tickets"
In places like the Caribbean, it's common for people to fly to one island then hop on a boat from there; be it a sailboat, ferry, or yacht. If you know a boat-owner/captain in the general area where you're headed, they can write a letter to immigration saying that you'll be joining them on the boat and stating approximately when the boat will be leaving that country's waters.
Note: I would never want you to lie to an immigration officer about your onward travel plans (lying is bad), but sometimes our best-laid plans change….maybe you intend to join a boat but end up leaving the country another way. They won't hold you to your onward travel plans; they just want to see that you have some. Just saying. (CYA: check!)


Using Rentable Onward Tickets
Since I hit the road a long time ago, a few services have cropped up that allow you to "rent" onward travel tickets. This strategy has become my go-to when I need to show proof of onward travel at check-in or immigration.
Here's the scoop:

Best Onward Ticket
Best Onward Ticket provides you with a perfectly legitimate flight ticket that lasts for the duration of your journey (generally long enough to get you through airport check-in and immigration on arrival).
Once you order your ticket, they purchase a fully-refundable flight out of the country on your behalf (and send it to you within two hours), and they cancel it 48+ hours later. This saves you the hassle of buying and cancelling a ticket yourself (which I've also had trouble with in the past).
They charge $12 for a 48-hour ticket. For an extra $1, you can order your ticket in advance (which is terrific, since we can't always order and print an onward ticket right before hitting the airport), and for another $5 you can select the destination for your onward ticket (since normally they just choose a random destination).
I have used Best Onward Ticket a few times, flawlessly.

Onward Ticket Visa
With Onward Ticket Visa, you'll pay $9 for an onward ticket that lasts 48-72 hours (though the fine print only mentions 48 hours), and it includes your selection of destination. For an extra $3 you can get a rushed ticket.

Onward Tickets
Onward Tickets charges $7 for a 48-hour ticket, which is supposed to arrive within 3-6 hours. However they also charge a $5 surplus for a rush order, which involves "24-48 hour delivery upon purchase", so that's a bit confusing. For an extra $2 you can order in advance and have the ticket delivered on a specific date. Interestingly, this service requires you to upload a photo of your passport to book your ticket; something I'm personally leery of.

One Way Fly
One Way Fly differs from the above sites in a few ways. For $21, they give you an onward ticket that is good for 48 hours, and for an extra $14 you can extend the validity of the ticket to 14 days. For an extra $5 you can choose a specific flight, and for an extra $1 you can order your ticket in advance. You can also add another passenger to the same booking, which is great if you are traveling as a couple or family. In addition, some visa applications require a hotel reservation, which One Way Fly can arrange for you for $20. Other visa applications require a return ticket – to and from the country. One Way Fly can give you a round trip ticket for the purpose for $25, which gets you the visa but leaves you the flexibility to decide your actual travel arrangements later. Lastly, as a travel agency, One Way Fly gives you the option to buy the actual ticket afterwards, as well as to book other services.


If you must buy a ticket…
If you need to provide a ticket but really don't know where you want to go next (or when), then you're best off buying a fully-refundable ticket. This will cost you a pretty penny, but you'll get (most of) your money back when you do decide where you're going and no longer need the ticket. Make sure you choose a relatively inexpensive onward destination to begin with, and read the fine print about refunds carefully before you buy.
Even if you end up going to the same destination anyway, you can save money by exchanging your full-fare ticket for a cheaper non-refundable ticket.
Also, choose an airline with whom you have the greatest chances of leaving the country with; the fees for changing reservations (including a switch to a non-refundable ticket) are usually cheaper than the fees for getting a refund.


Where to find your destination's requirements
Ultimately the entry requirements for your destination will depend on the country, and its relation to your citizenship.
The best place to start is your home country's immigration site, which should allow you to search for your destination's country information, advisories, and entry & exit requirements.
And here's the one for U.S. citizens.
NOTE: If you read the accompanying travel advisories too carefully, you'll never leave home. They are incredibly conservative with cautions and advisories, so if you are a remotely experienced traveler, take it all with a grain of salt.


Chapter 4: The Benefits of an International Driving Permit
In the realm of organizing your official documents for your travels, you might want to consider getting an International Driving Permit.
It has come in handy for me in some unexpected ways, as well as the usual in being able to rent/drive a scooter or car abroad.
In this chapter, I go over the basics of what an IDP actually is and how to get one.


What is an International Driving Permit (IDP)?
It is a photo-ID supplement to your driving license, translated into many languages so you can drive and rent cars abroad. (It's recognized in about 175 countries, and can also be called an International Drivers License).
As an extra piece of photo ID (which is generally recognized worldwide), it can be handy.
You can apply for and renew your annual IDP from abroad (although it will probably be sent to your "home" address, so you might need it forwarded).


Is an IDP Worth It?
I initially thought it was a cash grab, but I must say it has come in handy a few times – even in English-speaking countries like Australia (where I bought a car). Without one, I would have had to apply for a pricey and labour-intensive local license since I was there for more than four months.
Years later in Japan I didn't have one, and I missed out on an opportunity to drive a Mario Kart around Tokyo. Seriously, I'm gutted about it.


How to Get an International Drivers License
If you are an American, you can apply for an IDP with AAA and AATA.
In Canada you can get one through CAA.
In the UK, go to the Post Office.
Smart Traveller has instructions for Australians, and AA is the place for New Zealanders to get theirs.
If I've left out your country, check with your local license issuing authority, or do an online search.
Be warned; there are a lot of unofficial IDP issuers out there; legal issuers are usually recognized Auto Associations or tied to the government in some way.


Chapter 5: Prepping Your Other Official Documents for Long-Term Travel
It's important to have your official documents in order before you start traveling. This is especially important if you are traveling long-term or full-time.
There are a number of things you can do to prepare, and safeguards you can set in place, in order to ensure that everything goes smoothly while you travel – even if everything isn't going smoothly!
In this chapter, you'll find a checklist of which documents to travel with, what to carry with you on the road, and other important things to prep before you embark on your travel adventures.


Checklist of Important Documents to Prep for Long-Term Travel:
Identification to Carry
When abroad, your passport is the most important piece of paper in your possession. It will be your main form of identification while you're traveling, but it does help to have at least one other form of ID with you.
Why?
There may be times you're required to provide two forms of photo ID. Also, if your passport is lost or stolen (like mine was…oh boy that was fun), you'll need original identification to replace it.
Your driver's license from home will work as this second form of ID, or you can use the IDP we talked about in Chapter 4. Just make sure you leave at least one piece of original identification (like your birth certificate) at home. That way you still have something original if you lose absolutely everything on the road.


Passport Copies
It's super important to travel with copies of your passport (and carry them separately from the original). That way, if your actual passport is lost or stolen, you can expedite the process of getting a new one by having a copy.
Once you're at your destination, only carry the copy out and about with you. Store the original in your hotel safe or at reception.
For more about keeping your passport safe, check out Chapter 8 of my guide to Travel Security: How To Keep Your Finances, Data, & Identity Safe On The Road.


Copies of Everything
As long as you're making copies of your passport, I recommend you make a copy of everything. All your ID, important documents; anything that would be a hassle to lose or replace.
I not only make physical photocopies of my ID, but I also take pictures of everything and store it in an encrypted file on my computer and a special USB stick. (Learn more about my nifty USB Stick Trick here).
And, I also leave copies of everything with my designated representative at home. Overkill is not a bad thing when it comes to official documents and travel.


Consulate/Embassy Phone Numbers
One time, a traveler friend of mine was in Africa and got into a verbal argument with a local "authority" about handing over his passport. The "authority" claimed he was breaking an unwritten law.
My friend pulled out his cell phone and dialled his consulate's number, which he had stored in his phone. That's when the "authority" decided to move on.
Not only was he able to confirm with the consulate whether the "authority" figure was legitimate, but it also was handy in encouraging the attacker to move on.
Your consulate is there as a resource to you. Don't be afraid to use it.


Passport Photos
It may seem small, but carrying some extra passport photos has come in handy several times.
Depending on where you travel, you'll need passport pictures to accompany certain visa applications. But you'll pay a premium for these pictures if you get them at the airport or otherwise go with a "traditional" passport picture photographer.
Instead, take a digital shot of yourself (there are certain standard guidelines you need to follow, like using a white background, eliminating shadows, and not smiling or covering your face in any way), and either crop and print out copies at a self-service machine (available in many pharmacies and photo centres), or use an online service to crop and tweak the shot so you can generate prints however you wish.
I always have a fresh batch of passport pictures I can dole out for visa applications, and have even made use of them on other random occasions like when I got my scuba license. These pictures cost me pennies on the dollar, and have been – and continue to be – invaluable.


Checklist of
Other
Important Things to Do Before Traveling Abroad (that don't involve legal documents):
Protect Yourself with Travel Insurance
I highly recommend getting a comprehensive travel insurance policy. I've had a few kicks at the can of bad medical luck on the road, and I wouldn't want to be without insurance.
It's also worthwhile to check and see what travel insurance is offered on your credit cards already (for example you can skip the comprehensive car rental coverage if you charge the rental to a credit card that automatically covers you).
(See also: The Complete & Easy Guide to Insurance for Travelers)
Make sure you always carry your travel insurance information (eg: insurance company name, phone number, and policy number) with you, because some insurers won't cover your expenses if you don't contact them before seeking medical treatment. (I keep mine in my wallet).
Also make sure that your designated representative at home and your travel partner (if you have one) have the travel insurance company, policy number, and claims phone number too.
It is also a good idea to have a copy of the full policy available just in case you need to reference it on the fly. Not once—but twice—have I had to use travel insurance, and having the full policy handy for reference has been invaluable.


Apply for the Right Credit Cards
Before you quit your day job (and take a hit on your income), make sure your financial house is in order by applying for whatever credit cards you'll want to travel with. (For travel-friendly credit cards, look for low – or no – foreign exchange fees, and ideally some frequent flyer mile love).


Sort out a Mailing Address
Unless you're cutting all residency ties with your home country (not generally recommended), you need an official mailing address.
If your designated representative (or anybody else) isn't able to act as your mailing address, then consider a virtual mailing service.


Set up Travel-Friendly Banking
There are a variety of steps to take under this category, from ensuring you have an ATM card with a 4-digit pin, to eliminating what bills you can and automating the rest, to setting up online banking, and more. (See also: The Ultimate Guide to Traveling With Money and Financial Planning for Travelers)


Get an Unlocked Phone
Get rid of your cell phone plan at home (the roaming charges will likely eat you alive). In some cases if you are traveling for a limited amount of time, you can put your home plan on hold for a small fee.
Then make sure your phone is unlocked before you skip town. That way you have the freedom to use cheap local SIM cards wherever you go, or an International SIM Card.
When I'm not using a local SIM card in a country with cheap data/phone plans, I adore my Flexiroam Global Data plan, which is a buy-as-you-go international data package that I purchase and manage through their dedicated app. When you are abroad, you use your phone's settings to turn off your home plan (no roaming!), and activate Flexiroam. You buy data from Flexiroam through the app as you need it (and they're always having sales; I wait for 70% or 80% discounts and then I load up on global data). And most of the time, with WhatsApp and other popular ways of staying in touch with locals and foreigners alike, you don't even need a local phone number anyway. Data is sufficient for all your needs.
Using this strategy, my phone expenses average $15/month around the world.
See also: Cell Phone Travel Basics: International Phone Plans, SIM Cards, and More


Set up a VPN
The final way to protect your documents and data while you travel is to set up a VPN (Virtual Private Network) service. One subscription will cover all your devices, and will encrypt everything you do online so that hackers can't get in and access your information. Remember: a VPN isn't just for travel; any shared WiFi network anywhere is a risk. Coffee shops for example (even with password protected WiFi) are notoriously insecure hubs that are playgrounds for hackers.
Added bonus: you can watch streaming services like Hulu while abroad, and access social media in countries where it's banned. Here's everything you need to know about setting up a VPN for travel.
My VPN of choice is NordVPN as it ticks all the boxes for security, ease of use, and price – and they're consistently rated in the top 3 VPN services by everybody. Their 3-year plan makes Nord one of the cheapest VPNs around. (If you sign up using the link here I will receive a small commission that allows me to keep offering The Professional Hobo as a free resource. Thanks for your support!)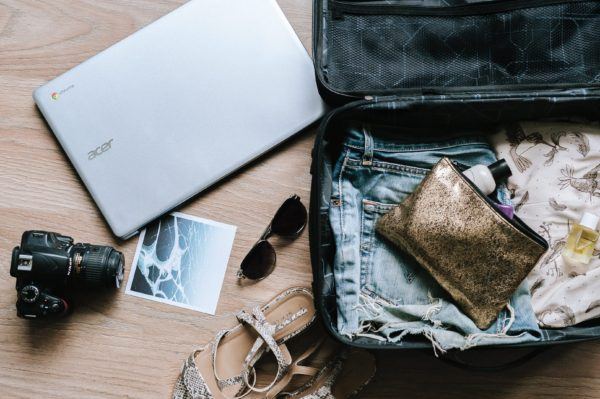 Chapter 6: How to Sell All Your Stuff So You Can Travel Light & Save Money
Outside of having legal documents in order, it's also handy to minimize what you leave behind before you depart for your travels. (You don't want to end up paying unnecessarily for a storage unit, do you??)
Personally, I sold practically everything I owned before hitting the road. But I still kept a few things; more on this shortly.
In this chapter, I offer some guidance selling your stuff before travel, including general tips and a list of where and how to sell it all.


Stuff: Selling vs Storing
I loved my stuff before I sold it. I really loved it.
I lived in a beautiful loft in the Beaches area of Toronto, and I had finally furnished and decorated it to perfection. It was comfortable, funky, and, well, mine.
So when I decided to travel full-time, I considered storing everything.
I love this couch. Truly. It's special. I'll never get another couch like this one at the amazing price that I got it for.
The same went for the antique dining table, sleigh bed, and gourmet kitchen implements.
And my wardrobe.
And the coffee table.
And…
Heck – I could have justified keeping everything if I focused on the general loss I'd take in selling and the slim chances of finding similar replacements when the time came. ​​​​​​​
But I didn't know when I would return from my traveling lifestyle (would it be months? Years? Forever?), nor if I'd actually want to return to the same city to live.


Costs of Storing Everything
You may take a loss to sell your stuff, but storing everything involves paying for a pricey storage unit for a possibly open-ended rental period, which will significantly cut into your (financially sustainable) travel budget.
If you are open to creating a new home in a different destination depending on where your travels take you, you'll face the cost of shipping everything to the new location. (And depending on the place you choose to relocate to, your stuff may be impractical or the costs of shipping prohibitive). ​​​​​​​
So if your travels are open-ended and you don't have access to free spacious storage, the cost of storing everything will likely be impractical.
But this doesn't mean you have to sell everything…


Keeping Some Stuff
I would defy anybody to get rid of absolutely every single thing they own. There are usually a few things that can't be replaced (nor carried on the road); keepsakes, heirlooms, photos, etc.
Not to mention the paperwork that you are legally supposed to keep on file, such as tax returns and official documents like citizenship papers or original birth certificates.
I chose to keep anything that I defined as priceless or irreplaceable, which included:
Photos (I transferred my old 35mm photos to DVDs for posterity)

Special mementos/artifacts I'd acquired on previous travels

Legal paperwork and official documents

Certain miscellaneous items that I couldn't bear to part with (or which I felt were necessary and difficult/impossible to replace)

Piano (which I "semi-permanently loaned" to a friend)

Heirloom grandmother clock (which the same friend is cherishing for me)​​​​​​​
These items (minus the piano and clock) filled five boxes, which I comfortably stored in a friend's crawlspace.


Parting Anxiety
Initially I lovingly packed each box, taking a moment to say goodbye (for now) to every item.
But you know what? The longer I was away from those boxes, the less I thought of them, until eventually when I returned to them years later, I'd forgotten about many of the things I'd previously deemed "irreplaceable", and even further culled items from my stash!
So don't worry. Parting anxiety doesn't last. You'll be better for it! And once you realize how little you really do need to live comfortably, your travel budget will start to find its own little sustainable sweet spot.


Getting Started
Selling everything you own can feel like a daunting task. Where do you start? Here are some tips to get the ball rolling:

1: Sorting Everything
The first thing you need to do is sort through your stuff. Not all of it will be sellable, and you're sure to find a few things you want to keep somewhere (and legally, you'll want to keep the last seven years of tax returns anyway).
One way to do this is to sort everything into three categories: Sell, Store, and Take with Me. You could also add Trash or Donate, too.

2: Start Early
Trust me, it will take longer than you think to sell all your stuff, so it's best to start as early as possible. With time on your side, you'll also be able to make sure you get the best prices you can for everything.
When I sold everything, I took four months in all.

3: Live Simply While You Sell Everything
As you go through this process, your home is going to get emptier and emptier. Convenience items (and even some necessity items) will slowly disappear, so be prepared to live simply and without them.
For example, I sold my couch weeks before I left Canada because someone with an immediate need made an offer I couldn't refuse.

4: Don't Overprice Things
Unfortunately, you're not likely to get what you paid for certain items. We pay small fortunes for things when they're new, but you need to price things reasonably to increase the chance that you'll be able to get rid of everything.


How to Sell Your Stuff
Whether or not you've decided to sell the lot, you're probably going to divest yourself of at least a few things before you travel.
There are four interrelated (and in some cases conflicting) factors you'll want to consider in choosing how to sell your stuff:
Time Frame

Delivery

Getting the Best Prices

Targeting Buyers



Time Frame
Do you have months, weeks, or days to sell everything? Some selling platforms will take more time to set up and start seeing results from than others (the tradeoff being they may help you command better prices).

Delivery
I chose not to use platforms (such as eBay or Amazon) that would require shipping. Instead I used methods that would connect me with people willing and able to pick up the items themselves. I may have taken a hit on price in some cases, but the reduced stress of trips to the post office was worthwhile for me. As a benefit, buyers coming to pick up items often bought more stuff once they saw what I had.

Getting the Best Prices
Specialty gear will fetch a higher price if you sell it through specialty forums populated with people who understand the real value of what you're selling. If you target what you sell and to whom, you're more likely to get better prices. This may come at a cost of spending extra time or being willing to ship items.

Targeting Buyers
Targeting buyers as above (or diversifying how you sell various items) can help you get good prices, and/or possibly a quicker sale.

Layered Approach
Rarely will one sales platform alone fit the bill, once you've weighed the above factors for yourself. I took a layered approach to selling my stuff, starting with marketing and listing large items to friends via email, and through local online marketplaces like Facebook, Craigslist, and Kijiji.
This took care of most of what I had to sell over the two months that I had to play with, since each person who came to pick up their purchase usually walked away with more stuff.
(And yes, living for two months in an ever-dwindling home was an interesting part of the process, but curiously refreshing nonetheless).
The second approach was to have a weekend-long contents sale, and my last approach was to give the rest away to appropriate charities or family and friends.


Where & How to Sell Your Stuff Before Traveling
Every traveler I know who sold their stuff (myself included), used multiple methods to get rid of everything. Here are some ideas on where and how to do it:
Have a Selling Stuff Party

– Invite your friends over for a cocktail party, with the main event being that they can go through all your stuff and take what they want! You can either price everything with stickers, or get your friends to pay what they think is fair. If a few friends want the same item, you can have fun with an auction!

Create a virtual garage sale

– create a website with pictures and prices of everything you're selling. You can refer to it with friends and on social media, and you can even use it as a referral point for online listings.

Facebook

– Of course make sure you post status updates about how you're selling things, but Facebook Marketplace is also a great resource where you can post items for sale.

Craigslist / Kijiji / Varage Sale

– These platforms make it handy to list your items to a fresh audience. Post them as "pick-up only" to save the hassle of shipping and increase your chances of cross-selling when they come to pick up!

eBay and Amazon

– I know many travelers who used these platforms with success, but I didn't because I didn't want to deal with shipping.

Local colleges

– The beginning of the school year is a great time to sell to students moving in to their new digs. Post flyers around campus, and you can even create listings on online college forums.

Living Estate Sale

– If you have a lot of expensive or specialty items like antiques, using an estate sale organization will make it easy. They come into your home and catalog everything, and then sell it all for you (for a commission, of course).

Specialty forums

– For any specialty gear, use the classified sections of specialty forums to sell.

Raffle

– A fun thing you can do with related items is create themed kits or baskets to raffle off to friends or local groups, or you could donate them to service clubs.

Yard Sale

– To get rid of the last things that you weren't able to sell, a yard sale is a great option. Sometimes you'll see professional garage salers; if you do, ask them to make an offer for everything.




Hold the Phone! Before You Sell it ALL…
Don't forget to put together your packing list before you sell the lot! Check out these posts for some inspiration:
The Ultimate Packing List for Full-Time Travel – Play around with the fun widget in this post to see exactly what I have traveled full-time with over the years!
Luggage! Checked vs. Carry-On, and Suggestions – I have experience with everything – from checked vs. carry-on (I traveled for two years with carry-on luggage only!), to backpacks, wheeled backpacks, rolling luggage, and more. This article breaks down the pros and cons of every type of luggage, and gives specific recommendations depending on your needs.
Travel Packing: How (and What) to Pack for Full-Time Travel – This video walks you through my packing tools, packing tips, and then I show you how I manage to fit everything I own into a bag.
Conclusion
And that's everything you need to know to get started preparing your documents and visas and affairs for long-term travel.
Was this guide helpful? Have you tried any of the strategies I mentioned?
Tell me your stories in the comments below!