I'm often asked: are there any mail services for travelers? Great news: yes, there are, all over the world! If you travel full-time, long-term, or even just find yourself moving a lot and hate changing your mailing address, you may benefit from using a virtual mailing service.
Want to Skip to the list of Virtual Mailbox Services?
Here you go.
INTERNATIONAL
(includes USA/Canada addresses)
UK Post Box (UK Only)

What is a Virtual Mailbox Service?
A virtual mailing service gives you a physical address, that you can set as your permanent address, and to which you can direct all your mail. In many cases there is even a physical person there who can sign for packages.
When you receive mail, the virtual mailbox service will alert you to its arrival by emailing you a scan of the envelope. You can then direct them to do any of the following:
Open the letter, scan the contents, and email them to you
Forward the letter to your current address
Recycle or shred the letter
Most also offer the option to then forward the mail to you, which is handy when you're receiving packages, a new credit card, or important government correspondence.
Many virtual mailbox services offer a series of extra perks (usually for extra fees), such as depositing cheques to your bank account, fax services, and more.
While it used to be common for virtual mailbox services to assign PO boxes to their customers, many financial institutions, government bodies, and even courier services won't deliver to a PO box, which rendered it impractical to use as an official address. So these days, the vast majority of virtual mailbox services give you a physical address.
There are many services offered in different countries. Obviously it's probably easiest and best for you to choose a service based in your country of origin.
Some services offer you a choice of cities (or countries!) for your address to be based in (these are often slightly pricier), while others only offer one city option.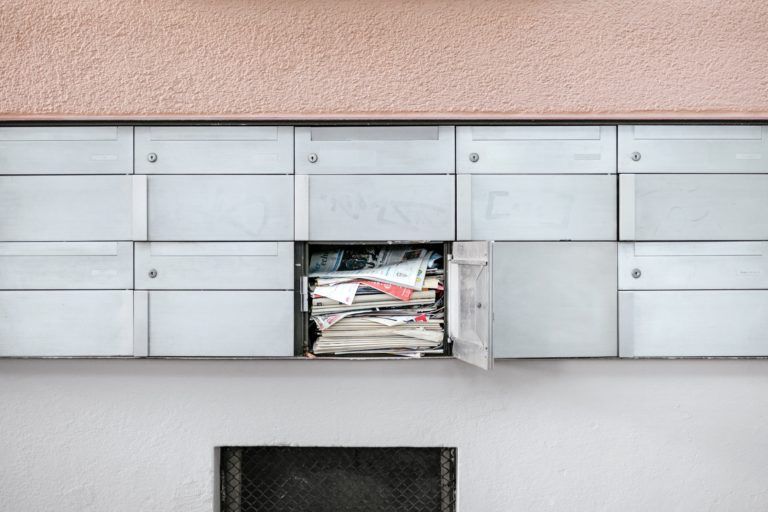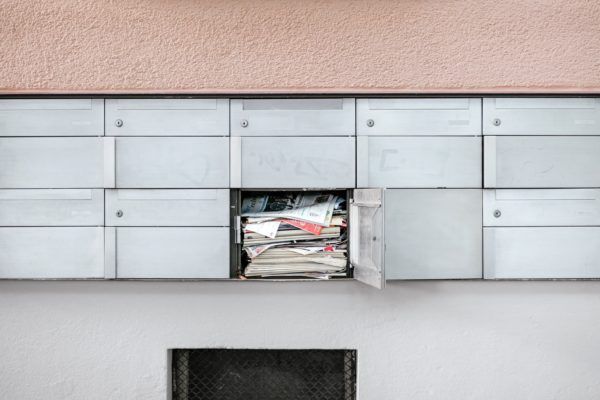 Why Use a Virtual Mailbox Service?
If you're living or traveling abroad, you might have a home base at a friend or family member's home. You might be sending your mail there and having them sort it for you, but if you don't want to burden them with that anymore, or if said friend/family member moves too often for it to be convenient, a virtual mailbox might be your answer.
Perhaps you're not abroad, but instead are running an online business and want to convey the appearance of having a physical office (perhaps even one with a prestigious address); in this case, you can use a virtual mailbox service that also has full office services like dedicated phone numbers answered by a receptionist, meeting spaces, and more.


Virtual Mailbox Fees
Fees for using a virtual mailing service vary greatly. Part of that is dependent on the amount of mail you receive and the number of perks you get.
Some virtual mailing services cater more to businesses rather than individuals. This means that they have higher standards of security and a larger repertoire of office-related services on offer, and therefore will cost more per month.
In most cases there is a monthly fee, with additional charges to forward mail/packages, deposit cheques, and receive/scan letters above the monthly quota.
You'll find quite some variety in the fees listed below; remember that some monthly fees include a monthly quota of services (like forwarding x letters per month, above which you'll pay extra per your usage), while other monthly fees are only for the address, and you pay for all additional services as you use them.
See also: 46 Hidden Travel Costs You Can Avoid to Save Money


Authorizing Your Virtual Mail Service (U.S.)
As you might know, opening someone else's mail is a federal offence in the U.S.; because of this, it's important to authorize your virtual mailing service to legally open your mail for you.
That means filling out a USPS Form 1583, and also having it notarized.
Now, you may remember from getting your passport, that having something notarized means signing it in front of a legal notary, and usually involves a trip to the U.S. Post Office.
But what if you're already on the road in another country and can't get there? Or maybe you're still in the U.S. but don't have time to make it all the way to the post office.
Thankfully, there's such a thing as online notarization now!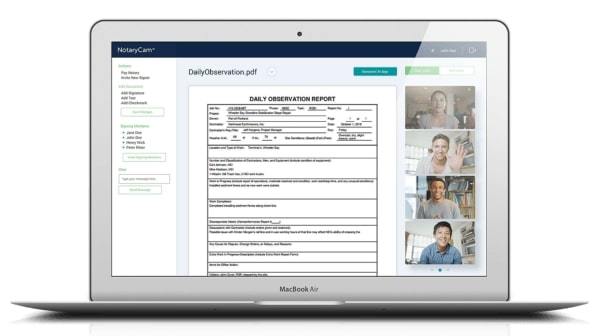 By using an online notary service, you can have your documents legally notarized by an official notary via webcam.
The service for individuals usually starts at $25, and for the convenience of being able to get your mail sent to you directly, it's an extremely worthwhile investment.
Some online notary services include NotaryCam, and Notarize.
Virtual Mailbox Comparison
There are a lot of virtual mailing services out there; more by the day. One way to find the best virtual mailbox service for your needs is to search for "virtual mailing service + [your country]". Below is a selection of companies that I found through the grapevine and with a few basic searches.
(Note that some of these links are affiliate links; making a purchase through these links won't affect your own price but will earn me a small commission. Thank you in advance for helping to support The Professional Hobo).


Virtual Mailing in the USA
Earth Class Mail is arguably an industry leader, and they strive to be best virtual mailbox service for both individuals and businesses, with a full suite of services. Most people I know who use them also complain about the cost (but continue to use them).
Fees: $19-$79/month
Pros:
Integration with Dropbox, Google Drive, and other software

Option to use them as your business's "registered agent" in the U.S.

Higher standards of security

Multiple user logins

High variety of addresses available
Cons:
Pricier than many travelers are willing to pay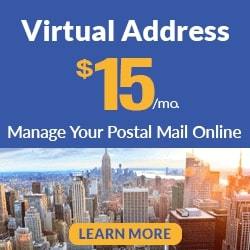 Fees: $15-30/month
Pros:
You can choose a real street address from locations across the U.S.
Quick online activation and notarization process
Free open and scan requests included with each plan (up to 200 pages)
Available for local pickup during regular business hours
Physical mail and package storage (free up to 30 days)
Apps available (Apple and Google Play) to manage your mail through your phone or tablet
Automatic mail filters, scanning and folder organization
Additional mailbox users and recipients allowed, for an additional fee
Cons:
Locations in larger cities are slightly more expensive
Only available in the U.S., however, that may be changing soon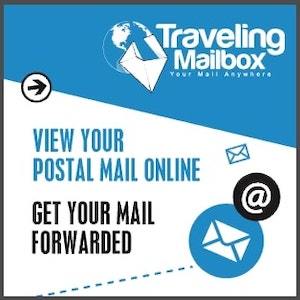 Fees: $15-$55/month
Pros:
Integrates with Dropbox, Google Drive, One Drive, Evernote, and Box

Multiple mail recipients

Check deposit services
Unlimited cloud storage of your scanned mail and PDFs

Easy to use interface and iOS and Android apps

Limited number of page scans included in monthly fee (with rollover of unused scans)

Mark items as Junk and they don't count towards monthly limits
Free sending/receiving of faxes
Cons:
Additional fee for some addresses




Fees: $10-15/month
Pros:
All plans include unlimited mail (no other virtual mailbox does this)
No hidden fees, cancel any time, 30 day money-back guarantee
Originally designed specifically for travelers
50-80% discount on shipping rates
Newly built next gen virtual mailbox, making online management even easier
All work is done in-house
Extended storage (30+ days) available
Cons:
Only address is in Houston, TX
Page scans of letters not included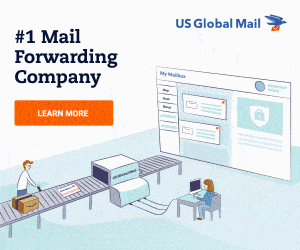 Contrary to its name, users get physical addresses, not PO boxes.
Fees: $8-21/month


Virtual Mailbox Services in CANADA
Fellow Canadians, make sure you also look at the International services below. If I were in your shoes, I'd honestly choose Anytime Mailbox.

This is the only virtual mailing service I found with no monthly fee; it's $20 to set up a virtual mailing address and then they simply charge you for what comes in and what you want to do with it.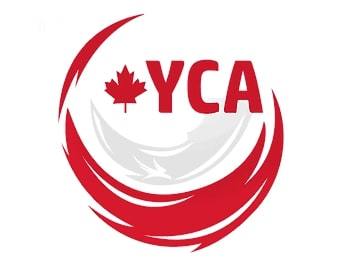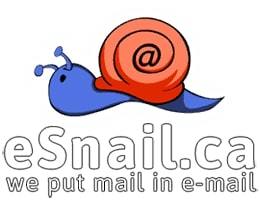 Fees: $25-$55/month
Pros:
Discount on the annual plan

Can scan magazines

Limited number of mail and page scans included in monthly fee

Multiple users
Cons:
No check deposit

No junkmail filter




Virtual Mailbox Service in the UK
INTERNATIONAL Virtual Mailbox Companies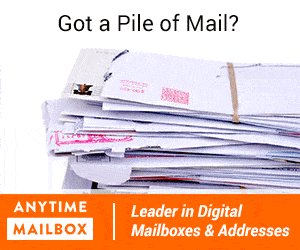 These guys are taking over the world, slowly! At my last check, they're in 12 countries (with dozens of locations in Canada and the U.S. alone), and strive to be the best virtual mailbox service for travelers.
Fees: $7-40/month
Pros:
Locations all over the world
Real street address (no PO boxes!)
Packages are accepted
Full suite of services, including Open & Scan, Forward, Shred, etc.
International forwarding available
If you're going away for a short while, you can sign up for as little as 1 month
Cons:
Prices vary by location, so you have to search around for a location/price point that fits your needs
Not all locations offer cheque deposit

Regus offers full virtual office services around the world, of which virtual mail handling is just one service.


Determining What You Need
Once you've window-shopped a few virtual mailing services, you'll become familiar with the terminology and pricing options. With a large range of monthly packages, it's now time to determine the best option.
Here are some questions to ask:
How much mail do you receive on average monthly? (This will determine the package you choose; the less mail you get, the cheaper it is)
Can you reduce the physical mail you get by signing up for online statements?
How often do you need your mail forwarded?
Do you get cheques that need depositing? (Not all virtual mailing services can do this, but many can).
Can your address be a PO box? (Some virtual mailing services show your address as a PO box, which some organizations won't accept or ship to).
Is having your address in a certain city or state important to you? (For example, for U.S. taxpayers, the state you "reside" in makes a huge difference to the amount of tax you pay; learn more about this and other tax issues in the Ultimate Guide to Filing Tax as a Digital Nomad)

How about what country?

Would you like it to integrate with software you already use?
Have you ever used a virtual mailbox service? Which service was it, and how was your experience?
You Might Also be Interested In:
The Ultimate Guide to Financial Planning for Travelers
Travel Money Guide – Credit Cards, Debit Cards, ATM Tips, and More
Pro Packing Hacks – The Best Travel Accessories for Space-Saving and Organization
Cell Phone Tricks: International Phone Plans, Local SIM Cards, and More
Zero Waste Travel Kit – How to Eliminate All Single-Use Waste Every Time You Leave the House…or the Country