In March of 2015, Robyn Hartzell (known as Robyn Around the World) left Seattle to go on an epic trip round the world to explore everything the world has to offer. What started out as a 12-month career break turned into over two years of world travel. Her style of traveling was slow. She'd stay in each city for 2-10 weeks to really immerse herself in the country and culture of each place she visited. During her travels, she picked up scuba diving and became a PADI Divemaster then a PADI Open Water Scuba Instructor. She worked as a divemaster in Indonesia and Thailand, and as a scuba diving instructor in Vietnam, Egypt and Mexico.
Although Robyn has since returned to a home base in the U.S., I wanted to feature her in a financial case study, since many readers have asked me about the possibilities of earning a living as a scuba diving instructor while living on the road, and Robyn shows that it's possible, and more so, how it's done. Read on!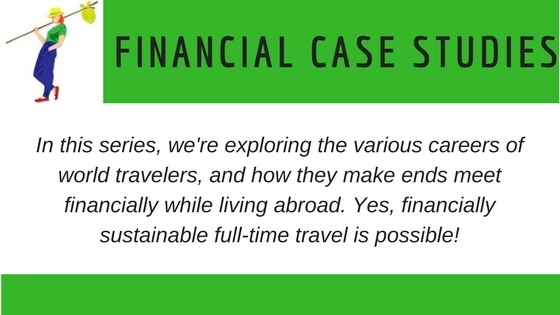 This post was originally published in 2018. It has since been updated for accuracy of links and content.


How long did you live/work on the road, and where have you traveled to?
I traveled for 32 months and visited 22 countries. Most of my time was spent jumping around Southeast Asia working as a scuba diving divemaster and instructor, but I also visited quite a few countries outside the Southeast Asia area.
Southeast Asia: Thailand, Laos, Indonesia, Vietnam, Cambodia, Myanmar, Philippines, Singapore, and Malaysia
South Asia: India, Sri Lanka, and Maldives
Oceania: Australia, New Zealand, and Cook Islands
Middle East: Abu Dhabi
Africa: Egypt
Europe: Greece, Spain, and Portugal
North America: Cuba, Mexico


Please describe what you did for income.
Most of my income was from working as a divemaster and scuba diving instructor. I also did a little freelance writing and brochure editing for a Thai tourism company.


How many hours per week did you work on average?
As a scuba diving instructor I worked six days a week. Industry standard is four days off a month. The brochure took me ~18 hours and articles under 90 minutes each.


How much money did you make?
Freelancing as a Divemaster in Thailand was a flat 900 baht (~$28) a day.
Scuba diving instructor varied from country to country.
In Vietnam, I made $500 a month plus tips and the dive shop offered free shared (two beds in a room with private shower) accommodation and lunch on the boat.
In Mexico, scuba diving instructors made $900 a month plus tips with resort lunch included, but no accommodation.
I made $350 for editing eight brochures for the Thai tourism company.
I wrote ~20 articles for a couple of companies during my time abroad where I made anywhere from $20-50 for short (500 words and less) articles.
I also volunteered for SEVENSEAS magazine where I wrote five articles (two were feature articles) for the magazine and had many of my photos published in the magazine. This is the only time I took on work that was unpaid, as I don't support free work in exchange for promotion. This magazine is different in that it is 100% volunteer run and is a magazine that I believe in and their values align with mine.


Did you make enough money to support your lifestyle?
I made enough as a scuba diving instructor to support myself, as I wasn't spending much money outside of diving. I saved $50,000 before I left to travel as I wasn't really planning to blog for money. I started my blog more to keep a journal and have a place where my friends and family could go to read about my travels.
I also did one Workaway. I was planning to do a bunch, but then fell in love with scuba diving and went that route, but have met a few people who had been doing them for six months to a year and loved doing them. Workaway is the same concept of WWOOFing in that you work 20 hours in exchange for accommodation and some meals, but Workaway isn't just farming. The Workaway I did, I exchanged setting up a CRM (Customer Relationship Management) system for them in exchange for a private room and a few meals. I did it for three months, in Chaing Mai, Thailand. Some of my friends did Workaways as teachers, nannies, working on butterfly farms, and household help.
(See also: Volunteering in Trade for Free Accommodation)


What did you like most about your career and lifestyle?
I loved meeting the locals and learning about local cultures and eating the food! I took cooking classes in almost every country I visited. I stayed mostly at Airbnb's with locals and made lifelong friends from staying at local homes. Airbnb winded up being cheaper than dorms sometimes, so I rarely stayed in hostels and opted to live with local families.
I also loved teaching people how to breathe underwater and helping my students overcoming their fears. As a scuba diving instructor I have the power to change peoples relationship with the water and it's such a great feeling when you see fear turn into passion.


What are some of the challenges you had with this career and lifestyle?
VISA's! I was constantly playing the visa game. There were only a few countries where you could stay for 90 days; most were only 30 days. Some you had to get a full-page visa before entering, which meant I needed to go to an embassy (usually Bangkok) to get the proper visa. I also ran out of space on my fairly new passport and had to renew it in Chiang Mai, which was easy to get, but a pain to transfer the visa to the new passport.
(See also: Things to do Before Traveling Abroad, incl Visa info)


What are you up to now?
I am no longer on the road. I've been back in the states for six months. My plan to travel was never long-term. I had only planned 12-15 months, doing mostly Workaways (I only did the one in Chiang Mai) but I was also open to doing anything that came my way. I started meeting people the second I arrived at my first Airbnb and my adventures just kept going for over two years. I didn't have anywhere to be so I kept traveling until I felt ready to come home. 32 months is a long time on the road.
Even though it was only six months ago that I was still backpacking and working as a scuba diving instructor, it feels like it was a lifetime ago. Hands down, it was the best decision I ever made.


Any advice for the aspiring traveler about living and working on the road and managing finances?
I saved $50,000 before I left because I thought I wouldn't be working that much. You don't need to have this much saved to travel though, especially if you plan is to make money from other sources while on the road. Although, if possible, try to have a stash of money and an idea of what you plan to do for income before you leave. Additional reading from Robyn Around the World: What Does One Year of Travel Cost and Cost of One Year of Travel in Southeast Asia.
(See also: How to Create a Long-Term Travel Budget)
Some of the ways to make money is freelancing, income from your website, and taking on side jobs in the countries you plan to visit. If you can have your loose plan mapped out before you leave, you'll be in good shape to stay on track to find ways to make income once you get on the road.
I used Expensify to manage all my expenses. It's a free app where you can log transportation, meals, lodging, and other. I exported all my data for each country and wrote a post yearly to show my readers how much I spent. It's one of the best apps I've used abroad. (Nora's Note: I'm not familiar with Expensify, but Trail Wallet is my own fav app for these tasks).


Is there anything else you'd like to add?
Enjoy your time abroad! It's a privilege that you get to travel. Most of the people you will meet abroad (especially in SEA) have never traveled outside their home city. Take the time to really enjoy the country you're in. Having income to travel is important, but try to take enough breaks during the week to really get out and immerse yourself in your surroundings and the culture of the city you're staying in. (Nora's Note: Great point! Work-Life balance on the road requires flexibility).