Ever since 2006, I have managed to avoid the winter months entirely, either by heading to the opposite hemisphere for their summer and shoulder season or staying somewhere close enough to the equator that I could remain blissfully unaware of winter's very existence.
It has never occurred to me before that I could spend winter in Europe and not freeze. Until now. I was able to have a glorious month in Chania Crete this winter, and I loved it so much that I'm entertaining fantasies of it being an annual getaway.
Here are some fantastic things to do in Chania, Crete in winter. Whether that be for a day trip or a full few weeks, I have plenty of tips for you! 
This article was originally published in 2020, and has been updated for accuracy of links and content. Some of the links for accommodation and activities in this post are affiliate links, which means I earn a small commission if you book something after clicking on my link. This doesn't affect your price.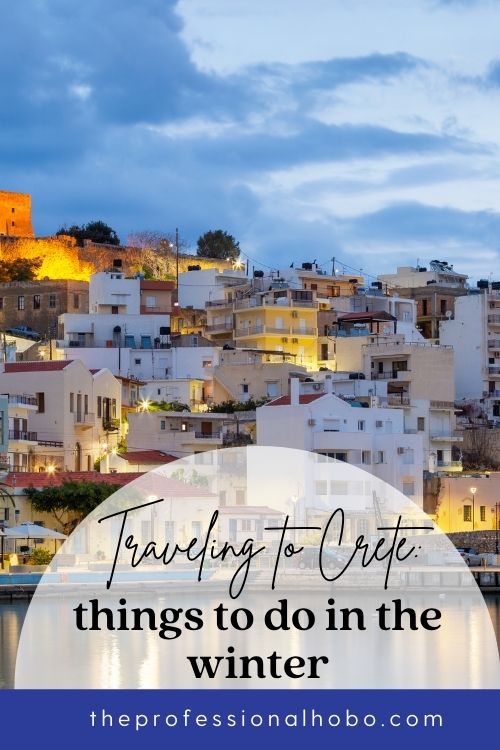 Visiting Greece in Winter 
"I'm so glad you're here during the winter," cooed Maria, whose apartment we were renting in Chania, Crete for February. "It's too hot and sticky and crowded in summer. Winter is your chance to see Chania. You'll get to experience a side of Greece that not many tourists get to be a part of."
This is a theme I heard repeated by everybody I spoke to during the six weeks I spent in Greece. While some of the smaller Greek islands are largely shut down for the winter season, others – especially Crete, which is the largest of all the Greek islands – are very much lived in and aren't so utterly dependent on tourism that they cease to exist in winter. Sure, it's quiet (depending on where you go), but it's far from desolate.
That said, if you're planning on visiting Greece in winter, do some research about the area you want to visit before you go. Even on the robust island of Crete, some stores and restaurants were shut, transportation schedules truncated, and hiking routes closed. I certainly don't feel shortchanged visiting Crete in winter, but it was evident to me that it is a different place in other seasons.

Greece in February
Winter in Greece – specifically Greece in February – is about as warm as it gets for Europe (depending on where you are in Greece), and I discovered it is entirely manageable as somebody who suffers profoundly in the cold. It can get cool, and snow can fall (depending on where you are, and whether it's a freakish year for weather), but on the whole, you'll do well visiting Greece in February.
Crete in February: Average daily temperatures range from 9-16° Celsius (48-60° Fahrenheit)
The Aegean Islands in February: Average daily temperatures range from 7-15° Celsius (45-58° Fahrenheit)
Central Greece in February (including Athens): Average daily temperatures range from 1-13° Celsius (34-55° Fahrenheit)
Northern Greece in February (including Thessaloniki): Average daily temperatures range from -2-11° Celsius (29-52° Fahrenheit)
As you can see, the average daily temperatures for Greece in February range quite a bit, because Greece covers a lot of territory. So let's focus on the star of this show: Crete, which is as far south as it gets in Greece (and in Europe); this means it's also the most temperate in climate. 
"You'll see snow on the mountains in Crete," said Maria, our host, "and that's where we like it. Up there. Last year we had snow down here in Chania; they say it happens once every hundred years, which is a blessing because it was chaos. It shut the whole place down. This year is much more like normal."
Normal suited me just fine. The temperatures fluctuated; some days had highs of 18 degrees Celsius (64° Fahrenheit), and cooler days topped out at 8 degrees (46° Fahrenheit). Overall, the average temperature stuck to double digits, and while there were some rainy days, on the whole, it wasn't oppressive nor constant, as it can be in other parts of Europe (I'm lookin' at you, UK).

Where is Chania? (Map of Crete)
Chania––which is pronounced like Hahn-ya––can also be written as Xania or Hania. It is a prefecture (a larger area encompassing provinces and towns) that encompasses the entire western quarter of the island of Crete. But Chania is also a municipality; the second-largest city in Crete, with a population of approximately 60,000 people. 
Crete, in turn, is the largest of all the Greek islands, and also the southernmost part of Europe, though it is rarely recognized as so because it is an island; so instead, Punta de Tarifa (Spain) generally holds the title of the southernmost point in (mainland) Europe. 

Is Chania Crete Worth Visiting?
Yes! Unequivocally. Chania has a charming and exceedingly walkable historic old town, the romantic Old Venetian Harbour, a fascinating mix of neighborhoods and cultural backdrops (Crete being an incredibly storied place through history), local open-air markets, and more bakeries and cheese shops than I imagined possible.
Culturally and historically, Crete's location has made it a center of trade for thousands of years between Europe, Turkey, the Middle East, and Africa. This has also made Crete an enviable bastion, and thus Crete has seen many occupations and wars, which in turn have shaped the culture and identity of the Cretan people.
"Sustainability, hospitality, and war. This is what has made the Cretan people who they are," said my tour guide when I did a walking tour of Chania (which I'll talk more about later).
Sustainability, because the Cretans have lived and eaten in a largely sustainable way for thousands of years (and you'll read below how this has translated to their longevity).
Hospitality, because the Cretan history is intertwined with many other cultures, and due to being an island, everybody had to get along. Please note that this is more conjecture on my part rather than fact, so take it with a grain of salt if you wish. What I do know, is that all the Cretan people I met––down to the pharmacist I needed help from one day––were ridiculously hospitable towards me.
And war, because Crete has seen its share of fighting. The scars of World War II, in particular, can still be seen and felt in a variety of ways, and even Cretan women fought hard to defend the island, which lends an element of ferocious pride to the culture and people.
Throughout this article, I'll weave in more cultural and historical tidbits while I give you some tips to make the most of your winter in Chania, Crete.

Travel Around Crete: Things to do in Chania
Chania is an incredibly walkable city, and I firmly believe the best way to experience Chania is on foot. I stumbled on the Municipal Garden of Chania this way – a delightful little park with lots of animals and a cafe, unassumingly in the middle of the city.
Chania has many such modest gems, just waiting to be discovered. Don't be afraid to walk down whatever road or alley takes your fancy; you never know what you might find, and it's quite safe.
Here is a list of some of the more popular attractions and things to do in Chania: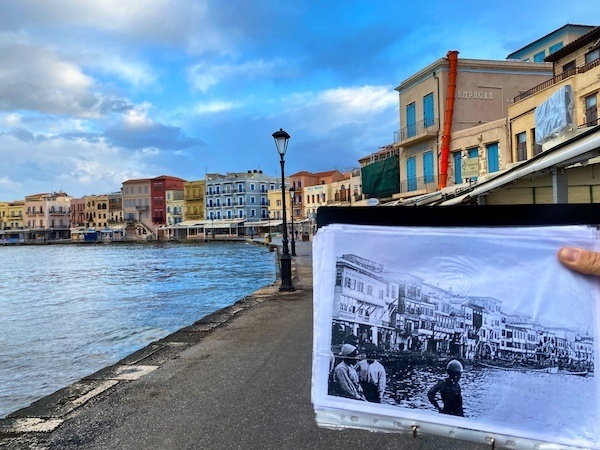 Venetian Lighthouse: One of the oldest lighthouses in the world, and a hallmark of the old harbor of Chania. Originally erected in the 14th century, and redesigned by an Egyptian architect in the 1800s to resemble a minaret.
Old Venetian Harbour (Old Port): You can't get to the lighthouse without being in the middle of the harbor, which also dates back to the 14th century and is beautiful. There are lots of eateries lining the harbor, and there's also a small mosque built by the Ottoman Turks in the 1600s.
Chania Old Town: You can't get to the harbor without walking through the old town, which is fabulous to explore on foot. Try to get lost in the narrow alleyways (don't worry; it's almost impossible to get lost, but lots of fun to explore). There are little themed streets and pockets within the old town, including an old Jewish district, Muslim area, leather alley, jewelry shop row, cafes, pottery shops, and other delightful places to discover.
Maritime Museum: Located in the Firkas Fortress. A great way to learn about Crete's storied nautical history, starting in the Minoan period, and moving through the Byzantine, Venetian, and Turkish periods, up to the German invasion during WWII.
Archaeological Museum of Chania: Covers Chania's history which dates back to about 2200BC when it was called Kydonia by the Minoans.
Tabakaria Neighbourhood: Home to the largely abandoned leather tanneries from the 19th century. There are some restaurants in the area, as it has a certain aesthetic appeal.


Eat delicious Cretan food at the Best Restaurants & Cafes in Chania
"It's a good thing I worked with a personal trainer for two months before coming here, because I've just undone all that work," I said to my Mum after being in Chania for a month. While it wasn't a lie, I also can't hold Cretan cuisine to blame as much as my insatiable appetite for the startling range of delicious Cretan food and ubiquitous amazing restaurants and cafes in Chania.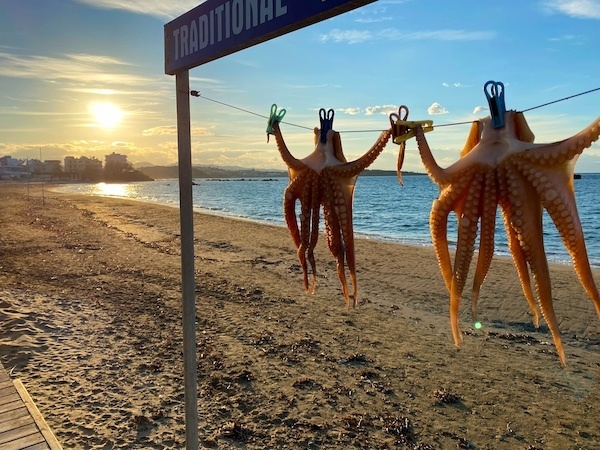 Cretan Cuisine (and Longevity)
I was surprised, delighted, and subsequently heartbroken, to discover the sheer concentration of amazing foods specific to Crete alone, many of which aren't available elsewhere.
Little did I know that Cretan food is distinct (even to the rest of Greece), and also that Crete is one of a few strongholds of longevity in the world. It is surmised that the diet is responsible for people living so long; the Cretan diet has changed very little since Minoan times and being one sustained by what the land and sea produce––namely seafood, sheep and goat milk/cheese, bread, vegetables, citrus, herbs, honey, and of course, olive oil.
One of the things I quickly learned about Cretan cuisine is that their love of cheese rivals the French, which is saying something. In fact it is suggested that Crete invented cheese; around 700BC Homer's The Odyssey describes the process of making mizithra––one of the amazing local cheeses in Crete.
Meat only became a staple in the Cretan diet in recent decades; until then it was reserved for holiday feasts and celebrations. Now it's a part of daily life, and some people say the introduction of meat as well as other foreign foods is responsible for Crete's higher obesity and lowered life expectancies. Still, my understanding is that Cretans continue to enjoy a higher-than-average life expectancy. Heck––I'd want to live longer too if I could eat like them every day.

Mealtimes in Chania and the Restaurant Experience
When you eat at a restaurant in Crete, it is customary to receive a complimentary shot of raki (the local moonshine, which in Crete is actually Tsikoudia but is informally referred to as raki). They usually bring out a little bottle of it with shot glasses so you can help yourself to as much or little as you like, at the end of the meal. 
While I found it an acquired taste, word is that it's a digestif, and it's certainly a cultural hallmark. Stop for directions in the Cretan countryside, and you'll likely be offered a shot of raki. I was offered raki by the guy I bought cheese from in the weekly open-air market (who also delighted in giving me endless cheese samples and plying me with his jokes).
I was offered raki in stores when I shopped for jewelry, pottery, and mythological statues. And of course, there was a wee bottle of raki awaiting me when I checked into my apartment.
When you're offered raki, it is considered offensive not to accept. Even if you can't or won't drink the stuff, simply touch the glass to your lips to show your appreciation. I took to pouring a very small amount into my shot glass at the end of meals, since I'm not much of a drinker but also didn't want to offend.
Along with the raki at the end of the meal comes a small complimentary dessert. "Restaurant owners have to offer free dessert; otherwise they won't stay open for long," came the advice of a local friend. Free libation and dessert are also customary throughout Greece.
If you're visiting Crete with North American sensibilities about when meals should be eaten, you may be surprised. The main meal of the day is usually eaten around mid-afternoon and is part of the treasured "siesta" time of day between 2-5 pm when the majority of stores shut.
In the summer it's considered a downright necessity given that these are the hottest hours of the day and sleep is the only way to escape the heat. With lunch being eaten around mid-afternoon, dinner doesn't get going until about 9 pm.
Now, if you're unwilling to adjust your mealtimes (and to be honest, my body doesn't appreciate me eating late dinners), then not to worry: Crete has this dialed in, and to cater to tourists, restaurants will open for dinner around 6 pm. They're now accustomed to serving visitors in the early part of the evening and locals later on.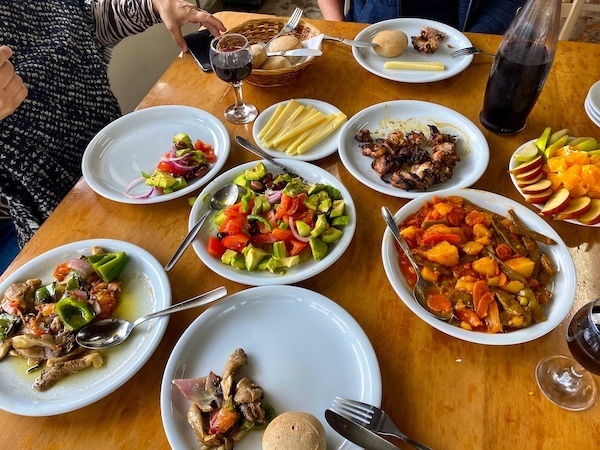 Lastly, the local style of eating is generally to order a few plates for everybody to share. You certainly needn't eat this way, but it's important to bear this in mind because unlike in North America where sides (like vegetables and rice) automatically come with your order, in Crete you'll get what you order and likely nothing else.
If you're traveling solo, order a couple of dishes and bring along some collapsible Tupperware for the leftovers!

Here are Chania's Best Restaurants and Cafes
Throw a stone in Chania and you're likely to find an excellent restaurant. And really, my list below is highly subjective; depending on what you like to eat, you'll likely find some favorites of your own. But if you want somewhere to start, here are my favorite Chania restaurants (in no particular order), most of which came highly recommended by locals:
You gotta start somewhere, and I'm almost sorry I started here because the bar was subsequently set so high it was tough to beat. With an almost-unprecedented 4.9/5 rating on Google, this place featuring Cretan home-cooked fare deserves the praise.
Every time I ate there, I was invited into the kitchen to see what special dishes had been prepared for the day, and I ordered by pointing. Portions were plentiful, flavors intense, and they even gave me free wine with dinner (though it's not common, and is likely only a treat afforded to people visiting Chania in winter).
I ate at Secret Flavours for dinner, but it was pretty dead; it's most busy around mid-afternoon.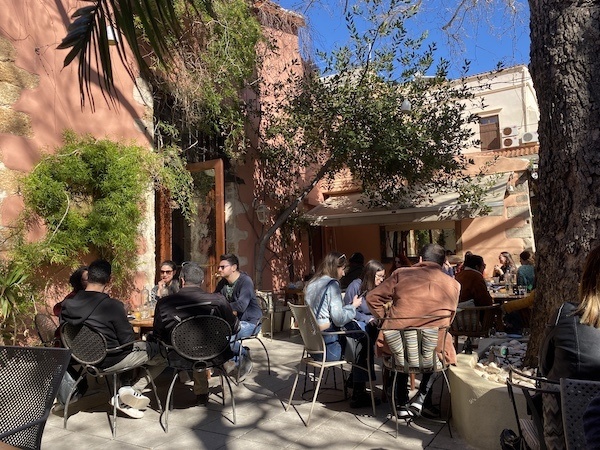 This enchanting secret garden is in Chania Old Town near the harbor. With expansive outdoor seating, it's delightful on a nice day. I went for brunch (get the Eggs Florentine) on a warm Saturday and it was utterly packed.
I also ate at Boheme (inside) for dinner twice with mixed results. The first time I found the menu difficult to decipher and the service pretentious.
The second time I was with a local friend who ordered for me (the smoked pork shoulder was unbelievable, and was a one-dish meal including potatoes and local mushrooms) and it was delicious. The wine collection is extensive. On the whole, it's not cheap though. 

Seafood is the name of the game here. I was told to come for the fish soup, which was good, but paled in comparison to the calamari and marinated fish (tartare-style) with lemon avocado sauce. The stuffed cabbage leaves/zucchini flowers (zucchini flowers are seasonal) were pretty outstanding as well.

I went to Tamam early in my visit before I caught on to the sharing concept, and I ordered something I didn't particularly enjoy (and was hence stuck with a whole plate of that and nothing else). But I heard from a few locals that Tamam is one of Chania's best restaurants, so despite my experience, I'm listing it here. Go for their local kebab-style meat patties.

Demek (Ntemek)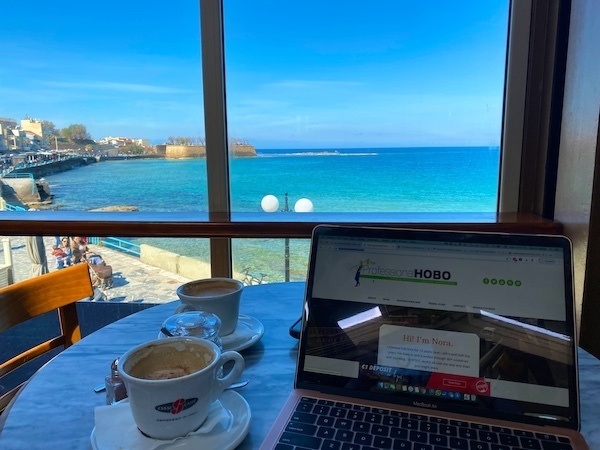 With a killer location right on the water, I enjoyed sitting upstairs with my computer and a cappuccino. I'm told their menu is also great, both brunch and dinner. 

While you can eat at Grill & Bread, it's less of a restaurant and more of a takeaway. I'm not a sandwich-person, but this is a sandwich I went back for, repeatedly. It's so popular you can expect to wait a while for your sandwich; so long in fact that they dole out those hockey-puck-pager-thingies that light up and vibrate when your order is ready.
The menu is all in Greek, so just take my word and order the sandwich at the top of the list (with the Greek characters, the name looks a little like "marvelous" if you squint and tilt your head to the side).
It is charcoal-grilled bread, with grilled thick-sliced pancetta, special sauce, caramelized onions, tomatoes, rocket, grated gruyere, and sliced fried potatoes – all wrapped up into one thick gooey delight that is rumored to have supernatural healing properties. 

Bougatsa
Bougatsa is a Cretan specialty, and a breakfast delight. There are two places (ironically just down the street from one another) to get bougatsa in Chania, and you can't go wrong with either. Bougatsa is a warm Cretan cheese pie. Get it with the sugar on top to experience a salty/sweet gooey combo that is terrible for the figure, and soothing to the soul.

Ntounias (Dounias)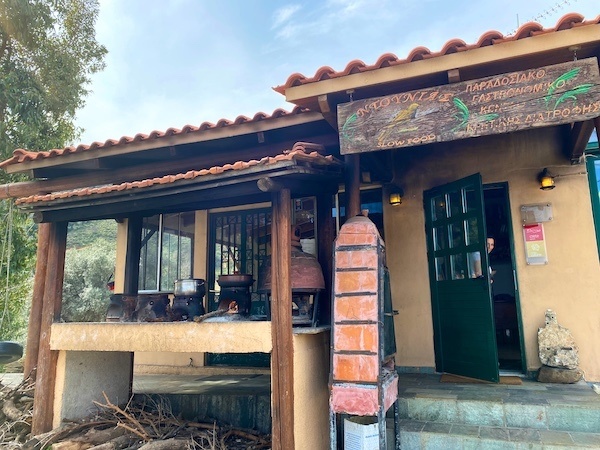 Ntounias isn't in Chania town proper, but it's well-known to most locals, and for good reason. Way up in the countryside near Drakona, Ntounias is owned and run by an eccentric fella (Stelios) who grows/rears and prepares absolutely everything himself, from scratch, over a wood fire.
Go in the early afternoon for lunch (he cooks in the morning and stops serving when all the food has been eaten), and ask for a tour of the kitchen, where he can show you what's cooking. Stelios wasn't there when I went, but I'm told he is very entertaining and passionate about his work in this true farm-to-table restaurant.
An added benefit: you'll get to drive the Therisso gorge on the way to or from Ntounias, a very scenic drive.

Go on a Walking Tour of Chania (and Burn Some Calories)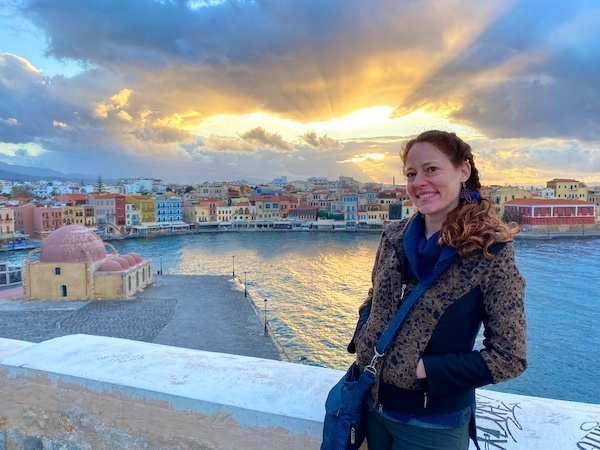 I just dedicated over 1,500 words to eating in Chania, and believe me, I had to restrain myself. So. What better way to burn off all those calories than to go on a walking tour of Chania and to learn the inside scoop!
I had the great fortune to be hosted (free of charge) on an Urban Adventures tour of Chania; specifically the Bohemian Sunset Tour by Urban Adventures (the tour has unfortunately been discontinued due to the pandemic, but hopefully it will return).
This was a highlight of my entire time in Chania, and I highly (highly!) recommend it! Urban Adventures is a sister company to Intrepid Travel; both with the mission to provide local experiences and insights, with the help of local guides taking guests to local shops, restaurants, and other haunts that might otherwise evade the tourist radar. They've won a whole raft of responsible tourism awards, so they're worth supporting in my books.
We watched a leatherman work and learned how this craft made its way to Crete from Turkey––a country with an incredibly complicated and intricate historical relation to Crete. We ducked into a family-owned pottery shop and chatted with a fella while he spun vases so expertly he didn't even look at what he was doing.
We snuck down alleyways and through markets I didn't know existed––which is saying something because I'd already been in Chania for a few weeks when I did the tour and thought I knew the place pretty well. All the while, we learned about Crete and its storied history in a way that gave me a much deeper insight into the disposition of the Cretan people in general. 
While it's called a sunset tour, and indeed (after some time walking around Chania Old Town) involved watching the sunset from an optimal spot that I'd never have been able to find on my own, the tour was about so much more than the sunset.

What is there to do in Chania at night?
"The best way to experience the real Chania is to watch the sunset and sunrise….without going to sleep in between," said 'John', our tour guide, towards the beginning of the tour. He was sizing us up to see if we were up for such an adventure and something I could tell he enjoys doing (with tour guests and friends alike) from time to time. 
I think this would be an easier task in the summertime when the sun sets late and rises early, but in winter with a 6 pm sunset, I was so saturated with alcohol by 3 am that I had to turn in (and pay dearly for it the entire next day). Still, it was worth every drop.
Chania at night is about more than the drinking of course (though admittedly, if the never-ending flow of raki at any time of day is any indication, alcohol is an abundant part of the Cretan culture).
After having dinner with superb wine pairings, the Cretan-style pub crawl began, which allowed us to continue to walk through Chania's different neighborhoods and enjoy some local haunts (and beverages) not necessarily well-known to tourists.
When you order a drink at a bar, it is customary to receive a wee snack like a small bowl of nuts or chips. As the night wore on and my blood-alcohol level reached epic levels (for me), I began to appreciate these snacks (and also that the pizza place was open all night).
John confirmed my suspicion that it's quite safe to walk around most parts of Chania at night. And even though I'm not much of a night owl, I was fascinated to see the thriving nocturnal culture of Chania at night.


Go Hiking in Crete in Winter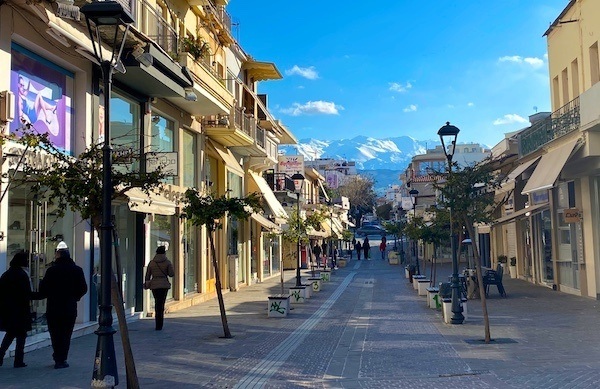 Winter hiking in Crete is challenging. One look towards the white mountains that overlook the town, and you'll see the root of those challenges right away: snow.
Because of the snow, a lot of Crete's most famous hikes (many of which are through gorges) are closed for the winter and sometimes spring, due to various dangers including floods. Other hikes (like mountain passes) are closed because the snow can be unreliable and specialized equipment and experience are required. 

There are More Hikes in Crete than Samaria Gorge
The Samaria Gorge hike is undoubtedly the most popular in Crete, but you can't do it in the winter. The good news is it's far from the only amazing hike in Crete.
The problem is, I found it very difficult to ascertain which hikes were doable and which weren't, as the few online resources I could find had contradictory information. Not only that, but without renting a car (see more on that later), access to and from the hikes with limited winter public transportation schedules made planning a winter hike in Crete pretty difficult.
The solution I found was to hire a guide. (Read on).

Imbros Gorge
I had a peek at the Viator website in search of winter hikes in Crete to see what was possible, and it turns out there are quite a few hikes that are accessible in winter when you have a guide with you. One of those hikes – and the one we did (courtesy of Viator) was the Imbros Gorge.
Our experienced and passionate hiking guide Pari picked us up in Chania early in the morning and chatted with us as we drove an hour to the starting point for the Imbros Gorge hike; an eight km easy and incredibly scenic hike from the town of Imbros (Impros) to Komitades. 
Along the way, we learned about some of the local herbs and edible plants, as well as the history of this route, which was historically how people traveled from the south part of Crete to Chania, and also a route of cultural significance during World War II.
Pictures don't do this hike justice (that tends to happen in gorges), so trust me when I say the scenery was dramatic and the walk was lovely.
The best part? We were the only ones there. During the peak season of summer, the Imbros Gorge sees up to thousands of hikers every day. Pari said she alone sometimes shepherds groups of up to 100 people through this route!
And here, my boyfriend and I had our guide (and the entire gorge) all to ourselves. This is one of the many glories of winter in Crete in general, and winter hiking in Crete in particular; you can feel like the intrepid discoverer that you are, even if you're on a well-trodden trail.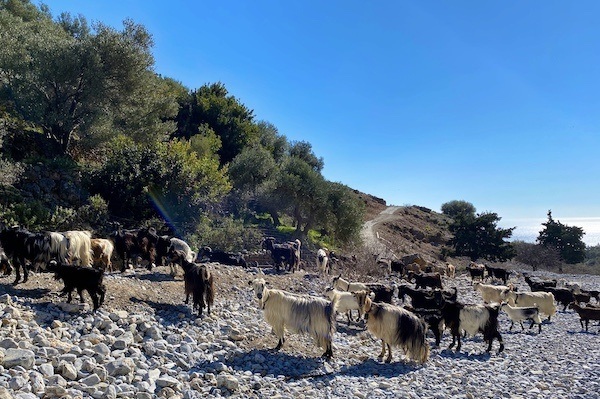 The downside to hiking in Crete in winter, is that we wouldn't have been able to do the Imbros Gorge by ourselves. It's a point A to B hike, and Komitades where the hike ends is one of those places in Crete that looks like a ghost town in the winter.
Pari had to call a friend and restaurant owner at the end of the hike to open so we could use the toilets and have a drink, before getting a taxi driver (again, not something available without knowing somebody) back to the car in Imbros.
I'm not sure I would want to hike the Imbros Gorge in the summer (alongside hundreds of others); so I'm very happy I had a chance to do it in winter, and I can sincerely recommend this to you as well.

Other Winter Hikes in Crete
I didn't have a chance to do any other winter hikes in Crete, partly because I spent so much time trying to research what was possible and how to access them that I got confused and frustrated.
That said, this website has a pretty good summary of the main hikes in Crete, and what months of the year they're open. (Note that they say the Imbros Gorge hike is only open from April to November….without a guide, that is).

Here is some more outdoor adventure inspiration for your trip to Crete:

Things to do Outside of Chania Old Town
Chania is a relatively small place, and while I was quite content to spend a month there, venturing out of town for only a couple of day-trips, my slow style of travel (and working along the way) isn't everybody's cuppa tea. When I return (not even if, but when!), I will embark on the following adventures:

Visit Balos Beach
During the summer, many people visit Balos Beach (at the very northwestern tip of Crete) by taking a scenic boat trip from Kissamos. The boat doesn't run during the winter (and only the truly hearty swim given the temperatures), but that doesn't mean you can't visit. In fact, some people would suggest Balos is all the more special during the winter.
The road all the way to Balos Beach is really rough and isn't particularly passable for regular cars, so you have a few options for getting to Balos Beach:
Take the bus to Kissamos, and get a taxi to take you as far as they can. The road gets really rough, and many taxis won't drive on it, so it could still be a couple of hours' hiking each way from your drop-off point. But it's an enjoyable winter walk (I'm told it's very exposed and hot in the summer).
If you have a car, you can drive yourself as far as a rental car will take you and hike the rest of the way to Balos Beach and back (as above).
Hire somebody with a pickup truck or 4wd (or rent the vehicle yourself) and drive as far as the road goes, then hike the final 20 minutes to the beach.
I'm sure people have attempted the full road in regular cars, but the locals I spoke to advised against it; the road is very rough.

Seitan Limania (Stefanou Beach)
Seitan Limania is another one of those hard-to-reach beaches that is popular partly because of its remote location, and partly because it's a uniquely beautiful and sheltered small inlet. It's located on the Akrotiri peninsula, and can only be accessed by hiking down a steep cliff (you must wear proper shoes).
It's another one of those places you'll feel like you discovered yourself in winter, but is quite crowded in summer. There are no facilities at this beach so you need to bring everything you'll need.
To reach the beach by public transportation, you'll need to take a bus to Chordaki (Hordaki), and from there it is about an hour's walk to the beach. But, the bus may not be running during the winter, in which case you would take a bus to the airport and walk from there (which will add another hour or more each way to the hike).
Alternately you can take a taxi most of the way, or of course, rent a car.

Agia Triada and Other Monasteries
If you go to Seitan Limania by taxi or rental car, there are some noteworthy monasteries on the Akrotiri peninsula that you can visit as well, which unto themselves could be a full day of exploring.
The most popular is Agia Triada, built in the 1600s. From there you're a short drive to Gouverneto (built in the 1500s), which in turn is a 30-minute hike past a cave to Katholiko, which is an abandoned monastery built into the cliffside.
Nearby Stavros beach is also quite popular (again, in summer way more so than winter).

Paleochora and Elafonisi Beach
The south coast of Crete has a mood and climate all its own; I'm told you feel like you're in another world there. And one of the hubs on the south coast, 77km south of Chania, is Paleochora (also spelled Palaiochora or Paleohora). It's a small town of 2,000 people that you can reach by bus from Chania at any time of year, and unlike many other south coast Crete destinations, Paleochora restaurants and cafes are still open during the winter season.
From there you can hike eastward for an hour along the coast out to Gialiskari beach, or along the road about the same distance up to Anidri. Unfortunately during winter the Anidri canyon (connecting Anidri with Gialiskari) is closed; otherwise this would be a perfect half-day loop hike.
If you have a car and you're visiting the south coast of western Crete, then you can't miss Elafonisi Beach, known for its soft pink sand, shallow waters, and nature reserve a short wade away. During the summer this place is madness; during winter, it's a different story.


Do You Need to Rent a Car in Chania?
When I described to a local friend that we were considering a day trip to Paleochora by bus (which takes almost two hours each way), he frowned. "For the cost and hassle of taking the bus, you're better off with a car rental. Chania has lots of cheap rentals available. Just….be careful driving."
I can't speak personally to the experience of driving in Crete (or Greece to a larger extent), but everything I've researched indicates driving in Greece can be a bit hairy, and I'll admit, I lost a few years of my life sitting in the front seat of other cars; they were white-knuckled experiences, even as a passenger.
"Traffic lights and speed limits are merely suggestions, and we don't know what to do with seatbelts," added in my friend, to emphasize how driving in Greece might be a bit different from North America, before sharing some ugly statistics about car-related fatalities and the number of people who drive without licenses.
Also, parking in Chania is challenging in winter, and almost impossible during summer. "Locals will make decisions about their day based whether or not they have to move their car," said Maria, our host, on the topic of the endless search for parking spots. Unless your accommodation has parking included (which would be rare), you might want to rent a car only for the days you want to travel out of the city. The rest of the time, foot-power is a terrific way to discover Chania.
So, if you want some wheels at some point….what do you need to rent a car in Chania? This is a moving target depending on who you speak to. Most of the time you'll be asked for an International Driving Permit (International Driver's License), which is different from your driving license. They're not hard to get, but you need to arrange this before you leave home. Here's everything you need to know about getting an IDP. Aside from that, be at least 21 years old, bring a credit card, some insurance (which you may already have with your credit card – here's how to check), and you're good to go.


Chania Hotels: Where to Stay When You Visit
Where to stay in Crete? I believe Chania is one of the best places to stay in Crete, since it's such an interesting and walkable city, and also close to many beautiful places to visit. Hotels in Chania Greece range in price depending on the season and also the location.
Personally, I recommend staying just outside of the old town. While the old town has lots of charm, you're likely going to pay more than you need to, and you'll actually have less access to supermarkets, bakeries, and even restaurants.
The apartment I rented (pictured above) was two blocks away from Plaza 1866, a central square in Chania, where you can get a taxi or local bus, and shop for anything you need. The inter-city bus station is a block away, and Plaza 1866 is immediately opposite the main entrance to the old town, with the Venetian harbour less than five minutes away (walking). So for location, it's the best of all worlds.
If you stay in the place I rented, do say hello to Maria for me, and ask her to set you up on a taxi tour with her husband Dimitris. He took us on a fascinating drive through the countryside and showed us spots we'd never have discovered on our own, including an epic lunch at Ntounias and a scenic drive through Therisso Gorge.

For other Chania hotels, check out these deals: