Vanessa Rivers is a California surfer girl, writer, and entrepreneur. Her passion for travel, sustainability, and the ocean her to create her LA-based eco bikini line SummerLove Swimwear (as seen in Sports Illustrated), and her travel blog Glitter&Mud. She is a proud new mom to a little travel girl and co-founder of We Are Travel Girls (as seen in Forbes).
I enjoyed this interview with Vanessa Rivers because she discusses life and work before and after becoming a mother. Learn more about Vanessa's very active multi-faceted career and lifestyle here!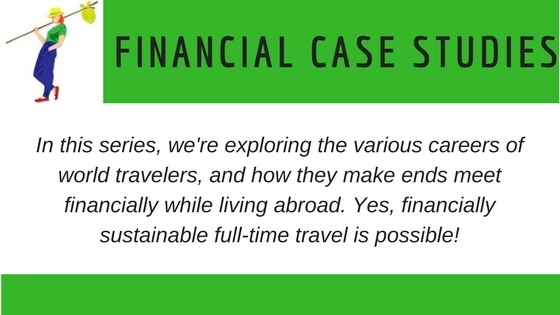 How long have you been living/working on the road, and where have you traveled to?
I recently relocated back to Malibu, California with my family after living in London for almost seven years. While in London I traveled extensively across Europe, Africa, and Asia. I have visited over 50 countries and specifically love any destinations where I can surf or snowboard or be in nature. A few of my favorite countries are Ireland, Thailand, Greece, Barbados and Malawi where we host our annual Travel Girls Getaways Safari & Charity Trip.


Please describe what you do for income.
I am Co-Founder of We Are Travel Girls Ltd. which I launched with Becky van Dijk in 2016. The company generates revenue from our women's group trips, Travel Girls Getaways, online advertising, affiliates, and brand partnerships.
In addition to We Are Travel Girls, I have my own personal brand and travel blog GlitterandMud.com which generates modest revenue from sponsored posts and brand partnerships.
I also have a swimwear line that is made out of recycled fishing nets SummerLoveSwimwear.com that generates revenue from online sales, and a private surf lesson company SurfLessonsWithVanessa.com that generates revenue from client lessons.
My husband previously worked in finance for over 30 years. He currently trades for himself and he is an investor so he generates revenue from his investments as well.


How many hours per week do you work on average?
Before I had my daughter, Sadie, who is now 2.5 years old, I use to work about 50 hours a week. I now work about 35 hours a week. Being a working mom is tough sometimes as I often feel like I am trying to do everything and not doing anything very well. But I am grateful being an entrepreneur has allowed me to work from home and create my own schedule so I can spend as much time with my daughter as I possibly can while still pursuing my dreams and business goals.


How much money do you make?
From We Are Travel Girls, we make $3,000 from online advertising in a typical month and $1,000+ from affiliates per month which makes up our passive income. Our active income comes from our Travel Girls Getaways. Depending on how many trips we run and if they are run solely by us or if we partner with a local in-country tour operator, we can earn between $20,000 – $70,000 per year (after expenses) from our getaways. We also make anywhere from $0 to $30,000 in a month from brand partnerships. We have had big months where we have secured clients like Google, TUMI, and Herbal Essences, but then some months nothing comes in so we try not to depend on this revenue source and look at brand partnerships more like a bonus.
From all my other companies, all of which are small and run solely by me – SummerLove Swimwear, Surf Lessons with Vanessa and my personal brand and travel blog Glitter&Mud – I make around $1,500 – $2,000 per month. This fluctuates as my swimwear line and surf lesson company are season dependent and generate less revenue in the winter months.


Do you make enough money to support your lifestyle?
The money I earn from We Are Travel Girls and my other companies is not currently enough to support me and my family. So, at present my husband, daughter and I rely on my husband's savings and the revenue he generates from trading and his investments. But the revenue trajectory for We Are Travel Girls is steadily increasing and as such what we withdraw in salary and dividends is going up each year!


What do you like most about your career and lifestyle?
I love the flexibility! I love that I am my own boss. I love that I do something different every day! And I love that I inspire people in different ways with each of my companies – to push past comfort zones and explore the world, buy eco products and try to live a more sustainable lifestyle, or to try a new sport like surfing!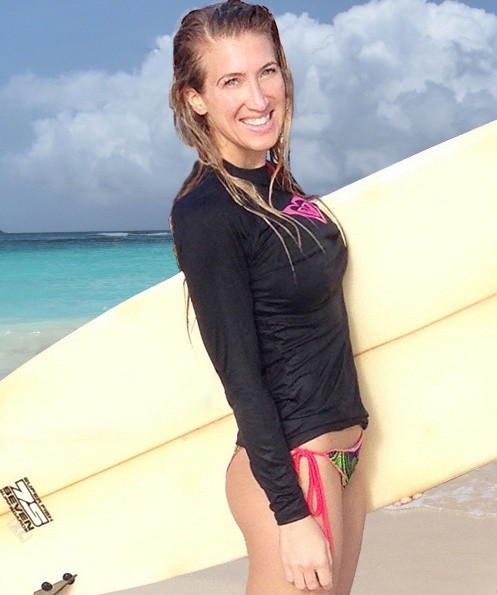 What are some of the challenges you have with this career and lifestyle?
Being an entrepreneur is tough. You work very hard for many years with very little monetary reward. You have to have staying power and self-motivation to push through.
It can also be difficult to be your own boss. You have to be self-motivated to work when you don't feel like it, and you also have to force yourself to stop working and shut off at certain points. There are always a million things that need to be done when you own your own company (or multiple companies) and there is never enough time in a day so you have to force yourself to stop working at some point and have a life!


What is your vision for the future of your lifestyle on the road?
I am now settled down in the Malibu area with my family. I will always travel for work as I love hosting our Travel Girls Getaways and I love working with travel brands such as cruise lines and luxury hotels. And I will always travel for fun with family and friends, but I am hoping to live in the Malibu area until my daughter finishes high school!


Any advice for the aspiring traveler about living and working on the road and managing finances?
Try to find something you are good at and truly love doing and focus all your energy on that! That passion will carry you through all the ups and downs.
Be willing to work harder than you ever imagined.
Stay humble and be willing to do multiple side jobs for money while you build your own company or brand. I started my surf lesson company in college because I desperately needed extra money and I loved surfing. I also worked as a waitress for over seven years! I met an array of interesting people while waitressing – one of which went on to be the main investor for my swimwear line!
Think outside the box. It sounds cliche but don't follow the herd. Forge your own path. If you see a void in the market that just might be your golden opportunity! And don't forget to have fun along the way!


Is there anything else you'd like to add?
If you can, try to find a way to give back. With whatever you are doing you will feel infinitely more successful (no matter how much money you are making) if you find a way to help make the world a better place along the way. We launched Travel Girls Giving, the charitable branch of We Are Travel Girls, in 2019 and have thus far raised over $22,000 for charity. And we are hopeful this number will grow exponentially every year as our company grows! For me, overseeing our Giving Program and co-hosting our charity trips is the most rewarding part of working on We Are Travel Girls.


You Might Also Be Interested In: