Traveling is marvelous. You get to take a glimpse of great places, experience distinct cultures and interconnect with various people. Sadly, a lot of people's focal points are only on the positive experiences that we forget the negative impact it has on the environment.
In my personal and professional life, I've taken environmental responsibility to heart, and it was inspired by my world travels. I'll never forget that river cruise I did in Hoi An where, once outside of the harbour it looked like the entire place was built on plastic waste. Or the road in Panama lined with garbage – bags of it – simply thrown out the window as people drove along. Or the mall in Chiang Mai where the garbage cans were literally overflowing with plastic bubble tea cups by lunchtime. Seeing these things, I promised myself I would not further contribute to the problem.
In this article, I will introduce you to some unconventional eco-friendly travel products that go beyond the norm; things you can use at home and abroad to reduce your footprint, while supporting companies that go the extra mile in terms of the good they're doing the planet. I'll also show you the filter through which I process all my buying decisions – including for everyday items.
See also:
18 Eco Travel Companies and Booking Tools to Use in 2023
Merino Wool Clothing for Travel: A Guide to Choosing the Best Brands
My Zero Waste Kit for Travel (and Home)
Is the Digital Nomad Lifestyle Environmentally Sustainable?
Disclosure: I have included affiliate links to some of the products in this post. This means if you click through and end up making a purchase I will get a small commission. Thank you in advance for supporting The Professional Hobo.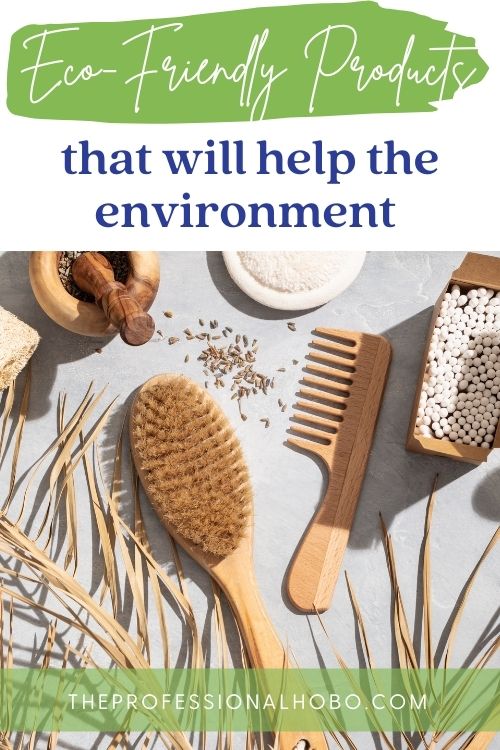 Eco-Friendly Products You Must Pack with You
Traveling can be a time when you generate a lot of trash and where your eco-friendly best of intentions take a hit. Think long flights, ready-to-eat meals, plastic bottles, travel-size shampoos, and the like.
But traveling doesn't have to be waste and plastic-intensive. Below we'll explore some everyday travel essentials that are a better choice for the planet and its creatures, and that you may not have necessarily considered.
When education and infrastructure are lacking, people don't know better, until it's an evident problem, as it now is. And as travelers, it's our responsibility to minimize our impact and not contribute further to existing problems.
Switching from plastic cutlery to bamboo cutlery and reusable straws is making an impact already. It may seem small but purchasing a reusable water bottle for when you travel and avoiding buying bottled water can make a big difference. As well as getting a reusable razor and bringing reusable bags when you go shopping.
These things may seem minor in the grander scheme of things, , but given the state of the environment right now, these positive habits can save waste and maintain the beauty of the place we're visiting.
Here are some other ways to make a Positive Impact While Traveling, by NovelExcursion.


Eco-Friendly Products for Travelers
Beyond the ecological dilemma of whether or not to travel (which is beyond the scope of this article), there are concrete choices you can make that will significantly enhance your eco-score. The first one is to look inside your home.
When thinking about going abroad, it's easy to get overwhelmed with all the options, products, and in-case-of items. And for many people, the knee-jerk reaction is often to buy new (specially tailored) products to prepare for their trip.
Buying new products isn't the problem as such, especially if you are certain that you don't own an acceptable alternative. But buying mindlessly something you don't necessarily need is not the best eco-friendly practice.
The smarter option to make your travel habits more earth-friendly is to use what you already have and use it for as long as you can. In the same logic, borrowing and buying second-hand are great habits too.
The bottom line is to become more conscious about your consumption needs and how you can help the environment by lessening your generation of (unnecessary) waste.
Remember: one of the fundamental principles of going green is your approach regarding waste:
Refuse what you don't need (and thus, avoid buying new if possible),
Reduce your consumption/quantities (pack light, with versatile items),
Reuse as much as possible (for example, by borrowing from friends).


Earth Loving Eco-Friendly Products For You
One of the easiest ways to help make the environment better is to start living a more environmentally friendly way of life by switching from unsustainable items to sustainable ones. If you travel often, it's time to start using some reusable products.
Here are some eco-friendly travel products you may not have considered:

Low Waste Makeup
Conventional makeup products usually have plastic packaging and casings that are either tough to recycle or not recyclable at all. Not to mention the number of ingredients that have questionable origins and are not necessarily healthy for your body and skin.
Eco-friendly makeup is slowly becoming more accessible, as a growing number of brands are taking responsibility for their products; making packaging more sustainable, their products cleaner, and more.
When looking for eco-friendly makeup products, consider three things:
What it's made of,
How it's made,
How it gets to you.
The most eco-friendly makeup products are those with clean ingredients, are sustainably sourced, and are ethically made. Look for brands using reusable containers such as glass jars, and/or come in easily recyclable or compostable cartons and containers.
Shipping-wise, opt for brands that have a sustainable and earth-friendly policy in place; for example, by compensating and offsetting their carbon footprint, or by sourcing/distributing as locally as possible.
Look for products that are naturally derived or plant-based. Avoid buying items that use nonrenewable energy sources such as petroleum. Another ingredient to avoid is palm oil, the production of which is causing massive environmental issues from deforestation and dwindling animal habitats to the displacement of indigenous communities.
Zero waste champion River Organics offers a wide range of clean, trustworthy makeup products. Use coupon code PROFESSIONALHOBO for 15% off!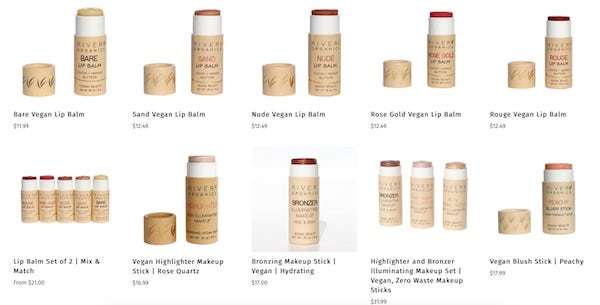 Shampoo and Conditioner Bars
Liquid shampoos and conditioners usually come packaged in plastic bottles that are not easily recycled and thus often end up polluting our soils and oceans. When you're traveling, you're likely to buy travel-sized versions of everything, especially considering the carry-on restrictions on liquids.
A great workaround is opting for shampoo and conditioner bars. You can cut up a bar and take just what you need for your trip (a great tip for carry-on and one bag travel). There are no packaging or liquid restrictions to worry about.
And if you're balking at the price, don't: they last way longer! I've been a fan of LUSH's shampoo bars for years (they've been a consistent staple in my packing list), and one bar lasts me (and my long hair) a minimum of six months.
Whatever bar-looking product you buy in bulk or online, make sure it lists ALL the ingredients. For example, vegans should avoid beeswax and other animal-derived components. Similarly, soap and shampoo (whether liquid or bar) mentioning 'fragrance' in the list is a typical way to 'hide' questionable ingredients.

Reusable Cotton Swabs and Rounds
Cotton rounds and swabs are useful for hygienic purposes and for removing makeup. Keeping a couple of cotton rounds handy when traveling always has its benefits. However, these products are wasteful given their single-use nature. The plastic part of conventional cotton swabs in particular is difficult to work around and recycle properly.
A great eco-alternative to move away from these single-use items are Last Object's washable products. They designed reusable cotton swabs made of silicone that you can reuse up to 1000 times! I have one, and it works great and also saves space! The Danish brand also created reusable cotton rounds and tissues.
All in all, Last Object's brilliant ideas are an easy swap for you to make if you want to decrease waste (and its harmful consequences) at home, and also when traveling.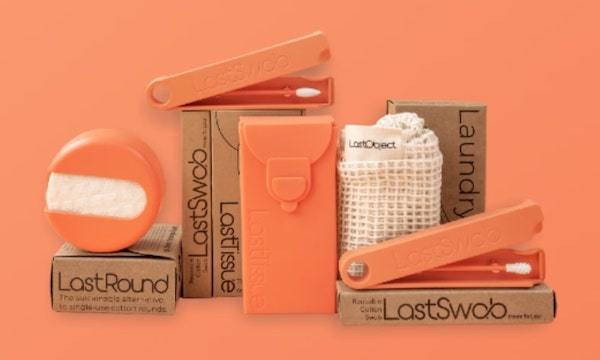 Pacsafe Recycled Backpacks, Luggage, Purses, and More
I've been a Pacsafe girl for years now, because of their thoughtfully designed bags with anti-theft features and more. If I didn't already have enough reasons to love their stuff, they're now leading the way making eco-friendly bags.
Browse through their collections, and you'll see green recycling signs next to increasing numbers of their products. This means those bags are being made with ECONYL material, which is made from recycled fishing nets and other plastic waste.
Pacsafe is on a mission to reduce ocean plastic, and in addition to all their new bags being made from recycled plastic, they are converting their existing collection too. In 2020, 35% of all their bags were made from recycled material, and in 2021 they increased that to 75% of the entire Pacsafe collection.
They've also switched out their packaging and tags to recycled cards and they're working with suppliers to eliminate plastic from shipping materials. By 2025 they aim to eliminate all virgin plastic from their entire supply chain.
I currently own a few of their ECONYL products (specifically the Citysafe CX Anti-Theft Backpack – which is a stylish multi-use daypack for travel and home, and the Daysafe Anti-Theft Tech Crossbody – which is my new passport/valuables carry case on travel days and my hands-free out-on-the-town-with-just-a-few-things bag while at my destination). The material feels great, and is equal – if not superior – in quality to Pacsafe's older products.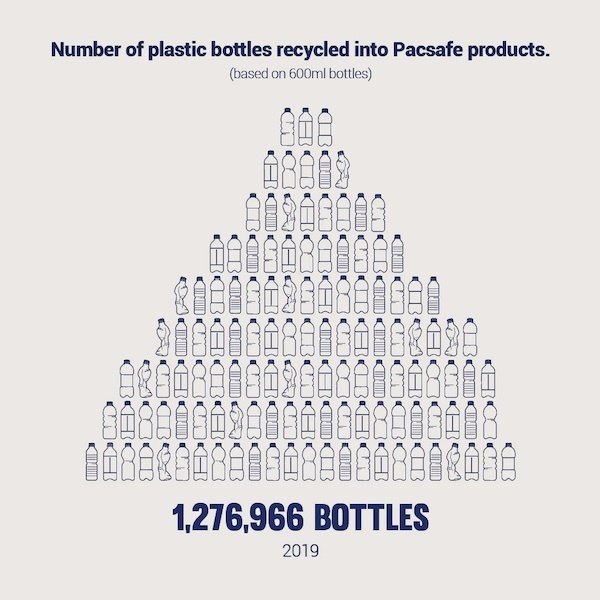 Vivaia Sustainable Washable Shoes
I have a new obsession. It's with a company that makes stylish, sustainable shoes for women. We're talking made-from-plastic-bottles, machine washable, lightweight, anti-odour, comfortable, flexible, suitable for wide feet….not to mention they look AMAZING.
I bought my first pair of Vivaia shoes – the Vienna pointed toe V-cut flats. I traveled for seven solid months with them, through varying climates and scenarios. Every single time (every single time!) I wore them I got at least one compliment.
I can wear them absolutely all day in total comfort. The break-in period was painless and took one day (which for me is unheard of), and I'm really not exaggerating when I say they're among the most comfortable shoes I own.
Bonus: they look incredible. They level up every outfit I have. And as long as comfort isn't being compromised, then I say why not look a little more well-dressed?
Vivaia took notice when I sang their praises in a Facebook post and after that we started working together. They asked me if I'd like to try another pair of their shoes, and I said "yes please – I'll take three pairs".
It was a gutsy move, to be sure. But I wanted to try a few different styles of shoes to see if it's possible to wear exclusively Vivaia shoes (with just one exception – and that's for my Xero barefoot shoes that I use for hiking and working out).
So, I got a pair of loafers for cooler weather, these cute-as-a-button mules for an easy slip-on upscale alternative to sandals, and I got a pair of their new Aria 5 style (pointed toe shoes designed to accommodate wider feet) made of hemp – in fact, they're the world's first pair of hemp shoes! Now that I have four pairs, I won't travel with them all on every trip; depending on where I'm going and what I'm doing, two pairs should do.
They also have sneakers, boots, and men's shoes.
Learn more about Vivaia's sustainable practices here.


Aviator 100% Merino Wool Shirts and Hoodies
After reading that certain kinds of polyester may be responsible for the majority of micro-plastic pollution in the Arctic (it comes out when you wash it), I learned the importance of choosing eco-friendly fabrics.
Aviator is known for their jeans, and many claim they make the most travel-friendly jeans out there. But Aviator doesn't just make jeans; they also make 100% merino wool tops. They have t-shirts and travel hoodies for men and women, and a snappy-looking polo for men as well.
Here are a few reasons why merino wool is my #1 favorite material for travel clothing:
Antimicrobial (ie: anti-stink; you don't have to wash it as often)
Moisture-wicking
Temperature-regulating
Wrinkle-resistant
Lightweight and packable
Breathable
Comfortable
Fast-drying
Naturally degrades when disposed of
Aviator's Travel Hoodie goes the extra mile (travel pun intended) with the following features:
Two exterior zipper-secure pockets
Multifunctional cuff can be worn standard, as a fingerless glove, or as a mitten
Multifunctional hood can be worn standard or as a sleep mask
This little gem on the Aviator site also sealed the deal for me:
"At Aviator, we source our merino wool from New Zealand because they maintain strict laws protecting their sheep and have banned the cruel practice of mulesing. New Zealand Merino's are treated ethically and are carefully sheered each spring."
Check out Aviator's merino wool line up here.
Jack Wolfskin: World's First 100% Recycled Rain Jacket
Jack Wolfskin as a company is not only a member of the Fair Wear Foundation and Blue Sign. But they also are committed to making sustainable products, like the Pack & Go Rain Jacket (women's styles here, and men's styles here), which is the world's first 100% recycled rain jacket. (Here's a video review I did of it, that also goes deep into why Jack Wolfskin is an Eco-Friendly and Ethical Manufacturer).
Now one of the things I love about Jack Wolfskin is their commitment to environmental and social responsibility.
Here's why you can feel good about getting this jacket. It's 100% PFC free (PFC stands for 'perfluorinated compound'; you may also see them referred to as 'fluorocarbons). PFCs are a wide range of man-made chemicals used in everything from non-stick coatings on pans to the foam in fire extinguishers.
Some types of PFC are exceptionally good at repelling water, dirt and oil. As a result, they became widely used in durable water repellent (DWR) treatments for outdoor clothing and equipment. PFC is a form of greenhouse gas that doesn't go away – so it builds up in the environment with potentially harmful effects. So. No PFCs here.
Next up: their 100% recycled Texapore Polyester.
TEXAPORE is JACK WOLFSKIN's weather protection technology. TEXAPORE materials are always waterproof, windproof and breathable. What this means is the outer material consists of recycled PET bottles and is completely PFC-free. The membrane is manufactured from the remnants, so ultimately, there is no waste. The lining is also made from totally recycled material, and certified according to the Global Recycling Standard.
In all, the Texapore Ecosphere is the world's first 100% recycled jacket and coat range by Jack Wolfskin. It's 3x as sustainable, and 3x as strong. To date, Jack Wolfskin has given 36 million PET bottles a new lease of life!
I also own their JWP Down jacket (women's styles here, men's styles here), which is made from responsibly-sourced down, and is the lightest warmest jacket I've ever laid eyes on; it packs down to almost nothing. See for yourself here, in my video review.
Encircled: Women's Sustainable Clothing Champion
First off, what makes Encircled travel-friendly? Many of their products can be worn multiple ways, which means one piece of clothing can be dressed up, down, and all around. Their first ever product was the Chrysalis Cardi, which can be worn more than 8 ways!
I've been a friend of Encircled since their early days almost 10 years ago. I started off with their signature Chrysalis Cardi, then got their Evolve Top, then their Flipside Leggings, and finally the Revolve Dress. Since then, they've changed and expanded their lineup a lot, but one thing remains unchanged: their commitment to sustainability. Here are some highlights:
They're a Certified B Corp, which means they're legally required to consider the impact of every decision on their workers, suppliers, community, environment, and customers.
They're Oeko-Tex Standard 100® Certified, which means the majority of all threads, buttons, and accessories have been tested for harmful substances.
Their sewing studios save all scrap fabric and upcycle it into accessories.
Their web hosting provider is wind-powered.
Their studio/warehouse uses eco-friendly paper and cleaning products, and single-use plastic water bottles are banned.
Packaging is 100% recyclable.
Here's what Encircled makes their clothes from:
Modal® – One of the softest fabrics in the world, made from sustainable beech wood pulp
TencelTM Lyocell – Made from sustainably-sourced wood pulp, and the yarn is created through a closed-loop process (ie: no water/chemicals/byproducts are released back into the environment)
Rayon from Bamboo – Grown without pesticides, naturally regenerates, and is naturally biodegradable
Organic Cotton – Grown without pesticides or GMOs
Linen – Made from the resilient flax plant, and is biodegradable
So, feel good about your buying decisions, and check out the extensive sustainable clothing collection at Encircled.

PAKA: Sustainable Traceable Alpaca Clothing from Peru
There is A LOT to love about PAKA and their use of traceable alpaca. So much, that I need to use bullet points: 
PAKA's clothing is sourced from free-roaming alpacas in Peru. And because they're native to the land and only eat top grasses, they are fully sustainable.
One alpaca shearing makes four sweaters (by contrast, four cashmere goat shearings make one sweater).
They use a special technique for shearing alpacas that minimizes time and stress to the animals.
They work through a Peruvian NGO to train and employ single mothers coming from domestic violence situations. Each sweater is signed by the woman who made it.
Similar to merino wool, alpaca wool is thermo-regulating, odour-resistant, moisture-wicking, durable. It's also 3x lighter than sheep's wool and as soft as cashmere. 
PAKA is a Certified B-Corp.
Believe it or not, that's not all. I dare you to visit their site and NOT be inspired by their Story and Impact pages. 
I have their classic Hoodie, which is the piece that kicked off the whole company and the PAKA initiative. It's incredibly soft and comfy, surprisingly lightweight, flattering, and very warm. If you use a compression packing cube, you'll get the best of all worlds; a comfy cozy sweater that doesn't take up too much space or weight in your luggage. 
I also have their ankle socks that are surprisingly technically sound, with triple-sole cushioning, a heel tab to protect against blisters, and a tightened compression arch. 
One thing to note about these pieces (and to my understanding, alpaca in general), is that it gets really fuzzy. I've only washed my items once (machine wash, cold, delicate, lay flat to dry), and already they're getting fuzzy.
The sweater isn't a bad fuzzy – it's actually part of the look. The socks are what's surprising me the the most; it's almost like they're giving off extra fuzz. This MAY dissipate with time; I'm not sure. I'll update this article as I continue to use them (as I do, daily). 
The good news is that because alpaca is naturally odour-resistant, it needn't be washed as much, which means it will last longer.
Get your alpaca clothes at PAKA today, and feel good about your contribution to the environment, the people of Peru, and of course, your travel wardrobe. 


Peak Design: Recycled Durable Travel Bags and Camera Bags
Peak Design made a name for itself by designing ingenious bags and gear for photographers. A number of years ago they crossed over into travel bags and luggage, and between their clever design features, durability, use of recycled materials and sustainable/responsible practices, they're leaders in the space.
A few years ago I tested out their 45L Carry-On Travel Backpack; you can read my review of it here. Ultimately my boyfriend at the time loved it so much, he took off with it when we broke up!
Now, I have their Everyday Totepack, which I use as my personal item / daypack on longer trips to go along with my (Pacsafe) rolling carry-on.
In addition to making their bags with 100% recycled materials, here's why Peak Design is a company I can get behind:
They're a Certified B Corp,
A member of 1% for the planet,
Bluesign Certified,
A member of multiple carbon offset and climate action organizations,
They Cofounded a Climate Neutral non-profit,
They have Factory codes of conduct for fair wages, with official standards for worker treatment, pay, safety, and conditions,
They're Fair trade certified,
They use recycled materials,
And they specifically develop durable products with longer life-cycles
Check out what Peak Design has on offer here.


WAMA Hemp Underwear
Hemp is another one of those miracle fabrics. It's like cotton, except way better. Here's why:
Naturally anti-bacterial with anti-odor properties
Comfy, breathable, and gets softer with every wash
Organic, sustainably farmed
Uses 3% of the water conventional cotton uses
Farming hemp uses 18% less energy than conventional cotton
So why not trade in your tattered tighty-whities for WAMA's hemp underwear? They have a variety of styles for both men and women. WAMA sent me a selection of undies and a bra, and they're great. They absolutely do get softer with each wash, and even after working out in them, they remain totally stink-free.
Here are a few more reasons to choose WAMA:
They are a Green America Certified Business, meaning they show leadership in the green business field and are committed to positive social and environmental change.
All their packaging and shipping materials are made from sustainably-sourced recycled materials, and are reusable and recyclable, and in some cases naturally biodegradable too.
Check out Wama Underwear here.
Eco-Friendly Sunglasses
Sunglasses are a traveling must to protect your eyes, especially in tropical or high-altitude destinations.
But did you know that you can take your sunglasses game up a notch by buying sustainable and eco-friendly ones? While traditional sunglasses are often made of plastic, many brands are now coming out with eco-friendly options such as plant-based acetate or bamboo.
Thus, look for sunglasses that use bamboo, recycled, or plant-based materials. Those are usually the ones that will leave the least amount of environmental footprint. Be on the lookout for brands that openly share information on their supply chain and manufacturing practices.

Reef Safe and Eco-Friendly Sunscreen
Speaking of sun protection, conventional sunscreen has many issues. For one, lots of sunscreens like the one at your local drugstore are not reef-safe. Concretely, this means that they contain ingredients that harm precious coral reefs and marine life.
In case of doubts when scrutinizing a label, have a look at the Haereticus Environmental Laboratory (HEL); their certification guarantees the absence of harmful environmental pollutants. Some HEL-certified sunscreens include Stream2Sea and Sunblocz.
If you are located in Europe, Suntribe's sunscreens are certified coral safe, free of synthetic chemicals, and contain a high proportion of organic ingredients.
Lastly, as mentioned earlier in the makeup section, the extra points are attributed to sunscreen products with reusable, recyclable, or even compostable packaging. Sunscreen brands that use recycled plastic for their packaging are also better alternatives.


Soap Saver Bags
Just like the liquid shampoo, liquid soap isn't particularly eco-friendly, and it doesn't pack gracefully especially if you're traveling long-term and/or with carry-on luggage.
There are two steps to effectively using bar soaps and/or shampoos: one is a soap saver bag, which is like a natural loofah that your soap goes inside of and allows you to use every bit of soap (instead of having to abandon it when it's too small to handle). And, at the end of your shower, you can hang it up and the water will drain out allowing the soap to quickly dry so it doesn't end up a mushy mess.
But what happens when you need to shower and pack right away and your soap bar is still wet? Even if you put it into a (large and unwieldy) soap case or plastic bag, it still comes out slimy at your destination if not given a chance to air dry.
Enter: The FlatPak Soap Bar Case. Put your wet soap into this case and it (magically??) dries on its own.
Curious about the different soap savers options and their benefits? Take a look at this article on Puratium, where they go into detail about everything you should know.
Things to Keep in Mind Before You Purchase an Eco-Friendly Product:
Quality: Is the product high quality? If it doesn't last you a long time, then it defeats the purpose if it ends up in a landfill. .
Origin: Is the product sourced and/or made locally? Will you be advocating for a small business within your country and steer clear from the negative ramifications of having to import goods?
Ingredients: Check if they carry damaging ingredients like Sodium Laureth Sulfate or Parabens? If you want to purchase sunscreens – are they reef-friendly?
Packaging: Are they using too much plastic to ship out these products? Will you be able to reuse or make use of the remaining packaging items after opening the product?
Other things to consider are eco-friendly phone cases, and lip balms with paper packaging that can be reused as compost for plants. People are catching on and we still have a long way to go but every little bit helps create positive changes for the environment.
Little changes in your travel (and daily) routine can add up to more conscious and earth-friendly adjustments on a larger scale. Bonus: you can save a lot of money if you're creative, borrow, and reuse what you already have.
I like to vote with my dollars, so when I do need to buy something, I do my very best to buy from trustworthy brands that are putting ethical and sustainable standards first on their charts.