While the movement to travel in a more eco-friendly and sustainable way was certainly afoot prior to the pandemic, it gained momentum when we all had time to reimagine what travel would look like when the world opened up again, and how we could better impact local communities and the world around us.
If you're looking for an eco-friendly way to travel or finding a way to travel more sustainably or in a socially responsible way, there are now a lot of eco-travel companies and booking tools. The benefits of eco-travel and responsible travel are extensive, including a reduction in the negative effects of over-tourism, helping destinations and local cultures retain their authenticity, and and having less impact on the environment so that future generations can continue to enjoy this amazing world we live in as well.
See also:
Eco Friendly Travel Products
My Zero-Waste Kit for Travel (and Home)
Is the Digital Nomad Lifestyle Environmentally Friendly?


Benefits of Using an Eco-Friendly Booking Platform
Instead of using your usual go-to websites to research and book your next trip, you can actually start traveling more sustainably by using one of the special booking platforms or tour companies featured in this article. In one case simply doing your normal web browsing and searches will plant trees!
Not convinced? Here are four reasons to change how you book your vacation so your next trip can have a more positive impact:

Protecting the Environment
There are a few different ways you can help protect the environment by using an eco-friendly booking platform.
First off, it goes without saying, but I'll say it anyway: when using an eco-friendly booking platform, you are generally using a company that is committed to improving and sustaining the world around us.
Secondly, some companies donate a portion of their profits to charities and initiatives that help the environment like conservation projects, planting trees, carbon offsets, minimizing the impact of tourism on local cultures, and more.

Eco-Friendly Properties
Using an eco-friendly booking platform inherently means you are much more likely to find eco-friendly accommodation that will in turn help you travel sustainably, than if you just used a regular platform.
This could be reflected in a few ways; for example the property may use renewable energy like solar panels or wind power, they may have power-saving or water-saving measures and practices, and they may also be involved in environmental projects.

Wildlife Protection
Obviously nobody would knowingly work with companies that are involved in neglecting or mistreating animals. But sadly there are a lot of grey areas when it comes to wildlife and what is considered responsible.
For example, any experience that involves human interaction with wild (or "rescued" animals) is not good. This includes elephant rides, dolphin encounters, tiger petting, sloth hugging, and more.
Hey. I wanna hug a sloth as much as the next person – I mean, they look like they're smiling and they're built for hugging! But did you know that handling sloths actually causes them so much stress and anxiety that it shortens their lifespan? Did you also know that because of the number of people who post pictures of themselves hugging sloths on social media, there are people who will take sloths from the wild and start tourism businesses so travelers can pay to hug sloths, all the while calling them "rescues" and feeding them misinformation?
By using a sustainable booking platform, chances are that any activities you choose to do will be with companies dedicated to wildlife protection rather than exploitation.

Fewer Emissions
Some eco-friendly booking platforms will promote airlines and travel options that produce less harmful environmental emissions.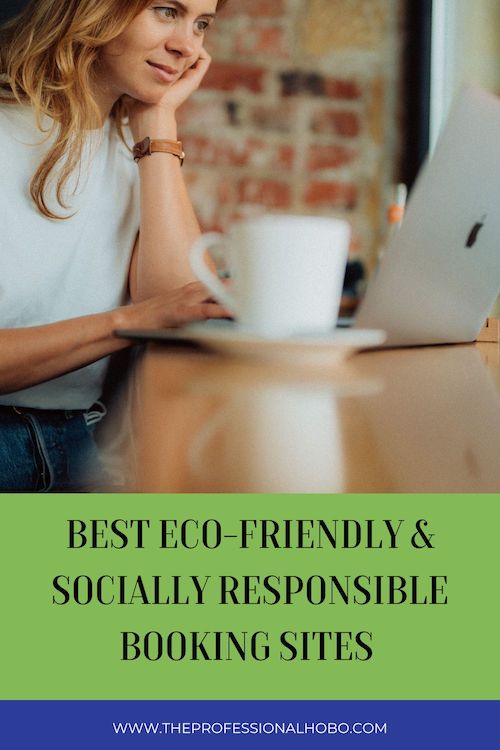 How to Find Eco-Friendly Travel Companies and Accommodation: Clues to Look For
An eco-friendly hotel or accommodation will be built and operated in a way that will have minimal environmental effects. However, it can be challenging to find a truly eco-friendly hotel. Here are some tips:
Eco-Credentials – There are a lot of different credentials and awards available to hotels that claim to be eco-friendly, some more prestigious than others. So, if you are looking for an eco-friendly hotel, it is best to look into the different credentials a hotel can have and which ones to hold in higher regard, then choose a hotel based on those. Looking for a globally recognized sustainable certification program is especially important.
Here is some more information on green hotel certifications and what they mean.
Policies – If a hotel is committed to maintaining the environment, they will undoubtedly have a sustainability policy. These will detail their efforts and whether any larger environment protection agencies support them. When you are researching a hotel, if they have a sustainability policy they'll probably feature it prominently on their website.
Read Reviews – Reading reviews before booking accommodation helps ensure you'll have an experience that meets your expectations. Reviews can also give you an accurate idea of how eco-friendly the hotel is. Some sites may even have an option for you to filter the reviews for key words relating to the hotel's sustainability.
Look at Their Menu – If the hotel you are looking at has a restaurant and is truly committed to helping the environment, their menu will probably feature fresh produce from locally sourced farms. They may even have their own gardens. Again, these practices tend to be something a hotel will emphasize, so you'll read about it on their menu or website.


Best Socially Responsible and Eco-Friendly Travel Search Engines
Booking a sustainable trip (and ensuring you choose the right companies) starts here. These websites will help you search for and book various elements of your trip, from accommodation to activities to the best local businesses at your destination.
Here are some of the best socially responsible and eco-friendly travel search engines (in no particular order).
STAZE (Net Zero Emissions Hotel Searches)

Staze is a hotel search engine that aims to take your hotel bookings to net zero emissions. It has glowing reviews and a mission to make sustainable travel easy so that you can still explore and enjoy everything the world offers.
To help you make choices that reduce your carbon footprint, they display the emissions of each hotel in your search results. They also offset twice the carbon footprint of every booking.


ROOMS FOR CHANGE (Hotel Searches, Travel Scholarships)

Rooms for change is a non-profit search engine for hotels. All of the commission from your booking is then used to create travel scholarships to help someone else who may not have the opportunity to travel otherwise. It is a great way to give back when booking your journey.


GRASSROOTS VOLUNTEERING (Find Local Social Enterprises)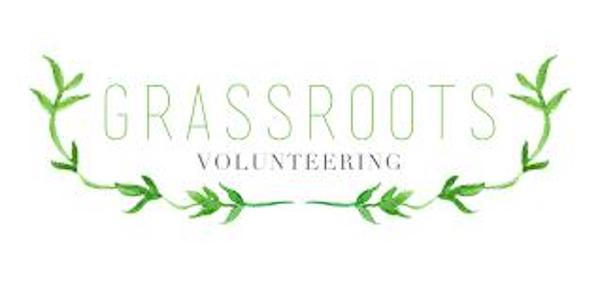 Grassroots volunteering is a great booking tool for sustainable travel. You can search for volunteer opportunities, but that's not what I love about it specifically. What I love is that it has the world's largest social enterprise database, featuring restaurants, tour operators, homestays, coffee shops, and more; all of whom use use your tourism dollars to make positive changes in the local community.


GURUWALK (Free Walking Tours)

When I arrive in a new destination, the first thing I like to do is go on a walking tour. It familiarizes me with the place and allows me to chat with the tour guide (usually a local) about the best things to see and do. And by its very nature, walking tours are eco-friendly! And Guruwalk is the site I like to use to find said free walking tour.


ECOSIA (Plant Trees While You Surf the Web)
Ecosia actually doesn't have anything to do with travel, but I use it every single day, all day, on all my devices, so it's worth mentioning here. Ecosia is a browser and search engine that uses its profits to plant trees. Simply doing website searches contributes to trees planted, and on the home page you can see over time how many trees you are responsible for planting with your own web searches, as well as how many Ecosia has planted overall (currently almost 157 million).


BOOK DIFFERENT (Sustainable Accommodation Searches)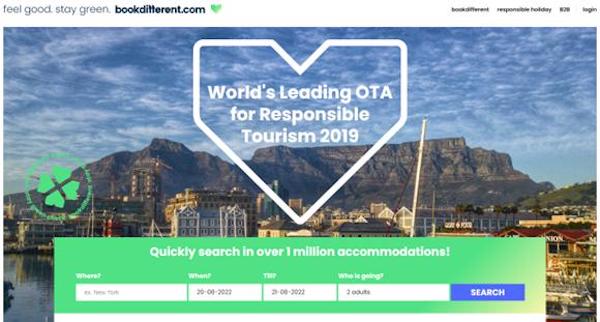 Bookdifferent is a sustainable accommodation search engine that earned an award in 2019 for responsible tourism. Because sustainable is a moving target, they show the most sustainable hotels at the top of the list so you're not searching for a needle in a haystack. Their "staygreencheck" rating system evaluates hotels based on four different "ecolabels" that certify various categories of practices that make them sustainable including management, fair & local, culture friendly, and nature & environment.


RESPONSIBLE TRAVEL (Eco-Travel Agent)

Responsible Travel is an eco-travel agent that offers rigorously-screened and monitored holidays and tours that have passed their social, environmental, and economic standards. Their values build on the pillars of climate, nature, and inclusivity, and each holiday offered through the site has a description of how it meets their responsible travel criteria.
You can search for holidays by type, destination, or accommodation, or you can have them create a bespoke holiday just for you. Their Trip for a Trip program sends disadvantaged children on day trips to have life-changing experiences, and so far over 4,000 children's lives have been impacted.


EARTH CHANGERS (Curated Sustainable Trips)

Earth Changers curates a variety of trips and organizations that are deeply committed to sustainable regenerative tourism. Every experience has an extensive description of how it meets these parameters. Earth Changers is not a tour operator or agent; rather they are deeply committed to their manifesto.


KIND TRAVELER (Donate to Get Hotel Deals)
Kind Traveler has vetted over 140 hotels across 22 countries for their positive impact. You can unlock exclusive deals to these hotels by making a donation (minimum $10) to one of their 100+ vetted charities. Kind Traveler is a veteran-and-women-owned public benefit corporation that has pioneered this "Give and Get" hotel booking concept. 100% of the donations go to the charities in question, and you even get a report of how your donation has created a positive impact.


FAIRBNB (Responsible Home Sharing)

According to this article, AirBnB does not score well in the ethical travel department, especially when it comes to local community impact (or rather, lack thereof). This opens the door for companies like FairBnB, which focuses on responsible home sharing.
Structured as a cooperative rather than a vacation rental platform, they invest 50% of the platform fees and commissions into local community projects. They work closely with local authorities to ensure the legality of holiday homes in each community, and they exclude large real estate investors and other non-local hosts from exploiting communities for vacation rentals.


Best Socially Responsible and Eco Tour Companies
If you want tours or activities an eco-travel company leads, you will be happy with the following examples. All the names below are sustainable tourism companies that will allow you to explore while looking after the environment and the people at your destinations.

NATURAL HABITAT ADVENTURES (Sustainable Adventure Travel Outfitter)
Natural Habitat Adventures boasts the title of #1 Adventure Travel Outfitter as designated by Outside magazine. In their 35+ years of operation they've racked up an impressive collection of sustainable travel awards. They are solely focused on nature adventures, and do so through their alliance with the WWF and mission of Conservation Through Exploration. They offer small group trips facilitated by scientists and naturalist expedition leaders.


BYWAY TRAVEL (Eco-Luxury Holidays and Tours by Land)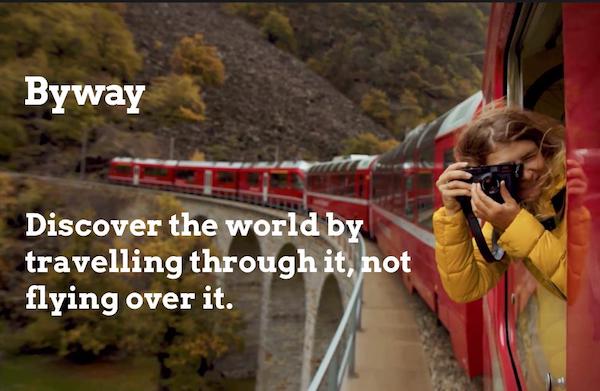 ByWay Travel is a unique travel experience, offering eco-luxury holidays and tours requiring no air travel. It is solely a rail exploration company offering holidays in the UK and Europe. Byway Travel has also won the 2022 Marie Claire Sustainability Awards, solidifying its commitment to eco travel.
ByWay Travel also became a Certified B Corporation in 2022, which is a pretty big deal and demonstrates they meet the highest standards of positive social and environmental impacts across their entire operation.


G ADVENTURES (Worldwide Trips With a Focus on Community Impact)

G Adventures works with local communities to provide you with an adventure travel experience you will never forget. They offer trips around the world that are centered around meaningful relationships with communities so that locals benefit from the groups that come through. Tour leaders are also all locally-based rather an "imported".
They are also partnered with the non-profit Planeterra, which is the world's leading NGO dedicated to creating positive impact on communities by connecting tour companies (like G Adventures) with community tourism initiatives.


INTREPID TRAVEL (Carbon Neutral B-Corp)

Intrepid Travel walks the talk; they've been carbon-neutral since 2010, they're B Corp Certified, and they created a non-profit foundation called The Intrepid Foundation. They offer a huge variety of travel experiences around the world, catering to different travel styles and budgets.


GONDWANA ECO-TOURS (Small Group Eco-Friendly Adventures)
Gondwana Eco Tours caters to small groups and private clients, leading eco-friendly adventures in Alaska, Argentina, Louisiana, Rwanda, Uganda, and Tanzania. All their tours are carbon neutral (as of 2021), and they pay special attention to supporting local programs and initiatives.


FOOD STORIES TRAVEL (Walking/Hiking/Cycling Tours in Europe)
Food Stories Travel offers small group walking/hiking and cycling tours, mostly in Italy, but with a selection of cycling tours in other European destinations. They help travelers immerse in local culture through food and supporting local farmers and artisans.
They're carbon-neutral, a Certified B Corporation, and a member of 1% For the Planet.


Final Words
No matter what we do and where, we are a part of climate change, for better or worse. Flying to your destination may involve carbon dioxide emissions, but I believe that's not the whole picture. If you patronize local accommodation and businesses, and use socially responsible tour operators, you can create a net-positive impact for yourself and the world around you.
With the help of the companies and search tools listed in this article – which are some of the best online travel booking tools, rest assured you'll be booking a more sustainable and eco-friendly vacation and you'll finding the perfect destinations for your travel style and preferences.