It's that time of year again! Here is a collection of perfect travel gifts and travel-friendly products and services that I've had a chance to test-drive over the course of this year – and can heartily recommend to you. They make perfect travel gifts for the traveler in your life – whether or not they're always on the road.
And as you'll notice, you'll get some customized discounts on some of the goodies in here….
This post was originally published in 2015, and has since been updated for accuracy of links and product information.


Kinivo Bluetooth Headphones
As an ultra-light traveler, I'm an earbud fan. Period.
But the folks at Kinivo convinced me to try their BTH240 wireless bluetooth headphones by sending me a pair. Skeptical as I was, I was immediately impressed with how small they folded up into their little pouch, which fits amicably in my purse. And these headphones can actually be worn under the hair (around the neck instead over the head), so I don't feel ridiculous or conspicuous, and they're designed to stay in place on the ear nicely. The band however, isn't adjustable, and as such they're a bit big (on me) when worn this way.
But it's a small concession to make considering the great quality of sound, and the bluetooth connectivity; I don't have to worry about cords getting tangled or keeping my phone within cord's length. My phone stays in my purse while I toggle music, adjust volume, and even take calls (there's a noise-cancelling microphone for phone use) with the multi-function buttons on the headphones.
So…I'm a fan.
2023 update: I have since gone back to earbuds in the name of ultra-ultralight travel, and I am irrevocably in love with Powerbeats Pro because they don't fall out of my ears, and they supply awesome sounds and functionality. Get yours here, or check out my video review of them here!


SteriPEN is a handy tool that sterilizes water with ultra-violet light and makes it drinkable in about one minute.
I used a previous version of the SteriPEN when I traveled through Asia years ago, and I found it not only useful, but also cost-effective and environmentally friendly in that it saved me from buying bottled water everywhere I went. But when I downsized my packing list, my SteriPEN was one of the (regretful) casualties.
So I was thrilled when SteriPEN sent me one of their latest models: the SteriPEN Ultra. This thing is slick, easy to use, and USB rechargeable. I use it all the time in Peru, and one charge lasts forever (I've only charged it once in months of use).
(See also: Dealing With Parasites: A Guide to Clean Water Around the World).
If you know somebody who is traveling to a developing country, the SteriPEN Ultra is an epic stocking stuffer.


Anatomie Pants – Kate
I've long been a fan of Anatomie's designer travel clothing, and have become something of a poster child for them. Every year I buy something new from Anatomie to complement my travel wardrobe, and I love just about everything I get.
One of my latest acquisitions was the Kate pant, which lives up to Anatomie's standards: it's lightweight (like, it packs down to nothing), wrinkle resistant, stylish, and flattering. It ticks all my boxes for travel, and wherever I go, the Kate pant comes with me.


Ambronite
Ambronite is a drinkable super-meal that comes in easy to use single-serve packets. Packed with all the organic whole foods you need – and in many cases you couldn't possibly get in a single meal, it's designed to be a quick and easy meal-replacement for people on the go, providing the nutrients and energy you need to keep on truckin'. Just shake up the powder with 550ml of water, and you're off to the races. (It was also the most crowd-funded food product ever on Indiegogo).
This is a great thing for travelers, since on travel days you don't always know where your next meal will come from, much less its nutritional value. It's also great for hiking and trekking days, since it's pure fuel for the body.
As such, I gave Ambronite a shot. The first test was a tough one for Ambronite to pass (and for me to do): to replace my healthy and delicious breakfast that I not only enjoy but also am very hungry for in the mornings. I was doubtful that a drink would fill me up and take me through the morning. But…it did. I was full before I could even finish the drink, and I felt really (really) good – energetic and clear-minded. I'm sold on the effectiveness of Ambronite to give you the energy and nutrition (and satisfaction) of a full meal.
But. The taste (and thick slightly gritty consistency) made it challenging. It tastes…healthy, with the essence of organic almonds and oats, which are the first two ingredients. Although there is fruit in it, I couldn't taste it, and with its low sugar content (five grams per serving) it's undoubtedly healthy, but makes for a somewhat tasteless experience. However, subsequent uses of Ambronite got easier, and I even became accustomed to the taste. If you have the ability to mix it with a little fruit in a smoothie, it's downright delightful.
Conclusion: Ambronite is a great travel companion, and an effective meal replacement for anybody on the go. It's full of goodness (even though it doesn't particularly taste good).
Want to try Ambronite out for yourself? They ship internationally! Use the code THEPROFESSIONALHOBO to get $20 off your purchase. Order here.


Hoboroll and SegSac
Hoboroll is also something I've raved about before, but I'm raving about it again because this year they came out with a completely new design, which I've had a chance to test-drive on a number of trips. It's ultra-lightweight, a bit bigger than its predecessor, and one of my absolute favourite (and indispensable) pieces of travel gear.
For long-term travel, I pack it with various odds and sods since it not only compresses things to a fraction of their size, but it also organizes them into divided compartments. More recently, I traveled to Canada for two weeks earlier this year, and I used my Hoboroll for all of my clothing. All of it. It allowed me to travel with just one small backpack which housed not only my clothes but also my computer and everything else I needed to bring.
The folks at Gobi Gear are even further expanding their offerings; they just launched a simpler version of the Hobo Roll – called the SegSac – for organizing things in your bag (kind of like a new take on packing cubes). And the upgraded version of the SegSac also allows you to compress it. Think of it like a compression sac with compartments inside for organizing your stuff. Brilliant.
I go deep into the features and specs of the SegSac traveler in this post featuring the Best Travel Accessories and Pro Packing Hacks!


Encircled Flipside Leggings
Encircled introduced me to their Chrysalis Cardi a couple of years ago, and since then I've acquired almost every new release they've come out with. Everything is made with a super-soft eco-friendly modal fabric that is absolutely divine to wear.
Their Flipside Leggings made the cut for this travel gear review because of their comfort and versatility; they're reversible and can be worn in a few different styles – in addition to being worn as an under-layer for warmth in cold climates. I wear them all the time in Peru. Every traveling girl needs a pair of leggings – and the Flipside Leggings are like having a few pairs of them.


Fly Pry
Ever had a zipper pull break on your jacket or backpack? Ever found yourself in need of a multi-tool on the fly? This is where Fly Pry shines. It's the world's smallest multi-tool (a little bigger than a quarter), it's cute as a button, and quite functional. Here are its uses:
Pry Bar – Pulling up staples or brad nails
Scraper – Scrape bark for tinder, lottery tickets
Bottle Opener
1/4″ Hex Bit Holder
1/8″ Hex Bit Holder
Box Cutter
Can Opener
Screw Driver (Flathead)
Screw Hook Wrench
Key Chain Attachment
Zipper Pull
Notch Cutter – For building shelter
Depending on your style of travel and life, I'll bet there are at least a couple of ways you could use the Fly Pry. If you're an outdoorsy camping type, all the better. Even in my first week of having the Fly Pry, I used it to open a box, do some repairs around the house, and of course, replace a broken zipper pull. It's practically indestructible (rust-proof titanium), and a unique thing to have handy on your jacket or keychain. One thing to note: if you don't already have a keyring or way to attach the Fly Pry to [whatever you plan to attach it to], then you can purchase titanium split rings for a bit extra.


American Bear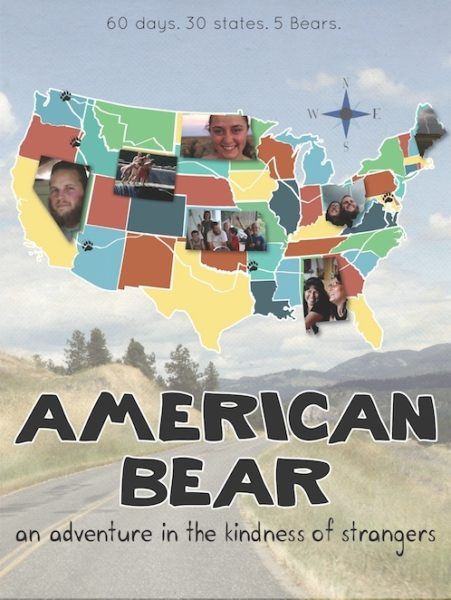 This one is for armchair travelers who can't get away quite yet. American Bear is a documentary made by Greg Grano and Sarah Sellman about the kindness of strangers. This 20-something couple hopped in their car and over 60 days traveled through 30 states (including five towns called Bear), with the intention of relying on the kindness of complete strangers each night for a place to sleep.
It's a wee bit of the "home movie" genre (the former tv producer in me talking here), but it received a number of film festival nominations and awards, and when I watched it with two friends, it sparked a stimulating conversation on a variety of related topics including culture, race, trust, how strangers interact, and of course, travel experiences. Sarah and Greg have also toured the US with the documentary showing it at high schools, colleges, and community organizations with the aim of sparking further such conversations; I admire what they're doing, and as such, I recommend this documentary.


Want Some More Perfect Travel Gifts?
Check out these other travel gear profiles for more ideas of what to get the budding traveler in your life:
My Search for the Perfect Travel Sandal
The Ultimate Packing List for Full-Time Travel
Checked vs Carry On Luggage, and Which Type of Luggage is Best For You
How to Create a Travel Capsule Wardrobe
Pro Packing Hacks: Best Travel Accessories to Save Space and Organize Your Stuff