Anatomie makes travel clothes so great, I threw out my jeans.
I reviewed them in 2012, but in 2016 I finally got to visit their headquarters in Miami to see all their styles up close. That's when my jeans ended up in the bin.
(Fast forward to 2020 and I'm still going strong with all my duds).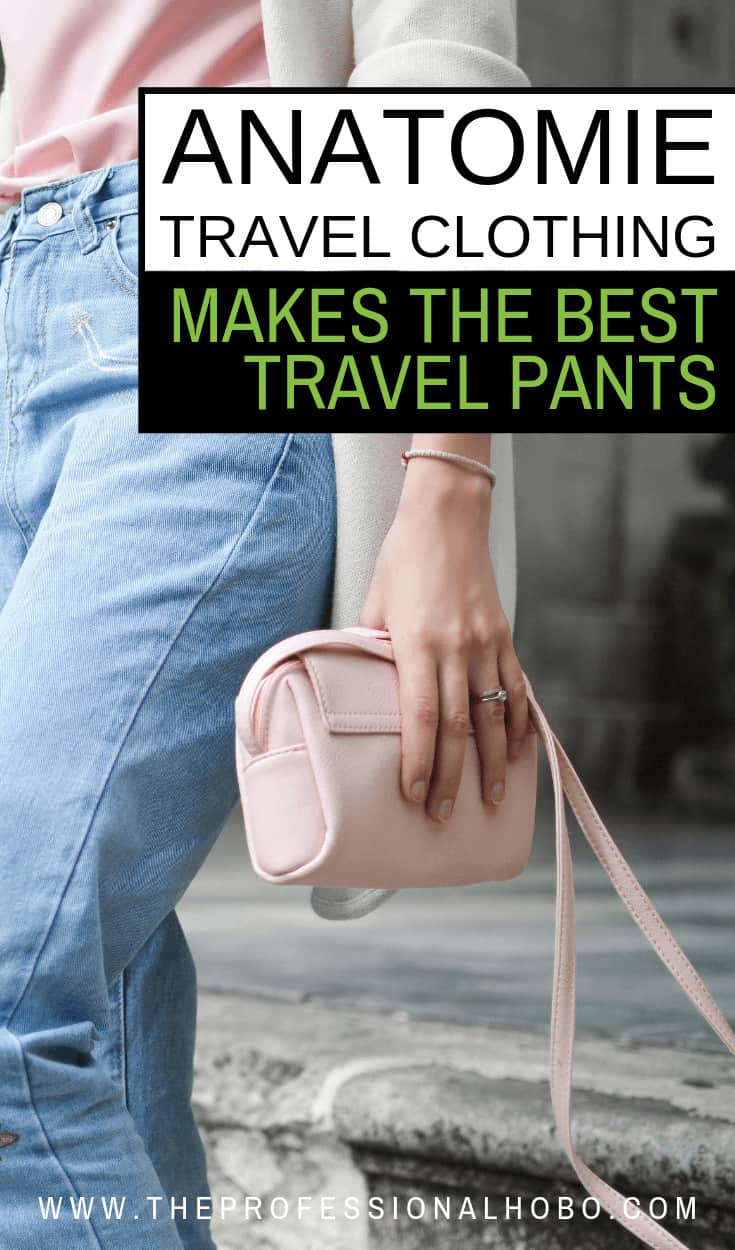 When Anatomie approached me back in 2012 to try their designer travel clothing out, I was skeptical about a few things – not the least of which was the price.
I'm glad they soldiered beyond my skepticism and sent me three pieces (capri pants, a dress, and a lightweight cardigan) to try out, because they quickly became my favourite travel clothing.
Six years later I still wear these pieces proudly, and they've withstood a goodly amount of abuse being with me on the road full-time.
Use the discount code NORA20 to get $20 off your order!
(Minimum order amount is $120 to qualify. Enjoy free shipping on all domestic orders.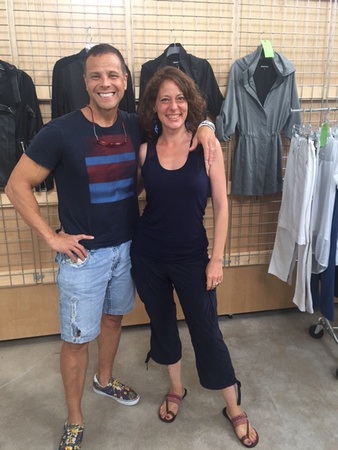 Since then I've added significantly to my personal Anatomie travel clothing collection.
In 2013 I bought two pairs of pants, a jacket, and two tops (one of which is pictured above).
In 2015 I bought another jacket, cardigan, pair of pants….you get the idea.
In some cases, I received a discount because of my affiliation with them. In some cases, I paid full price. And despite the hefty price tags, I was happy to do so.
Almost my entire wardrobe is made by Anatomie, and it suits my travel lifestyle so well.
It's lightweight (unbelievably so), quick-dry (less than 30 mins to air dry!), wrinkle free (any wrinkles wear out as soon as you put it on), easy to care for (duh), incredibly comfortable (their material is the perfect kind of stretchy), and super stylish.
Anatomie is a big part of the reason why I have been able to travel full-time with carry-on luggage only.
Want proof? Look at this picture.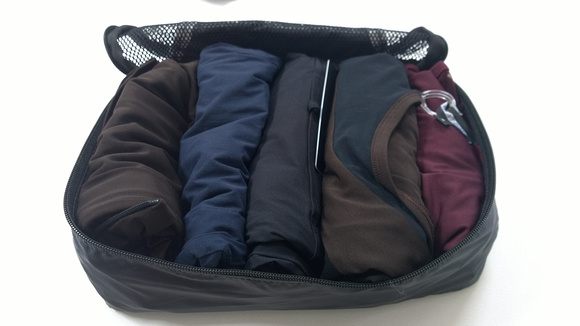 This ultralight packing cube above holds three pairs of pants, two tops, and two jackets (which are underneath the other clothes in this picture).
All that just weighs four pounds.
(Caveat: If you're traveling to a winter climate you'll obviously need some warmer/heavier layers, which Anatomie also carries to a lesser degree).
With a wardrobe that takes up so little space and weight, it's easy to travel ultralight.


Travel Clothing Mistakes I've Made
It's taken me a while to curate the perfect travel wardrobe. Quite a while, and more than a few mistakes.


All Function, No Fashion
When I started traveling full-time, I had an almost brand-new wardrobe, suited to the task of travel.
It was moisture-wicking, convertible, quick-dry, technical stuff. Not cheap stuff.
Stuff that had almost no style whatsoever (or at least, not my style).
I hated my clothing so much, I didn't even want to get out of bed in the morning.


Poor Cost Per Wear
So over the years, I changed up my wardrobe, replacing items here and there with whatever I could find that was more stylish and still travel-friendly.
I learned as I went what kinds of clothes travel and wear well, and kept my eye out for them. But interestingly, many of those clothes – despite the price tag – didn't withstand the rigours of travel nearly as gracefully as they should have.
A $90 pair of stylish and travel-friendly pants from REI was exiled from my suitcase within a year for wearing in so badly.
I was in a constant cycle of replacing clothes that gave my wardrobe constant variety, but ended up quite costly in the end.
Enter: Anatomie.
When I was chatting with Kate and Shawn (Anatomie's founders) in Miami, they didn't bother denying that their clothes are expensive.
(Let's get it right: this is designer stuff, made of crazy-cool materials sourced in Italy and France, the likes of which I've never worn before).
"It's all about cost per wear," said Kate. And considering I was wearing four-year-old Anatomie pants at the time that I still counted among my favourite pants, I couldn't disagree.
Disclaimer: There are some affiliate links in this post, but my almost-evangelical enthusiasm is 100% real; this stuff rocks! If you click through these links, I'll receive a small commission from your purchase at no extra cost to you. Thanks for supporting this site!


Anatomie Travel Pants: The Fit
Which brings me to the fit of Anatomie's pants, which on the whole are the best travel pants I've ever had. Period. They're ultralight, stretchy, stylish, and can be dressed up or down.
They have different cuts, which are suitable for different body types.
For example, Alex at Travel Fashion Girl cites the Skyler Travel pant as the best travel pant for women. I disagree. For me, it's the Kate Skinny Cargo pant. But that's because I'm a bit more well endowed in the hips and thighs department, and the Skyler is made for women with narrower hips and longer legs.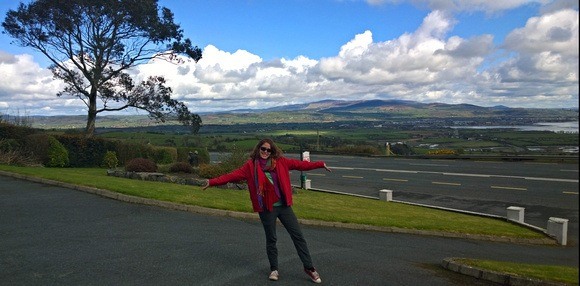 Curvier women will appreciate not only the Kate pant, but also the Susan and Andrea styles. I tried on both, and ended up taking away a pair of the Andrea pants.


Anatomie Travel Pants: The Fabric
Speaking of the Andrea pants (which Anatomie refers to as contrast-panel leggings), I'd seen them in the Anatomie lineup for quite some time online, and been perplexed by them.
But the minute I walked into the Anatomie headquarters and saw Kate wearing them, I had to have a pair.
You have to see/touch/feel this stuff.
The site labels them as leggings, but Kate herself said they're a three-in-one pant: jeans, dress pants, and even yoga pants. Nothing better for travel than multi-purpose stuff.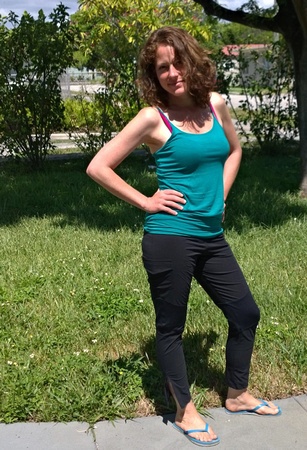 And it's not just the pants with amazing fabric. The same goes for the Merika Windbreaker, which is one of their best-sellers – yet I couldn't understand why from the pictures.
I understood as soon as I tried it on.
It's silky, light, water and wind resistant, the mesh lining is super-comfortable, and the inside drawstring waistline can be adjusted to achieve different looks. It's classy – and classic.
And of course, it can be squished into your carry-on, and donned on arrival in perfect form.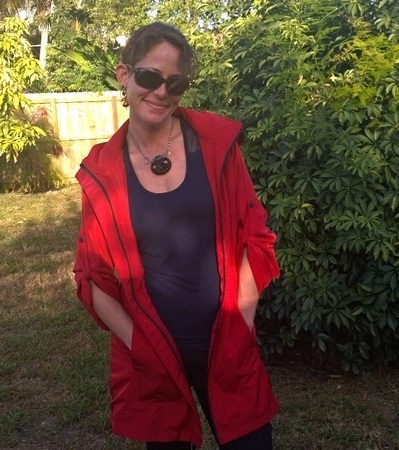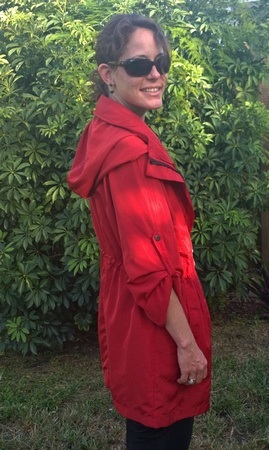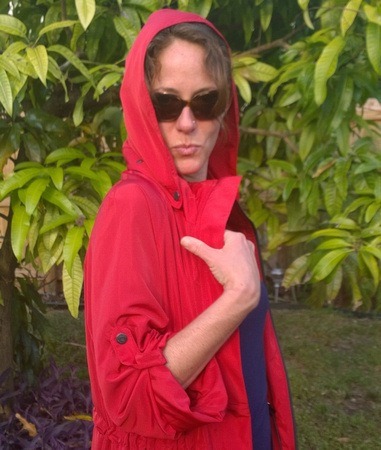 I think it's difficult for some people to make an initial leap of faith with Anatomie, because their styles really need to be seen and worn to be appreciated.
Heck – I was skeptical, until they sent me three items to review in 2012, but I haven't looked back since.
Plus, they have a great return policy, so if you order something that doesn't work, you're not stuck with it.
Use the discount code NORA20 to get $20 off your order!
(Minimum order amount is $120 to qualify. Enjoy free shipping on all domestic orders.
I Threw Out my Jeans, Thanks to Anatomie's Travel Pants
So, after visiting Anatomie travel clothing headquarters, trying on their styles, and taking away yet another pair of favourite travel pants, I threw out my jeans.
I own four pairs of Anatomie pants now, and collectively, they weigh a fraction of my one pair of jeans, and take up even less space. They're more comfortable, stylish, and way better for travel. Thanks, Anatomie!
I really like these guys. I like their clothes. Like, really. And more than once, I've put my money where my mouth is and I've bought their stuff.
And it has paid off in spades. I look good, I feel good, and I'm confident that on a cost-per-wear basis, I've made some very good decisions.